There are few things that capture the spirit of winter so perfectly as skating outdoors on a frozen pond. And when that pond is the incomparable Lake Louise, it's nothing less than a wintertime mic-drop. During the cold-weather months, the lake's ice surface receives top-notch maintenance courtesy of the staff from the Fairmont Chateau Lake Louise, getting multiple Zamboni coatings over the course of each day. The resulting ice sheet does have the odd crack (befitting any natural ice surface), but for the most part it's sheer and smooth enough to handle the most intricate figure-skating manoeuvres.
While the main ice surface is pleasure-skating only, there's a satellite shinny rink that draws a handful of hockey-stick-toting players in the late afternoons, many of whom are staff on break from the various Lake Louise properties – in other words, they're young and strong adventurous types and they'll give you a good game.
There's no fee to skate on the lake, and if you don't have skates, they're available to rent from Chateau Mountain Sports in the hotel (you can also rent a hockey stick). If you haven't been out on the blades in years, it might be a bit awkward at first, but as baby steps give way to smooth glides, you'll feel that initial apprehension give way to rosy-cheeked smiles and the breath-catching-in-your-throat feeling of being in the most beautiful place at the most beautiful time.
Plus, try skiing at Louise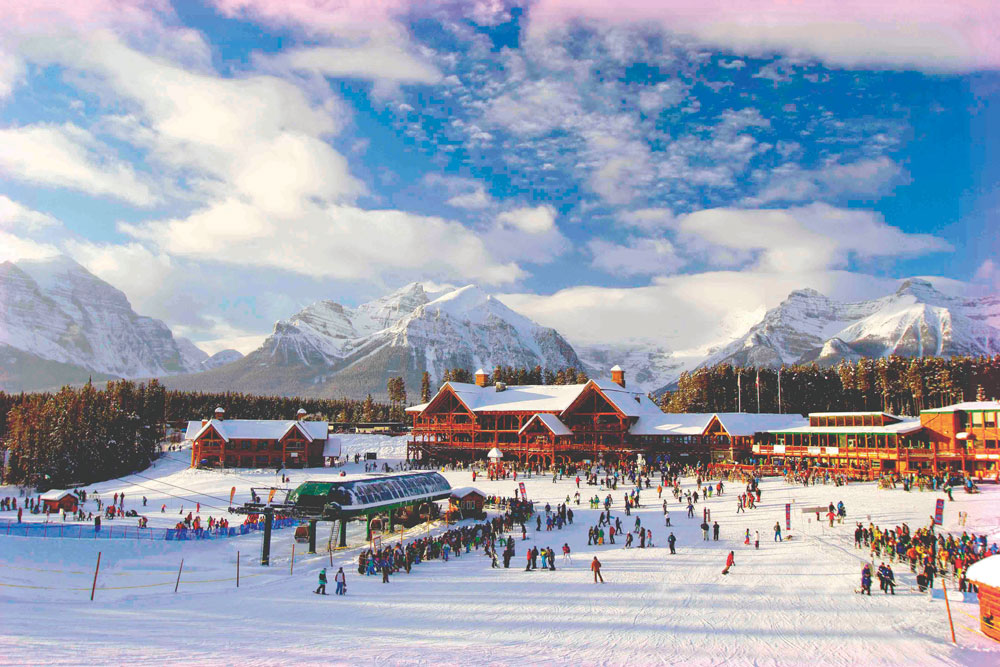 They call it "the Lake," though it's somewhat incongruous to compare the massive Lake Louise Ski Resort with a placid body of water. With 4,200 skiable acres, Louise represents the biggest of the Big Three resorts within Banff National Park (the other two being Sunshine Village and Mt. Norquay). Whether it's the long, steep runs, the insanity-inducing terrain-park hits or the incredible views across the Bow Valley, a day at Louise always makes a big impression.