Purported benefits of goat yoga
Spending time in the company of animals is believed to help with anxiety and depression and make you feel happier. There are even physical health benefits to spending time with animals, such as lower blood pressure.
We tried it at
Granary Road. The market and active learning park is south of Calgary in the MD of Foothills. It offers goat yoga on select days through the summer. Each class is $20.
What it's like
There is something to be said about the sheer joy of being around animals when you're feeling stressed out. Just replace petting therapy dogs with doing a downward dog in a room surrounded by goats, and you've got goat yoga.
Don't head to class expecting just another take on hatha, though. The experience is definitely more about interacting with goats and less about working through challenging poses, which makes this yoga class perfect for beginners and animal-lovers alike, but maybe not your cup of tea if you take your yogic practice super seriously. While the goats might not lend themselves to the aspect of calmness usually associated with yoga (you certainly won't hear "watch out for horns!" in a studio setting), they sure are fun to be around. You can get their attention by putting grains on the front of your mat — the handler comes around a few times throughout the class to distribute the grains — and you can even have some sprinkled on your back while you're in tabletop position if the idea of having a goat jump up on you while you're on all fours appeals to you.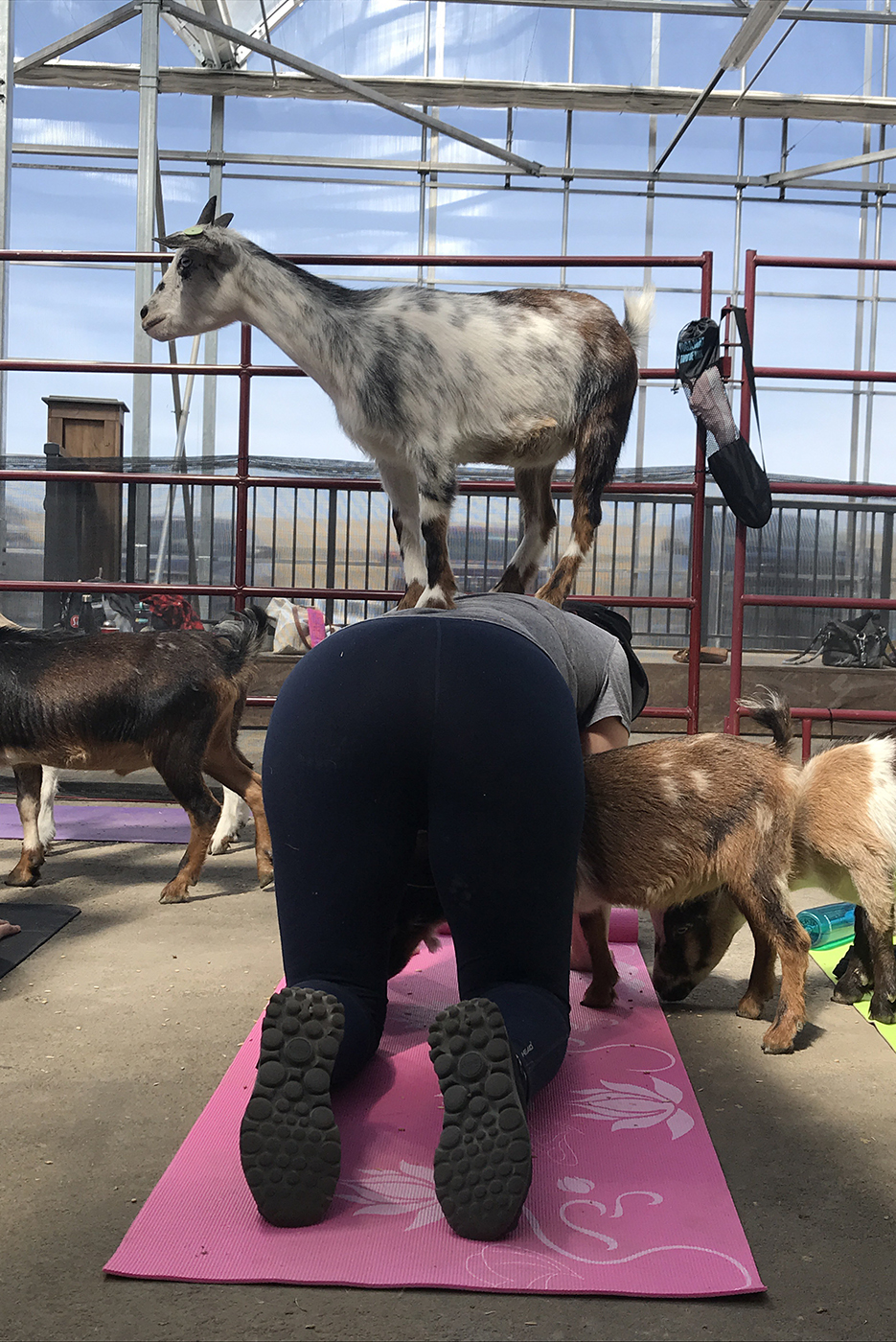 Now, we know what you're thinking and the answer is no, the goats are not potty-trained and yes, there's a good chance one of them might pee or poop on your yoga mat. Your mat also might get soiled by grain remnants or hoof prints, so if you're concerned about keeping your mat pristine, then goat yoga might not be for you — or at least use an older mat or a long towel for this class. You can try to gently nudge them away, but generally the goats go where they please.
The class we did took place inside the greenhouse space at Granary Road and the goats got a little overheated and overexcited, so their handler made the decision to remove them before the session officially ended. This should prove less of an issue for outdoor classes.
Either way, whether in a greenhouse or outside, doing yoga around a group of bleating goats is really funny. Prepare to laugh through class and check your stress at the door. It might not be your regular weekend yoga, but it's worth trying, as long as you don't mind a hoof print or two on your mat.
For information about goat yoga at Granary Road go to granaryroad.com/events