The $100 Film Festival (as it was then known) had been exhibiting small-format film for 11 years before a new tradition was added into the mix — the Film/Music Explosion! series that pairs filmmakers with musicians for a one-of-a-kind collaboration being added in 2003. Each night at the festival, the resultant film is synced up to a live performance by the musician.
The $100 Film Festival rebranded to Artifact Small Format Film Festival in 2017 as its original name had long been obsolete. In 1992, $100 was about the cost of producing an independent Super 8 short, but 16mm celluloid was later added to the festival and budget restrictions were relaxed. The name "Artifact" is a cheeky nod to the festival's presence as an analogue purveyor in a digital world.
Organized by the Calgary Society of Independent Filmmakers (CSIF), Artifact continues to keep the Film/Music Explosion! tradition alive. CSIF collaborates with partners (this year, CJSW 90.9 FM and Sled Island Music and Arts Festival) to help select musicians for the process while the Artifact programming committee reviews proposals from filmmakers to find the right match.
In the case of filmmaker of Vicki Van Chau and the Harmony Guzheng Ensemble, it was a natural choice. Van Chau had previously collaborated with the Ensemble for her film Pulled Strings, a story of how food and music can pass down tradition within a family.
Family is again a predominant theme in the new film Fighting Against Typhoon, titled for the song of the same name that soundtracks it. The song is something of a modern standard of the guzheng, a Chinese plucked-string instrument (somewhat similar to an autoharp) that's over 2,500 years old. It was written by Wang Changyuan in 1965 and "depicts a dramatic fight of the Shanghai harbour proletariat against the forces of nature, while protecting the property of the people and the Chinese communist government," says Van Chau.
"Using this background information, I wanted to create a work that equally shows the power and beauty of the song and instrument which is very representative of the Chinese women of today. They fight the forces of society for political, economical, social and personal equality, while protecting their family along the way," she says.
This is communicated visually in Fighting Against Typhoon through the use of aerial and news footage of typhoons being projected digitally onto real members of Van Chau's family. It's a funny but appropriate way to film in the context of Artifact — as the festival only shows physical film, special effects (so to speak) are usually created after filming has been completed through the analogue editing process. Van Chau is the programming director of Emmedia, a largely digital-based media arts production and presentation society, so this twist on Artifact norms makes a specific kind of sense.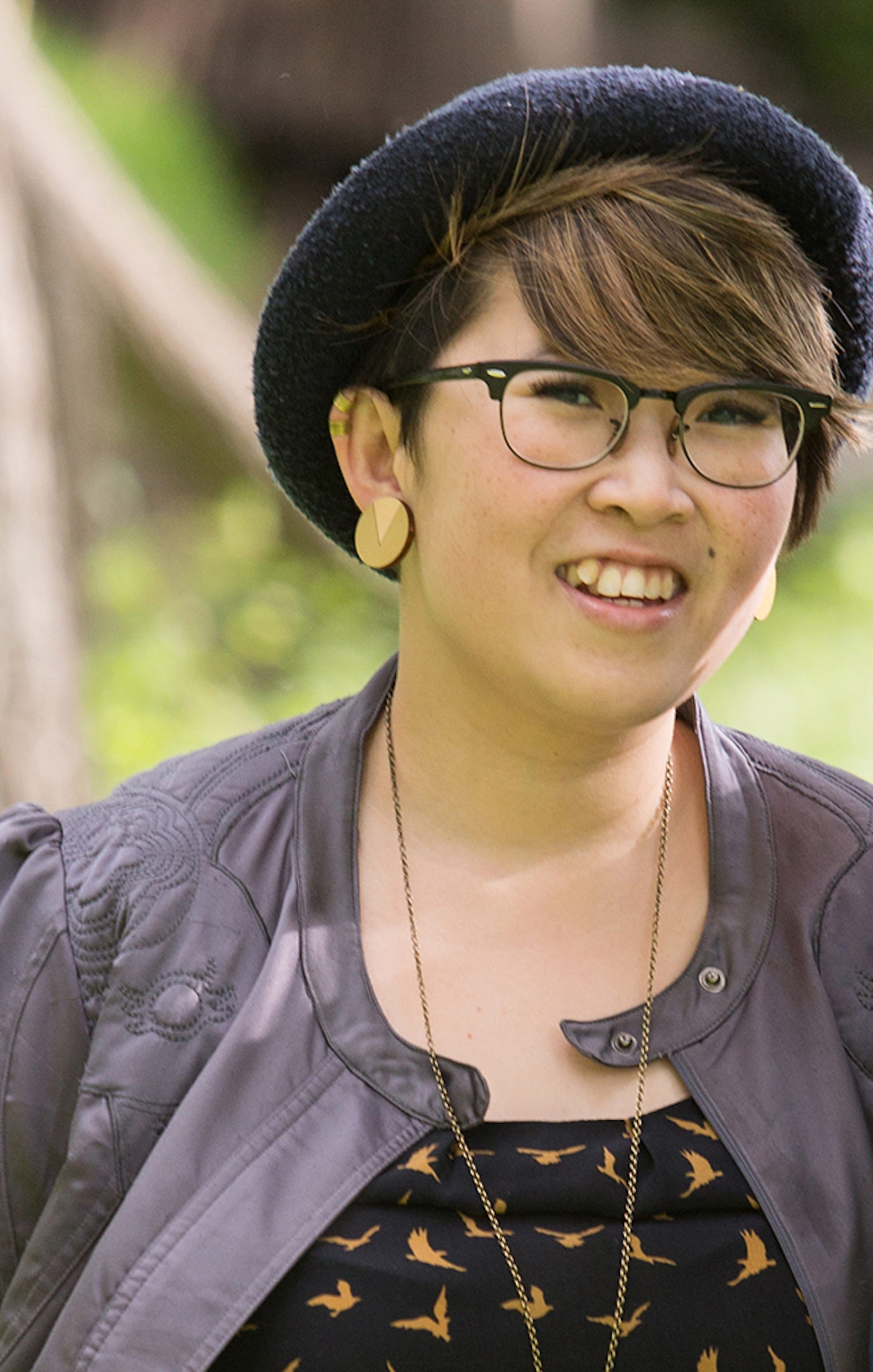 Despite being a working filmmaker, Van Chau had never worked with celluloid before. Thankfully, she had assistance from director of photography Philip Bowen who has worked on the Film/Music Explosion! before. Another challenge came from the timeline — proposals were due in November 2018, meaning all involved had about four months to cast, film and edit (among other processes) a work to completion. Filming had to be completed over the Christmas holiday season because, as Van Chau puts it, "I knew if I didn't shoot it then, I would never be able to shoot it."
Yet another challenge is editing, which Van Chau was still in the process of during our conversation two weeks out from Artifact. Editing with film is tricky, especially if you're teaching yourself how to do it as you go.
"You have to be very careful," she says. "Otherwise it'll get caught in the spokes of the projector when it gets screened, and then your film just catches on fire."
No pressure.
Fighting Against Typhoon will debut on Friday, March 8 as the Harmony Guzheng Ensemble performs on the stage of The Grand. This is part of the Artifact Small Format Festival, running March 7 to 9. Tickets are available here.