Calgary's premier film festival returns September 23 to October 3, 2021. CIFF will be presented partly in person and partly online — its COVID-19 protocols, announced weeks ago, already met the threshold for the Province's restriction exemption program. Guests can expect more than 200 films from around the globe and right here at home. While your taste in movies is yours and yours alone, here are 10 of the most fascinating entries on the lineup. Find out about COVID protocols and ticketing options directly from CIFF.
This comedic crime thriller from Scott Westby (Avenue Top 40 Under 40 class of 2018) and Matt Watterworth has shades of the Cohen brothers and Reservoir Dogs all over it. Taking advantage of Alberta's rural and urban areas, the locally made film follows Zeke (Brandon Sklenar, in what may be a breakout role) as he lands in hot water on the way home from his grandmother's funeral. To say much more would spoil the fun, but suffice to say there's enough bumbling criminality to keep your gut busted and your butt latched firmly to the edge of your seat. It's available to stream online throughout the festival and screens in-theatre on September 30 at the Globe Cinema and on October 3 at Contemporary Calgary.
Brace yourself, reader: this 2021 winner of the Palme d'Or at Cannes is a risqué one filled with graphic violence and nudity. Focusing on the world of objectophilia (sexual attraction to objects), Titane quite simply is about a female serial killer who copulates with cars. That's the hook, at least. Considering it won the top film festival prize on Earth, you'll realize there's a lot more to the story. It chronicles a woman-machine pregnancy and is directed by Julia Ducournau (Raw). It's available in-cinema only at Cineplex Eau Claire on September 25 and 27, and is likely to sell out in advance.
Another Alberta-shot thriller, this film tackles the impact of the energy sector on Indigenous communities through a supernatural, survivalist lens. From writer-director Rueben Martell (and co-writer Gerald Wexler), the film adds to Canada's thriving Indigenous-horror genre in a way you won't forget. The cinematography that captures the vastness of the wilderness and the claustrophobia you feel when lost inside of it will send a shiver up your spine. Don't Say its Name is available in-cinema on September 29 at the Globe and on-demand from September 28 to October 3.
Céline Sciamma's follow-up to Portrait of a Lady on Fire (among the finest queer films ever made) is a hot commodity at CIFF this year. Once again focusing on the bonds between women, the film follows eight-year-old Nelly as she grieves her grandmother's death, deals with the complicated relationship between her and her mother, and ultimately finds a best friend in Marion. It shows in-cinema only on September 26 at Eau Claire and on September 30 at the Globe.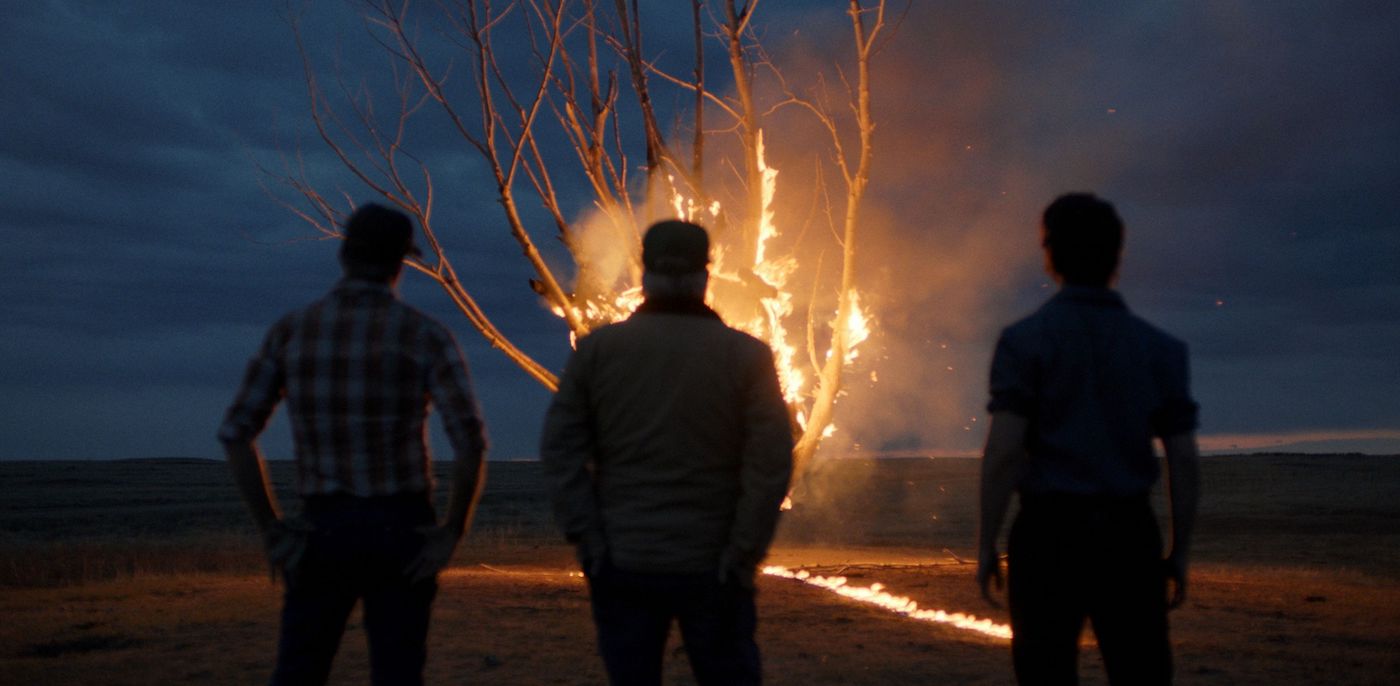 The third-and-final Alberta feature on our list is a subtle indie. Will Oldham (a.k.a. Bonnie "Prince" Billy) and the late Bruce Dern (father of Laura) add an understated star-quality to this "prairie gothic" feature that concentrates on farm-family dynamics and the austere beauty of the vast prairies. The idyllic, if lonely, prairie backdrop of the film leads our characters into uncharted territory. It's all the more surreal thanks to a score from Jim O'Rourke, an accomplished experimental composer who has worked with Wilco and Sonic Youth. You can see it at the Globe on October 1 or stream it on-demand on October 2 and 3.
If you can see only one film from the Music on Screen series at CIFF this year, we suggest you make it I'm Wanita. It focuses on Australian country act Wanita, who is as immensely talented as she is self-destructive. The film covers her complicated life and focuses on her chaotic recording of a new album in Nashville. It's available on-demand for the duration of CIFF and screens at Eau Claire on September 25.
The only National Film Board feature at CIFF, Kímmapiiyipitssini: The Meaning of Empathy, examines the way the opioid crisis has affected the Kainai First Nation near Calgary. Filmmaker Elle-Máijá Tailfeathers (who won awards for The Body Remembers When the World Broke Open) takes a tender look at those affected, including first responders, drug users and people working to reduce harm. It plays at Eau Claire on September 25 and is available to stream online from September 26 to October 3.
A critical darling with an A-list cast, with all-stars Penelope Cruz, Antonio Banderas and Oliver Martinez, Official Competition has some of the biggest star-power at CIFF. Skewering the sometimes-pretentious world of filmmaking, the film stars Cruz as an eccentric director who casts Banderas, an action star, against Martinez, a high-minded stage star. Antics, of course, ensue. It is only available in-cinema on September 26 at Eau Claire and on September 29 at the Globe.
This Canadian documentary covers the state of the artificial intelligence (AI) industry and where it may be heading next. Particularly concerned with replicating human consciousness, it includes key scientists and wellness expert Deepak Chopra, who has created an AI-replica of himself. The films also covers philosophical elements of, well, artificial immortality. See it in-cinema on September 27 at Eau Claire, when there will be a talkback with AI experts, or stream it from September 28 to October 3.
This eerie slow-burn of a mystery stars Tilda Swinton as a woman living in Colombia. She begins hearing a deep, foreboding sound that no one else can hear. Things only get stranger and stranger as she tries to understand what's happening to her. This is the first English-language feature from Thai director Apichatpong Weerasethakul, who won the 2010 Palme d'Or at Cannes. It is available to watch in theatres only on September 27 at Eau Claire and September 29 at the Globe.
[A previous version of this story stated that Rene Jean Collins was the co-writer of Don't Say its Name. The co-writer is actually Gerald Wexler. We regret the error.]