Jackie Bourgaize had no plans to ring in her family's Gallery House Concerts series' 100th concert with a wisecrack. Edmontonian duo 100 Mile House (Peter Stone and Denise MacKay) have played Gallery House twice in the past, and when it came time to schedule their next performance, they asked to lock in January 2019. A competing commitment came up and, because Gallery House hosts concerts just once per month, their show was moved to February and into slot number 100.
No one even realized the coincidence at first. Bourgaize (who handles booking, graphics and communications for Gallery House) only realized the odd coincidence when her husband Dale Sorensen (production and record-keeping) pointed out the numerical significance. Whether or not you believe in fate, you have to admit it's eerie.
Bourgaize and Sorensen have been operating Gallery House since 2012 and have been learning how to fine tune their space ever since.
"We have pizzas at the break [during our concerts]. So, of course the oven has to heat up. And what does the oven do when it heats up? It goes beep. So here's Leeroy Stagger telling a story — at our very first concert — it's dead silent in the place, and he pauses and all of a sudden there's this beeeep. So, we ripped the beeper out of our oven," says Bourgaize.
Other fun forays into concert-proofing their home included ceiling renovations beginning just before the 2013 flood, some pesky wasps who just couldn't take a hint, adding soundproof booties to their chairs and even changing up the toilet seat to deter disruption. Though Gallery House is definitely a DIY operation, its operators always finds clever ways to up the professionalism of the space.
Beyond making sure sound is good and interruptions are mitigated, Bourgaize says it's important that Gallery House feel like a "haven" — in more ways than one. Not only does the intimacy of Gallery House give musicians a safe place to workshop new material, Bourgaize hopes that the welcoming environment can help road-weary folks recharge their mental batteries.
"Here, it's a safe environment. You can sing a song you wrote last night. Everyone will love it and welcome you. When they can see hardworking artists coming through, I mean everyone just welcomes them with open arms, and lots of people try things here that they wouldn't try on a bigger stage."
At least one artist says this approach works wonders — namely, Peter Stone of 100 Mile House, who has played house concerts across the country.
"They have such a good following and they do such good job, and it's kind of a testament to them that they can get 100 people out over a weekend. There's so many people who do house concerts that would love to get just 20 people out," he laughs. "You can have a quiet room, but it doesn't necessarily mean it's an engaged room. But they have both a quiet and engaged room, which is like the most perfect room to play music to."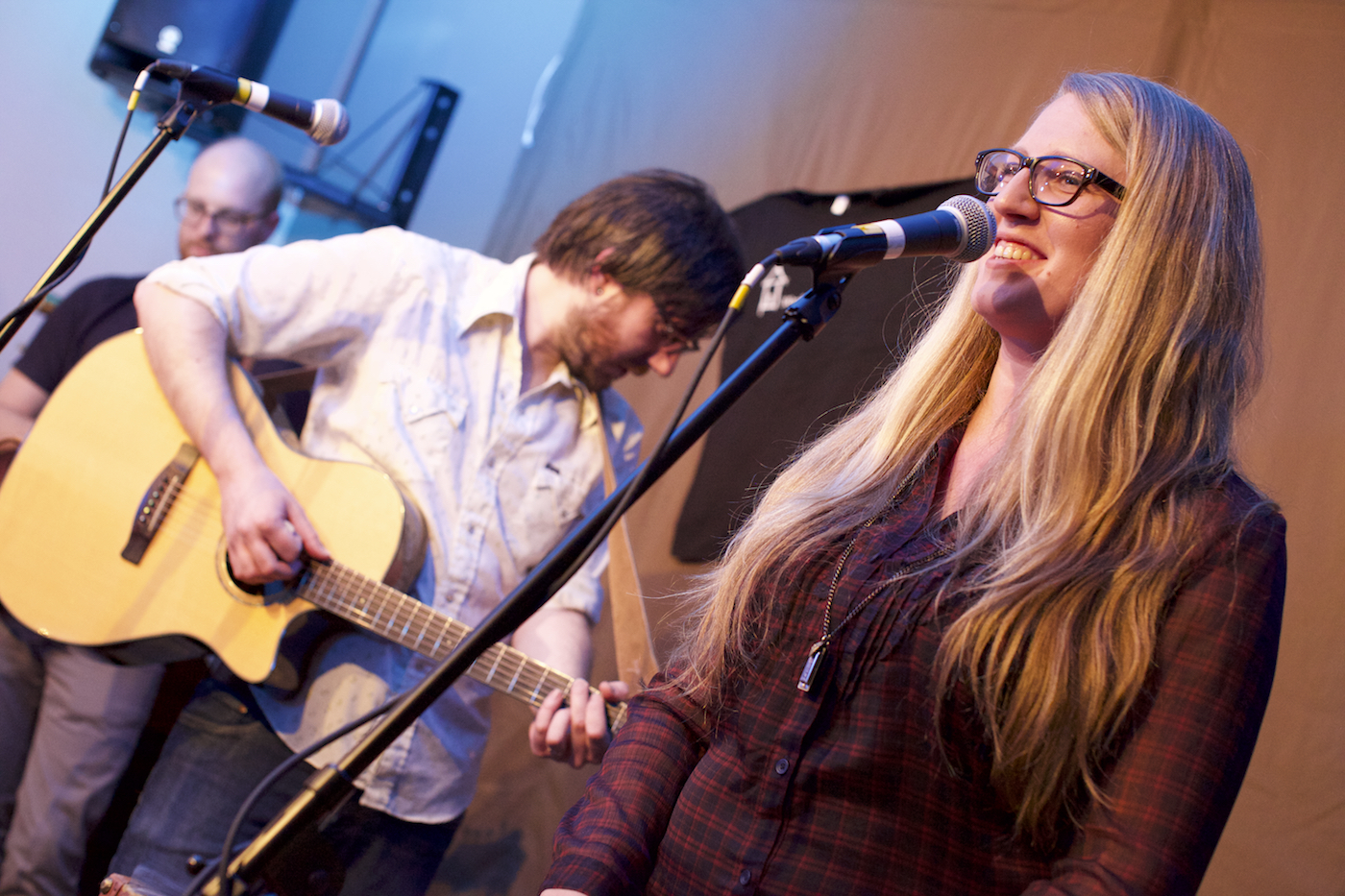 As a registered not-for-profit society, Gallery House is actually taking a hit on every show produced. Any surplus on the costs of production go directly to artists and efforts are made to make sure that money is recouped outside of just ticketing. By selling koozies, festivals pillows, mugs and new commemorative 100th anniversary glasses, Gallery House allows more money to go directly to musicians.
If you're hoping to check out the space for yourself or grab a commemorative cup, we have good news and bad news. Both 100 Mile House performances are currently on "waitlist" status — meaning additional tickets will only be sold if cancellations are made. However, the Gallery's next two shows are already being promoted; Rebecca Lappa performs on March 1 and Maddie Storvold appears on April 6. You can see the full confirmed schedule on their website. Whichever show you decided to see, we suggest reserving tickets well in advance.
Gallery House Concerts is located at 119 Nottingham Rd. N.W. Tickets for all shows can be found at galleryhouseconcerts.com.