How and Why to Make Your Kids Ski
It's not easy to get your kids on the hill, but it's worth it.
By Lisa Kadane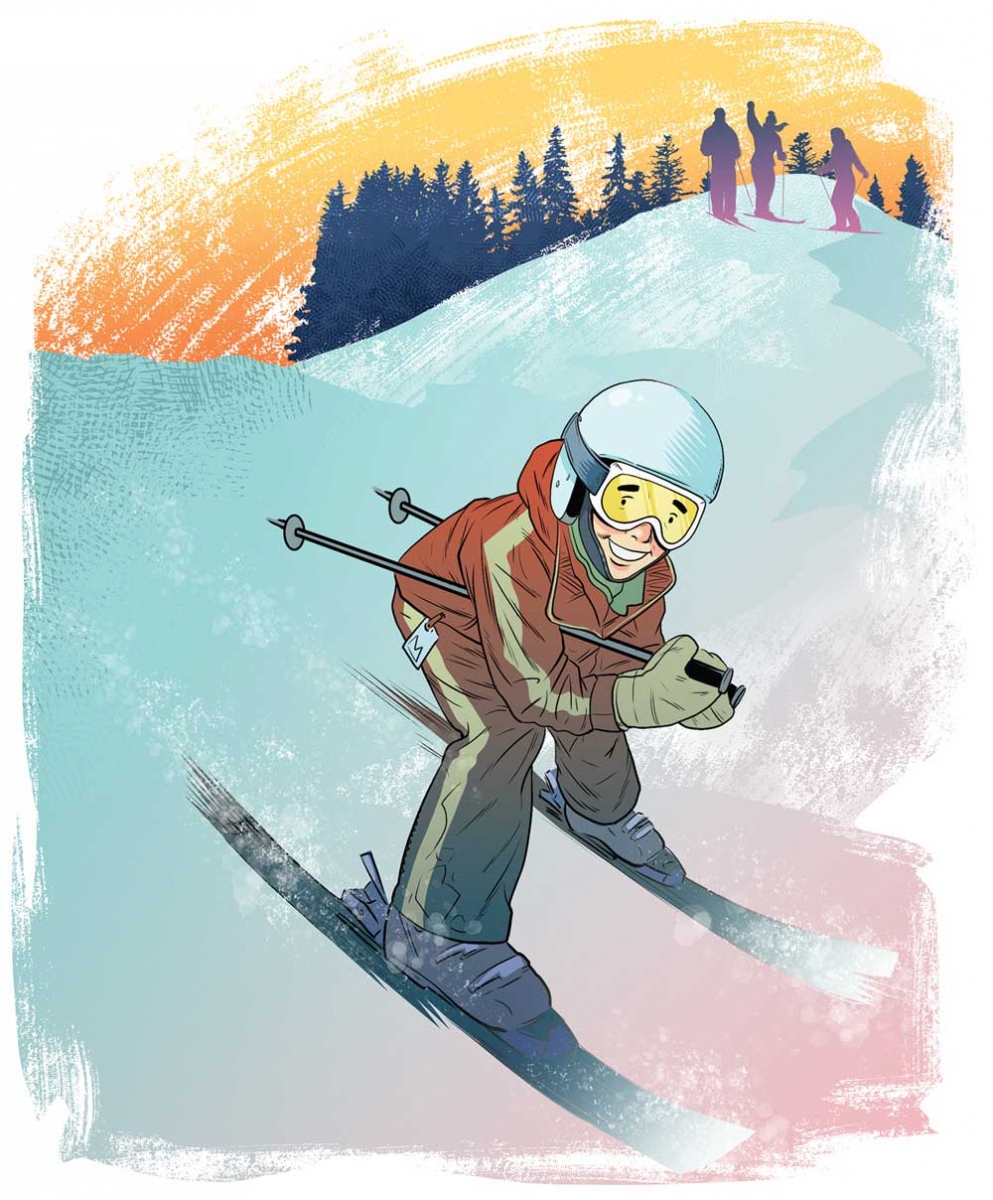 Illustration by Dominic Bugatto
Halfway down the mountain at Nakiska Ski Resort, my son, Bennett, then age six, went on strike. He sat down on the side of the slope, where the snow dead-ends into forest, and refused to budge.
No amount of coaxing from his sister ("C'mon, Bennett! We're having so much fun!") or encouragement from me ("Look! We're almost down the mountain!") could persuade him to stand and take up his wobbly beginner's wedge.
Out of ideas and nearly out of patience, my husband, Blake, resorted to bribery: "We'll get French fries in the day lodge, buddy," he promised. Like magic, Bennett capitulated.
That never-ending traverse down Eye Opener let us glimpse the key to motivating our son on the snow: food.
With kids and winter sports, sometimes, you do what you gotta do. I patiently help Bennett into his ski boots, fasten his helmet and click him into his skis. I coach him to turn and stop, and I let him rest when his little legs grow tired. And, after the Nakiska debacle, I now ski with pockets full of Snickers Minis to dole out on the chairlift or midway down the hill.
Friends regard our family with a wary gaze reserved for fools as we load up the car with an unseemly amount of gear to drive west every winter weekend. But we are a skiing family, so ski our children will.
Both Blake and I grew up on piste – back before shaped skis, Smartwool socks and other advancements that make the sport more enjoyable – and we are committed to slippery slopes and sharing the thrill of sliding on snow with our offspring. We love the sport's health benefits, its social perks (chatting on the chairlift, laughing about willful children and wipeouts during aprs-ski), and the fact it gets us out in nature during winter.
I may be deceived by the view through my rose-coloured goggles, but I envision a future when Bennett will be motivated by the joy of schussing rather than the lure of chocolate, and the four of us can finally shred (not snowplow) together.
Fortunately, Bennett's stubbornness on skis has been balanced by our daughter Avery's embrace of our preferred winter pastime. She took to the sport like the Dufour-Lapointe sisters (the Canadian duo who took gold and silver in moguls in Sochi). Avery face-planted in powder at Sunshine at age four and demanded with glee, "Again!" At six, she learned how to tuck and whizzed right past me at Marmot Basin. And last winter, at age nine, she plunged down the steeps and tackled moguls as part of the Fernie Extreme Club, a six-week ski program. Our last day of the season, she skied with me on Polar Peak, which is the gateway to Fernie's highest and gnarliest terrain.
That afternoon, I saw clearly the gain to be had from those early years of skiing pain. In six short seasons, Avery had grown from a magic carpet newbie into a confident, all-terrain skier. We now converse on the chairs, chase powder together across Fernie's alpine bowls and lift our spirits by taking in the sweep of snow-capped peaks from the top of the mountain.
My dream is that Bennett will eventually follow in his sister's ski tracks; that, instead of skiing to fill his belly with sugar, he – like me, Blake and Avery – will ski to feed his soul.
---
How to be a ski family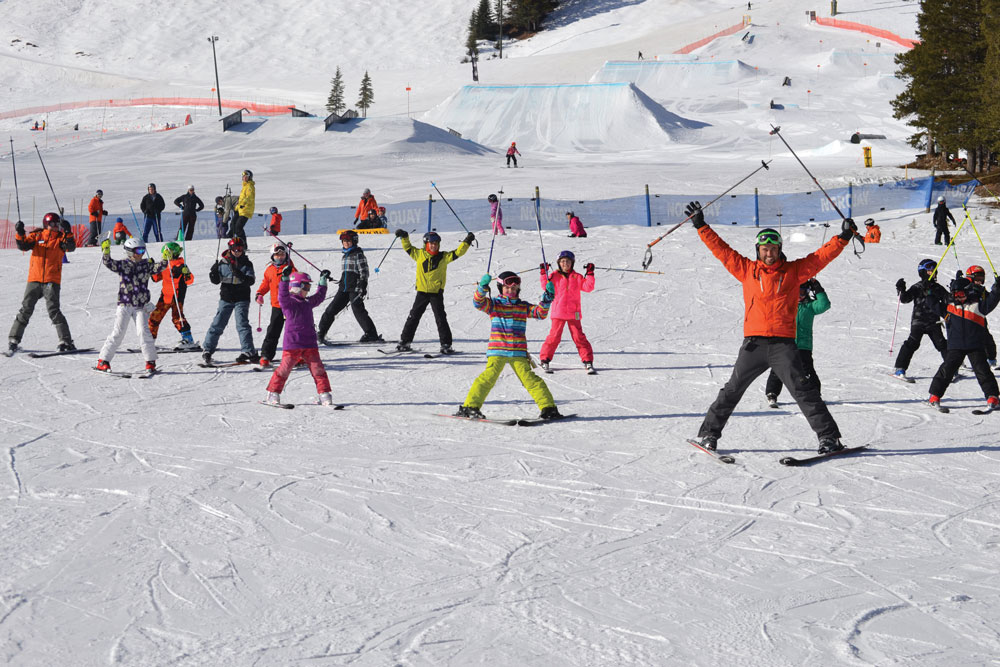 photograph courtesy of norquay
Wee Warrior Program at Norquay.
Get started
Drop your newborn off at the Lake Louise Ski Resort Daycare to grab some postpartum turns. It's the only ski resort child care in Alberta that takes children under 19 months, starting as early as 18 days old.
Early lessons
Rather than drag never-ever skiers all the way to the mountains, sign them up for beginner lessons for preschoolers (ages three to five) at Canada Olympic Park. Calgary's local ski hill eases little rippers into the sport with trained and dedicated instructors.
Ski programs
Two nearby resorts – Nakiska in K-Country and Norquay in Banff National Park – offer weekly ski programs for children as young as three. Nakiska's Telus Winter Sports School runs six-week or 12-week lessons on Saturday or Sunday with the same teacher and kids week to week.
Instruction length varies by age, from 45-minute-long blocks for preschoolers up to four-hour ski days for kids aged six to 17. Norquay's Wee Warrior (ages three to five) and Weekend Warrior (ages six to 17) programs run for eight weeks and include weekly instruction and a season's pass. There's even a busing option for parents who don't want to drive or ski every weekend.
Ski weekends
Sometimes the thought of packing up and driving west for the day sounds like more work and less fun than back-to-back episodes of Dora the Explorer. Why not make a weekend of it instead? Here are a couple spots with great snow, ski-in/ski-out accommodations and on-mountain child care and lessons.
Sunshine Mountain Lodge at Sunshine Village is the only ski-in/ski-out accommodation in Banff National Park. Maroon yourself in a luxurious, lofted guest room mere steps from chairlifts that lead to first tracks. Kids will love the snow, the giant outdoor hot tub and the gondola ride to get there.
All of the rooms at the Lizard Creek Lodge in Fernie boast full kitchens and fireplaces. The lodge is adjacent to the Elk chair and the Mighty Moose platter lift that services the bunny hill. Fernie is known for its powder and steeps, but the lower mountain is set up perfectly for beginners.
---
Tubing: An alternative to skiing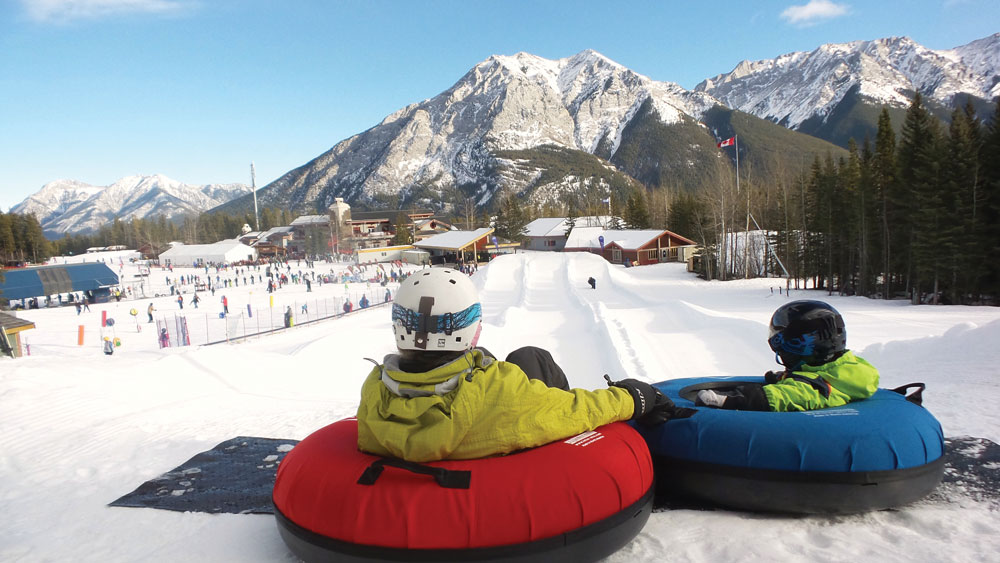 Photograph courtesy of Resorts of the Canadian Rockies
Wanidu Tube Park at Nakiska.
Skiing is fun and all, but tubing (sliding down a groomed section of the mountain on an inflatable tube) is guaranteed to be the highlight of your kid's winter. Lucky for us, the two closest ski areas to Calgary both have tube parks. The Wanidu Tube Park at Nakiska was such a hit when it debuted during the 2013-14 season it was expanded in its second year. In Banff, Tube Town at Norquay has a magic carpet for easy access and an area for little kids to play in, as well. – Shelley Arnusch