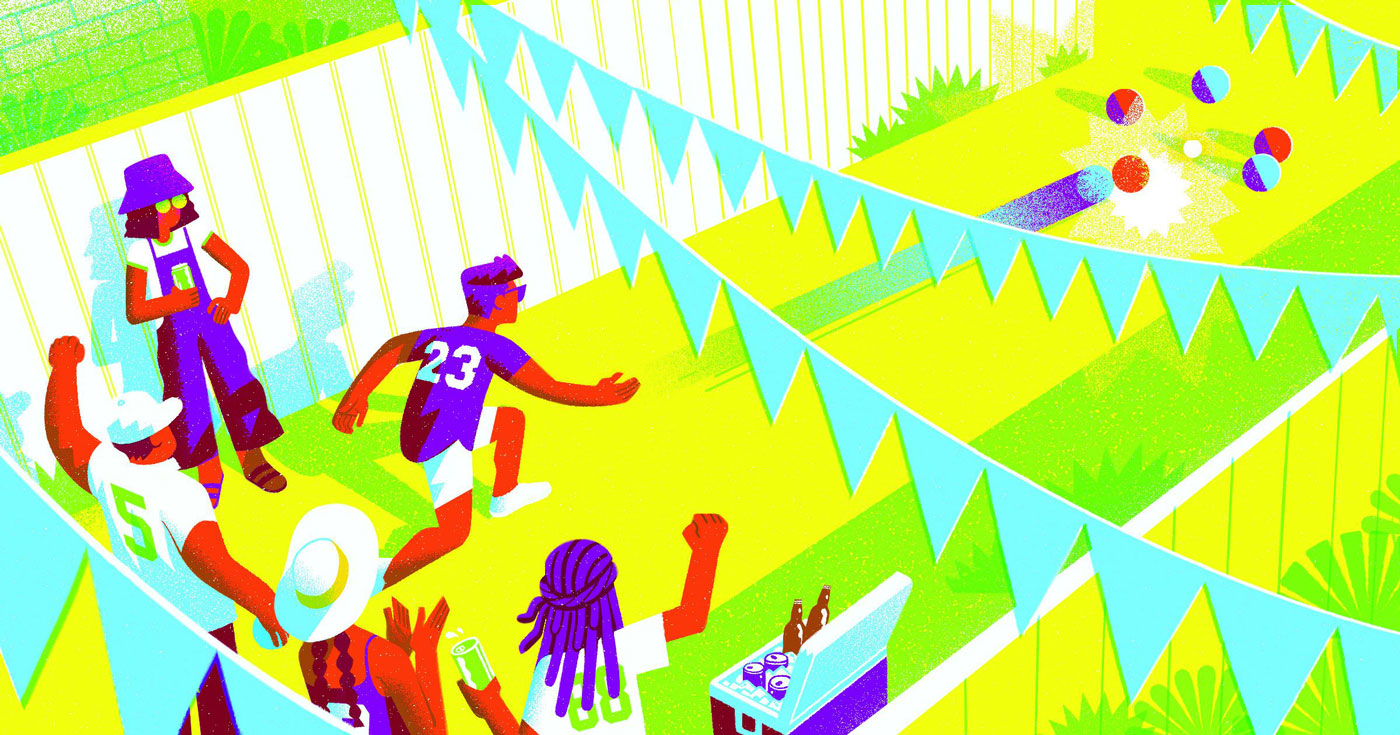 Welcome to Avenue's Ultimate Summer Challenge. During July and August 2021, we're challenging our readers to try a different fun activity every week to make the most of the summer. Plus, we show you how to take that activity to the next level. Click here to see the rest of the challenges.
If you know your Heritage Minutes, you'll remember that a long time ago an old man nailed some peach baskets to a wall and some guys threw a ball at them. From these humble beginnings we eventually got the NBA, the Toronto Raptors and several amusing courtside Drake moments, which I'm sure is, more or less, what James Naismith imagined when he was ruining that old man's baskets. But you don't need to have a wildly ambitious vision to start your own successful sports league: being only kinda-sorta motivated will do, even if that motivation comes from a desire to stem the "quarantine 15" (going on 30). Also, any excuse to see people who don't live in your house is a welcome one (and because you are the founder, commissioner and organizer of this new sports league, you get to choose who those people are).
Here are some tips to take your first step toward the Hall Of Fame you will undoubtedly someday build:
Loosen your definition of "sports." With actual sporting facilities in limbo, you need something you can play on any available patch of grass or slab of pavement. Look to the games played by children and old people for inspiration and then adapt to meet your current needs: stickball in parking lots, bocce in the alleys and dodgeball in playgrounds are all viable options.
Also loosen your definition of "league." If you organize some friends to play a game more than once, you are officially a league.
No athletes allowed. All those people who played real sports competitively into their 20s are too competitive and will suck the joy out of any activity. If you don't believe me, watch a game of Ultimate and bear witness to just how seriously a grown man can take playing Frisbee.
Rules-schmules. You need some, obviously, but keep them to a minimum and make them as objective as possible, because the last thing you want in the middle of the game is a drawn-out debate on the existential nature of a foul.
Having a drink after the game is okay, but being able to drink during the game is better, if not the entire point of playing.
Avoid anything that involves any amount of sustained running because running is terrible. If you make your friends run, they will not only drop out of your league, they will stop being your friends and then you'll be left to play with yourself.
Level Up: Make Your Own League Merch
It's not hard to get a custom T-shirt made these days, but if you want to create league merch that players actually like wearing, ditch the ill-fitting fast fashion for a more thoughtful alternative. Calgary-based brand Local Laundry works exclusively with 100-per cent Canadian-made products that feel great, look great and can be customized down to the tags. Local Laundry can also create a charitable-giving component to custom garment orders, so that each time a friend buys one of your league hats or tees it could end up, for example, helping under-privileged kids play sports.