It's pretty hard to improve upon the aquatic centre at the Fairmont Banff Springs. After all, it's located in one of the most striking settings in Canada: Situated at the base of the hotel that's known as the "Castle in the Rockies," the indoor and outdoor pools look out over a sweeping, mountain-studded view of the Bow Valley. And yet, art duo the WKNDRS, in collaboration with Park and Veuve Clicquot, have managed to make this part of the property even more eye-catching.
On June 28, the Banff Springs unveiled Banffchella: a colourful installation experience at the aquatic centre that will be in place all summer long. In the indoor pool area, the arches that frame the floor-to-ceiling windows have been painted in vibrant colours and patterns, while the outdoor pool deck is covered in graphic decals, dotted with 3D installations and stocked with lawn games and pool toys. Everything was designed by Claire Ouchi and Rachel Rivera, a.k.a the WKNDRS — a Calgary-born, Vancouver-based duo known for creating large-scale art projects, such as the colourful seating at Tomkins Park on 17 Avenue S.W. and the recently unveiled road mural at Deerfoot City's Block Party (on now until September 30).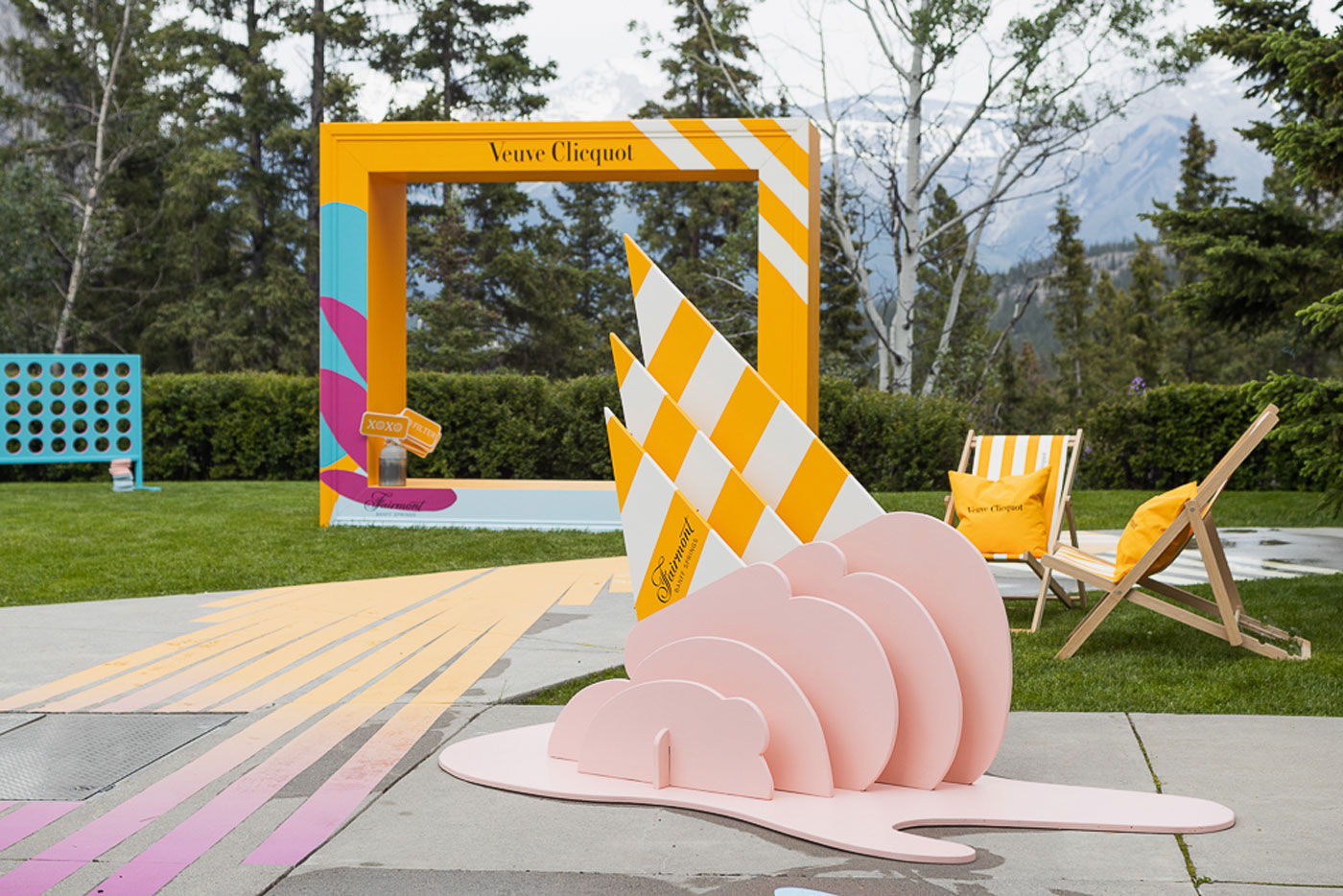 "We wanted to transform the outside so it's like you're stepping into summer," says Ouchi, as she and Rivera walk through the different elements around the outdoor pool. "We were inspired by summer cabanas and contemporary colours." There are the large, abstract shapes right on the pool deck, plus two standalone installations – an ice cream cone and a popsicle – to pose with. But the big photo moment comes by stepping inside the Veuve Clicquot frame, placed right in line with the mountain view. "It's that epic moment; you're just living in that vista," says Rivera.
In addition to Ouchi and Rivera's colourful flourishes, Veuve Clicquot has made some additions to the poolside bar menu. The Berries and Bubbles, featuring Veuve Clicquot Yellow Label Brut, strawberries, lemon juice, Beefeater gin, elderflower liqueur and marigold, pairs particularly well with a lawn game — try out the oversized Connect 4 or the jumbo Jenga towers. And, to enhance the cabana vibes, DJ Adam Doubleyou will be spinning tropical tunes on select days through the summer.
"It's fresh and fun, with good energy," says Rivera of the entire experience. "You'll feel like you're vacationing on vacation."