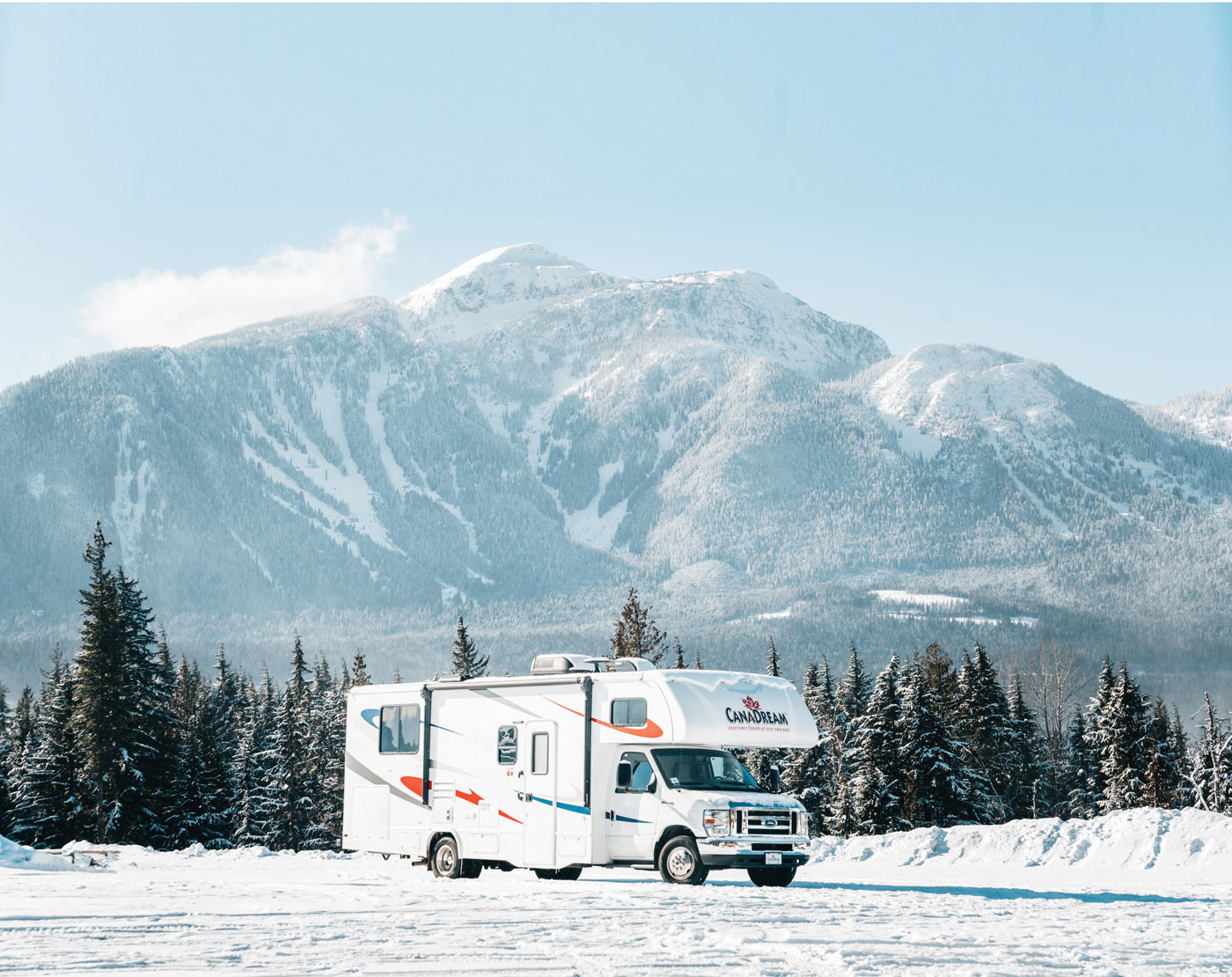 Packing your family or friend group into an RV and taking to the road in search of adventure is a standard summer pastime. But it's less common during the other three seasons. While cold-weather RV travel isn't going to appeal to everyone, it's certainly tailor-made for avid skiers and snowboarders. The ability to hit up multiple resorts during the same trip, without having to book, check in and check out of multiple accommodations, makes for a unique, free-range ski-vacation experience.
As someone who does enjoy skiing, and understands the appeal of roaming the mountains in a cozy home-on-wheels, I jumped at the opportunity last year to take a winter-ready CanaDream RV out for a weeklong ski trip into B.C. with my partner and our seven-year-old — despite never having operated an RV in any kind of weather.
CanaDream's fleet of winter-ready Maxi Motorhomes are said to be comfortable in temperatures as low as –30˚C, though, the spring-break timing of our trip meant we wouldn't be testing those limits, with temperatures mostly hovering around the freezing mark. The winter motorhomes come equipped with high-efficiency furnaces, generators, insulated and heated water tanks, and customized interior blankets and vent pillows that seal in warmth while you sleep. With a seven-foot interior height and slide-out section, a queen-sized bed in the rear sleeping quarters, plus room to sleep two more adults above the cab, a kitchenette, and a bathroom with flush toilet and shower, the 27-to-29-foot Maxi models are basically condos on wheels. There's also tons of cargo space — very important for hauling ski and snowboard gear.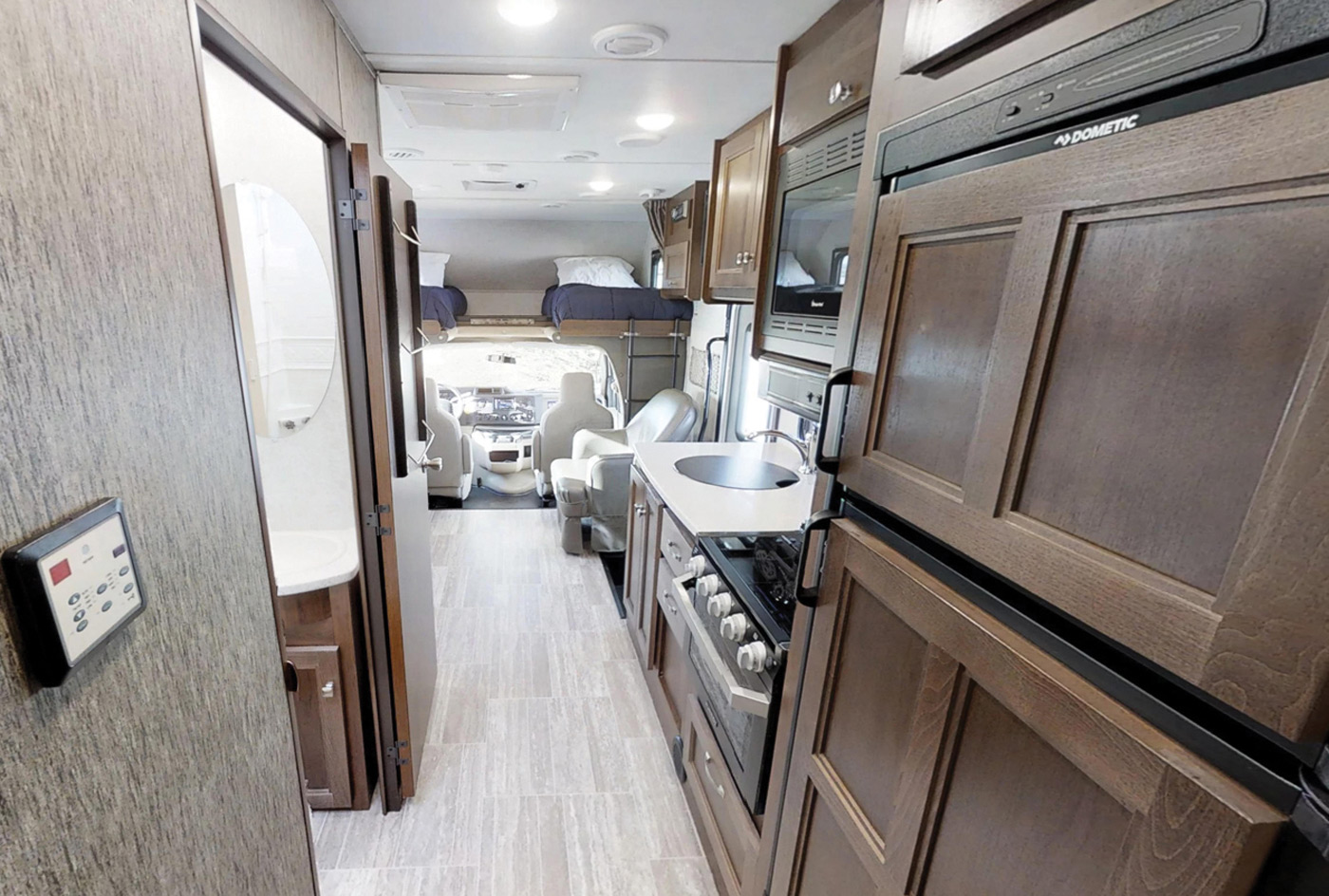 If you're new to the RV scene, there are some major benefits to going with the prolific CanaDream. The rental company, with headquarters just north of Calgary in Rocky View County, gets you well prepared for your journey with instructional videos and reference materials, while the CanaDream Club app provides discounts at campgrounds and assistance with booking activities.
There's also a trip planner tool that you can use to create customized itineraries, including "ski safaris" at 17 winter resorts throughout Alberta and B.C. Our spring-break ski safari would take us first to Golden, B.C., for three nights of camping at the Golden Golf Club RV Park and two days of skiing at Kicking Horse Mountain Resort, then eastward on BC Highway 95 for two nights of camping and one day of skiing at Fairmont Hot Springs Resort.
The wide-open sightlines and straightaway roads heading westward from Calgary are a great way to get your bearings as a new RV driver. By the time we reached Banff National Park, both my partner and I were feeling fairly comfortable. It was a comfort level we would need to maintain on the section of the Trans-Canada Highway that runs through the Kicking Horse Canyon, where construction zones have narrowed the road and removed the shoulder in sections.
After turning off the Trans-Canada, en route to the Golden Golf Club, we passed over a one-lane wooden bridge without incident and were able to back into our reserved spot with ease. With mature trees and a picturesque alpine setting, the club's RV park is an idyllic locale for winter camping. Along with electrical hook-ups, there are newly constructed heated washroom and shower facilities — a nice amenity for RV campers who are concerned about their grey water and sewage tanks filling up too quickly.
The golf club's location just a few kilometres from Kicking Horse Mountain Resort made for easy travel back and forth between our home base and our daily skiing activities. Also easy? Travelling with all gear items in tow: Those who have ever skied with kids know the stress of accounting for the myriad items — everything from extra mittens to snacks — needed for a successful day on the slopes. This isn't a concern when travelling by RV. You can't forget anything at home or in your hotel room when your accommodations go where you go. Being able to break for lunch in the RV is another nice perk, although, a trip to Kicking Horse should include at least one lunch at the incredible Eagle's Eye restaurant. The chalet-style dining room perched at a height of 7,700 feet offers expansive views of multiple mountain ranges in all directions. The restaurant is just steps from the gondola's offloading station, so non-skiers can also enjoy Eagle's Eye with the purchase of a sightseeing lift ticket.
On day four of our ski safari, we checked out of the golf course and drove down the mountain, stopping to make use of the sani-dump facilities at the Centex gas station in Golden. During the cold-weather months, there are fewer options for dumping and potable water fill-ups (the Golden Visitor Centre on the Trans-Canada is one example of a go-to spot in the area that closes for the winter), so it's best to take advantage of opportunities when they are available.
The leisurely drive along Hwy 95 to Fairmont Hot Springs included a stop at Beeland Market in Spillimacheen, a spot famous for its gourmet goodies and honeys. From there, we continued through Radium and Windermere, before arriving at Fairmont Hot Springs Resort. The RV sites here are less private than those at the Golden Golf Club, though ideally situated to take advantage of the amenities, including the famous hot springs pools (guests of the RV park are allowed access to the pools, though admission is still required).
Our ski safari continued the next day up at Fairmont's charming ski hill — an ideal spot for beginner and intermediate skiers and snowboarders, and families of varying ability levels. We took advantage of having our RV on site for lunch, then capped off the day with aprés-ski beverages on the sunny patio at the hill's homey day lodge, before heading back down to our RV site and another evening dip in the hot springs.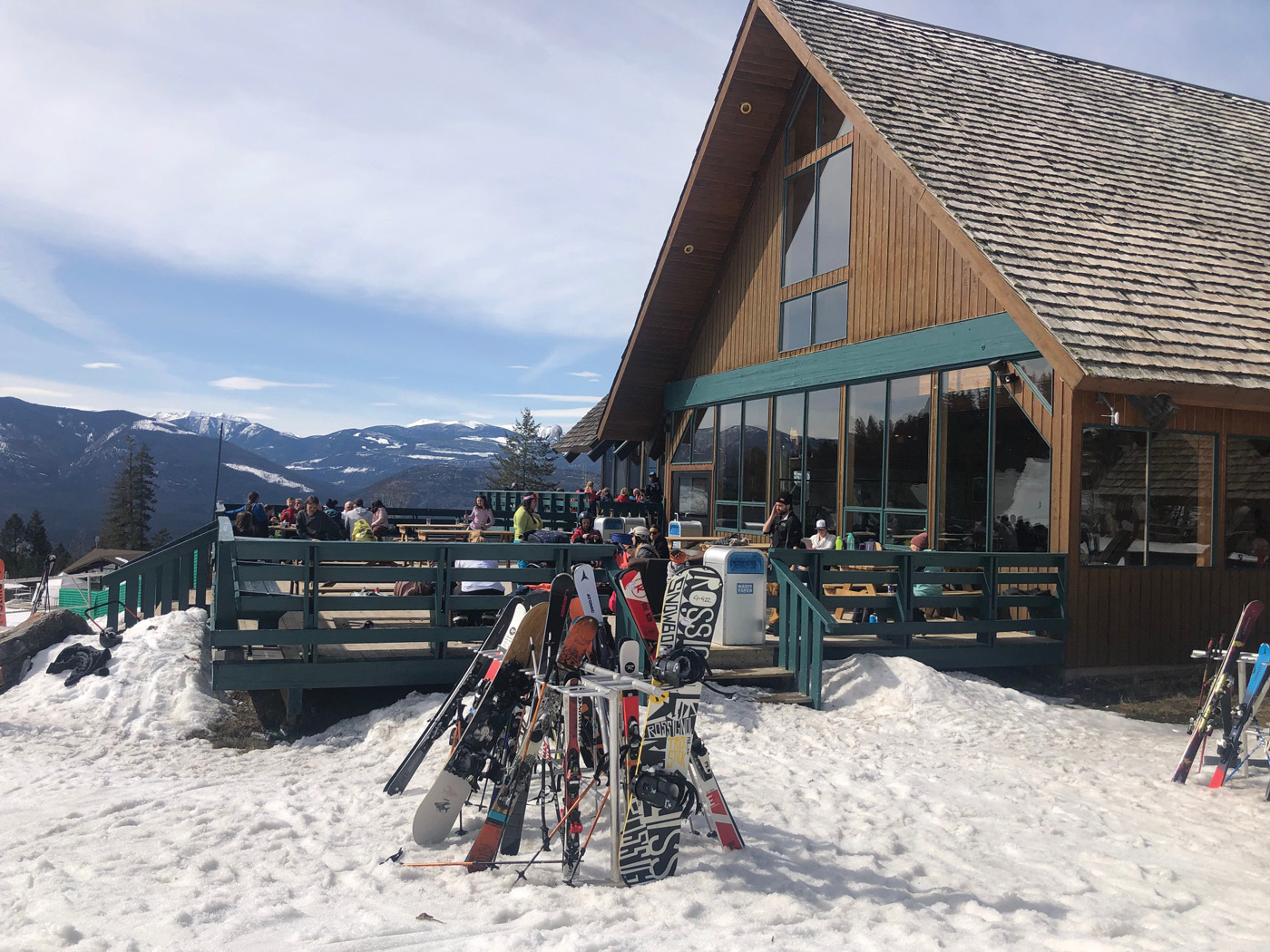 On departure day, there was no frantic packing up. We had breakfast, secured loose items, retracted the "slide" room, unplugged, and set out for home through Kootenay National Park and then Banff National Park, where we veered from the Trans-Canada and took the more scenic Bow Valley Parkway. Maybe the best part of all? Handing the keys back to CanaDream when it was all over: no muss, no fuss, no storage fees, no problem.
Winter #VanLife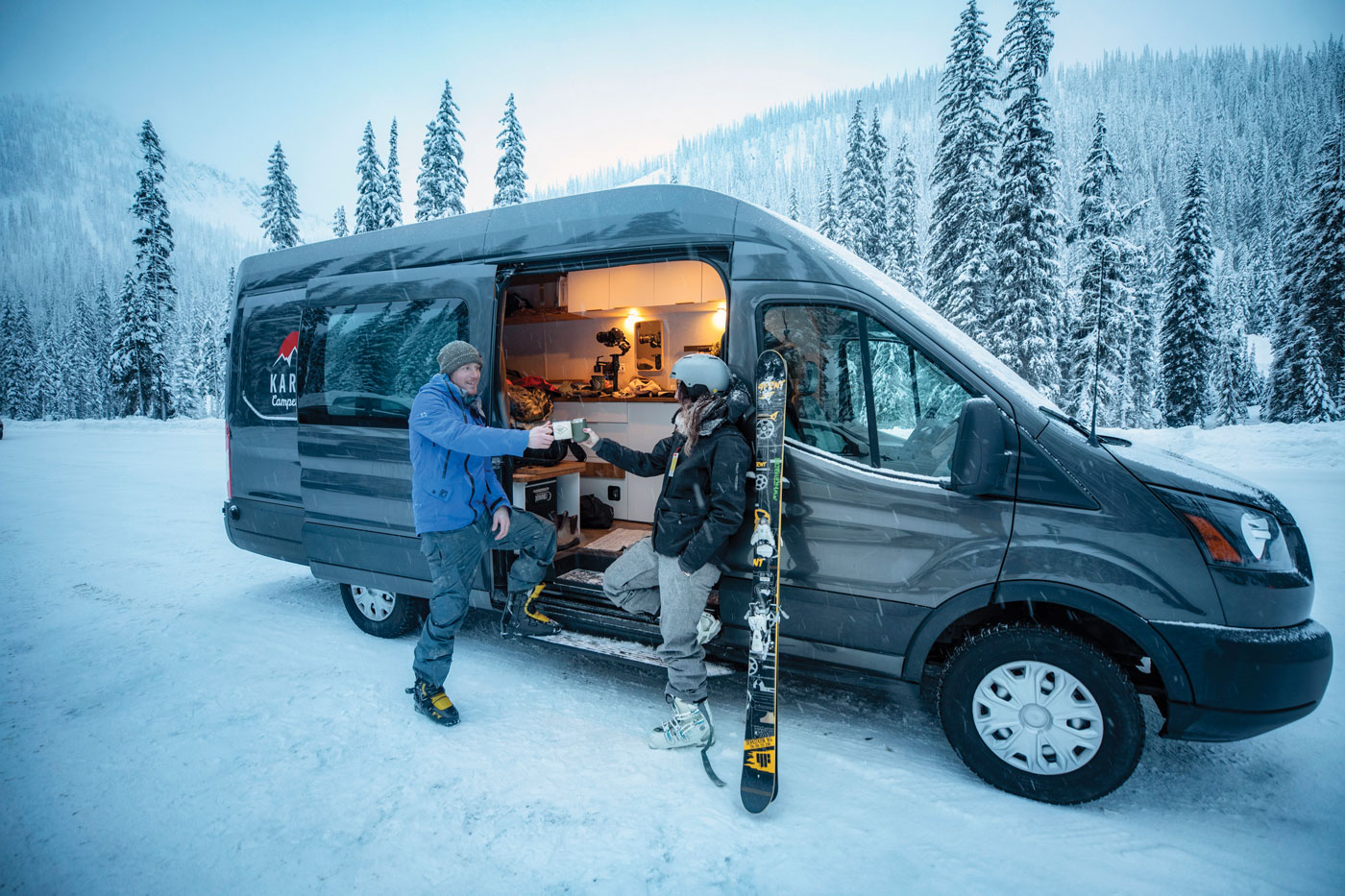 While a full-scale winter-ready motorhome is definitely a luxurious vehicle for a ski safari, you can also take to the road in something more compact. With bases in Calgary and Vancouver, Karma Campervans offers winter-camping-equipped vans perfect for ski excursions. The campers have built-in heaters, extra-warm bedding and ample storage for winter gear and clothing. For an easy #VanLife spring-break ski trip, pick up in Calgary and head south to Castle Mountain Resort, which offers RV overnight parking right at the base of the hill.
Avenue's writers and editors are occasionally invited to experience dining or adventure experiences as a guest, including some of the experiences in this story. Neither complimentary experiences nor advertising are required for coverage in Avenue. Neither companies that advertise nor those that provide other incentives are promised editorial coverage, nor do they have the opportunity to review or approve stories before publication.