Heading out into nature doesn't have to mean roughing it. Enjoy the pristine outdoors while also treating yourself to luxurious spa treatments, five-star dinners and saltwater pools. Here are 5 destinations that offer the independence of a cabin as well as the luxury services of a hotel.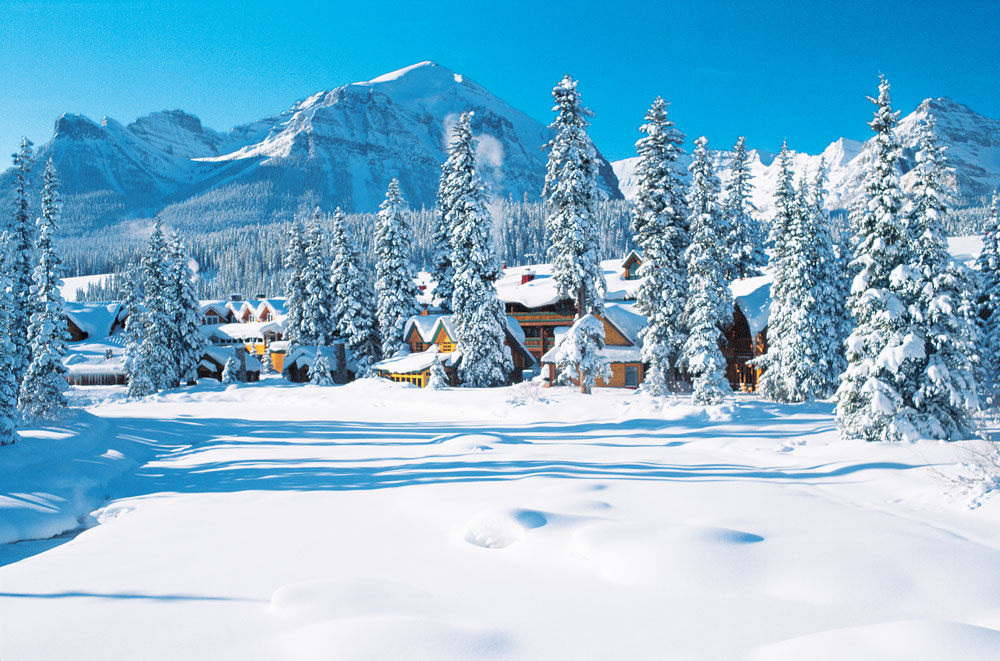 Cabins at the Post Hotel
The Post Hotel and Spa in Lake Louise first opened in 1942. Along with the original ski lodge building, the initial construction project included four log cabins.
Nestled up against the rushing waters of the Pipestone River that runs along the edge of the property, the renovated and modernized cabins are now guest accommodations. Each cabin is equipped with a river-stone wood-burning fireplace – even the cozy Whitehorn and Fairview cabins, which measure only 210 and 280 square feet, respectively.
At 455 square feet, the Temple Cabin offers a bit more elbow room. The Pipestone Cabin is the largest of the bunch, roomy enough to have been the residence of Post Hotel co-owner Andre Schwarz for two decades. At 1,300 square feet over two floors, with a master bedroom and a second bedroom containing two single beds, it's great for a vacationing family. 
The Post also rents out Watson House, a 3,000-square-foot, two-storey, four-bedroom chalet named after Sir Norman Watson, a British industrialist and adventurer who owned the hotel from 1947 to 1978 (he's also the namesake of the hotel's aprs-ski lounge). Equipped with a kitchen and dining room table, Watson House is suitable for multi-family gatherings such as reunions, as well as corporate retreats.
Cabin guests, like their lodge counterparts, have access to the full range of the Post's amenities, including the library, saltwater pool and spa. While there are lots of dining options in Lake Louise, no visit to the Post Hotel is complete without a meal at its fine four-diamond restaurant with its spectacular wine cellar.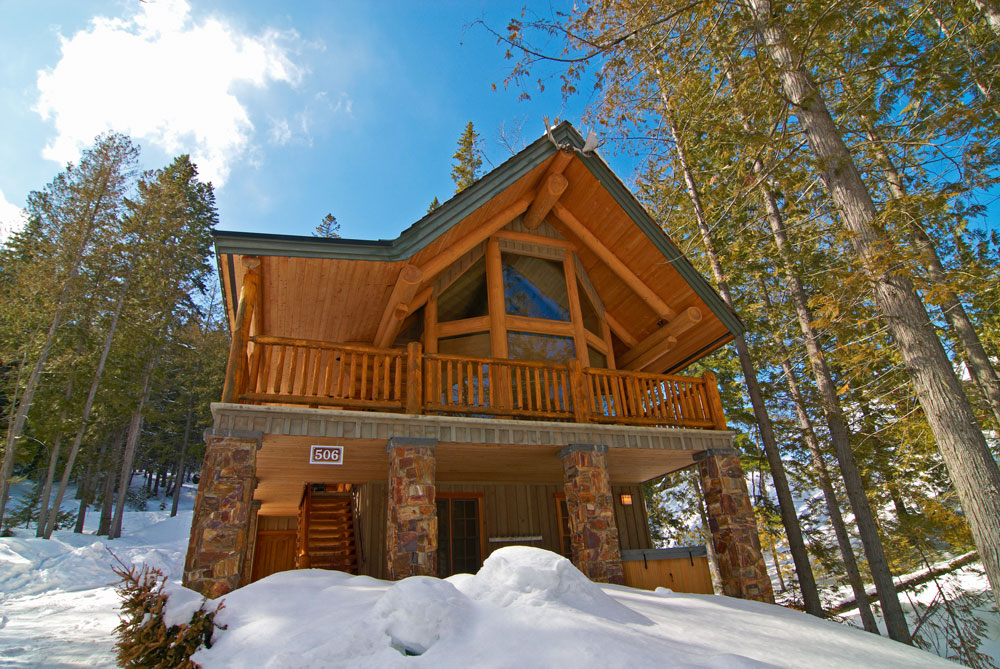 The Snow Creek Cabins are as good as ski-in, ski-out gets.
It's hard to imagine more convenient, woodsy and well-appointed ski-in, ski-out accommodations anywhere than the Snow Creek Cabins in Fernie, B.C. Nestled in the trees above Snow Creek Lodge, these classically Canadian log cabins are just a pole-plant and a shoosh away from the snowy slopes of Fernie Alpine Resort.
Despite their prime location, these three cabins are designed for maximum privacy so you can enjoy a secluded, on-deck hot tub that feels worlds away from the typical aprs-ski soak in a public tub.
The two-bedroom-plus-loft cabins sleep eight people comfortably and the loft bedroom features a freestanding clawfoot tub that adds an air of rustic romance to the whole affair.
Kitchens feature a faux old-fashioned natural gas stove that suits the rustic feel of the place perfectly. If you're fussy about the quality of pots and pans and knives, you may consider bringing your own, as what's included isn't up to kitchen-snob standards.
Guests have full access to the amenities of Snow Creek Lodge, including an outdoor heated swimming pool, exercise room and caf. At the nearby base area there are a few dining options, as well as the Mountain Pantry, which sells basic groceries, beer and wine.   
Downhill skiing is definitely the marquee attraction in Fernie, with its legendary powder and big mountain terrain, but that's not all there is to do. For fans of cross-country skiing, Fernie Alpine Resort has about 10 kilometres of groomed and track-set terrain for classic or skate skiing. There are also great snowshoe routes around the base area.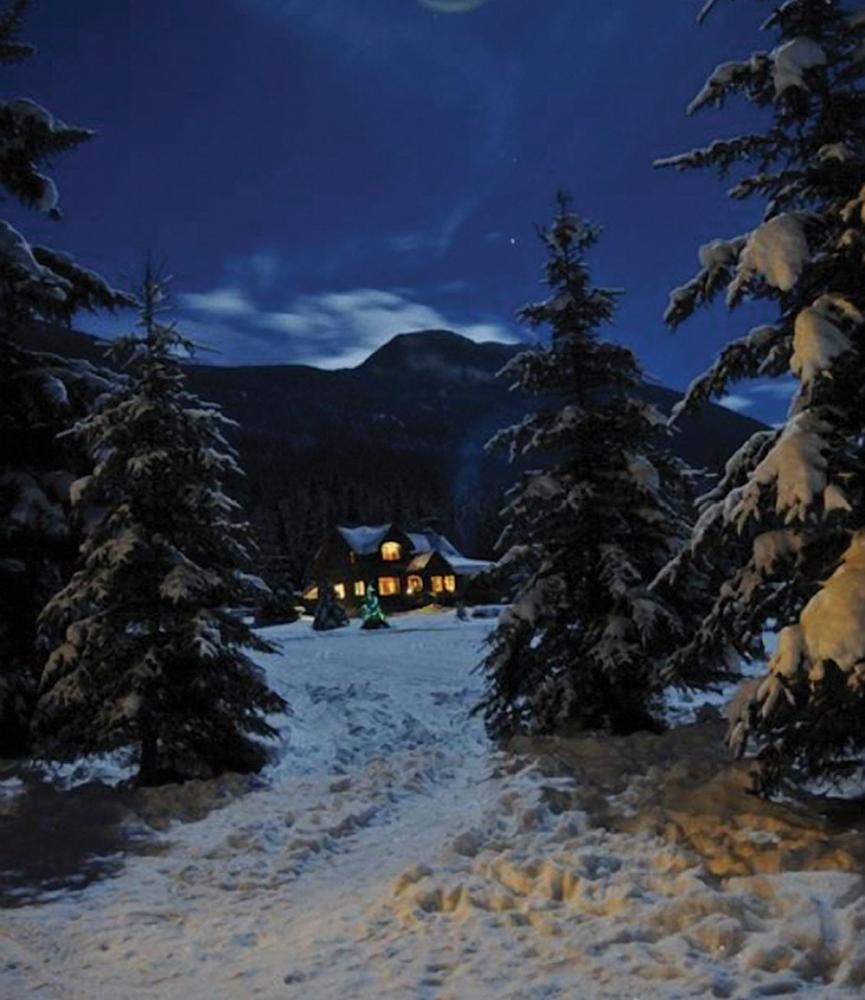 These cabins are in perfect harmony with the natural surroundings. 
Each of the eight guest cabins at Nipika Resort differs in terms of size and layout, but they all demonstrate the philosophy of owners Lyle and Dianne Wilson – that the resort be sustainable, eco-friendly and in harmony with the surrounding wilderness. All the buildings and most of the furniture have been constructed with local B.C. wood killed by the mountain pine beetle, and the Nipika team created all of its own designs and built everything on site. Electricity is solar-powered and heat is generated by salvaging dead wood and burning it in a central boiler, which also provides hot water.
It was the dream of the Wilsons to build a wilderness resort where guests could embrace a number of self-propelled activities and learn about the nature and history of this area. With more than 100 kilometres of cross-country ski trails, endless single-track trails for snowshoeing, as well as ice skating and tobogganing, there's plenty to get your heart pumping before heading back to home base to warm up.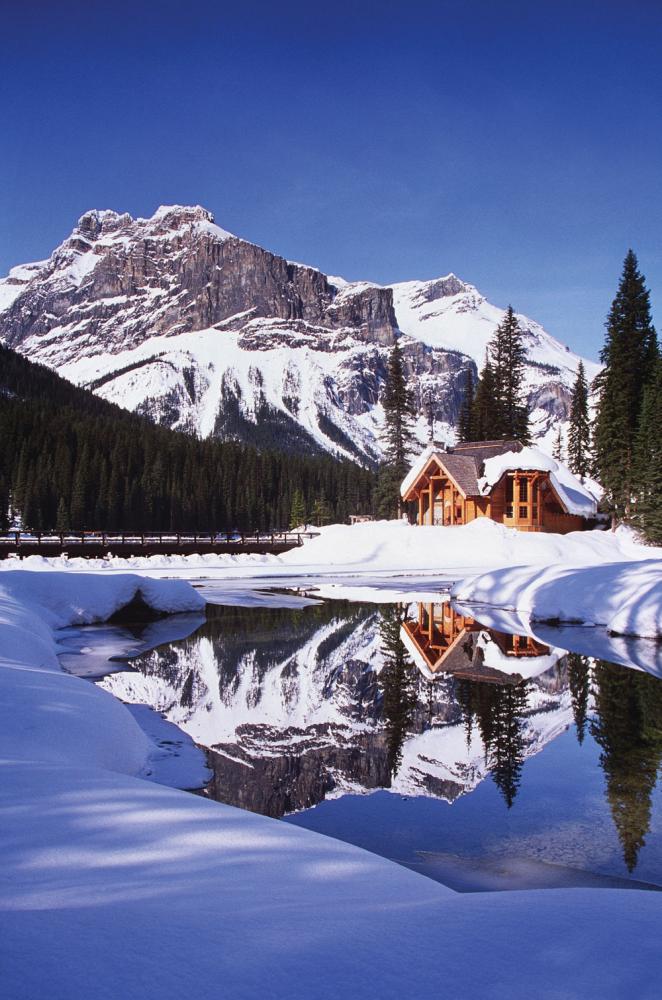 A pristine escape from the real world.
Emerald Lake Lodge, located about 20 minutes west of Lake Louise, isn't exactly in the middle of nowhere, but it feels like it is – in the best way possible. Buffered with a blanket of snow, the quiet that surrounds the lodge is so palpable, you seem to feel all your senses more keenly.
The cabins at Emerald Lake Lodge don't have wi-fi, televisions or even cell service. But they do offer wood-burning fireplaces (stocked daily with firewood), private balconies, fluffy duvets and traditional architecture in keeping with the main lodge, a structure that dates back to 1902.
The ambience of Emerald Lake Lodge is the total opposite of a go-go-go destination. No one will judge you if you spend the bulk of your getaway reading, napping and sipping wine. But you'd be missing out on something truly spectacular and rewarding if you didn't venture out on one of the dozens of cross-country ski and showshoe trails around Emerald Lake that are all marked and mapped.
In addition to experiencing the pristine beauty of the area under your own steam, you'll work up a hearty appetite befitting the menu at the award-winning Mount Burgess Dining Room. Referred to as "Rocky Mountain cuisine," dishes feature elk, bison and caribou and showcase a wonderful balance of culinary comfort and sophistication.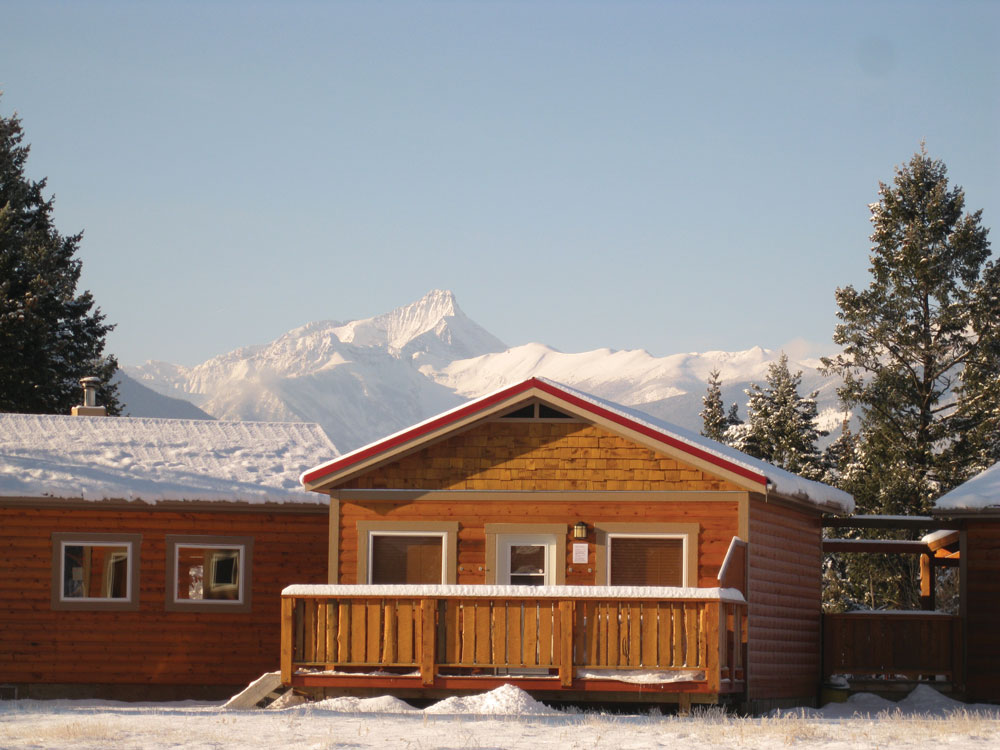 Each Deere Ridge cabin has its own private hot tub and deck in the back.
For an easy, romantic mountain getaway just three hours from Calgary, look no further than Deere Ridge Cabins in Invermere. Here, you'll find yourself surrounded by the beauty of the Rockies, overlooking Windermere Lake. All cabins have their own private deck with hot tub and are dog-friendly, so Fluffy can join you on your mountain getaway.
You can opt in or out of breakfast, but who would say no to having a gourmet meal delivered to your door every morning? The town of Invermere, where you can peruse shops, restaurants and a couple of small museums, is a short walk away.