For some, driving is simply a way to get from here to there. But for the drivers out there, the on-the-road part is just as much fun as the destination. They're the ones who go out of their way to cover a unique or interesting stretch of highway, the ones who peruse maps looking for scenic routes, the ones who would wear driving gloves unironically if they could be assured that no one would make fun of them. If this sounds like someone you know (maybe it is you), here's a must-drive road that is worthy of your wheels.
Duffey Lake Road, Lillooet to Whistler, B.C.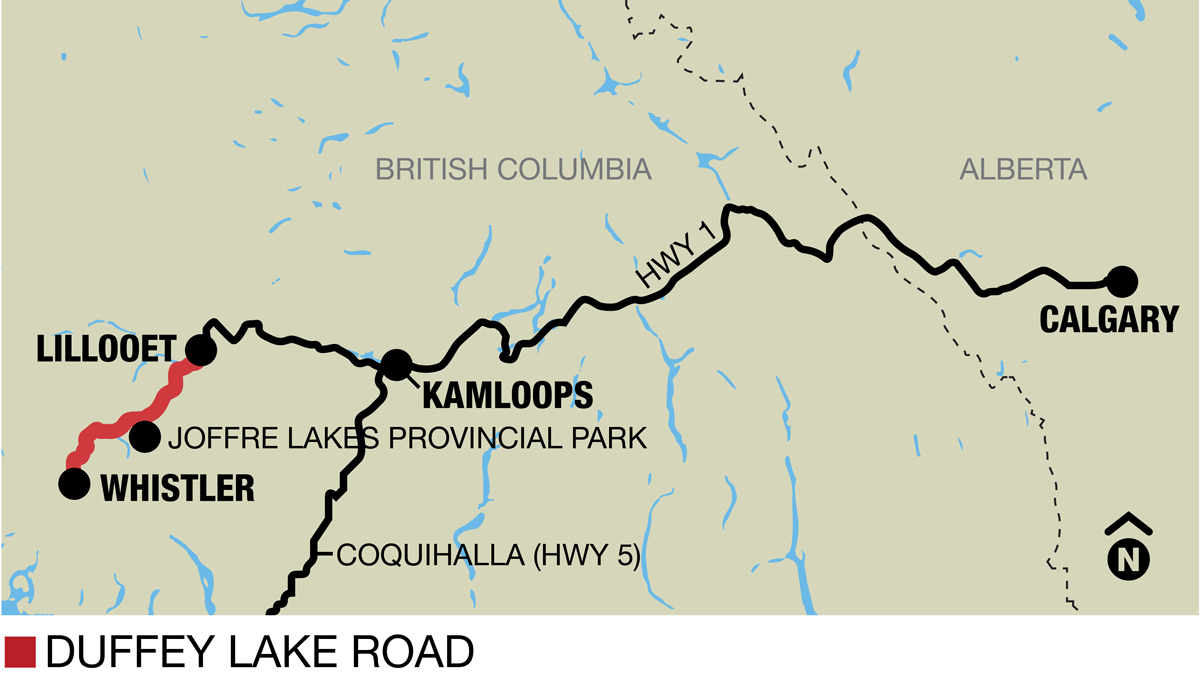 The Drive
If you have not driven the Duffey (BC Highway 99) for more than a decade, prepare to be pleasantly surprised. The last leg of the journey coming into Whistler from the north was the beneficiary of dramatic improvements leading up to the 2010 Winter Olympic Games. Those improvements included much-needed resurfacing on long sections of cracked, uneven pavement that had previously made the drive a bone-jarring and unpleasant experience.
But even with the improvements, the Duffey is no easy cruise. Starting from the scruffy outpost of Lillooet, this wild-and-woolly 130-kilometre stretch remains a double-black-diamond road (to borrow from ski-hill parlance), with one-lane bridges, hairpin switchbacks and deadly drop-offs lined with laughable guardrails.
After a dramatic gain in elevation, the road passes by two provincial parks (Duffey Lake and Joffre Lakes) before descending via another section of slow-to-a-crawl switchbacks to the base of Mount Currie. From there, it's a relatively low-key denouement through the town of Pemberton, with Green Lake on Whistler's northern edge providing a scenic backdrop to end your ride.
The End of the Line
Grand and impressive but with a warm, homey vibe, the Four Seasons Resort and Residences Whistler is the perfect come down after the blood-pumping rush of the Duffey. Tucked in the Upper Village zone on Blackcomb Mountain, it's removed from the bustling plazas and bar scene of Whistler Village, though should you want to join the party, it is just a short walk away. Staying at the Four Seasons Whistler during the summer means leisurely hangouts at the lovely outdoor swimming pool, which offers Evian spritzes and cool, damp towels on the pool deck for when the temperature rises, as well as outdoor bar service. Take yourself out of the driver's seat and surrender to the Sea-to-Sky signature massage at the in-house spa, which uses products indigenous to the West Coast including warm river rocks and seaweed.
4591 Blackcomb Way, Whistler, B.C., 604-935-3400, fourseasons.com/whistler
Other Mountain Roads You Should Drive This Summer
Plummers Road, Foothills County, Alberta
Powderface Trail/Smith Dorrien Trail, Bragg Creek to Canmore, Alberta