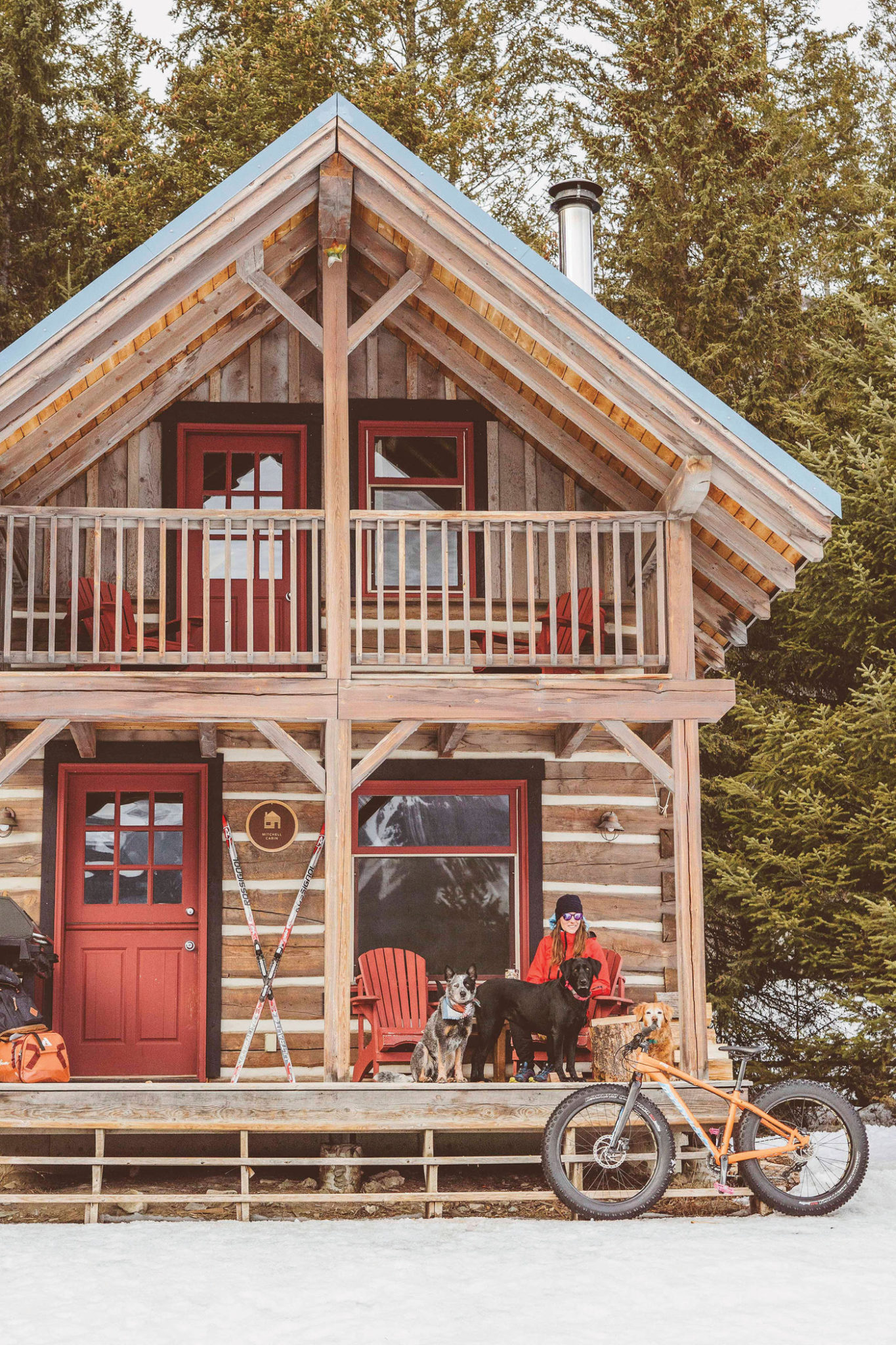 For most active dog owners, a fantasy wintertime getaway is one that includes their pups' happiness as well as their own. Imagine a world where leashes are rare and dogs are allowed to hang out anywhere and everywhere; a place with seemingly endless groomed trails where you can go Nordic skiing or fat biking with your pups by your side. You'd be imagining Nipika Mountain Resort.
To say that Nipika, located just over 30 kilometres east of Radium Hot Springs, was designed for dogs is a bit of a stretch — but not too far off. In 1979, when owners Lyle and Dianne Wilson first bought the land where Nipika is now, they had a German shepherd named Oochuk. Naturally, Oochuk was Lyle's best friend and had the run of place, and he's still there in spirit. When the Wilsons were building their first cabin on the land in 1996 -1997, they had two pups, Yoshi and Murphy — the latter is something of a legend for catching frisbees while dodging elk and horses.
Though the resort has definitely embraced fat biking in recent years with around 30 dedicated fat-bike trails on the property, Nordic skiing has always been the heart and soul of Nipika's winter programming. Lyle coached Canada's national cross-country ski team for the Calgary 1988 and Albertville 1992 Winter Olympic Games, and the resort hosts an annual Ski Week in the Rockies in January. Open to all levels of Nordic skiers, Ski Week is a clinic that offers instruction and coaching in classic and skate-skiing styles, as well as theory sessions and personal technique video analysis. (Ski Week registration also includes accommodations, food and social activities.)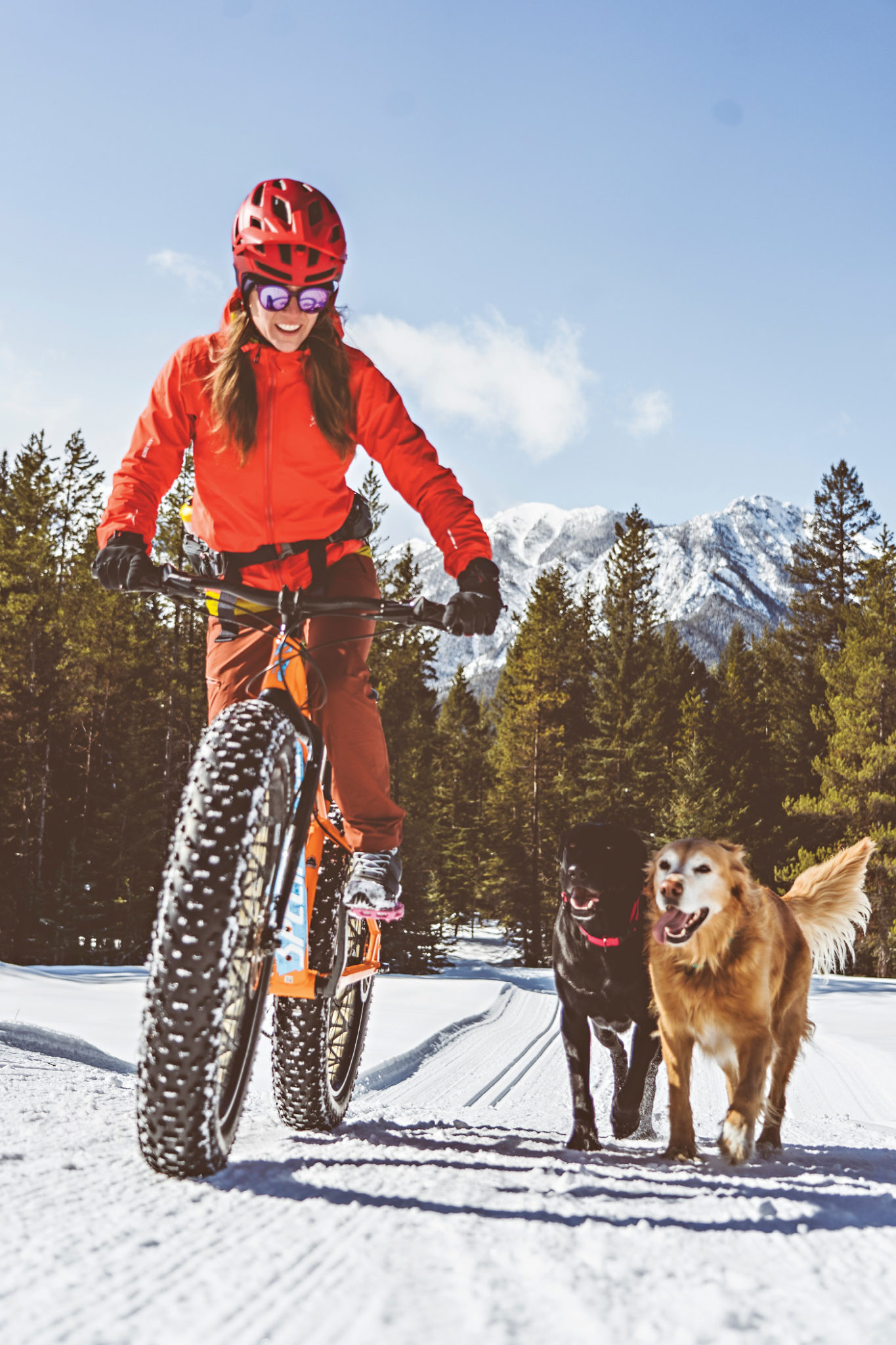 Lyle has always had dogs, and has always skied with dogs, and he never gave a thought as to whether there would be dogs around the resort that he and his family built. Dogs are as integral to the Nipika story as the solar panels that power this eco-friendly operation.
Whether or not the Wilsons had intended to open one of the most dog-friendly resorts on earth doesn't matter, because the truth of the matter is that they did. Most of the Nipika staff members have a dog and are permitted to bring their canine companions to work. The resort is accessed off a logging road that does see considerable truck traffic on weekdays, but the cabin accommodations and north section of the trail system, which has 50 km of groomed trails outside of the Kootenay National Park boundary, is set well away from the road.
The nine guest cabins are laid out in a spacious semicircle, a formation that encourages supervised pups to play in the heart of the resort. This helps alleviate fears of anxious owners who might be new to having their dogs off-leash in such a setting, especially considering how stringent the rules and regulations are regarding leashes in the national and provincial parks. Certain B.C. Parks are labelled as "dog-friendly" for having off-leash zones and swimming spots — but only in certain areas. There is no "dog section" at Nipika because they are allowed everywhere and on every trail (the only place they're not allowed is on the furniture). There is also no limit on how many dogs can be there — they have hosted upward of 30 canine guests in the past. The resort does reserve one cabin as dog-free to accommodate guests with allergies, though they will rent it out to guests with a dog if required and then follow up with a deep clean.
Each guest cabin at Nipika is constructed with timber from the property and is equipped with a wood-burning stove, kitchen facilities (cooking stoves and refrigerators but no microwaves, toasters or dishwashers) and comfortable, sturdy furniture. Most cabins sleep between six and eight. The largest, the Rocky Mountain Cabin, can sleep up to 13, while the smallest, the Bill Yearling cabin, can accommodate four guests.
On a typical winter day at Nipika, you can wake up, put on your snow boots, and take your dogs for their morning walk. (The resort requests that owners of aggressive and game-chasing dogs use a leash, but otherwise, go leash-free if you like!) Upon returning, you can stoke the stove, make some coffee, feed the pups (and yourself) and get geared up for Nordic skiing or fat biking. Then, right from the cabin, you can take to the trails. If you are worried about the cold, there are warming huts out on the trails where dogs are allowed.
For the most part, this is a place where dogs are welcome as guests and can run and play freely in a natural environment alongside their owners as they enjoy invigorating outdoor activity. Unless you're on a private estate, that's a rare treat for dog owners and their canine companions. A trip to Nipika isn't just something you do for you, it is something you do for your best friend, too.
Ski Town Dog Sitters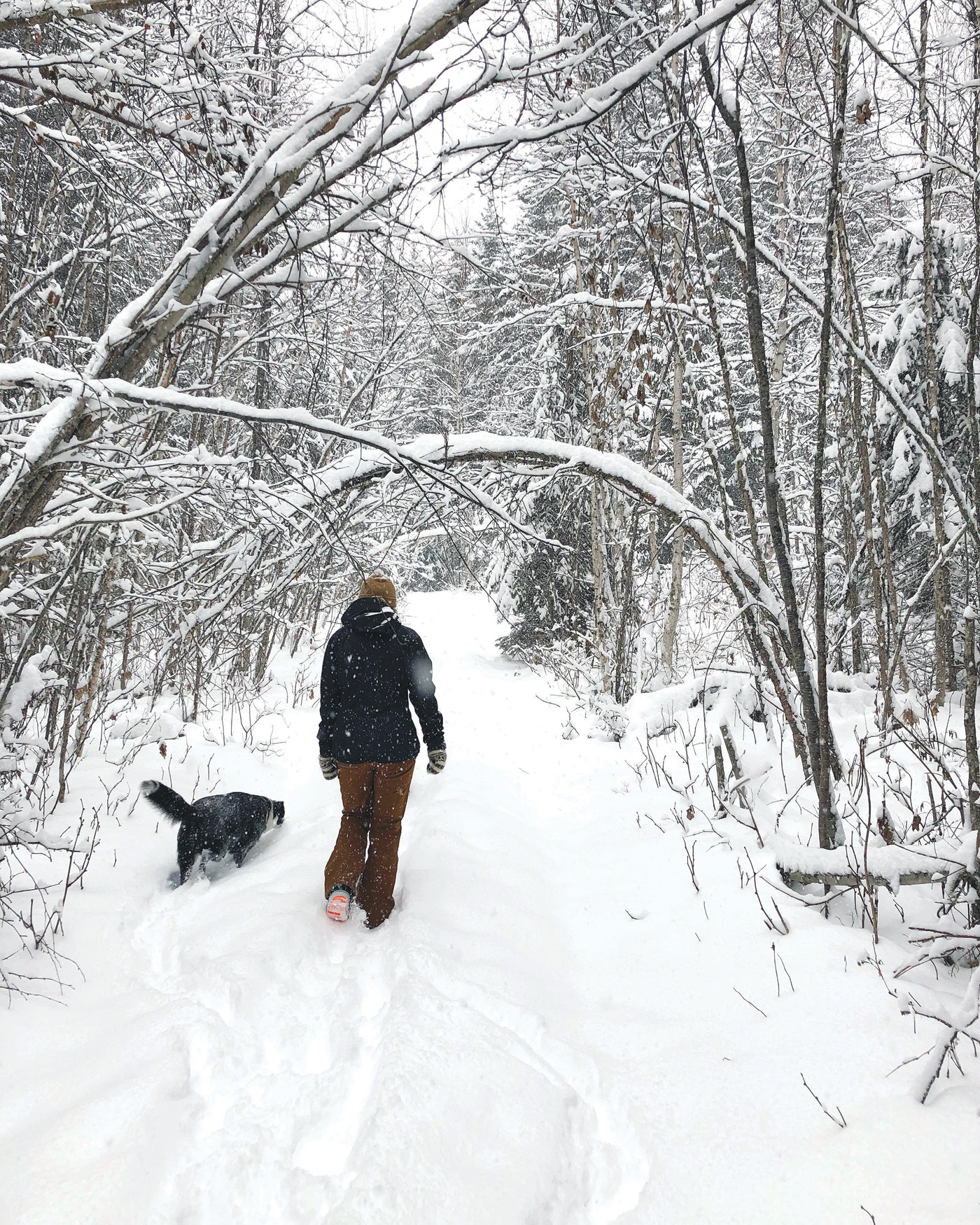 There are dog-friendly hotels pretty much everywhere you go, though the majority ask that guests do not leave dogs unattended, or, in the case that they are left unattended, that they be confined in a crate. While this may be doable for very short periods of time, it's certainly not a humane option if your plan is to spend an entire day out on the slopes. Some skier/dog owners have been known to enlist the housekeeping staff (and throw them some cash) to keep an ear out if the dogs start to bark or get excited, and should that happen, calm them down. But this isn't exactly an above-board practice, and may not even be possible in large-scale accommodations with an extensive housekeeping staff.
The solution to this conundrum faced by avid skiers who have their dogs with them is to hire a pet-sitter for the day. Pet Tech Care in Fernie, B.C. and Fern & Fawn Petsitting Services in Golden, B.C. both cater to those who have come to their respective towns to enjoy the exceptional ski terrain. Pet Tech Care is run by former veterinary technician Val Lanthier, and she and her employees offer a number of services that range from taking your dog on a wintery walk, to administering shots, to staying in your hotel room with your pup while you're out skiing. In Golden, Fern & Fawn, run by Jamie Froats, offers similar services for those who have plans to spend the day at Kicking Horse Mountain Resort. Rates vary, though in most cases the day rate for pet-sitting is going to be less than a single-day lift ticket at major alpine resorts. Most importantly, you'll come back to happy dogs, which means a guilt-free ski trip.