While on a recent family trip to Invermere, Ravi Thaker wanted his family "to immerse themselves in the Canadian experience" by going mountain climbing, hiking and kayaking. But Thaker soon discovered that the price and amount of equipment needed (not to mention the packing up required at the beginning and end of a trip to the water) made activities like kayaking difficult for everyone to access.
With that experience in mind, Thaker set out to make it easier for people to try one of the most quintessentially Calgary summer experiences – paddling down the Bow River – with the help of his new company, The Paddle Station.
The kayak and raft rental company, which will run seasonally from around May to September, opened on May 12. The Paddle Station has three mobile rental stations set up in vans along the Bow River at Shouldice Park, Prince's Island Park and St. Patrick's Island. Guests can rent single kayaks, double kayaks or rafts that fit either four to eight people or six to 12 people. Every guest is given a helmet, life jacket, paddle, dry bag and vessel safety kit. Rates vary depending on which vessel you rent and how far down the river you'll be traveling in it.
Guests can start and get equipment at the Shouldice Park or Prince's Island Park stations, then paddle to the stations at either Prince's Island Park or St. Patrick's Island. Trip times can vary from around 30 minutes to around two hours, depending on which station you begin and end at. Expect a picturesque ride past plenty of trees and greenery, the RiverWalk, and underneath the Peace Bridge and George C. King Bridge.
Once you've completed your journey and returned your equipment, you can grab a cab, a car2go or pay $7 to hop on The Paddle Station's small shuttle bus to get back to the start of the route and retrieve your vehicle.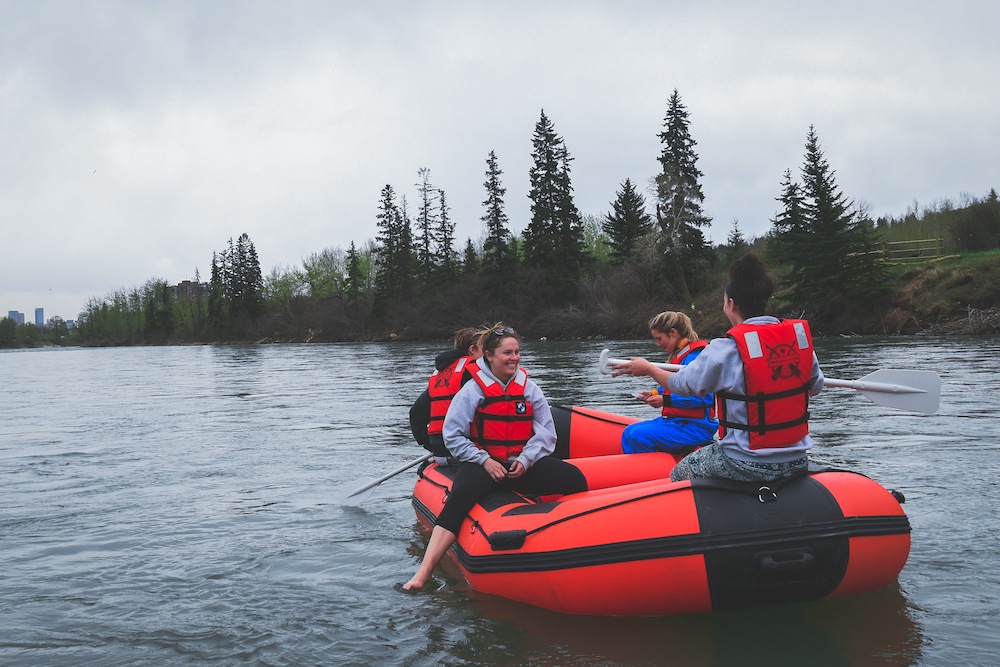 The Paddle Station's services aren't just for those with paddling experience. Before hitting the water, all paddlers will learn about general boat safety, emergency procedures, potential river obstacles like rocks, and rules regarding no alcohol and always wearing a life jacket.
Children can participate as well. They have to be at least three years old to ride in one of the rafts, at least six years old to ride in a double kayak and at least 16 years old to get their own single kayak. Any children under the age of 18 have to paddle with a parent.
Weather conditions will determine whether or not The Paddle Station can open on any given day, so check the company's website and social media pages for news before you head out.
403-456-2418, paddlestation.ca, @paddlestationca