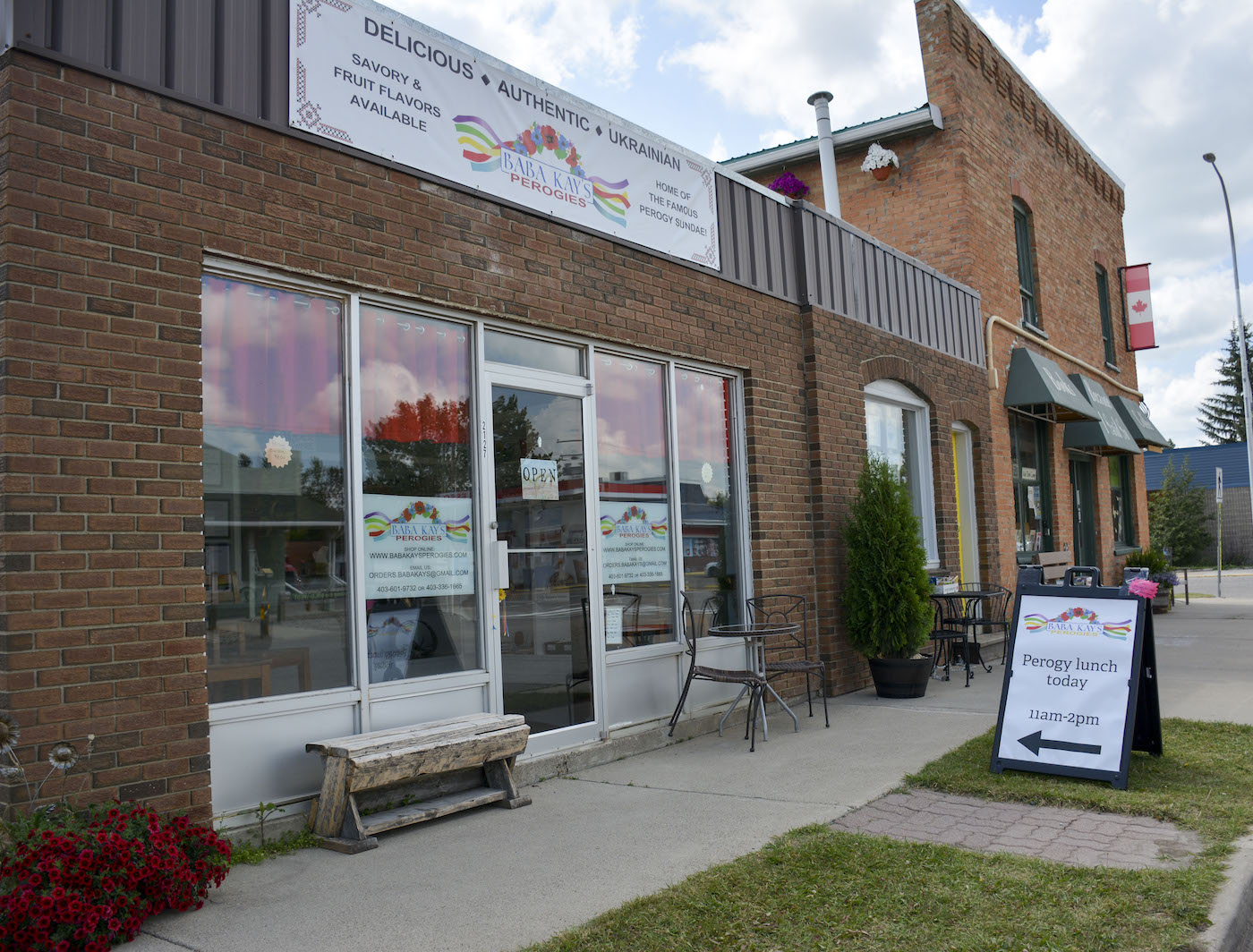 This family-friendly spot right outside of Drumheller, on the way to the hoodoo hiking trail, can be a busy place to visit on the weekends. Try to make a day trip on a Monday or Tuesday to savour its offerings by taking Highway 2 north and then heading east on Highway 9, driving through Drumheller to Rosedale. You can't miss Asteroid with its bright blue, castle-shaped exterior. Serving local Foothills Creamery ice cream, this little eatery also has Alberta beef burgers and hand-cut fries. Expect a 10 to 15 minute wait for your food as everything is made fresh and cooked to order.
Try this: Mint chocolate chip premium hard ice cream in a waffle cone.
163 Centre St., 403-821-4152, Rosedale, facebook.com
Baba Kay's little perogy mascots on the corner of 21 Avenue will wave you towards the corner shop as soon as you enter Nanton. The Ukrainian perogies at this eatery are made in-house and available in frozen batches to locals throughout Nanton. Stop by on a Friday or Saturday between 11 a.m. to 2 p.m. for Baba Kay's hot lunch menu and try the perogy plate. For dessert, the raspberry perogy sundae features vanilla ice cream with chocolate sauce and two candied perogies with raspberry filling inside.
Try this: The hot perogy plate with sour cream, onions, bacon bits and the side of sliced sausage.
2127 19 St., 403-601-9732 or 403-336-1665, Nanton, babakaysperogies.com
Located an hour and 18 minutes south of Calgary via Highway 2, Blackwood Coffee Co. focuses on home cooked comfort food, baked goods and artisanal coffee. On a hot day, take a trip to this tall, grey brick building and sit inside the cafe near the big windows facing the streets of Claresholm while sipping on an iced chai latte. There is ample seating in the cafe and the quiet atmosphere makes it the perfect location to "work from home."
Try this: An iced chai latte with almond or soy milk, plus one of the homemade croissants or muffins.
110 50 Ave. W., Claresholm, blackwoodcoffee.co
A mere 38 minutes outside of Calgary on the way to Kananaskis, this locally owned and operated small batch bakery has a large variety of breakfast and lunch options, including daily specials. Fill up on a hearty, traditional eggs and toast breakfast, or opt for a takeout lunch. You can settle in at the large indoor seating area or grab a seat on the pet-friendly patio.
Try this: A lemon blondie and a hot cappuccino with almond milk for the perfect post-hike pick-me-up.
410, 7 Balsam Ave., 587-997-2900, Bragg Creek, braggcreekcafe.com
Head straight up Highway 2 for this Americana and space-themed diner car just one hour from Calgary. Located right off the highway at Bowden, this is a popular spot for resting road trippers and families alike with its shiny silver and red interior, booth seating and alien-themed old Hollywood posters on the walls. Starlite Diner Car serves breakfast, lunch and dinner.
Try this: The "Crop Circle Salad" or "Alien Fingers" — aka fries — for a space-age snack.
1, 1-3 Heritage Dr., 403-657-3505, Bowden, facebook.com