Warren Cummins and Nicole Egli both love motorcycles. Cummins has been riding since he was a child and Egli started riding a few years ago when the couple first got sidecar motorcycles. Together they started a tour company that puts guests in the sidecar seat.
The idea for Rocky Mountain Sidecar Adventures started when Cummins saw Ural motorcycles, Russian-made motorcycles dating back to the 1940s, used by the military. He knew that he had to have (at least) one.
Cummins and Egli now have four vintage motorcycles in their fleet and five qualified drivers who operate them.
Passengers get the experience of riding in a motorcycle without the stress of driving one. The maximum size of a tour is six passengers – that would include all four bikes, two bikes of which have a bench seat to accommodate two passengers in addition to the driver – and the minimum is one. Kids under 60 pounds aren't allowed.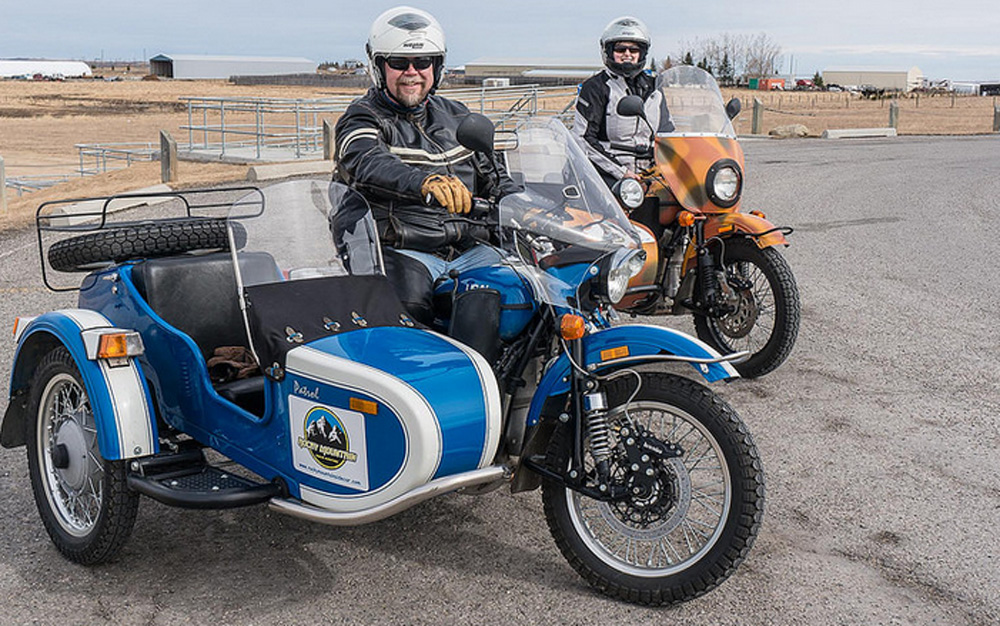 Warren Cummins and Nicole Egli.
All of the sidecars used for the Rocky Mountain Sidecar Adventure tours are Ural bikes that are modern copies of the 1938 BMW R71 and 1944 R75. Both models that were captured by the Russians during the Second World War and reverse engineered for Soviet use. After the war, the Russians continued to produce the vehicles for military and public use. They've been commercially available in Canada since the early 1990s.
Rocky Mountain Sidecar Adventure gives all of its bikes Russian names. Sign up for a sidecar tour and you could ride Yuri (an orange 2009 bike), Boris, (a blue bike from 2012), Kat (a ruby red Ural bike from 2007) or Natasha, the most retro bike of all. Natasha is a 2009 Ural Retro and an exact copy of the 1938 BMW original.
Every passenger wears a Department of Transportation approved helmet with moldable ear buds in them so you can hear stories and insights from the driver on the area's history, culture and geology. (Egli's favourite geological formation to talk about is the Big Rock, Okotoks' erratic.)
Other than that, you can wear what you want. "We recommend that people wear closed toed shoes, long pants and a light jacket," says Cummins. "But you're really protected in the sidecar and aren't exposed to anything besides the wind and the sun." There are rain ponchos provided in case in rains and heated electric blankets. And everyone sits on a sheepskin.
Unlike a tour from a bus or a car, sidecar tours give passengers the opportunity to feel the wind, smell the air and feel the changes in temperature. You can get a 360-degree view since there's no roof restricting views.
"When you're on the road in a sidecar, there's this sense of freedom, particularly in contrast to sitting in a tour bus," says Egli.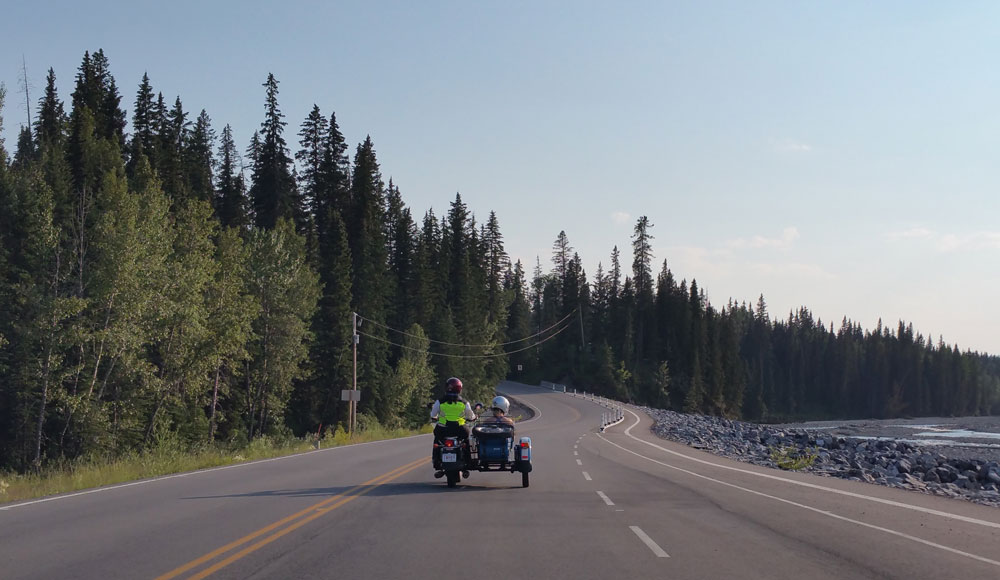 Right now, Rocky Mountain Sidecar Adventures offers three organized tours. The City of Calgary tour ($110 per person) lasts between one and two hours and takes passengers through the downtown core. The Foothills – Gateway to the Rockies tour ($175 per person) lasts approximately 3.5 hours and takes passengers out of Calgary and into the mountains.
The group's most popular tour is the High Spirits Adventure tour ($375 per person). It takes passengers up to Elbow Falls and includes a stop at a meadery, a distillery tour and fly fishing.
The tour times are all approximate. "As the passenger, you get to decide where we'll stop," says Egli. "You can communicate that through the communicator and we can facilitate those pauses into the tour." If you prefer hiking or want a quiet moment with your significant other during your anniversary sidecar tour, that can be accommodated for.
You can also rent the bikes for $55 an hour with a qualified driver.
For more information on Rocky Mountain Sidecar Adventures, visit rockymountainsidecar.com.