While many Calgarians are packing their camping gear away for the year, Telus Spark is doing the opposite, filling its atrium with tents and trailers to teach about the science and strategies surrounding mental resiliency.
It's all part of a timely new exhibit called Camp Serotonin, which brings the comforts of nature indoors while exploring the brain science and hormones behind happiness. With many Calgarians feeling the stress of the pandemic over the last several months, the exhibit couldn't have come at a better time.
"The science around COVID-19 is saying that there is some safety in the great outdoors. But we know that Calgarians are preparing themselves for the fall and winter," says Claudia Bustos, director of Creative Environment at Telus Spark. "So we wanted to bring the great outdoors into Telus Spark — in a social distancing capacity, of course — and tie that into conversations around what we can do right now to support our own mental health."
The "micro-habitats" along the indoor boardwalk include a Meditation Dome for boosting dopamine and Camp Cortisol for learning about reducing stress-induced cortisol levels in blood streams. There's also a Slumber Station covering sleep science and even boler trailers with museum-preserved animal occupants to further enhance the outdoor vibe.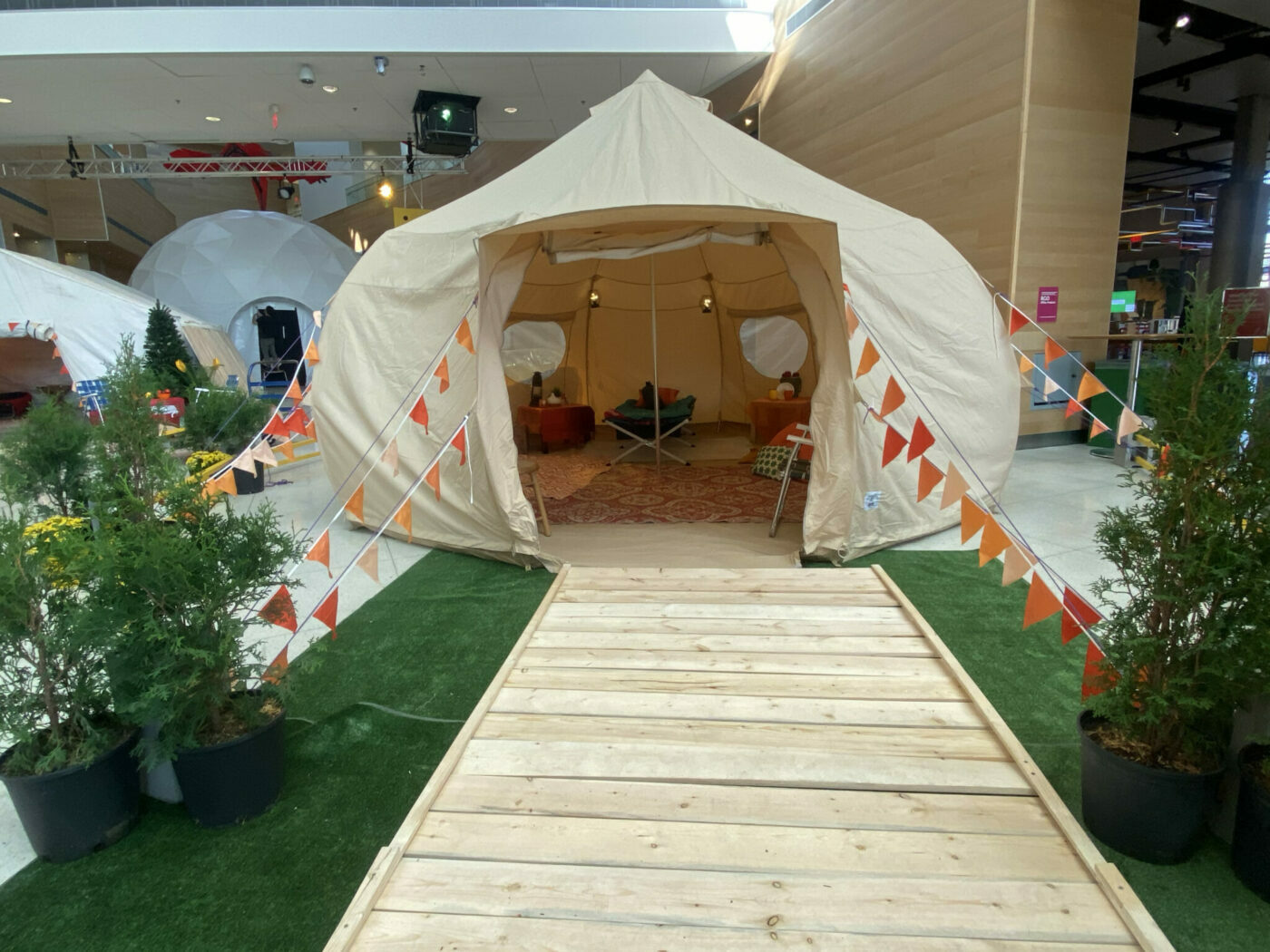 The exhibition came together largely through coordination and collaboration according to Bustos, who led the Spark team in designing Camp Serotonin. Artificial greenery from Theatre Calgary, canoes from the Calgary Canoe Club, and a museum-preserved bear cub from Nova Scotia are among the outdoorsy elements that make up the exhibition.
"It was a reminder of how ambitious our team is at Spark, and the importance of positioning ourselves as leaders in science communication to talk about mental health at this time," says Bustos.
Ultimately, Camp Serotonin aims to supply visitors with the know-how to strengthen mental resiliency. From the science behind how floating in a bathtub can reduce anxiety, to napping's positive effect on stress hormones, Bustos says she hopes Calgarians can take tips from the exhibition to-go.
"I think that the big takeaway would be that people will leave with a bit of a mental toolkit of things that they can do to support their lives," says Bustos.
Camp Serotonin runs at Telus Spark until November 8, and visits must be booked in advance to ensure capacity limitations are followed. Throughout COVID, a $5 community discount is also available for all regular admission tickets.