Theatre at Heritage Park: Michelle Thrush Talks Making Treaty 7
A unique theatrical presentation reflects on a key piece of history in Southern Alberta
By Karin Olafson
"We Are All Treaty People"
Photograph by Arnell Tailfeathers
Don't know what Treaty 7 is or what kind of impact it's had? Then go see Making Treaty 7, says Michelle Thrush, the co-director of the production which was made in partnership with One Yellow Rabbit.
Even those who are already aware of this piece of history will benefit from seeing the unique, multi-disciplinary show and likely learn a thing or two. Thrush explains how the production came into existence, why Calgarians should see it and what she hopes the audience will take away.
What is Treaty 7?
In a nutshell, Treaty 7 (which is one of 11 numbered treaties) was an agreement signed between five plains First Nations and the Crown. The agreement designated areas of land for First Nations people, promised payments to the nations and promised continued hunting rights. Even though the treaty was signed in 1877, issues that stem from its signing still resonate today.
How the play came to the stage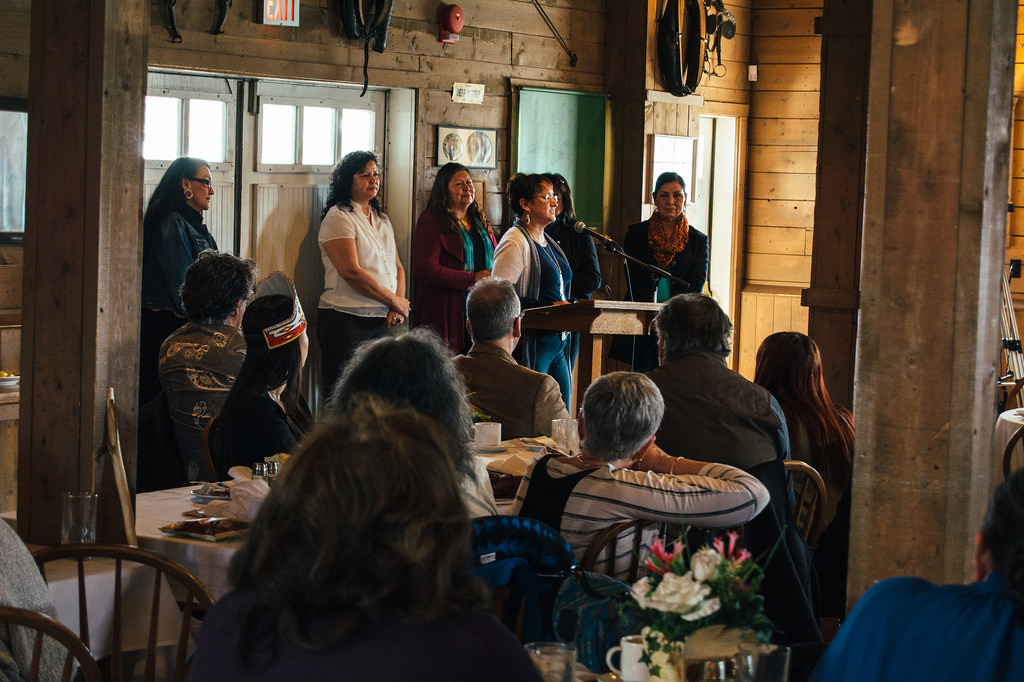 Carol Mason, Anita Eagle Bear, Genevieve Fox, Marlene Yellow Horn, Lorna Crowshoe.
Smallpox. Buffalo. Relationships. Negotiations. Trust.
These are just a few of the words that came out of a brainstorming session back in 2013 when the production was just in its infancy. While Making Treaty 7 wasn't born out of a traditional theatrical process, it was born out of tradition. "The play came from an oral storytelling tradition," says Thrush.
This process all started when Thrush and more than 10 other artists went to Banff to meet with Elders and listen to stories. "For a week we just listened to stories that the Elders had heard from their grandparents," says Thrush. "We listened to their concerns, noted keywords that came up and then went to studios in Banff to pump out pieces." The strongest pieces were then kept, workshopped and included in Making Treaty 7.
What to expect
"Smallpox." Troy Emery Twigg, Justin Manyfingers, Ikuhkskiituwa Smithx and Andy Curtis.
The play doesn't have a typical narrative arc. Rather, an audience can expect a variety of different kinds of performances combined into one production. "It's a multi-disciplinary extravaganza," says Thrush. "There are actors on stage as well as dancers – both modern and traditional – poets, singers and a band."
The significance of Making Treaty 7
In addition to providing Calgarians with a unique insight into this piece of history, the timing of the performance itself is also significant. "The treaty was signed in September in 1877," says Thrush. "Based on availability, we perform as close to the date of the signing as possible."
The show also acts as a platform to give a voice to the indigenous communities that history had made voiceless. "The point of meeting with First Nations Elders was because we wanted to share our side of the story," says Thrush. "There's lots of information documented about the signing of the treaty itself, but nothing really from the indigenous point of view."
Why you should see the production
"Change." Michelle Thrush.
Thrush hopes that the visceral performance will shed light on Treaty 7 and Calgary's cultural identity. "The goal of the performance is for Calgarians to get a better understanding of the lingering issues, and share a mutual compassion and respect." Thrush adds that the arts community has the power to bring people together and address issues that affect different generations and different cultures.
While the production is heavy with content and history, it will cause the audience to question where we come from, where we're headed and why.
Making Treaty 7 runs September 11, 13 and 14 at the Chautauqua Tent at Heritage Park. Act quickly because tickets are selling fast.