Bordered by beaches that stretch to the horizon during low tide, only to transform into placid wading pools after the water rushes back in, the small city of Parksville and the neighbouring town of Qualicum Beach (a.k.a. "PQB") have become magnets for families seeking sand time on Vancouver Island's tamer east coast. "We get a lot of Alberta families," confirms Jim Powell, a guide with Adventuress Sea Kayaking. "They come for the west coast lifestyle."
That lifestyle extends beyond the standard summer-vacation pursuits of swimming and beachcombing. There's plenty more to do in this wedge of coastal paradise located about 30 minutes north of Nanaimo, or two hours from Victoria. From paddling and hiking to tide-pool exploring and sampling local culinary delights, here are a few ideas for how to spend your island time.
What to Do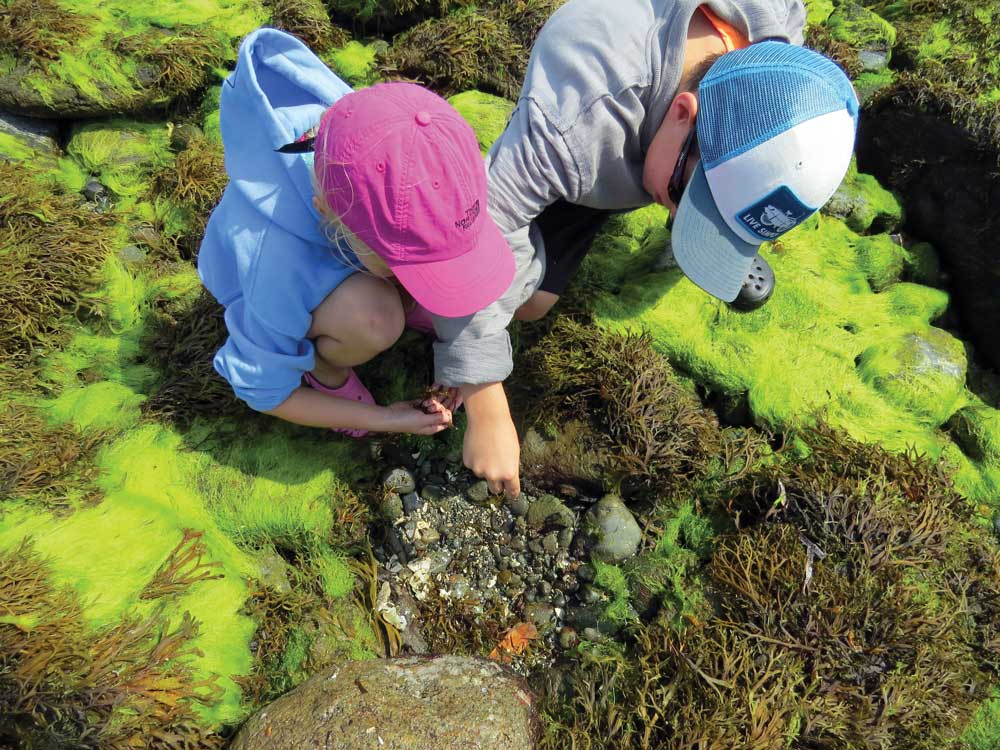 photograph courtesy of Pacific Rainforest Adventure Tours
Salish Sea Tidepool Tour.
Pacific Rainforest Adventure Tours' Salish Sea Tidepool Tour takes place in the intertidal zone at Beachcomber Regional Park near Parksville. Guided by naturalist Gary Murdock, you'll explore the eroded mudstone chasms and shallow rocky depressions where seawater collects. When the tide recedes, the pools harbour a staggering array of marine life, from leathery purple sea stars and skittish shore crabs, to dainty neon-green sea anemones and giant spotted sea slugs called nudibranchs. Kids and adults love getting hands-on with the creatures while learning about their constantly changing environment.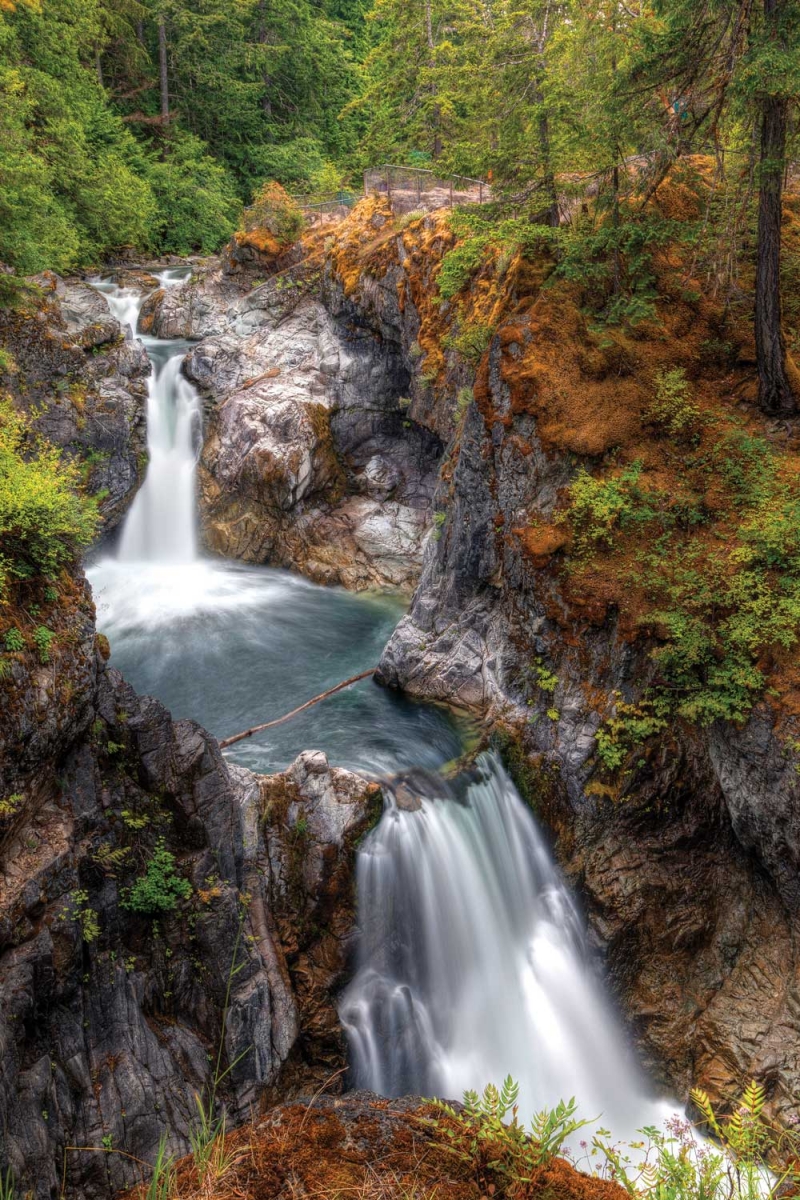 thinkstock
Little Qualicum Falls Provincial Park.
Located 20 minutes from Parksville, this park was established to protect an old-growth forest of Douglas Fir trees. Most visitors will agree, however, that the park's wow factor comes not from these towering behemoths, but from watching the Little Qualicum River surge down a rocky gorge that cuts through the forest in a series of dramatic waterfalls. A network of trails and bridges makes for an easy, shaded walk to the best spots for viewing the upper and lower falls, as well as swirling eddies and deep pools of emerald water.
env.gov.bc.ca/bcparks/explore/parkpgs/little_qualicum_falls/
Qualicum Beach is packed with boutiques and cafs, but the town really comes to life during the weekly farmers' market on Saturday mornings. You can browse for artisan-crafted souvenirs that run the gamut from hand-carved wooden cutting boards to hand-made fishing flies. You can also stock up on local honey, jams, fresh fruit and baked goodies. There are even local spirits there, such as Unruly Gin from Comox Valley producer Wayward Distillation House.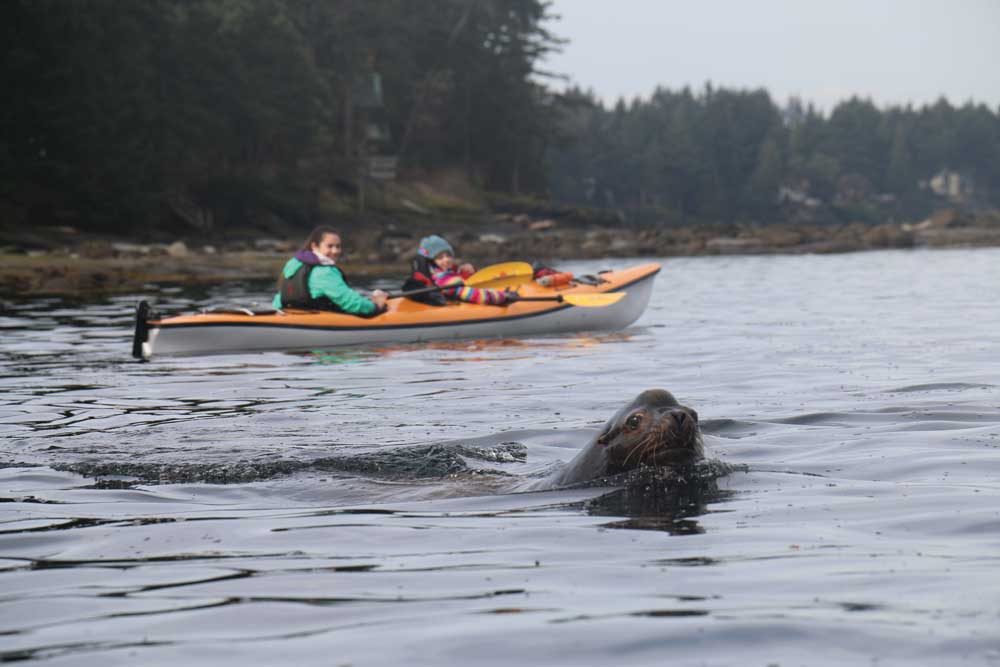 photograph by Jan Kretz
Adventuress Sea Kayaking tour.
Adventuress offers a range of sea-kayaking outings, including a scenic two-hour tour. (The exact launch location depends on the tide and time of day.) After you're settled in with your spray skirt properly fastened you'll paddle out to look for harbour seals frolicking in the swells, spot moon jellyfish floating alongside the kayaks and enjoy the view of the glacier-capped Coast Mountains across the Strait of Georgia.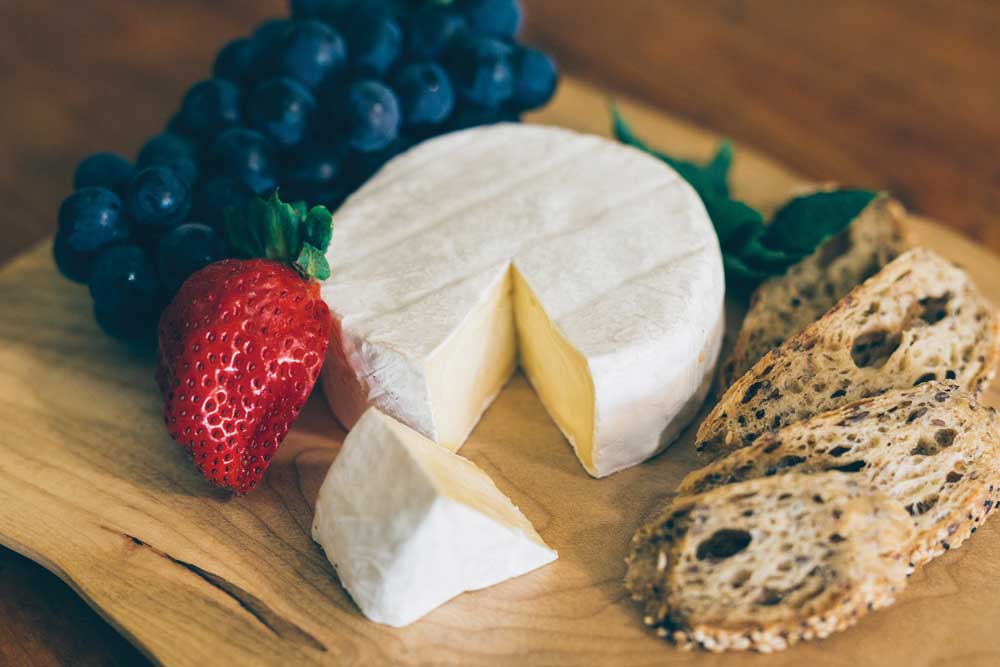 photograph courtesy of little qualicum cheeseworks
Little Qualicum Cheeseworks products at the Farmgate Store at Morningstar Farm.
Kids love the self-guided tour to see the bunnies, goats, sheep, pigs, cows and donkeys on this working farm near Parksville. Parents, on the other hand, will love the tour's terminus inside the Farmgate Store, where you can sample the delicious artisan cheeses (brie, bleu, feta, cheese curds and other varieties) made with milk from the farm's herd of dairy cows. You can chase the cheeses with samples of fruit wines from the on-site MooBerry Winery.
Where to Eat
Breakfast at Courtyard Caf in Qualicum Beach
Everything on the from-scratch menu at Courtyard Caf can be made gluten-free (owner Peter Tryon is celiac), including the gooey cinnamon buns and the delicious crepes in sweet and savoury options such as mixed fruit or "crepe Benny." There's often live music on the pretty patio on Saturdays, making this an idyllic spot to savour coffee and brekky before strolling over to the farmer's market.
673 Memorial Ave., Qualicum Beach, 250-752-4152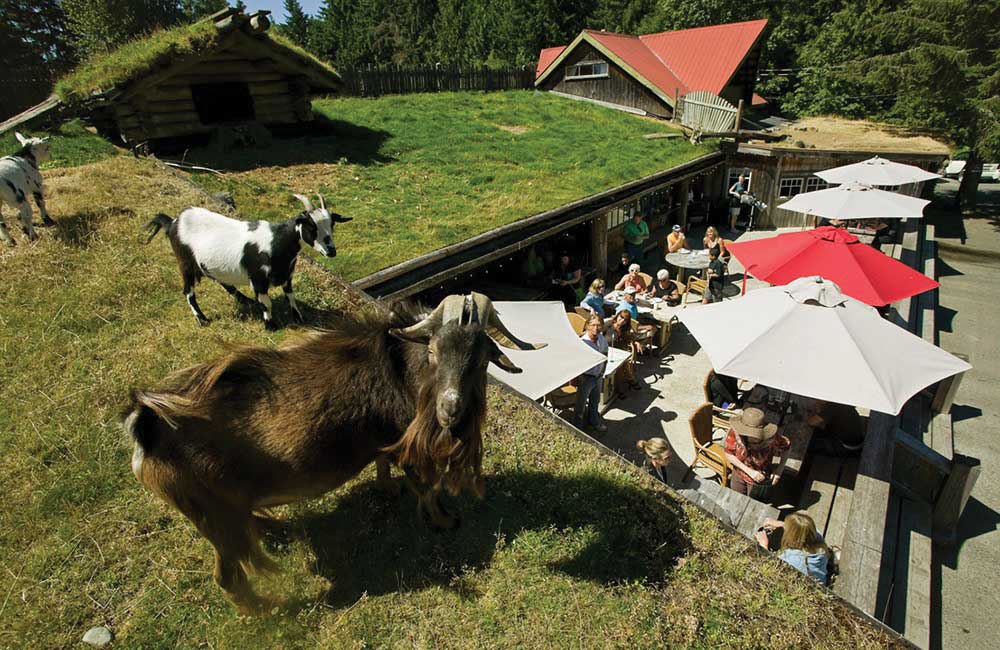 photograph courtesy of the old country market
A "goats-eye view" of Taqueria at The Old Country Market in Coombs.
You can feast on tender chicken, pork or beef tacos rolled up in house-made tortillas at this casual, open-air restaurant in Coombs, a quirky community south of Qualicum Beach. Taqueria is part of the busy Old Country Market in Coombs, which is famous for the goats that live on the green roof. After lunch, cool down with an ice cream from the nearby Billy Gruff Creamery.
2326 Alberni Highway, Coombs, 250-248-6272, oldcountrymarket.com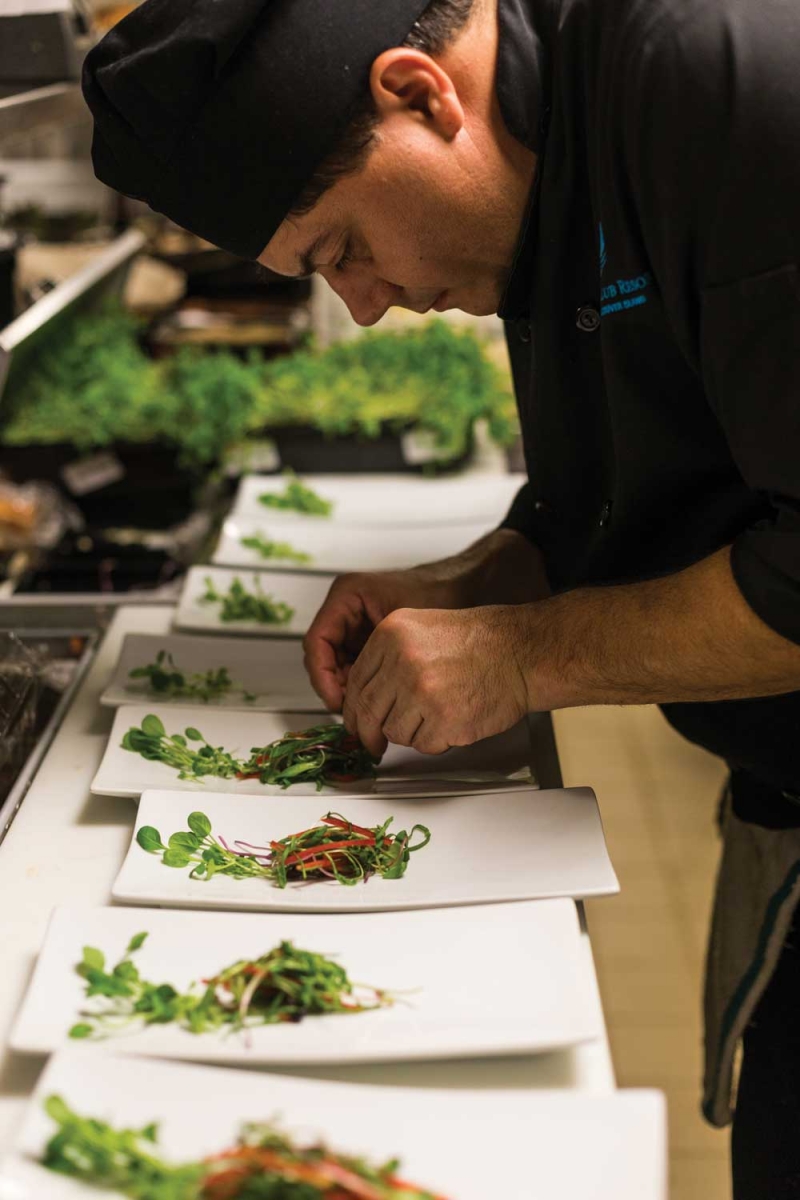 photograph courtesy of bellstar hotels & resorts
Pacific Prime Restaurant at Beach Club Resort in Parksville
Chef Rick Davidson sources humane beef from ranches in the Okanagan Valley, along with seafood from the Vancouver Aquarium's Ocean Wise program and, as a trained sommelier, expertly pairs his creations with B.C. bubbles and wines. Grab a spot on the beachfront patio just off the Parksville Beach Boardwalk and dig into sauted mussels and clams, followed by the catch of the day or a juicy steak. Be sure to stay for sunset when the sky turns the most outrageous shades of orange, fuchsia and violet.
181 Beachside Dr., Parksville, 250-248-8999, beachclubbc.com
Where to Stay
A wooden boardwalk is all that separates this delightful resort from Parksville Beach, where you can spend your days chasing the tide out or running toward shore as it creeps back in. Beach Club's bright, modern, well-appointed rooms and suites offer panoramic views of the ever-changing water level and distant Coast Mountains across the Salish Sea. While it's tempting to luxuriate on your private patio, be sure to hit the beach to look for sand dollars or go stand-up paddleboarding (the hotel can arrange for a rental), depending on the tide. There's also an indoor swimming pool and fitness centre, and, conveniently for those travelling with kids, the Parksville Community Playground is a quick walk from the resort.
181 Beachside Dr., Parksville, 250-248-8999, beachclubbc.com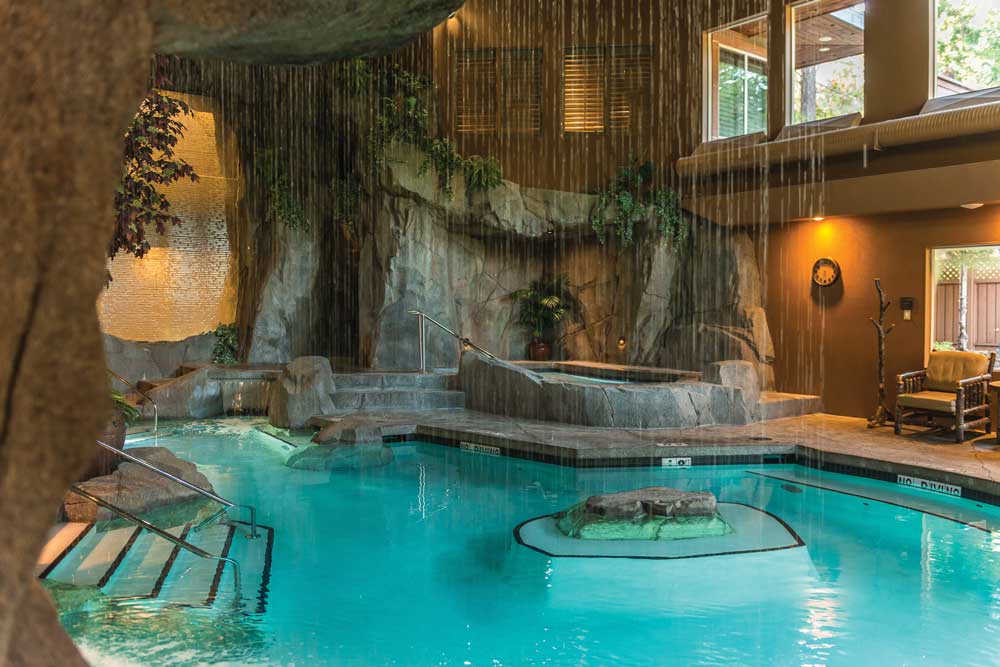 courtesy of tigh-na-mara seaside spa resort & conference centre
Indoor pool at Tigh-Na-Mara resort.
Many vacationers make the pilgrimage to Tigh-Na-Mara, just east of Parksville, every summer to stay in one of the resort's comfortable log cabins on a bluff overlooking Rathtrevor Provincial Park. The sprawling resort, which also offers traditional guest-room accommodations, covers 22 wooded acres, making it feel a bit like family camp – but with an upscale flair. Tigh-Na-Mara has an award-winning spa, tennis courts and an indoor pool. There's also a kids club where parents can drop off children for programs such as birdhouse building, or the popular dinner-and-a-movie nights, which free up mom and dad to have a cocktail in Cedars Lounge or indulge in a beach picnic of seasonal fruit, local cheese and charcuterie, smoked salmon and crackers (plus a bottle of Okanagan wine) while watching the tide change.
1155 Resort Dr., Parksville, 800-663-7373, tigh-na-mara.com