In Alberta it has felt like spring for most of winter, which means we'll probably have the spring fever feeling that has been stirring since about Valentine's Day. You know that feeling that makes you want to organize your closet, buy patio furniture and hit the open road in search of something new and adventurous?
March also happens to be one of the most unpredictable months for weather. Planning whether you will ski or sit out on a patio might be a day-to-day decision. These four destinations are perfect no matter what the weather. They will net you new experiences and a quick escape from the city. And, because March is the snowiest month of the year and the sunshine can sometimes lull us into a false sense of road safety, each trip is paired with a road safety tip.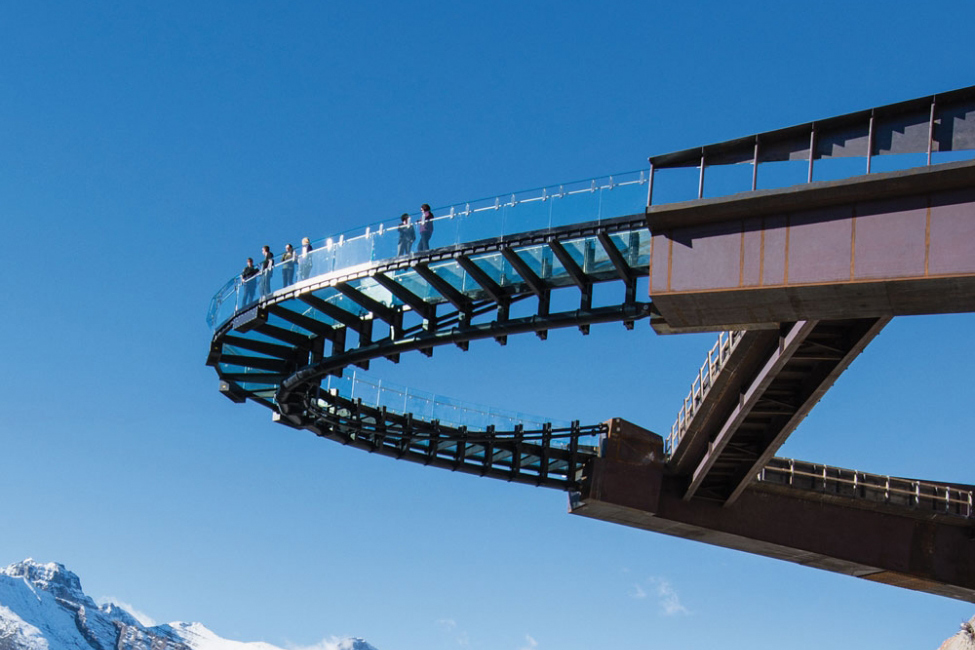 414 kilometres northwest of Calgary
This is truly an engineering marvel. The skywalk is built into native bedrock and cantilevers over the Sunwapta Valley at a height of 280 metres.  It's not an experience for the easily queasy. To understand how high that is, you just have to look down through the glass floor. Look up and you'll see views of more than 100 glaciers and mountains. The drive to the Columbia Icefield Glacier Discovery Centre—where shuttles to the skywalk leave from—is long, winding and slow, but taking in the views along the way is part of the experience. Plan ahead for this one, the skywalk reopens after its winter closing on May 1. (brewster.ca)
Safety tip: Plan your route
Do you know how far it is between rest stops or gas stations? What about the expected conditions of the roads you'll be driving on? Checking before you leave will save you headaches once you are on the road.  
128 kilometres southeast of Calgary
It's the Star Trek capital of Canada and it's only one hour and 20 minutes away from Calgary. The tourism centre is literally a Trek Station, which makes Vulcan worth the trip if only to smile at the commitment to the cause of Star Trek fandom. It's the site of Spock Days Festival (which is being rebranded and reinvigorated to become Vul-Con in July 2015), but if you don't want to wait until July, go for the Trek Station stargazing nights. The free stargazing nights include a short presentation, beverages and telescopes provided by the Royal Astronomical Society of Canada. (vulcantourism.com)
Safety tip: Check your tires
Depending on road conditions and how far you travel, you'll want to make sure you have the appropriate tires for your vehicle. If you've already switched to all-season tires in anticipation for the spring and summer, remember that they're designed for a variety of conditions, but not for heavy snow or ice. If you're going for a short trip, all-season tires will likely serve you just fine. Planning to cover more ground? Consider switching to winter tires, to accommodate the harsher and more variable conditions. And any time you're headed to the mountains, it's a good idea to bring along chains. You never know when you may need them.
---
70 kilometres north of Calgary
You might recognize the PaSu Farm name from menus across Calgary. The farm, run by Pat and Sue de Rosemond (originally from South Africa) supplies a lot of lamb to this city. It also has its own restaurant in its hip-roof barn about 45 minutes north of Calgary. You can go for lunch, afternoon tea or pick up a meal-to-go, but the Sunday lunch buffet for $32.50 might be your best spring road trip bet (go back in the summer for South African barbecue nights). The buffet has roast lamb, beef and chicken with truffle gravy, assorted pickles and cheeses, gourmet pâté, fresh bread and salads and homemade desserts. (pasu.com)
Safety tip: Have a plan for emergencies
We all hope that our trips are incident-free, but it's always better to plan for the worst and expect the best. Having a roadside emergency kit stowed away in your trunk will give you peace of mind and the tools to help when you need it. A basic kit should include tools like hazard triangles, jumper cables, and a basic toolbox, as well as other emergency items like a warm blanket, first aid kit, bottled water and energy bars.
---
105 kilometres west of Calgary
There are a lot of reasons to go to Canmore—the heated patio at the brewery, bumping into an Olympian at the Nordic Centre, live music at Communitea Café, to name a few. While you are touring the town, set aside a few hours to visit Elevation Place. It is a new indoor recreation centre that locals love and visitors like to crash on the weekends. The aquatics area has a lazy river, water slide and pools with an edge that mimics the shoreline. Spring also might be the time to work out your climbing muscles in preparation for summer. Elevation Place's climbing centre is 15 metres above ground at its highest point with climbing lines and automatic belay systems. If sports aren't your thing, there is also the Canmore Art Guild with a gallery and workshops and the Canmore Public Library. (elevationplace.ca)
Safety tip: Double check that you are insured
Review your insurance policy to make sure you have adequate collision, comprehensive and third party liability coverage. Accidents do happen, especially in changing weather conditions, and double-checking your coverage ahead of time will save you from any nasty surprises should an accident occur.
This content was supplied by the advertiser for commercial purposes. It is not written by and does not necessarily reflect the views of Avenue staff.