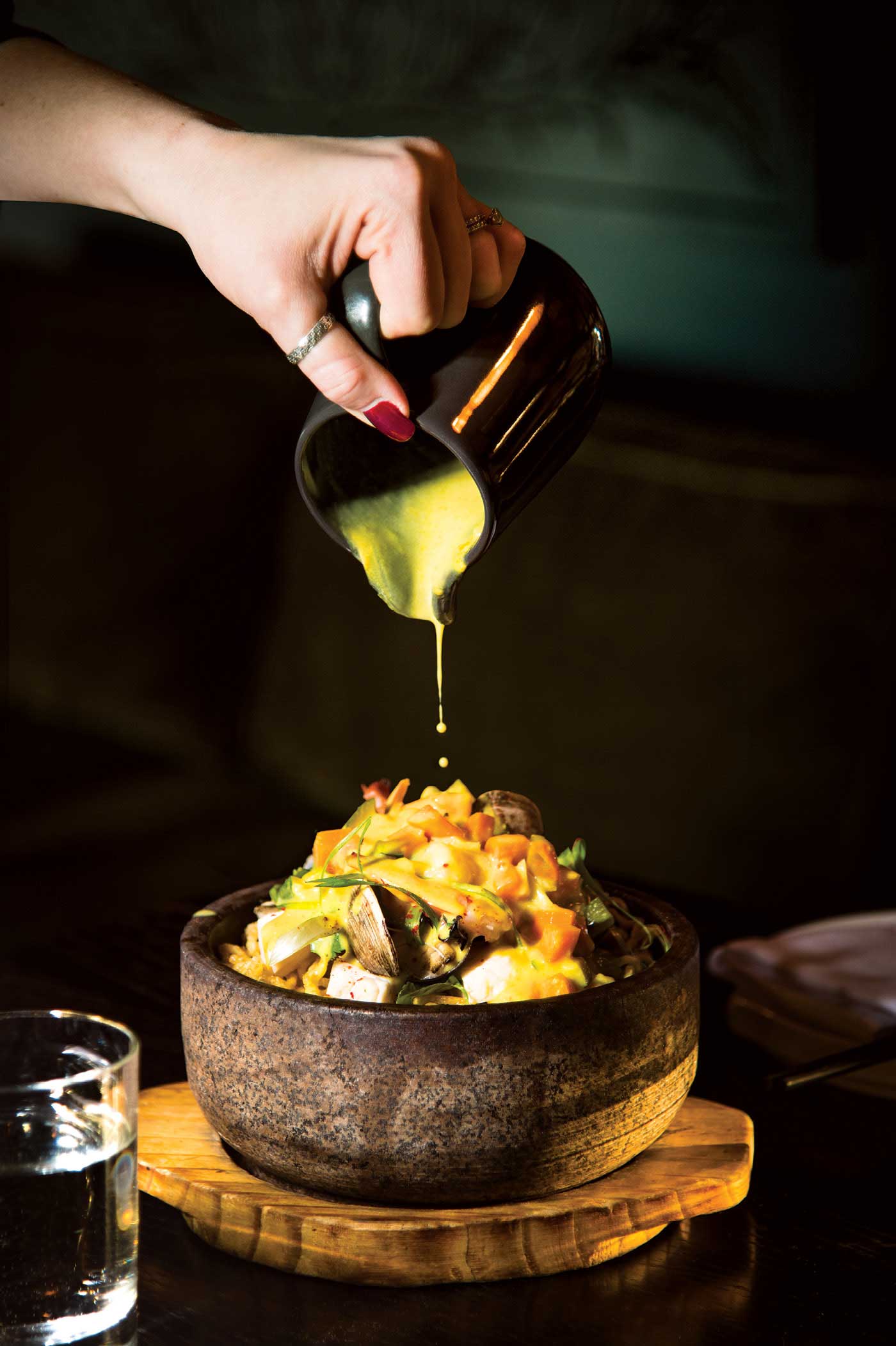 FOOD | Contemporary Korean.
VIBE | Vibrant post-modern lounge.
DECOR | Dark-hued with a blend of traditional and modern accents.
DISH | Fried chicken with cheesy shallot waffles and black vinegar-infused maple syrup.
TIP | It's impossible to over-order the addictive kimchee — ask your server to keep the rounds coming.

Diners are faced with a fork in the road upon entering Anju. On the right, there's a lively open space where laughter and chatter bounce between the bar and semi-open kitchen. On the left, there's a more intimate dining room, encased by Korean art, which is framed reproductions of antique Korean postage stamps, and crowned by a contorted bronze light fixture. Throughout the whole space, blue walls and the bustle of ever-arriving plates announce an evening of flavourful indulgence.
The menu is mainly made up of shareable plates and changes frequently at chef Roy Oh's discretion, but staple dishes include crispy tofu with kimchee and pork belly, soy maple Brussels sprouts and Maple Hill chicken wings. Endurance diners may wish to start with a selection from the raw menu — like the ponzu-doused beef tataki — to invigorate the belly for the richer dishes still to come which encourage the consumption of soju.
Literally translating to "food you eat with alcohol," Anju is a haven for adventurous Korean food with firm traditional roots that evokes a family outing as much as a night of drinks with new friends. If you live in Calgary long enough, you'll eventually come to know it for both.
105, 344 17 Ave. S.W., 403-460-3341, anju.ca

Back to