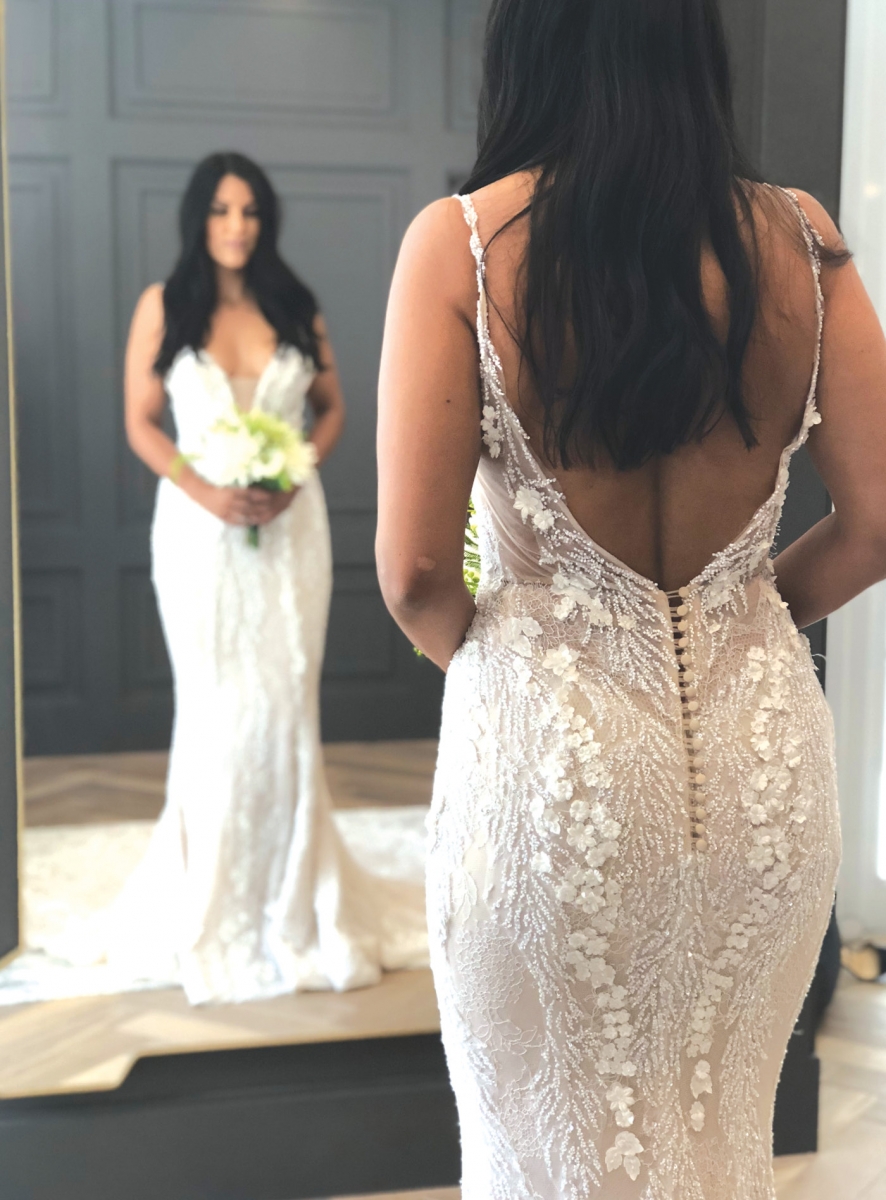 Streamlined fabrics, lavish embroidery, daring cuts and mix-and-match separates — the variety of current trends means every modern bride has options. The only "rule" of 2019 is to find something that speaks to you.
Clean and simple
Alyssa Conrad of Pearl & Dot says brides are asking for minimalistic fabrics that they can accessorize to make their own look. As such, the understated elegance of crepe is gaining momentum.
"That's for sure one of the biggest trends that we've seen," Conrad says. "Brides can just dress it up however they want."
Crisp and clean, crepe is often made from silk and can have a subtly granular texture.
"It's chic, it's glamorous," says Lynah Nguyen of luxury bridal boutique Powder Bride. "A timeless look that's more classic."
3-D appliqués
Simplicity might be trending, but that doesn't mean embellishments are out. Three-dimensional appliqués are also popular — and the results are beautiful and feminine.
Described by Jessalyn Thomson of Cameo & Cufflinks as "lace that also has three-dimensional flowers tacked on top," these dynamic embellishments can be delicate or bold. Conrad says it is common to see the appliqués placed more prominently on the bodice and drifting delicately into the skirt.
Not Quite White
Liane Knox of Blush & Raven says gowns featuring an ivory lace and a nude or latte undertone are popular at her store. Deep nudes allow lace and beading to pop, while antique shades of cream and ivory lend a romantic feeling.
"A peachy-taupe is very in right now," says Powder Bride's Nguyen. "The whitest [gown] that we have is an ivory, but what's very 'in' is a Champagne colour."
Separates
Clients can build a unique style with separates. Knox says that pairing a beautiful chiffon skirt with a tank or crop top is hugely popular at Blush & Raven.
"You can have these almost-romantic and almost-classic looks that have these detailed elements that no one else is going to have," says Knox.
Thomson says that overskirts allow brides to change their style from the ceremony to the reception. Sitting on top of a thinner dress underneath, the overskirt creates the illusion of a ball gown.
Daring details
Plunging necklines and side or centre slits give wedding dresses a sexy and sophisticated edge, while sheer bodices have remained popular since they first appeared a few years ago.
"Although the top is going to cover everything, there are going to be little bits of sheer where you can actually see your skin through it," Conrad says.
As the sheer trend develops, you can expect designers to soften the look in 2019 by adding more appliqués. "It's a little bit more modest," Nguyen says.
***
"To thine own self, be true"
When asked for advice for those in search of the perfect dress, the response from bridal shop owners was unanimous: choose what you want. "If you're having 100 people at your wedding, not everyone is going to like your gown," says Jessalyn Thomson of Cameo & Cufflinks. "It's a simple truth. So just make yourself happy."