Karen Johnson-Diamond, the co-founder (along with Elinor Holt) of the local soap opera-inspired improv group Dirty Laundry, shares details from her 1994 fall wedding.
The couple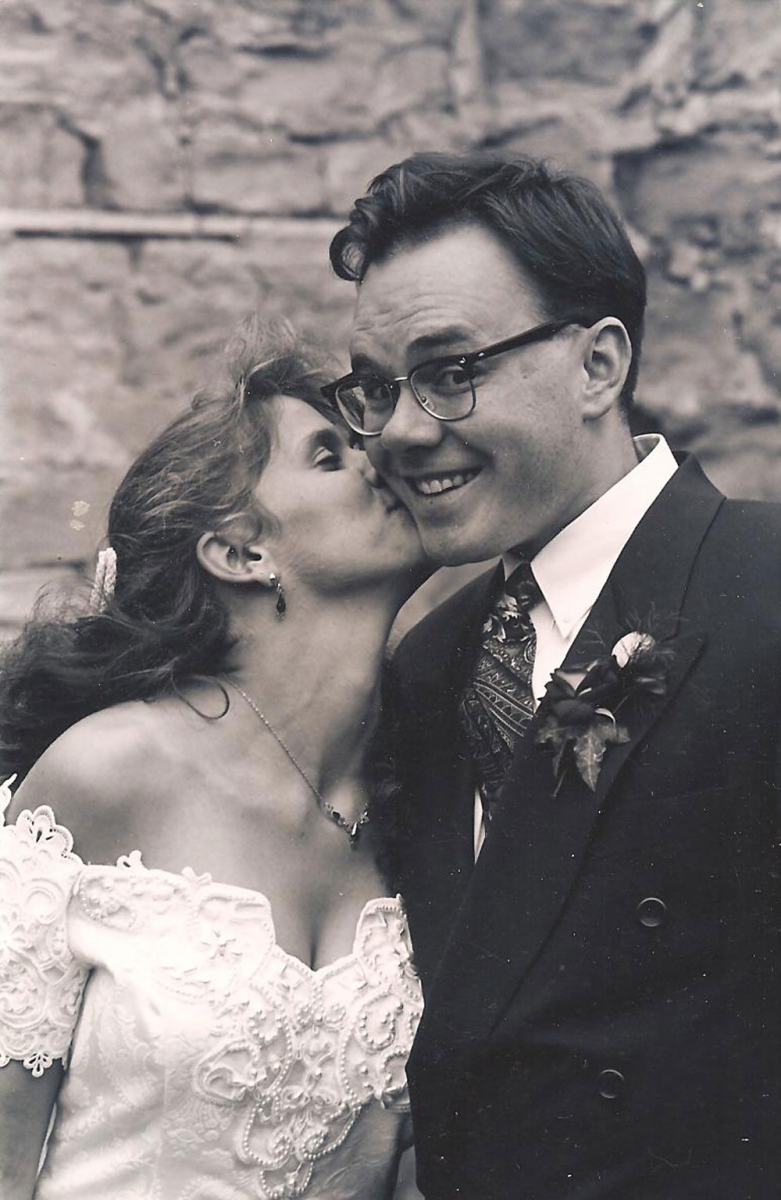 Karen Johnson-Diamond and her husband Kevin Cork.
You could say that it was a bag of frozen corn that helped Karen Johnson-Diamond and Kevin Cork's love flourish.
The couple first met in Red Deer in 1991. They were both there for a workshop at Red Deer College where students were learning how to direct Shakespeare plays. The college hired four actors from Calgary (Cork was one of those actors, but he now works as a financial planner) and four actors from Edmonton (Johnson-Diamond was one of those actors) to help with the workshop.
When Cork fell off the Red Deer College stage and twisted his ankle, they got to know each other even better. "I took him to my sister's house – she lives in Red Deer – and put a bag of frozen corn on his ankle," says Johnson-Diamond. At least, that's what Cork tells her – she doesn't remember this happening.
Cork convinced Johnson-Diamond to move to Calgary to be with him after taking her on a tour of some of his favourite places. He took her to the Blackfoot Truckstop Diner, to Scotsman's Hill and to Prince's Island Park. "He totally convinced me," says Johnson-Diamond. "I think a tour of the city is a great way to convince someone to move here to be with the love of their life."
Cork proposed in 1993 and the couple got married on September 3, 1994.
The wedding ceremony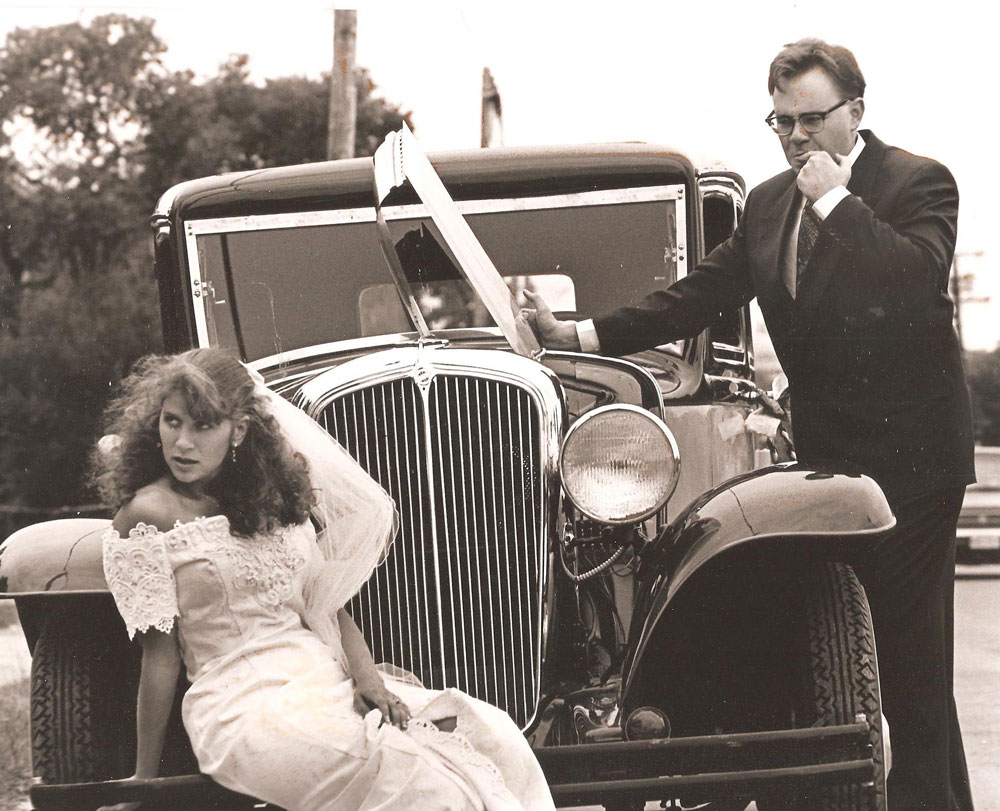 The couple took a 1934 Studebaker from the ceremony to their post-wedding dinner and then to the reception.
Karen Johnson-Diamond and Kevin Cork had their wedding ceremony at the Inglewood United Church (now the Lantern Community Church). It was a medium-sized wedding – there were 182 guests at the ceremony.
Johnson-Diamond wore a dress she bought here in Calgary from The Parisian (it merged with Cameo & Cufflinks in 2006) and she carried a non-traditional bouquet of a bunch of dried roses in a basket. She discovered as she was walking down the aisle that her mum and a former acting teacher had hidden a little clown mascot in the basket as a sort of good luck charm.
One of Johnson-Diamond's highlights from the ceremony was how both her dad and step-dad were able to walk her down the aisle. "Except the church aisle wasn't wide enough for all three of us," says Johnson-Diamond. "So they both had to stand behind me and then hold my elbows."
The weather completely co-operated on the couple's wedding day. It was warm and sunny which meant the wedding party could have their photos taken at the Rundle Ruins in Victoria Park. It was a casual photo shoot. While Johnson-Diamond and Cork wore nice, formal attire, they said their brides-people were free to wear whatever they wanted as long as it was nice (matching didn't matter). They took a few serious photos for their grandparents, but mostly, they just took fun shots to reflect the light-hearted atmosphere of the whole day.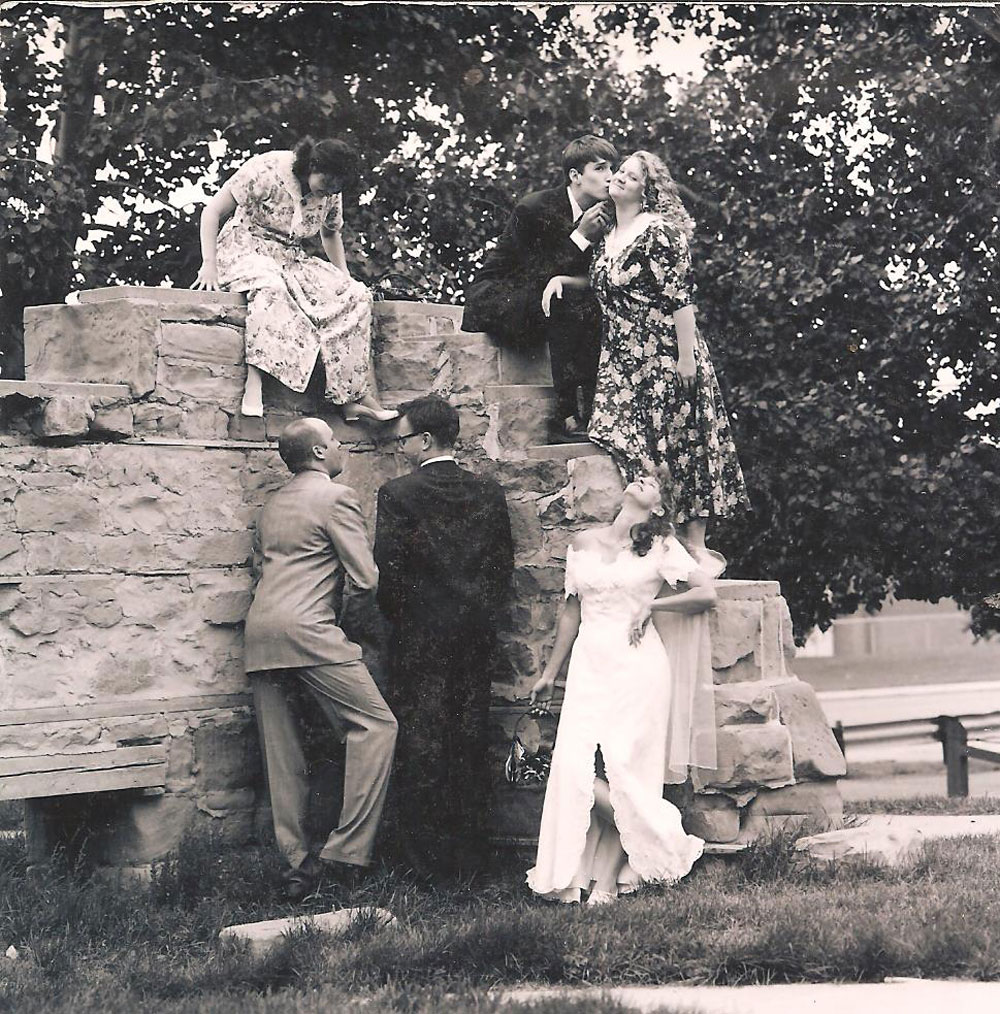 The couple did "fun photos" at the Rundle Ruins in Victoria Park. The whole wedding party is posing here, including Kimmy Beach and Trevor Anderson (Johnson-Diamond's brides-people) and Christopher Hunt and Ralamy Kneeshaw (Cork's grooms-people).
The wedding reception
The newlyweds took a 1934 Studebaker that belonged to Johnson-Diamond's uncle, a collector of old cars, to their post-wedding dinner. (Johnson-Diamond says this would have been her "something old" if she chose to do that.) The family-only dinner was at the Bohemian Bistro, a restaurant that used to be in Kensington. This was followed by the reception at the Inglewood Community Association Hall, attended by all 182 guests.
It was a fun and welcoming party atmosphere. Johnson-Diamond says the tables were covered in newsprint rolls and there were crayons on the tables so guests could draw or leave the couple a note. Some of the notes were kept for the couple's wedding album. Cork decided to make sure things were casual and took off his suit jacket – he was wearing a Tasmanian devil T-shirt underneath. Also, Johnson-Diamond's maid of honour, her sister Kimmy Beach, and her brides-man, Trevor Anderson who was an actor-in-training at the time studying clown, both dressed up and did a 20-minute clown presentation.
Johnson-Diamond took to the stage, too. "I sang a song to my husband. It was to the tune of "Did you Ever Know That You're My Hero" by Bette Midler, but I sang "Have you Ever Seen Jurassic Park," says Johnson-Diamond. "Our first real date was to see the original Jurassic Park. But then, six months later, [Cork] asked me if I'd ever seen Jurassic Park! So I wrote a song about that."
Twenty-two years later, Johnson-Diamond still looks back on her wedding day as being "totally fun."