Hotel Arts expands its extensive and exquisite catering options beyond its front door all the way to your specific wedding venue. Surf's up with the mind-blowing Seafood Extravaganza that includes all of the shellfish that you could imagine – and more.
403-266-4611, hotelarts.ca
Indulge the senses with Our Daily Brett's fresh take on wedding catering. Known for their gorgeous farm-to-table-style plating, the ODB team will transform your tabletops into works of art with charcuterie boards, ingredient-rich salads and main courses. Depending on your style of wedding, they can accommodate full service on-site catering or provide drop-off for your casual DIY buffet.
403-457-0422, ourdailybrett.com
Could anything be cooler than a food truck pulling up to your wedding reception? Ideal for a backyard wedding, the pan-Asian taqueria, Taiko Taco, is the perfect mix of trendy and tasty with its seriously delicious taco combinations. Picture devouring 24-hour sous-vide pork with kimchi slaw and a gochujang glaze as you toast your dearly beloved.
403-452-3150, taikotaco.com
Looking for a Mediterranean vibe for your post-nuptials meal? Look no further than the freshest eats from the Middle East. Tazza Deli and Grill in Bridgeland has you covered with rich, fresh-tasting and colourful platters featuring midnight snacks like hummus, a falafel station, charcuterie and baklava – all made from scratch, in-house.
403-263-5922, tazzafresh.com
A well-stocked bar is a welcome addition to most weddings. Whether people are flipping toonies into a jar or you've hired professionals to shake and stir, a signature cocktail will really bring down the house. When we asked the mixologists at Sugar Water Pop-up Bar & Cocktail Catering about how to create the ideal signature cocktail, they went a step further and designed one exclusively for readers of Avenue. Strawberry takes the spotlight, anchored by herbaceous cynar (a classic Italian liqueur) and fresh rosemary, creating a juicy drink with complex flavours that are still accessible for cocktail newbies.
French Kiss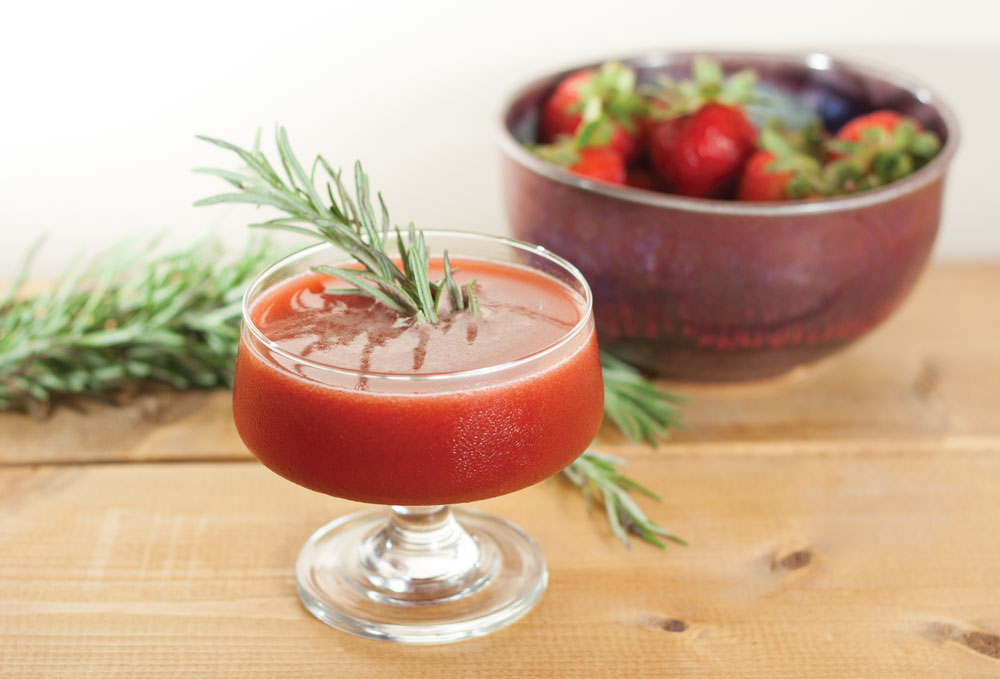 1 oz. cognac
oz. Vieux Pineau des Charentes (a wine aperitif)
oz. cynar
1 oz. strawberry compote
oz. lemon juice
Shake with ice and strain into a glass of your choosing. Garnish with a sprig of rosemary.