There's no shortage of troubling stories about how the economic downturn is affecting Calgarians, but few statistics are as heartbreaking as the rising number of hungry children in the city. Across Canada, more than 1.2 million children live with various degrees of food insecurity and Brown Bagging for Calgary's Kids, an organization that makes and distributes school lunches, estimates that the local need has gone up by about 30 per cent over the past year. The fact that kids, so full of hope and potential, are going to bed with empty stomachs is something that all of us can agree should not be happening in what is still a relatively prosperous city.
Hungry children are usually connected to equally hungry parents and there may be a number of reasons why those adults aren't able to secure a reliable supply of food, ranging from simply not having enough money, to working more than one shift job and not being around to make sure that their kids are eating properly. No one family's food insecurity looks exactly like another's.
"When you see kids going to school without food, there are other questions that need to be asked," says Calgary Food Bank CEO James McAra. "As a society we should ask if their parent or guardian had time to make lunch. Did they have time to go shopping and make lunch? Is it ongoing? Is it chronic? Or is it just that one time?"
While we may not always know the reasons an individual child is going hungry, we do know the results. When children aren't getting enough healthy food to eat it immediately interrupts what kids are supposed to do: grow, learn, play and develop the confidence that they need to be happy and productive. Even grown-ups who are able to feed themselves without much trouble know how hunger can affect their psyches – going just a few hours past mealtime can leave a healthy adult feeling distracted, lethargic and angry. Translate that feeling to a growing body that is supposed to be learning how to read, socialize and navigate the world, and potentially repeat it day after day. It's no way to get a start on life.
"We believe that kids need to have proper nutrition and food so they can focus, learn and have the energy to grow and be strong and have confidence and self-esteem," says Tanya Koshowski, executive director of Brown Bagging for Calgary's Kids. "One Grade six boy told me that he feels 'desperate' when he's hungry. We want to give these kids the opportunity to be the best that they can be."
While the physiology of hunger clearly has an effect on a child's ability to learn and grow, the emotional effects of being left without something to eat can also be profound. Food's association with love and community is strong – when someone we know is grieving we bring them a casserole or a pie to show them we care. When a child is left with an empty stomach, they can feel abandoned by the community around them.
"It's so much bigger than just food," says D.D. Coutts, the Food Bank's manager of communication and development. "When they receive food, children know somehow that the community cares about them. It makes them feel that the community is safer and they're going to be okay. That in itself makes a huge impact on the child, psychologically."
Getting to the root issues of childhood hunger and creating bigger picture solutions are the ultimate goals, but in the meantime, various Calgary agencies are working together to develop multi-pronged solutions to make sure that not only are kids being fed, but that they're being fed nutritiously. Sixty-four percent of the Calgary Food Bank's clients are families with children, which means that food is reaching kids through the hamper program. Brown Bagging for Calgary's Kids provides more than 3,200 lunches to local school children every day, packed largely by volunteer groups around the city.
Those are the two agencies that Calgarians are likely most familiar with, but there are others out there as well working hard to fill bellies. The Alex Community Food Centre offers family-friendly meals and kids cooking classes. Soup Sisters volunteers make fresh soup that goes to support women's shelters and programs for youth in crisis and runs the Souper Kids program, where kids make soup for other kids in crisis. MealShare helps raise money for Brown Bagging for Calgary's Kids through specially marked menu items at local restaurants. The Boys and Girls Club of Calgary operates a Food and Nutrition at Schools (FANS) program that provides breakfasts and snacks. The Community Kitchen Program of Calgary also has a number of programs, such as the Good Food Box, to get affordable food to families, as well as a summer lunch program to feed kids who would be accessing programs like Brown Bagging during the school year.
This is all in addition to smaller community and church groups that work to keep kids and families fed. Naturally, all of these organizations need support, be it through donations of money, food or in-kind items and services, as well as volunteer hours. The most important step when it comes to quelling child hunger, however, is actually getting food into kids' mouths. "A lot of people say that food banks are just a band-aid, and sometimes all you need is a band-aid," Coutts says. "Sometimes your wound is not that deep and you can keep going and will heal on your own. But for those whose wound is gaping, you need something much more than a band-aid. You also need continuous support to get you through whatever it is you're going through."
There are a few ways that people can help out beyond the "band-aid" stage. The Brakemen Foundation, which fundraises for Brown Bagging for Calgary's Kids through events and a chuckwagon tarp sale, is behind the Zero Hungry Kids platform, through which it engages with the business community to leverage in-kind donations and use business expertise to help charitable agencies run more efficiently and stretch resources further. "What's lacking with the not-for-profits is that they're doing a great job, but they're overtaxed as employees and volunteers and don't always have the skill sets or time to structure as a business," says Brakemen Foundation founder Derek Krivak. "We want to help them structure in a way that is collaborative and help them fix their inefficiencies."
Which brings us to the best way that Calgarians can help with this problem: by being engaged members of our communities. McAra, Coutts, Krivak and Koshowski all agree that a very powerful cure for child hunger, no matter how people choose to go about it, is to nurture a sense of community where people do what they can to raise awareness and just help each other out. This can mean petitioning politicians to take child hunger seriously and develop publicly run school food programs, business owners giving employees flex time so they can pick up food hampers or be home in time to feed their kids, or volunteering to make school lunches either through a formal program like Brown Bagging or by sending your own child with extra. We collectively have the resources to help kids thrive, if everyone is willing to make an effort.
"One of the most important things to realize is that child hunger really does need an all-hands-on-deck approach," Coutts says. "No one organization is going to solve it. We have to have many different hands working the levers to make sure it is eradicated, or at least lessened. We all need to work together; no one can do it by themselves."
---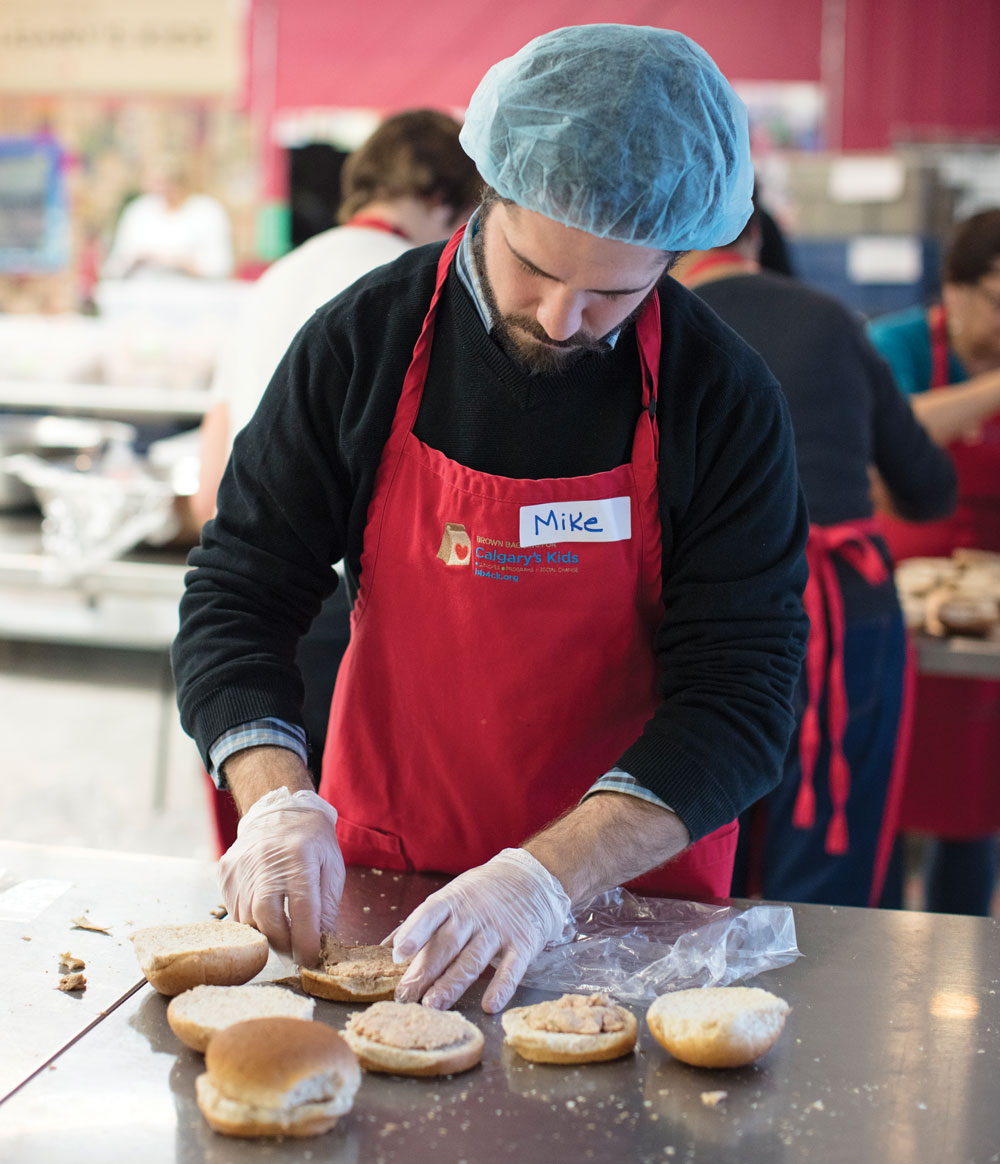 Brown Bagging for Calgary's Kids volunteers making sandwiches and snacks.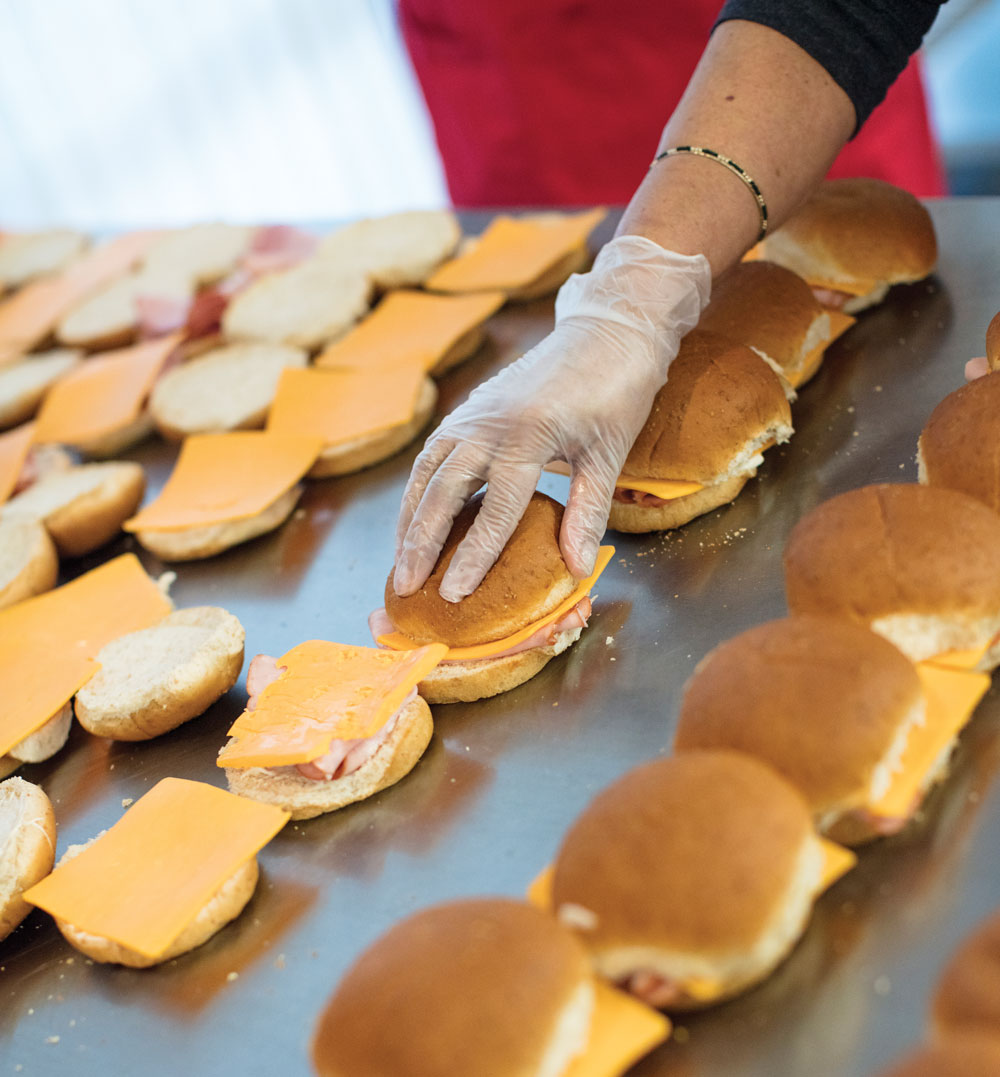 The non-profit provides 3,200 lunches a day to Calgary school kids.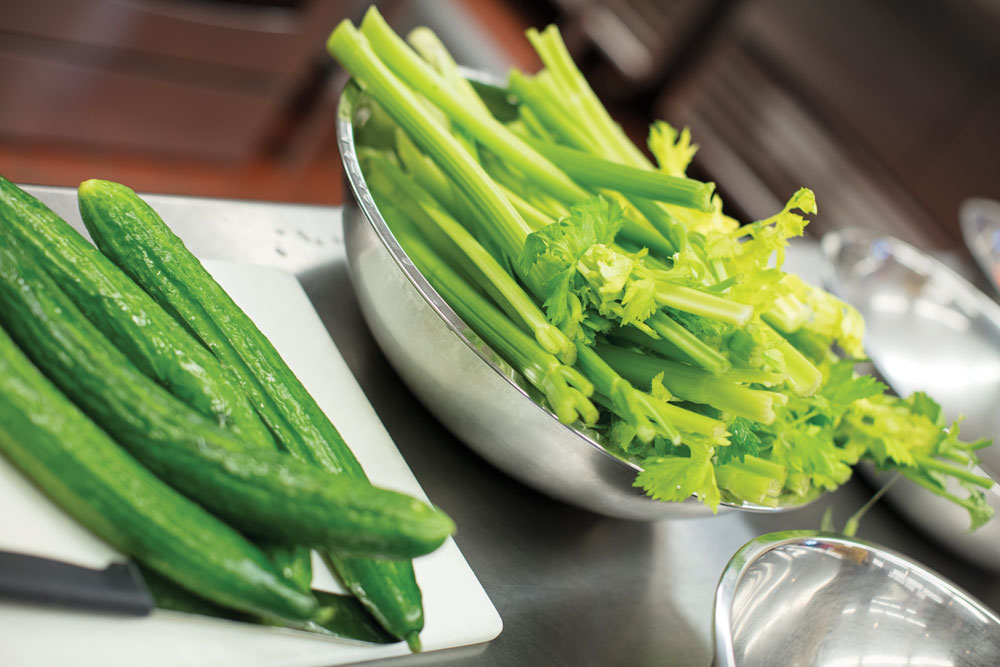 Ingredients for meals.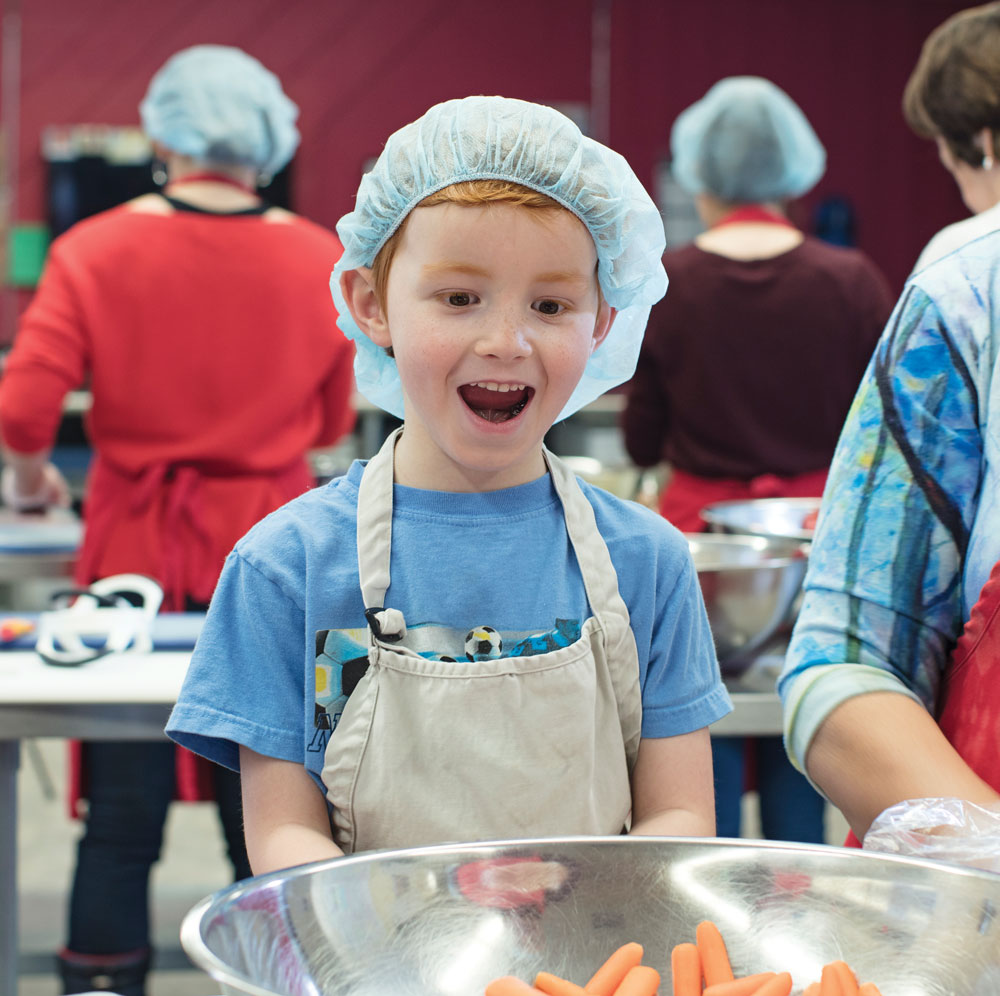 Brown Bagging for Calgary's Kids volunteers making sandwiches and snacks.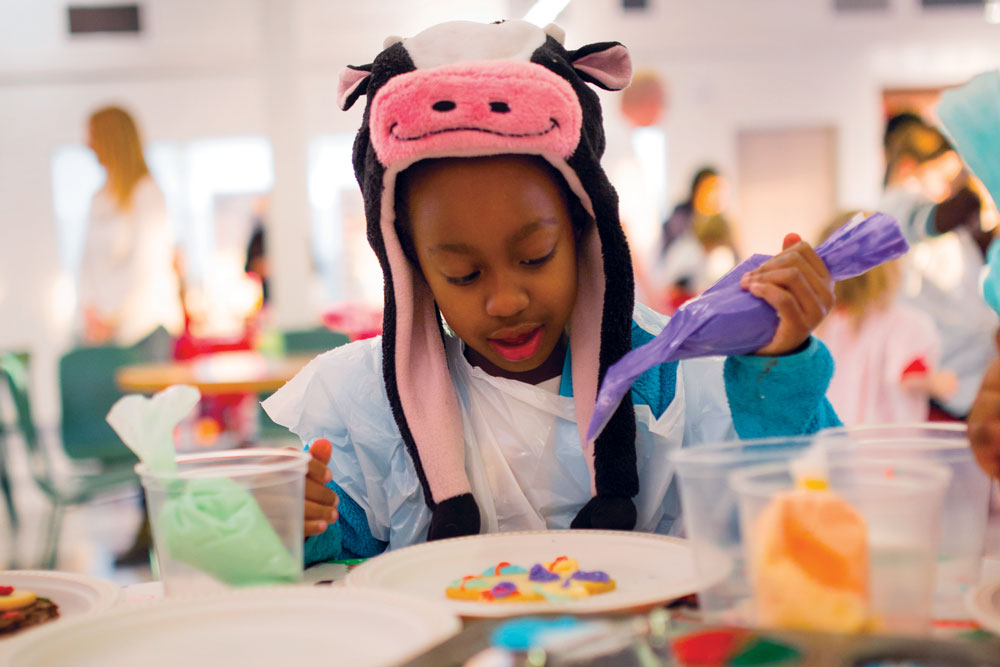 Kids decorating cookies at the Alex Community Food Centre.