There's the prevailing wisdom on pasta and bikinis: an affinity for one rules out the other. And then there's Margot Micallef – a woman who eats a lot of the former and, at age 57, stars in bodybuilding competitions sporting the latter.
The once-or-twice-a-day gym-goer placed second last spring in the Grand Masters class of the BC Amateur BodyBuilding Association's regional fitness competition, flaunting her muscles in a barely-there, blue-and-rhinestone competition bikini.
"Fitness is the foundation for everything; that's what allows me to do all the things that I do," says Micallef, the Calgary-based entrepreneur and CEO of Gabriella's Kitchen, which makes a variety of healthy pasta products – the high-protein skinnypasta, a gluten-free pasta and a pasta made from the Ethiopian teff grain – that are sold in grocery stores across North America. Gabriella's skinnypasta is also handed out via a food truck around Los Angeles as a tasty way to build awareness of the brand. (It must be working, as skinnypasta had a Hollywood moment earlier this year when it was included in the giveaway swag at a splashy celebrity Oscar party.)
Micallef's list of accomplishments runs long: lawyer, author, former senior vice-president at Shaw Communications Inc. and founder and CEO of Oliver Capital Partners, a merchant bank, and of Hollywood Foods, the company that became Gabriella's Kitchen. She was named Canadian Women in Communications' Woman of the Year in 2013 and one of the Women's Executive Network's Top 100 most powerful women in Canada in 2011.
And that's just in the office. Micallef is also a fitness dynamo when she puts down her BlackBerry. Her credits include one boxing bout, two gran fondos (long-distance road-bike races), three half-marathons and countless double black-diamond ski runs.
The Malta-born, B.C.-raised Micallef has always been active, but her relationship with fitness changed in 2006 when her sister, Gabriella, was diagnosed with advanced lung cancer. Gabriella, an avid runner, survived five years with cancer – completing half-marathons and operating Hollywood Foods while undergoing treatment. After Gabriella died in 2011, Micallef renamed the company after her sister and poured her grief into fitness.
"Whenever I got upset, I would go and exercise," she says. "Health was important to [my sister]. Her favourite line was, 'Find the time to take care of your health, because you will always find the time to take care of your illness.' I totally agree with that. That's why I always find the time."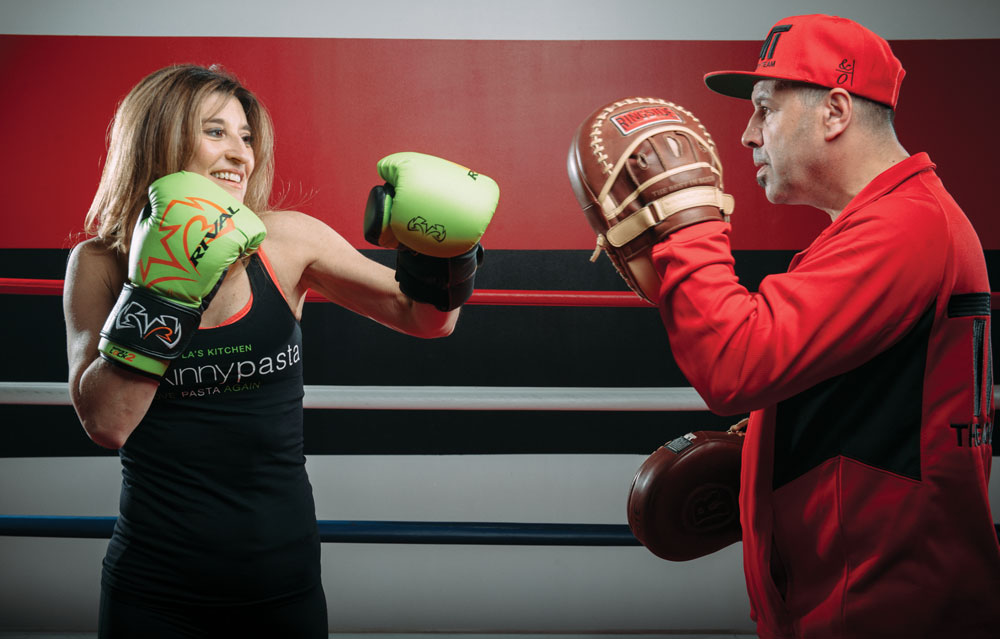 Margot and her trainer, Louie Raposo.
Over the last few years, Micallef has focused on weightlifting and wound up losing body fat and adding muscle mass. Most days, the mother of one adult son wakes at 5 a.m., eats a breakfast of goat's yogurt with seeds and berries and arrives at the gym for training by 6 a.m. Her workouts alternate between sessions of heavy weightlifting at her gym in Vancouver or boxing at Calgary's Impact Boxing & Fitness Gym (she has homes in both cities). Some afternoons, she'll add a yoga class at Hot Shop in the Hotel Arts for an added endorphin boost. She eats a healthy dinner in the evening and is in bed by 10 p.m. "I'm very rigid about my bedtime," she says.
Micallef admits she's a fussy eater who prefers to eat in when she's not travelling. Her specialties are skinnypasta (naturally) and salads, topped with homemade dressings rich in olive oil, vinegar and fresh herbs. Her cooking style stays true to her Italian roots – simple recipes, high-quality ingredients. She avoids flour, sugar, rice, traditional pasta, potatoes, alcohol and dairy.
If she has one guilty pleasure, it's her homemade waffles. "They're really fluffy and light and I can't resist," she says.
Last fall, Micallef took on what she considers her scariest fitness endeavour to date – a boxing match for charity. "I looked at my opponent. She was this young woman, 25 years old, really lanky, and I thought, 'Oh my god, can I hit her?' " she says. "Then the bell goes, we go to the middle and wham!, right to my face. And I thought, 'Okay, I can hit her!' "
Micallef lost the match, but says it was still "an experience."
"I said to [my trainer] after the fight: 'I'm going to win the next one.' "
Going after what intimidates her has been key to Micallef's success in business and fitness. "I feel fear. I worry about being able to succeed. I suffer self-doubt. I'm no different than anybody else. But I do these things anyway," she says.
In that sense, she finds a great deal of overlap between business and fitness and offers these words of advice to anyone interested in either: "It's so easy when you get close to your goal to lose sight of your focus, but you can't," she says. "You must keep working until you are past your goal, and then you focus in on the next thing."