Age: 39
Job title: Co-founder and Executive Chef, Yann Haute Patisserie
Why he's a 2017 Top 40 Under 40:
Blanchard's Yann Haute Patisserie introduced French macarons to Calgary and is the only Canadian company to have been awarded the Relais Dessert Distinction, an international mark of excellence for patisseries.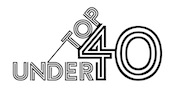 Yann Blanchard grew up in southern France toiling in his father's bakeshop where he learned to resent baking (difficult and tedious work to a 12-year-old). It wasn't until he witnessed his father create a custom cake that he realized baking could be an art form.
He has been in what he calls "the business of making people happy" ever since.
After receiving his pastry education at the Ferrandi School of Culinary Arts (sometimes referred to as the "Harvard of Gastronomy") in the heart of Paris, Blanchard moved to Calgary to hone his English and his pastry skills.
After working as the executive pastry chef at the Fairmont Palliser, Blanchard opened Yann Haute Patisserie in Mission in 2009.
In the era of cupcakes, Blanchard introduced the French macaron to the culinary scene in Calgary. His meringue-based confections are boldly coloured, befitting the canary-yellow exterior of the patisserie, and come in a range of flavours including lavender and apricot, and orange blossom and Grand Marnier.
Blanchard attends to every detail, down to the beautiful to-go pastry boxes. "It's not just the product, it's the experience," he says. That pride in his work has earned Yann Haute Patisserie a spot among the world elite in the business. In September, Yann Haute was awarded the Relais Desserts Distinction by Relais Desserts in France —  the first patisserie in Canada to achieve this mark of excellence.
Blanchard has always explored the limits when it comes to dessert-making. "A day you haven't learned something is a day wasted," he says. When he finds an employee who shares that same mindset, he takes a special interest in their training. As a result, several former Yann Haute staff members have gone on to work in elite pastry kitchens in North America.
In 2016 when Yann Haute revenues began to fall due to the recession, Blanchard restructured the patisserie's staff and food costs allowing them to operate with lower costs. As a result, this year, Yann Haute's revenue will continue to near the million-dollar mark.
The Yann Haute Patisserie building is also home to Blanchard, his wife and business partner Jeraldine, and their three children. Building a space that was both home and business was a complex process, enough to make Blanchard swear off expanding the business further.
But the allure of creating more desserts has been too sweet to resist. His next venture, Berlingo, a premier chocolate and ice cream shop, will open next door to Yann Haute Patisserie soon. —Jennifer Dorozio