An Unexpected War Hero
Professor James Dempsey reminds us of the often forgotten heroes that served Canada in the First World War
By Karin Olafson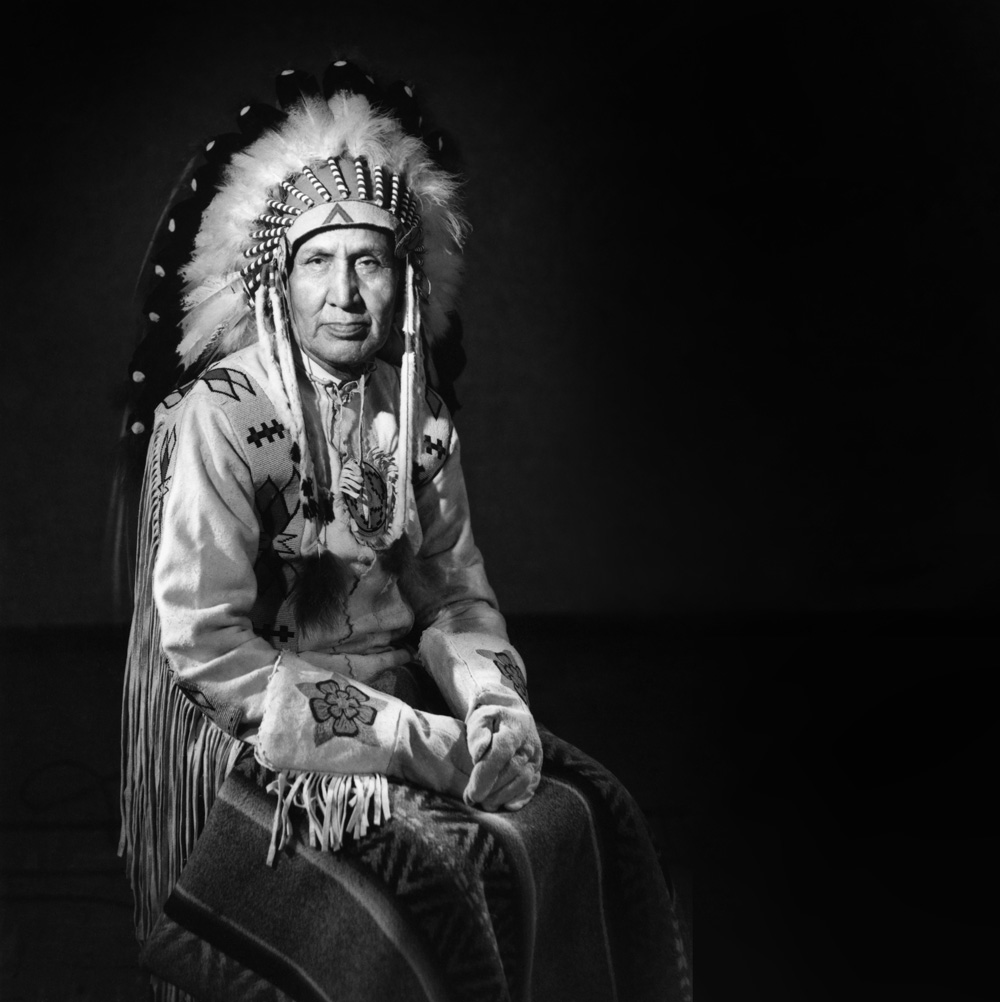 Mike Mountain Horse, Alberta, Glenbow Archives NB-44-92
In 1917, the average Canadian soldier was of British descent, Christian and English-speaking, but Mike Mountain Horse was not an average soldier. He was a member of the First Nations Blood Tribe.
Mountain Horse came from a family of warriors, and after working with the North-West Mounted Police (NWMP) in Lethbridge as a scout, he enlisted in the First World War in 1916.
Mountain Horse's great-nephew James Dempsey, associate professor in the faculty of Native studies at the University of Alberta, dedicated his master's thesis to the prairie-province First Nations and Mtis men who served in the Great War and spent close to three years uncovering his great-uncle's military involvement, as well as doing additional research.
Dempsey says Mountain Horse enlisted partly to avenge his brother's death – Albert was injured in action in 1915 and later died from his injuries – but mostly because he supported the cause. He also wanted to prove that the First Nation warrior ethic had not been dampened by reserve life.
He wasn't alone. A total of 10 Blood men from southern Alberta enlisted to fight in the war. Four were discharged for various reasons – wearing traditional plume or refusing to cut their hair got a First Nations soldier discharged – two died in service and four returned home to Alberta.
First Nations fighters encountered cultural differences on the front lines. For many, the war was their first exposure to Western culture. Dempsey says some Native soldiers didn't speak English and displayed their own warrior ethic on the front line by letting out war whoops and adding good luck charms to their uniforms.
"Due to the high casualty rates, ethnicity was less important," says Dempsey. "Not that there wasn't any discrimination, but a soldier was a soldier." Despite uneasy race relations at the time, Mountain Horse was chosen by his superiors to act as a scout on the front lines in France.
During Mountain Horse's two years of service, he survived the four-day-long Battle of Amiens, recovered from shell shock, captured enemy prisoners and lived through being buried alive in a bombed house for four days. When he returned home, he was recognized as a hero by the Blood Tribe and was celebrated at sun dances, powwows and grand entries.
"When Native soldiers came back from war and were discharged, nothing really changed for them," says Dempsey. "They went back to the reserve lifestyle."
But Dempsey says Mountain Horse's work with the NWMP meant the white community also saw him as a hero and included him in veterans' celebrations. His recognition was perhaps more widespread in the white community than the recognition other Blood soldiers received.
Mountain Horse also recorded his war experience in a unique way. Using a cowhide robe as his canvas, Mountain Horse drew significant events he experienced during the war.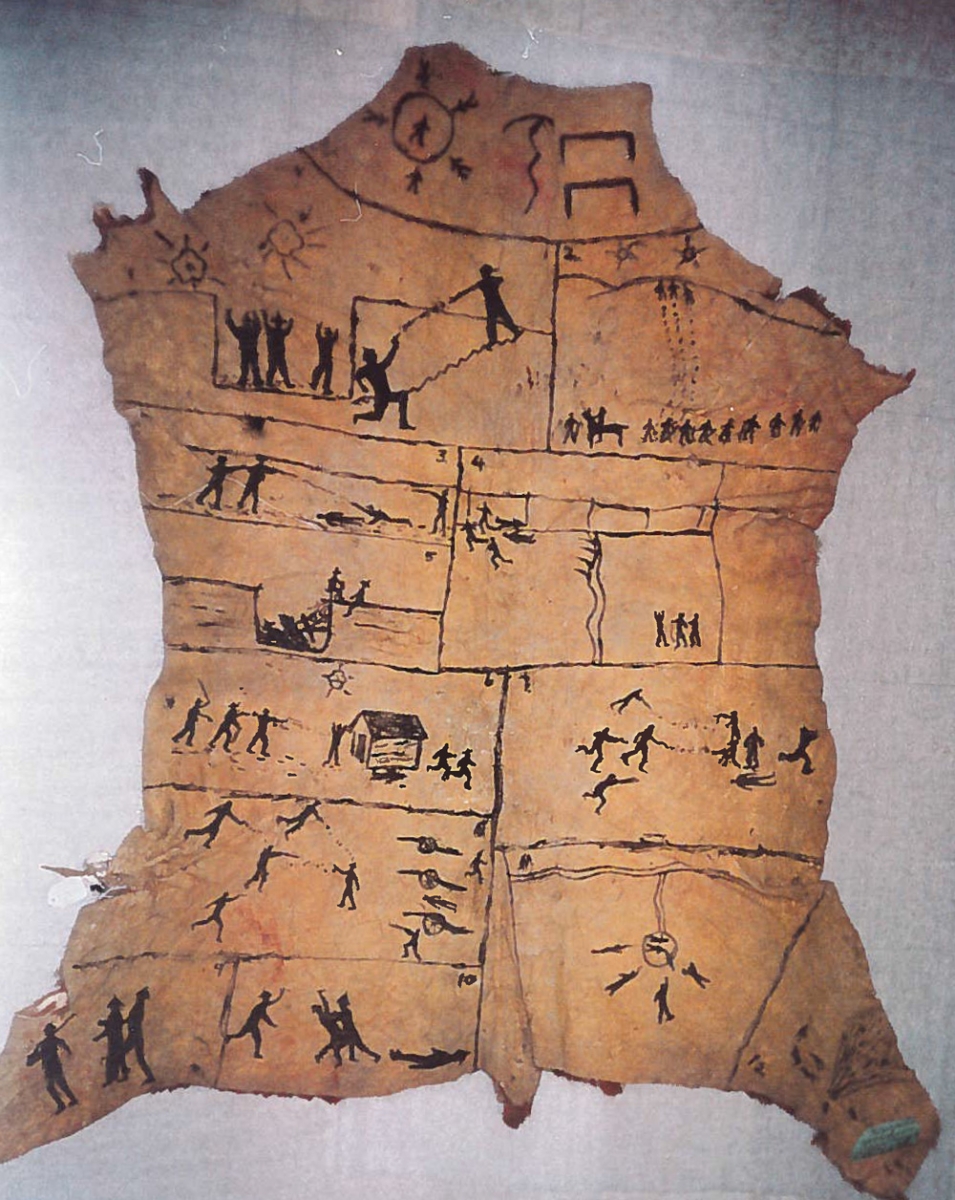 Traditional cowhide robe depicting Mike Mountain Horse's experiences.
"The drawings are very traditional, using stick figures and symbols to represent certain events and actions," says Dempsey.
The pictographs on the robe portray both Mountain Horse's Blood culture and his perception of various war events. "Traditionally, the stories told on these robes don't have a chronological narrative and are instead listed in order of importance to the storyteller," says Dempsey. According to the robe pictographs, one important event to Mountain Horse took place on Aug. 21, 1917, when the 50th battalion of Calgary attacked the German trenches and Mountain Horse was wounded.
Discovering that the soldiers who fought – and died – for Canada during the First World War were not all white often comes as a surprise. Few know that approximately one in three First Nations men from across Canada, or a total of roughly 4,000, fought in the First World War.
"It's assumed that the Canadian army was just British immigrants," Dempsey says, "but, arguably, by percentage and available men, the largest ethnic group to enlist in the Canadian army was Native."
Mountain Horse's robe is currently on display at the Esplanade Arts & Heritage Centre in Medicine Hat. (401 1 St. S.E., Medicine Hat, 403-502-8580, esplanade.ca)