6 Grower Champagnes for Valentine's Day
Champagnes from small growers are terroir-driven alternatives to big-name brands.
By Tom Firth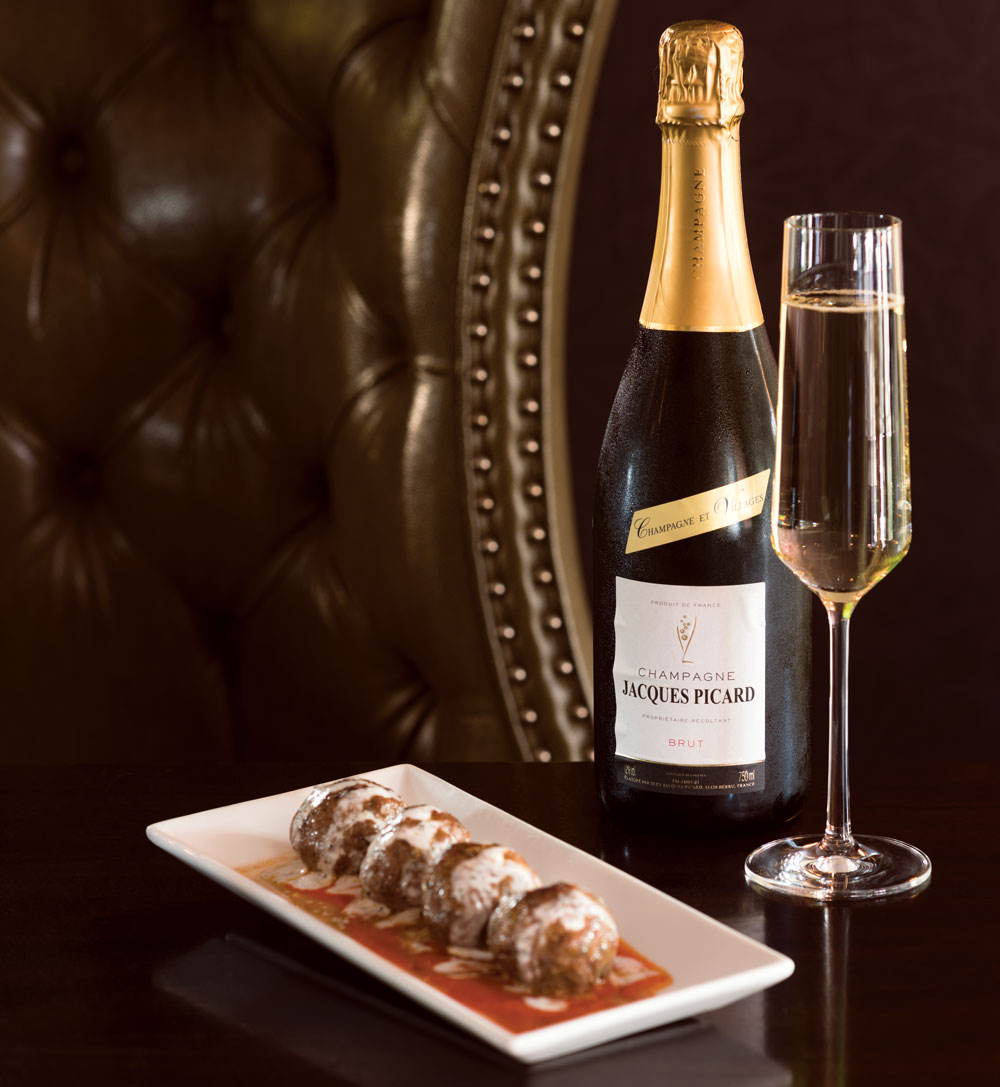 photography by jared sych
Vin Room: Brut and lamb merguez meatballs.
As if you needed another reason to be afraid to open a bottle of Champagne, grower Champagne comes along and makes Champagne tricky once again.
Grower Champagne is a funny thing. In most of the wine world, we celebrate estate-grown fruit, wines from certain vineyards, and vignerons who know and love the land. Champagne is a land of about 19,000 small growers, selling grapes to larger Negociant-Manipulants, or merchant houses. You might have heard of some of these, like Mot & Chandon, Veuve Clicquot, Bollinger and Taittinger to name a few.
Producing Champagne
But there are also about 5,000 growers (Rcoltant-Manipulants) that produce and bottle their own Champagnes along with a few dozen cooperatives that pool their resources and grapes to produce their own wines. Together, about one-third of total Champagne sales are accounted for by these smaller producers, although they account for a much smaller proportion of exports.
Champagne, as you know, can only be made in the Champagne region of France, about 150 kilometres east of Paris. Champagne as a region is well-suited to making sparkling wine – it is quite cool and northerly as wine regions go, helping to make a high-acid wine, and its chalky soils provide excellent drainage and are ideal for these high-acid wines. The traditional method of making a wine sparkle starts with a base wine, fermented dry, which is made from any combination of chardonnay, pinot noir or pinot meunier. A second fermentation to make the bubbles must take place in the bottle. Labour-intensive and costly, it is the best way to make finer bubbles and longer-lasting bubbly.
Wine aficionados around the world are obsessed with the small, perfect parcels of land that encapsulate the terroir of the vineyard or region of its origin, so it was only a matter of time before it stopped being enough that a wine simply came from Champagne. The growers, many of whom only own small vineyards, make wines that epitomize the terroir of the region. On the downside, a smaller producer may not be able to produce a consistent bottle of Champagne or even a good one, unlike the big houses which, through careful blending of vintages or grape sourcing, produce a consistent house "style" or level of quality.
As Brad Royale, wine director of the CRMR group, puts it, "The rise of the grower Champagne market has re-ignited the fuse that Champagne is a place, with real people and real soils, and not just a brand." Now that these wines are appearing on our shelves and wine lists, you could get a Champagne sourced only from the Montagne de Reims, which is well suited to pinot noir with its south facing slopes able to drain the cooler air. Or perhaps the Cte des Blancs, where the vineyards are planted with about 96 per cent chardonnay. Maybe your Champagne sweet spot includes a single Grand Cru town or village commune such as Bouzy, pernay or Verzenay. The world is your oyster.
Food pairings with Champagne and cellaring
Speaking of oysters, they are a perfect pairing with Champagne or any sparkling wine, but Champagne does pair well with just about any dish. Though the wine is just fine on its own, you may want to try it with anything from fresh strawberries to home-popped popcorn. You don't need Champagne flutes at home to enjoy sparkling wine – any tulip-shaped white wine glass should do the trick.
As to the cellaring, most Champagne, whether grower or not, is a blend of multiple years (for consistency) and will not feature a vintage on
the label. These wines aren't meant to improve with time in the cellar. If your Champagne has a vintage, it should gain complexity in the cellar over five to 10 (or more) years. Grower Champagne, coming from smaller plots or produced in smaller quantities, generally should be consumed soon after purchase. Buy it to drink it.
3 local pairings
Vin Room: Brut and Lamb Merguez Meatballs
Vin Room wine director Erika Tocco recommends pairing the Jacques Picard Brut ($97) with the lamb meatballs with its sweet red pepper sauce. Tocco loves the "bracing acid and austerity of the wine," comparing it to a miniature version of famous (and expensive) Champagne Salon.
Divino Wine & Cheese Bistro: Grand Cru Champagne and Bison Tartare
Champagne doesn't just go with seafood or toasts. Try pairing the Pierre Peters L'Esprit Grand Cru ($145) with the complex flavours of the bison tartare with chips and Salt Spring Island chvre. Royale describes the wine as, "Holy crap, it's good, so tight – like a fist in your mouth." Can you argue with that?
River Caf: Blanc de Blanc and Oysters
Always a classic match, try the creaminess of blanc de blanc Champagne (made with only chardonnay grapes) such as the Pierre Peters Grand Cru ($114) with some fresh oysters as an appetizer. Sommelier Bruce Soley has built a short but sweet Champagne list worth trying again and again.
6 Champagnes to sample

Champagne de Venoge Cordon Blue NV Brut, Epernay, France
A captivating bottle at a very reasonable price. I love the toasty, yeasty characters balanced by citrus fruits and a long finish. Three years on the lees are partly responsible, but it does taste a bit like well-aged vintage Champagne. $65.

Cottet-Dubreuil NV Brut Tradition Champagne, Courteron, France
Blended from 70 per cent pinot noir and the remainder chardonnay, this is an excellent display of structure and elegance. The nose is brimming with citrus and apple fruit with plenty of doughy aromas. The palate sings with mineral, toast and a hint of red fruit. $38.

H.Blin NV Ros Brut Champagne, France
What is life without a little ros Champagne once in a while? This one is almost cranberry in colour, with a nose that comes alive with raspberry, cranberry and minerality, and toasty-bread crust on the palate with a nice texture and a little bit of bitterness on the finish. Pair with red meats or seafood in cream sauces. $52.

Tendil & Lombardi NV Blanc de Noirs Brut Champagne, France
Made from 100 per cent pinot noir and limited to 2,000 cases each year, quite a lot of floral aromas and citrus/melon and mineral show on the nose, while in the mouth, it is structured, but quite delicate. I had no problem putting this bottle to bed and looking for another. $49.

H. Billiot Fils NV Grand Cru Brut Rserve, Champagne, France
Green apple aromas with biscotti, lime and minerality lead into tart fruits with subtle baked bread, crisp acids and an almost juicy apple, ethereal finish. It's perfect for seafood or oysters. $62.

Benjamin Bridge Mthode Classique 2009 Brut, Gaspereau Valley, Nova Scotia
France can't have all the glory when it comes to grower sparkling wines. The people at Benjamin Bridge in Nova Scotia are producing one of the closest things to Champagne outside of Champage. Made from l'acadie, chardonnay and seyval grapes, the wine is bursting with honey, toast and citrus notes. $52.