6 Wine Picks From the Rhne Valley
The versatility of wines from this region in southern France makes them perfect for pairing with food from anywhere
By Tom Firth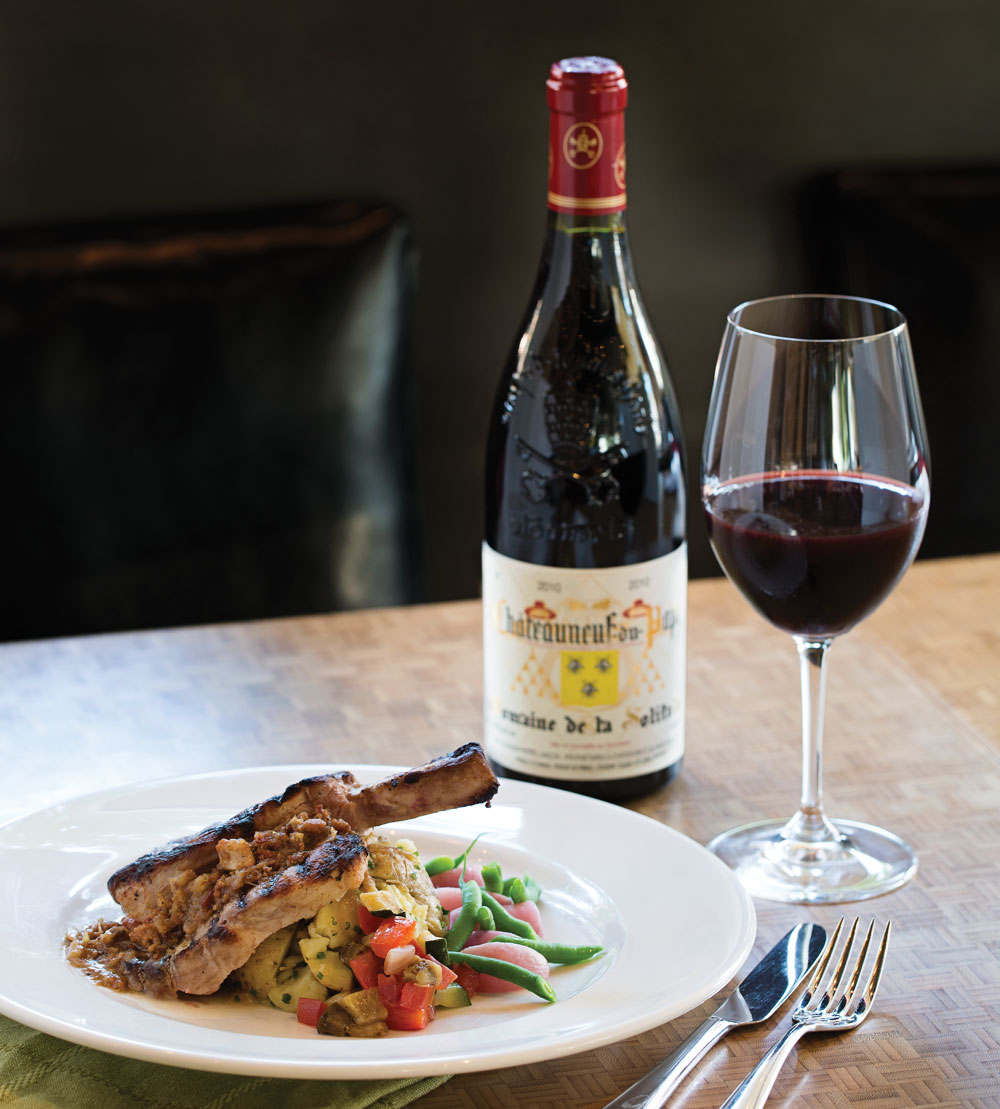 photography by jared sych
Avec Bistro: Chteauneuf-du-Pape and Grilled Rack of Pork.
I like the Rhne. Of all the wine regions of France, it is perhaps the easiest to discover – and to make sense of. It definitely lacks the pretension of Bordeaux, it is certainly less confusing than Burgundy and, although they can be pricey, you don't need a Champagne budget to enjoy these incredible wines.
Winemaking in the Rhne valley has been happening for a long time. Grape growing began around the 1st century AD, with not much else happening of note regarding the wines of the Rhne until the beginning of the 14th century when the papal court of Clement V came to Avignon. The wealth and size of the entourage meant quality local wine was in demand and, thus, it significantly improved around this time. By the time the papal household moved back to Rome permanently, the wines were clearly established.
Understanding t
he wine hierarchy
The wines of the Rhne follow an easy-to-understand hierarchy of quality. The entry-level wines are simply labelled "Ctes du Rhne," with most wines sourced from vineyards in the south and usually based around Grenache grapes with big fruits and not a whole lot of tannin. The next level up are the Ctes du Rhne Villages wines, which represent a significant increase in quality. Wines are generally more full-bodied and have a higher percentage of alcohol, and are produced by 95 authorized villages and their surrounding vineyards.
Next up the hierarchy are Ctes du Rhne Village appellations that are authorized to include their village name on the label, and there are 18 of these.
The fourth and highest tier of Rhne wines includes names like Vacqueyras and Gigondas, which are specific villages that don't include Ctes du Rhne in the name. These AOCs (Appellations d'Origine Contrle), which cover everything from Chteauneuf-du-Pape to Hermitage, are the 16 crus or "growths" of Rhne wines. These wines are worth trying and range anywhere from the high $30 mark all the way up to near-astronomical prices, so there is something for nearly everyone.
Rhne valley
Producing wine in the
The Rhne valley stretches north-south starting near Lyon and reaches almost to the Mediterranean. The north end of the Rhne is where syrah is king. These are those spicy, peppery syrahs that are miles away from the shiraz that Australia built its reputation on. Terraced cliffs, granitic soils and a wetter climate than the south make for a number of famous, notable appellations such as Cornas, Cte-Rtie, St.-Joseph and the wines of Hermitage.
But it's in the south where most of the Rhne's wine production takes place, and where grenache plays a major role in the blends. Gigondas, Rasteau, Vacqueyras and Chteauneuf-du-Pape are the southern Rhne appellations most familiar to Albertans, and, while better known for its reds, the white wines of the Rhne are some of the tastiest whites out there.
Rhne wine for dinner
Finding the perfect
Food-pairing with the wines of the Rhne is a cinch. Look to pair with anything from beef to game meats such as boar, rabbit or even duck. These wines shine with flavours such as mushroom or even eggplant, and, as the weather turns to winter, heartier stews, the last of the outdoor barbecues or even slow-cooked ribs go well with your Cte-Rtie. White wines from the region can be paired with almost anything from lobster to creamier cheeses, risottos and pastas.
As for aging the reds, even the lesser Ctes du Rhne wines can handle up to five years in the cellar. As you move upward in price, the wines cellar longer, and top offerings such as Hermitage can cellar 20 to 25 years, if desired. With the whites, although some examples can age well, most are best within five years or so of the harvest to preserve both fruit and freshness. Serve the reds slightly cooler than room temperature in big, tulip-shaped glasses, and only decant aged wines. For the whites, serve cool, but not cold in a white wine glass.
6 wine picks
Domaine de la Renjarde 2011 Massif d'Uchaux Ctes du Rhne-Villages

Plush, expressive fruits with a pleasant spiciness and a bit of earth. The blend is mostly grenache with some syrah and lesser parts of cinsault, carignan and mourvdre, all resulting in flavours of tart cherry fruits and spices, without too much tannin. Drinking very well now. $16.50.
Louis Bernard 2012 Ctes du Rhne Villages

Spicy strawberry and plum fruits with a bit of smokiness on the nose and a touch of funky earthiness, with some prominent acidity and some firmer tannins. You should pair this with ribs, T-bones or a steak sandwich. $17.
M. Chapoutier 2011 Les Meysonniers Crozes-Hermitage AOC

A hop, skip and a jump from the famed Hermitage appellation, the Crozes-Hermitage is made from 100-per cent syrah with berry fruits, white pepper, spice and a little smoked meat on the nose. Tannins are already mellowing, but the fruit is going strong. Think bacon cheeseburgers, smoked meats or firm cheeses for pairing. $29.
Domaine Durieu 2012 Chteauneuf-du-Pape AOC
Pretty and a little sultry on the nose, the wine is floral and spicy, with black raspberries and a little heat – it's modern Chteauneuf-du-Pape at its finest with subtle mocha, leather and spice balancing clean fruits. It's drinking wonderfully now; five-plus years more should put it in the sweet spot. $46.
Ogier 2012 Heritages Ctes du Rhne Blanc

A blend of most of the major white grapes found in the region, look for lemon and lime, plantain, apple and mineral tones with a dry approach and a clean, silky texture. It would be great with roasted poultry, salmon or a nice creamy brie. $17.
M. Chapoutier 2011 Chante-Alouette Hermitage AOC

A stunner, through and through. Made from marsanne, this top-shelf white sees a little oak and plenty of lees contact making the wine multi-layered, with vanilla, yeast character and lush fruits showing through. It isn't cheap, or easy to find, but
it's one of the best pairings for lobster or seafood pastas I can imagine. $79.
Great local pairings
Avec Bistro: Chteauneuf-du-Pape and Grilled Rack of Pork
The versatility of Chteauneuf-du-Pape is perfectly illustrated by the difficulty in recommending only one dish to go with it. My pick at Avec is the bold fruits and earthy spice of the Domaine de la Solitude 2010 ($92) with the rack of pork, mostly because of the double-pork hit the bacon vinaigrette brings. You'll thank me.
Fergus & Bix: Gigondas and New York Steak
Me? I like the simple things like good wine and good steak. Go for the Vieux Clocher Gigondas ($61) with the 12-oz. New York cut steak. There's plenty of lively fruit and acid in the wine, while the tannins are just right for a medium-rare steak.
Teatro: Vacqueyras and Lamb Chops
I'm no stranger to good lamb and Teatro's is one for the books. Perfectly grilled, with that delicious jus, why not match it up with a perfect Vacqueyras from Xavier Vignon ($80)? Tightly wound and spicy with white pepper, smoke and some heady alcohol heat, you may find the bottle is almost empty before your entree arrives.