You might think you love chocolate. You've probably popped a little piece in your mouth, and thought to yourself, "mmmm, I looooove chocolate." But unless, like Anne Sellmer, you've thought something like "mmmm, isn't it interesting that structurally, the closest relative to chocolate, with six different crystallization phases, is steel?" it might be more accurate to say that you probably merely appreciate chocolate.
Sellmer does want us to love chocolate as much as she does though. In fact, her fondest wish is to have us forget the guilty notions of temptation and indulgence that go along with chocolate and just treat ourselves to a delectable and beautiful confection that will bring us a pure little moment of happiness.
Sellmer is the maker behind Cchu Chocolatier, a small batch chocolate and confection company that launched late last year and keeps expanding with more creative flavours and collaborations.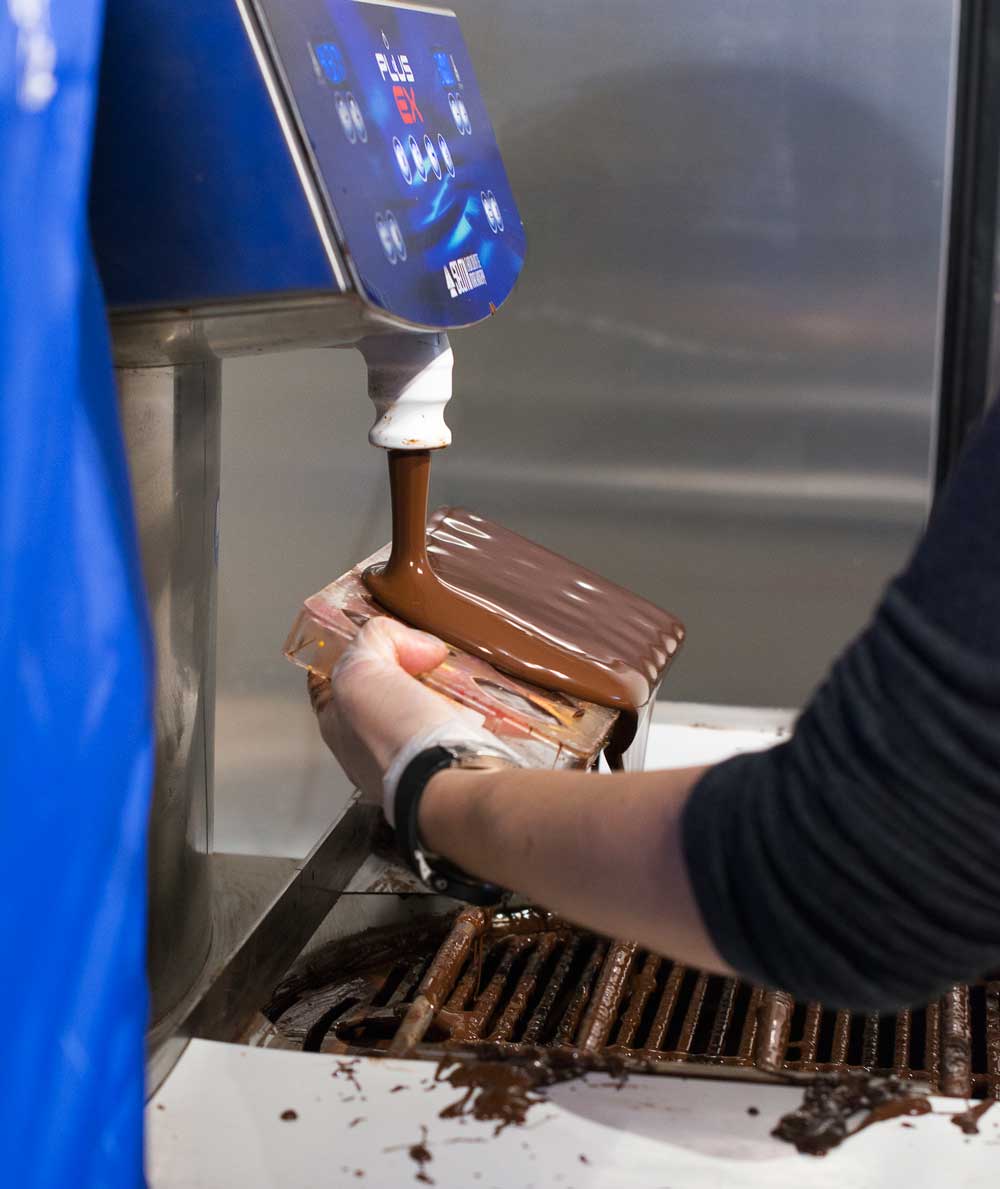 To see Sellmer at work is to understand her love for her chosen medium. "We're always telling our kids to follow their passions, to pursue something they love to do, and eventually I realized I should take my own advice," she says. So Cchu Chocolatier was born. Sellmer carefully selects the types of chocolate she uses in her creations, pairing chocolate with filling to bring out the best in both.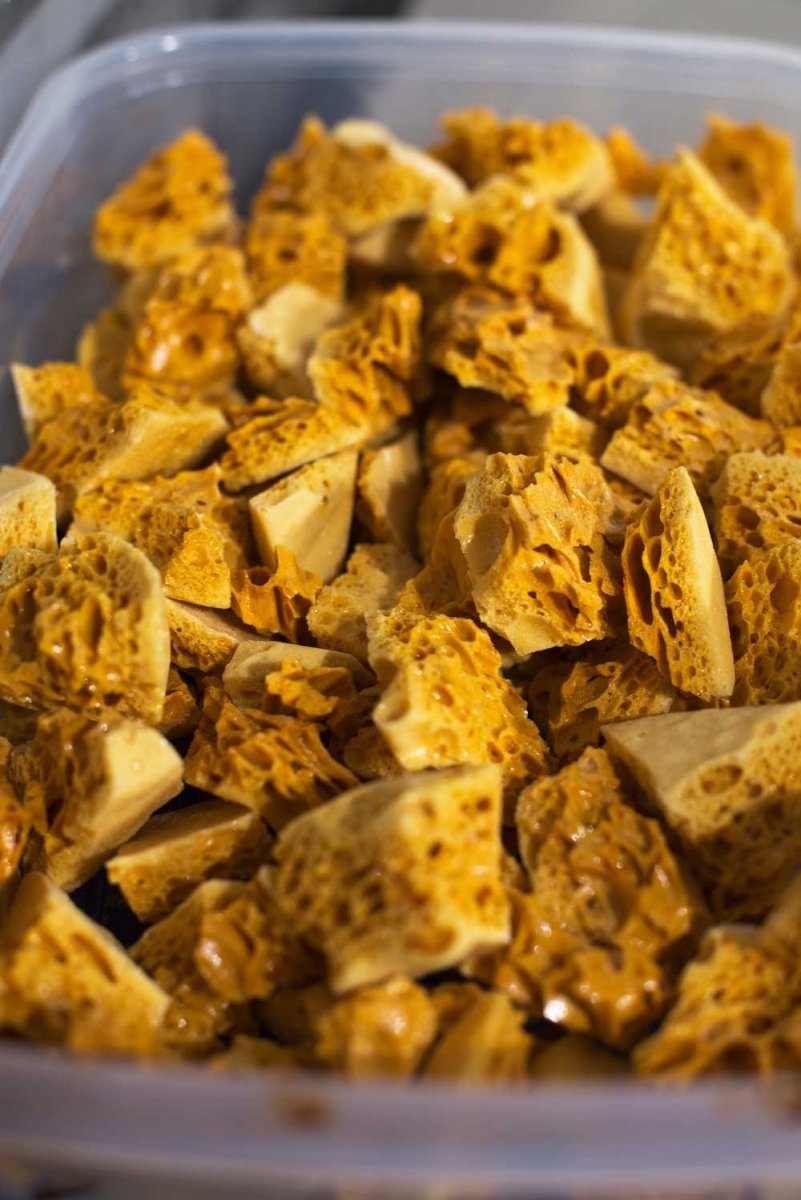 Inspiration for new chocolates and flavours can come from anywhere. It can be as simple as bringing out the many shades of caramel or working with more complex combinations like kaffir lime leaf and coconut. Sellmer has a range of local collaborations on the horizon. Watch for chocolate bars made with Phil & Sebastian, each pairing a single origin chocolate with a single origin coffee bean and for a line pairing cheeses from Janice Beaton with selected chocolate.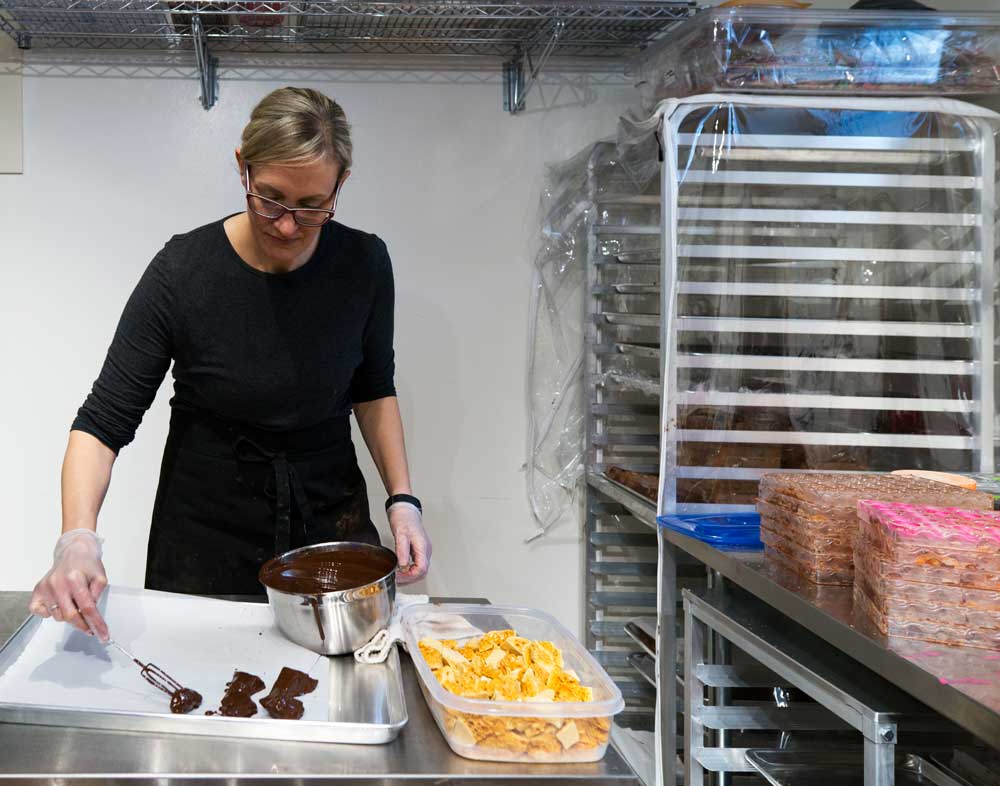 Here, a batch of house-made sponge toffee is ready for dipping. Sellmer pairs the toffee with several types of chocolate, including caramelized white chocolate.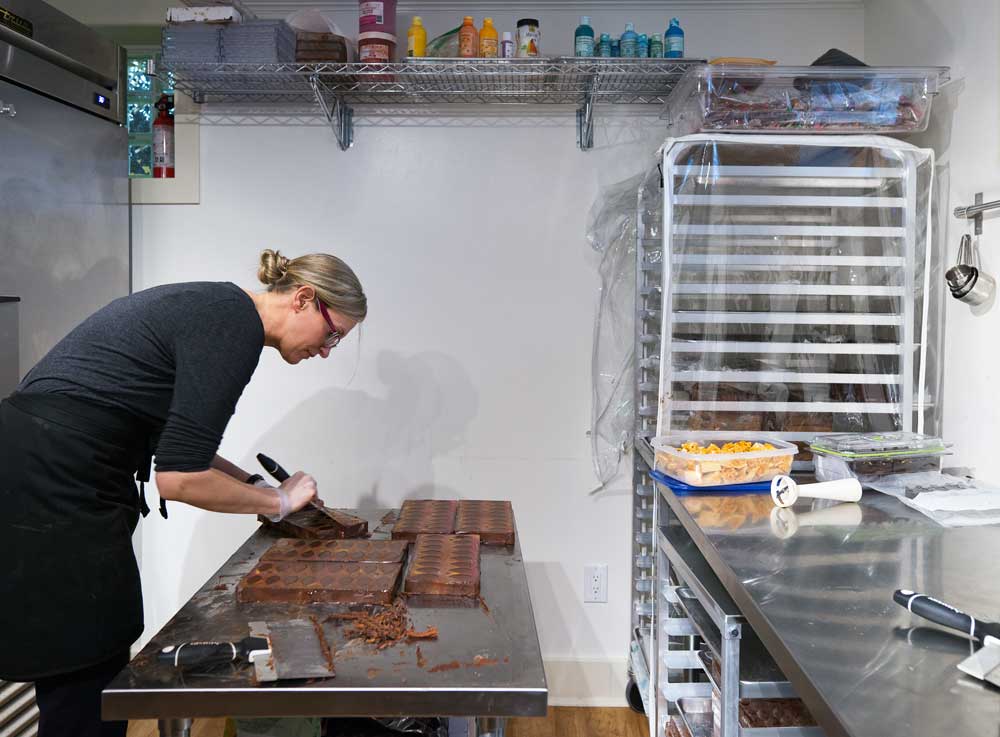 The three chocolates Sellmer recently submitted to a competition in San Francisco took home gold, silver, and bronze. And, her recent Valentine's Day collaboration with Eau Claire Distillery saw vendors reporting the chocolates selling out almost as soon as they were out on the shelves. All that means Cchu Chocolatier is set to outgrow its small home-based kitchen soon. Sellmer had imagined that the space would be big enough for the first few years of running her business.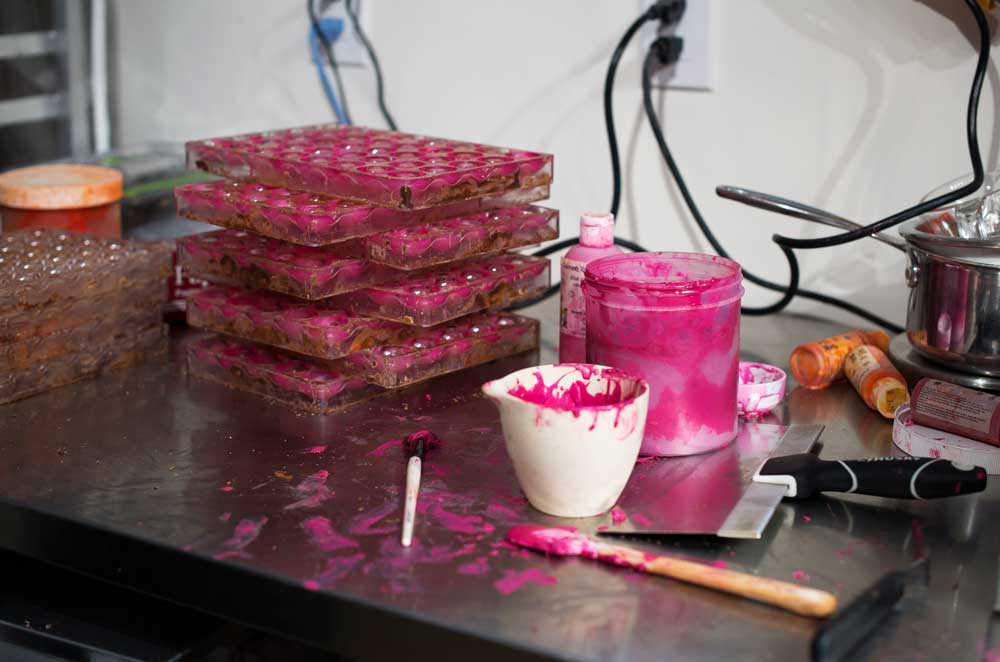 Chocolate is a challenging medium. That's what Sellmer loves most about working with it. There are technical challenges, such as careful temperature control through the entire chocolate-making process, as well as artistic and creative challenges, like how does one keep the cocoa butter paint from clogging the airbrush equipment. It's the combination of chemistry and creativity that keeps Sellmer excited about her work – each little chocolate is a small feat of engineering and a tiny work of art.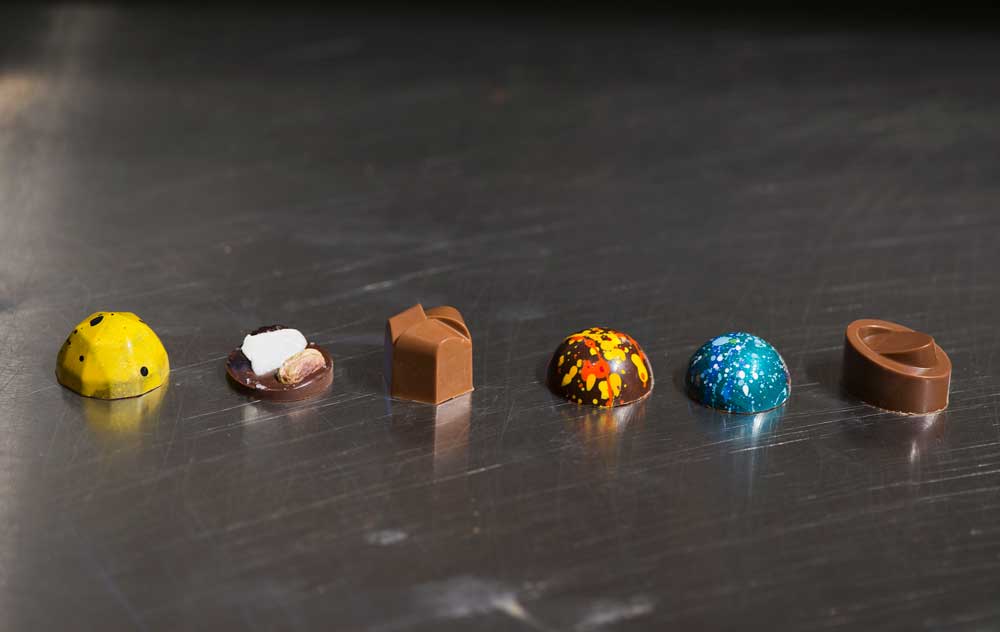 Some of the little masterpieces currently on offer include (from left to right) a wildflower honey and 70 percent chocolate, the Mendiant (a deceptively simple treat made with a pistachio, slivered coconut and dried cherry), the Caramel Knot that has a little morsel of sponge toffee tucked into its caramel ganache, the silver award-winning, cocktail-inspired Screwdriver made with Eau Claire Distillery vodka and fresh orange juice, the gold winning Gin & Tonic made with Eau Claire's gin, Porter's Tonic and fresh lemon, and finally a 40 percent chocolate with a Phil & Sebastian coffee ganache.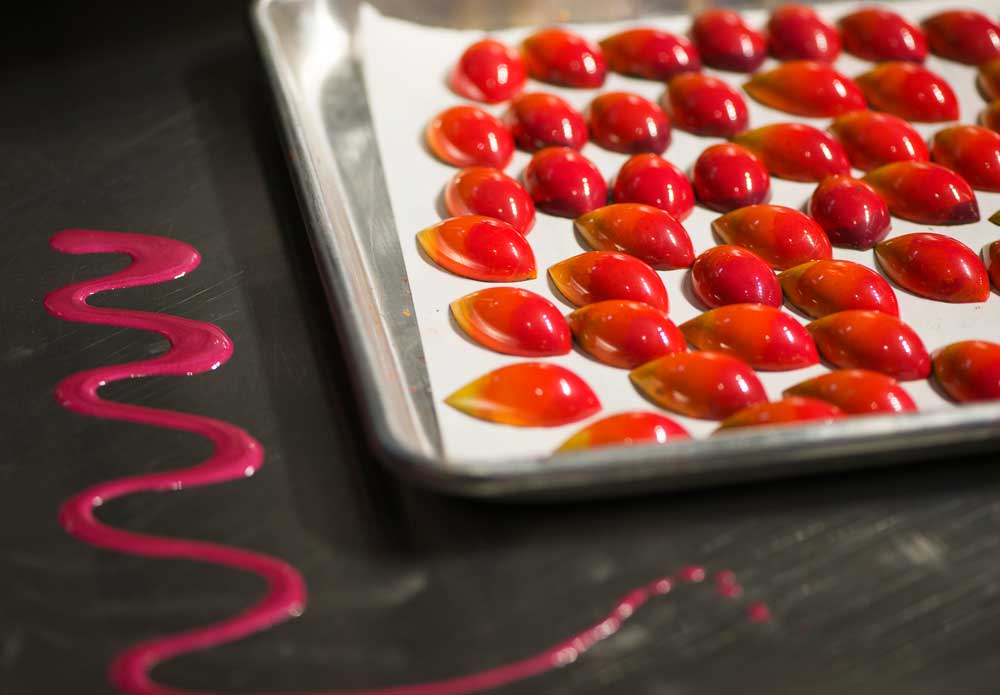 Sellmer's enthusiasm and imagination doesn't seem to be waning. It's carried her through the many iterations of the experiment seen here – fitting as much juicy passionfruit flavour into a filling as she can and then making the exterior look like the best tropical sunset you've ever seen. It's taken her down the path of such wild wonderings as "what would a sriracha, sea salt, sponge toffee and pretzel chocolate bar taste like?" With all these and a Calgary collection and a cocktail collection on her to-do list, we're looking forward to wherever Cchu plans to take us next.
Cchu Chocolatier is available at Eau Claire Distillery's Tasting Room, Janice Beaton Fine Cheese and Meez Cuisine & Catering. For more information, visit cochu.ca.