Sweet Tooth Ice Cream was the first shop in Calgary to specialize in Thai rolled ice cream. The cold treat tastes just like regular ice cream, but is served in the form of thin rolls instead of scoops. The ice cream rolls are topped with whipped cream, sauces and various toppings like chocolate chips, pretzels and cookie pieces. The eight regular flavours on the menu range from Birthday Cake (with vanilla bean ice cream, golden Oreos, sprinkles, raspberry sauce, whipped cream and raspberry drizzle) to Gotcha Matcha (with matcha flavoured ice cream, fresh lychee, whipped cream, lychee jelly and condensed milk). There are also seasonal flavours. Your ice cream order comes with two toppings of your choosing and you can pay an extra $1 to add even more toppings if you want.
The entire ice cream rolling process is done right in front of you, which is part of what makes this experience so cool. Here's what you can expect to see when you order rolled ice cream at Sweet Tooth: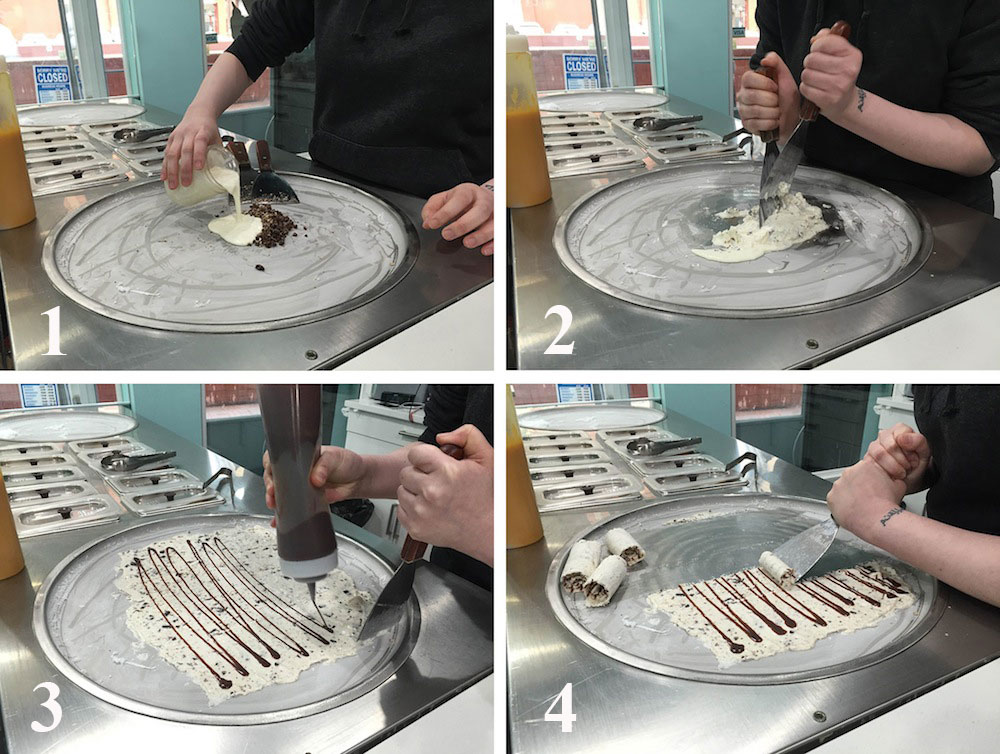 photographs by alana willerton
1. Toppings are chopped up on a cold plate and a liquid ice cream mixture is poured over top.
2. After mixing and chopping the toppings and ice cream mixture together, they are spread out over the cold tray.
3. Depending on which flavour you choose, a sauce is sometimes drizzled over the spread out ice cream.
4. The ice cream is scraped into rolls, which are placed in a cup to eat.
Sweet Tooth Ice Cream, 206 Centre St. S.E., 587-832-0128, sticyyc.com