Where to Get the Best Neapolitan-Style Pizza in Calgary
There are essential elements of this most traditional variety of pizza, starting with making it in a forno oven. These 5 pizza places don't mess with tradition.
By Dan Clapson
The term pizza, or pittza, can be traced back to the 10th century in central Italy, and it seems safe to say that, sometime between then and Teenage Mutant Ninja Turtles, it's been embraced as a food group all on its own around the world.
Pizza has come a long way from its origins in Europe. Nowadays, we can go anywhere around Calgary to satisfy our craving, no matter whether that craving is for true-to-the-roots, thin-crust pizza or deep-dish, laden-with-toppings pizza or everything in-between.
But when it comes to truly traditional pizza, most pizza purists will tell you that Neapolitan pizza is the epitome. The Italians take their pizza – and their rules – seriously, so there are lots of protocols governing what can be officially called pizza Napoletana, which are basically there to protect the integrity of this culturally significant food in terms of its ingredients, preparation and presentation.
There are two main variants: pizza marinara (tomato, garlic, oregano and olive oil) and pizza Margherita. The most popular story about the latter variant attributes its origin to Naples and a pizzaiolo (pizza maker) who, back in 1889, was commissioned to make a pizza for a visiting queen, Queen Margherita, in the colours of the Italian flag. Thus, the queen's namesake pizza (with tomatoes, mozzarella and basil) was born. Probably the best test of a Neapolitan pizza joint's prowess is to order the Margherita, though most Calgary restaurants offer a variety of toppings while staying basically true to the style.
---
5 places for Neapolitan pizza
(shown clockwise)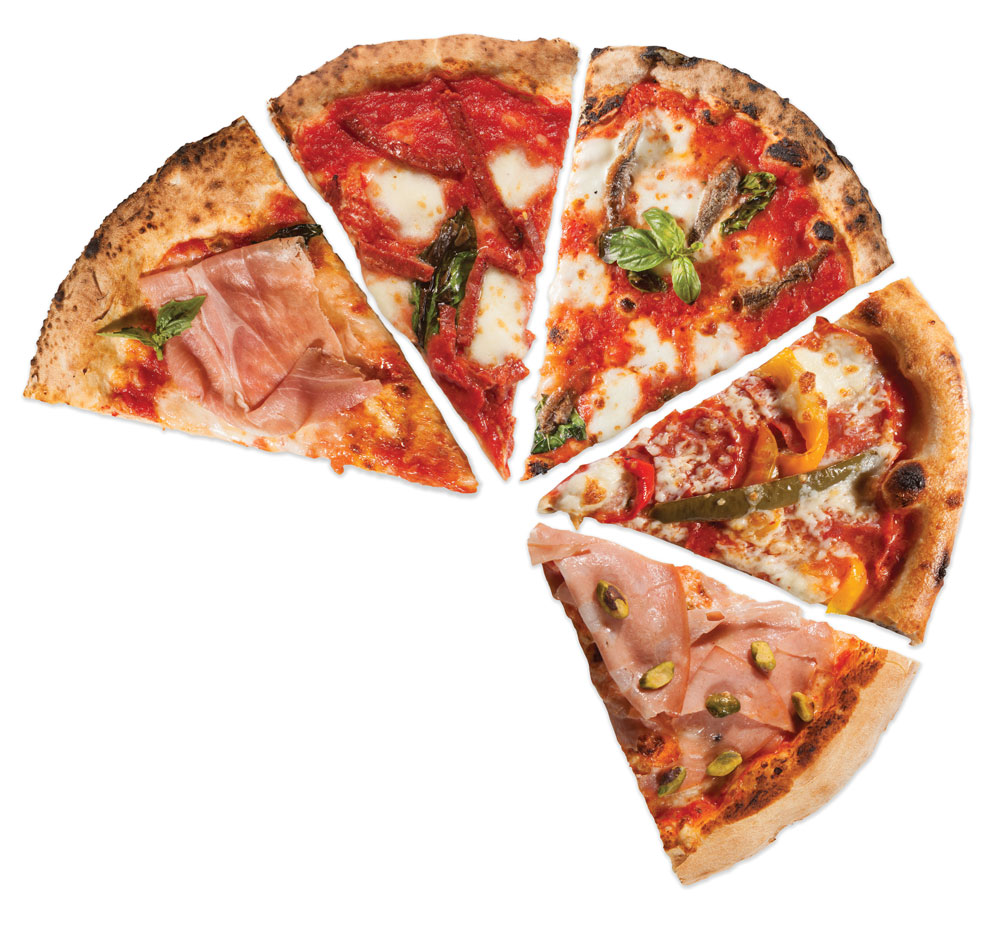 photograph by mike heywood
Located right above now-closed La Dolce Vita, stroll up the stairs here to try a piece of pizza made by Italian owners with plenty of family roots overseas.
Try: San Danielle (tomato sauce, mozzarella, prosciutto)
916 1 Ave. N.E., 403-263-5999, ldvpizzabar.com, @ldvpizzabar
The first restaurant to introduce Calgarians to proper Neapolitan pizzas. If you want a good baseline on traditional pizza-making, this is your spot.
Try: Diavola (olive oil, tomato sauce, spicy salami, mozzarella, parmesan, basil)
1147 Kensington Cres. N.W., 403-283-1166, pulcinella.ca, @lovepulcinella
The only food truck serving classic Neapolitan pizza in the city.
Try: Pizza Napoletana (tomato sauce, mozzarella, basil, anchovies)
savinopizzeria.com, @savinopizzeria
Watch all of the pizza-making action in this open-concept and family-friendly Inglewood restaurant.
Try: Hutch (tomato sauce, calabrese, genoa salami, pepperonata, mozzarella)
1216 9 Ave. S.E., 403-457-1154, wopizza.ca, @wopizza 
This pizza juggernaut still sticks to traditional preparations when it comes to its dough and ovens, which is no easy feat considering the size of its dining rooms.
Try: Mortadella (tomato cream sauce, shaved mortadella, pistachios, mozzarella)
Chinook Centre, 403-457-7677; doublezeropizza.ca, @doublezeropizza
---
The essential elements of making a Neapolitan pizza
The oven
A wood-fired oven (more commonly known as a forno oven, traditionally constructed with bricks) is the go-to for serious pizza-makers. Able to reach temperatures of more than 800F, it can cook a pizza in mere minutes, giving you that crispy crust, slightly blackened bottom and doughy middle.
The dough
Because its high protein content allows for a lot of elasticity in the finished product, "00" flour is used. Once combined with yeast, salt and water, it's worked into a dough and rested. Prior to baking, the dough is portioned and formed by hand (without the help of a rolling pin) to a disc with a maximum three-millimetre thickness.
The tomatoes
San Marzano tomatoes or bust. Much like how only true Champagne is composed of grapes from the Champagne region of France, true canned San Marzano tomatoes will have been grown in the Sarno Valley of Italy and will bear the markings.
The toppings
In Neapolitan-style pizza, the toppings are always meant to complement the dough, not to weigh it down. Ingredients like thin strips of prosciutto or anchovy fillets are baked on the dough in the high-temperature oven, while more tender items like basil leaves are added as a finishing touch.