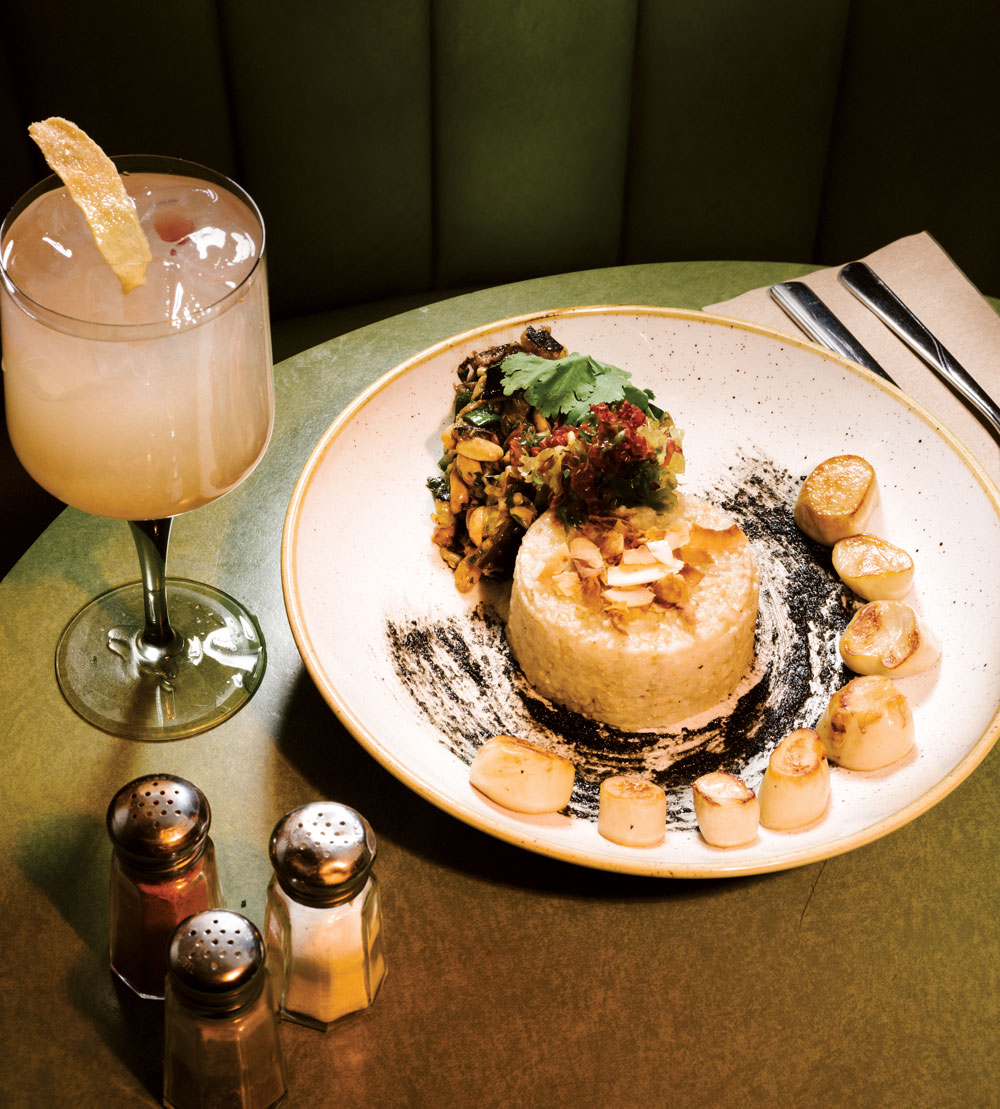 photograph by jared sych
The Coup's green-tea smoked and seared king oyster mushroom "scallops" served on black sesame paste with a side of coconut pandan rice and Thai eggplant peanut salad.
It wasn't that long ago that vegetarian diners in Calgary had little choice when it came to eating out: you could seek out a Buddhist place for meat-free Chinese food or settle for gloppy fettuccine Alfredo at a sad pasta place. But as more people wise up to their body's dietary needs and peculiarities or opt to cut various things out of their diets for ethical, religious or idiosyncratic reasons, Calgary restaurants have begun providing delicious, complex food that lets vegetarian, gluten-free, dairy-free and allergen-sensitive eaters enjoy a meal out.
When The Coup first opened on 17th Avenue S.W. in 2004, it was a godsend for vegetarians looking for a contemporary dining option. Today's Coup is a vibrantly coloured retro-chic room, renovated in 2014 to not only spruce the place up, but also double it in capacity – which was necessary, because not only does The Coup appeal to vegetarians and vegans, but its steamy noodle bowls, tempeh shwarma sandwiches, legendary yam fries, and curiously delicious coconut bacon are enticing enough to bring carnivores through the door.
And that's important because most vegetarians and celiac sufferers have friends who can eat whatever they please, and those friends don't want to waste their dining dollars on food that doesn't satisfy their cravings. Some places, like Ten Foot Henry, solve this problem by offering a few meaty dishes next to veggie-forward fare, while The Coup makes sure that the quality and creativity of their vegetarian food is so high that no one misses the meat. Others, like Notable, quietly offer a gluten-aware menu without branding themselves as a specialty restaurant.
And it helps when a place can live up to its clientele's standards without taking itself too seriously. Part of The Coup's charm is its whimsical veggie cocktails that incorporate fresh juices, kombucha, oat milk, tamarind shrub and other Coup-worthy ingredients (combined with the very best booze, of course), which is essential to this trend of dietary-specific restaurants. Things like rennet-free cheese and locally produced honey are important to The Coup's customers, but ultimately, so is having a good time while enjoying tasty food in a lively room. After all, humourless piety isn't what anyone is looking for when they're out on the town.
924 17 Ave. S.W.,  403-541-1041, thecoup.ca

Niche | Vegan.
Eat | The vegan larb salad, with ground soy protein in place of the traditional minced pork or chicken.
9679 Macleod Tr. S.W., 587-352-0993, heartschoices.com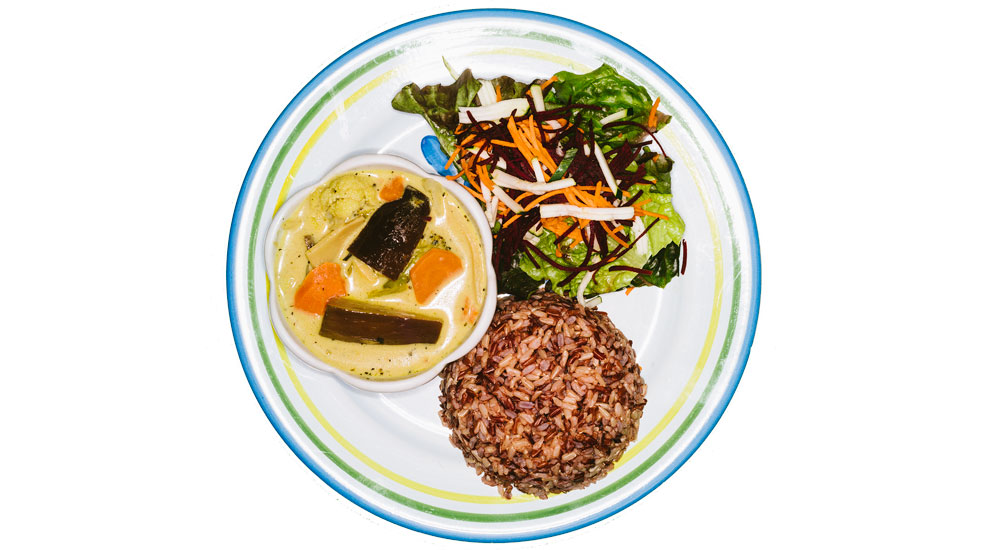 PHOTOGRAPH By jared sych
Niche | Gluten free.
Eat | Mechada arepa, a traditional Venezuelan sandwich made with gluten-free white-corn-flour bread and stuffed with shredded beef.
1013 17 Ave. S.W., 403-249-3037, heavengf.com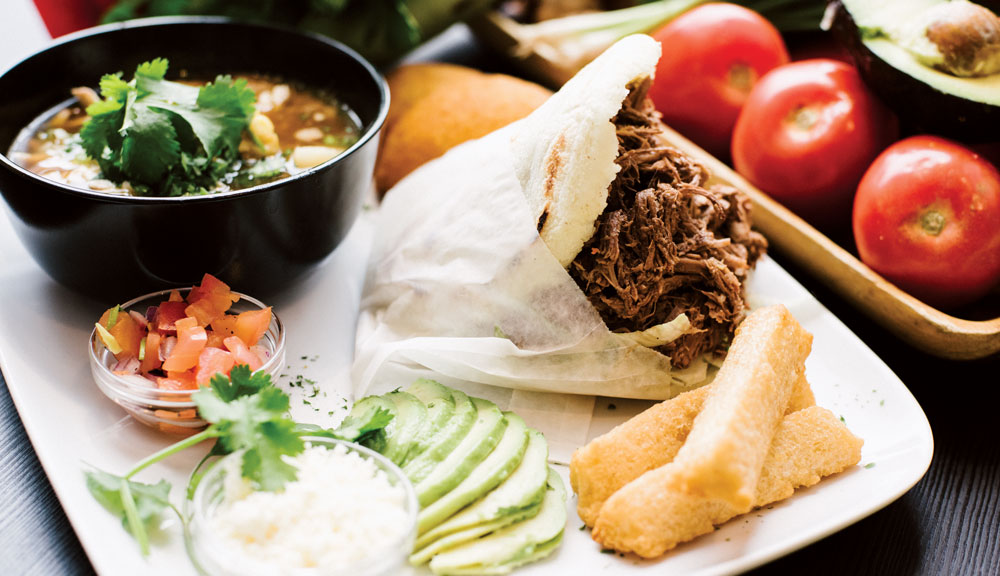 PHOTOGRAPH By jared sych
White Rose Vegetarian Kitchen
Niche | Vegetarian.
Eat | Yellow beet risotto cake with plums, goat cheese, fennel, grilled apple and saffron cream.
(Now closed)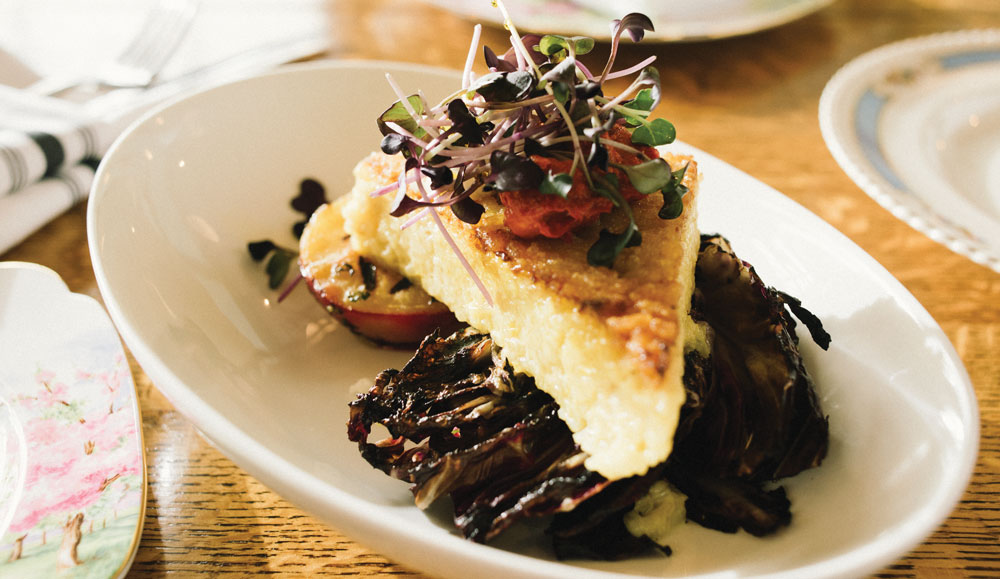 PHOTOGRAPH By jared sych