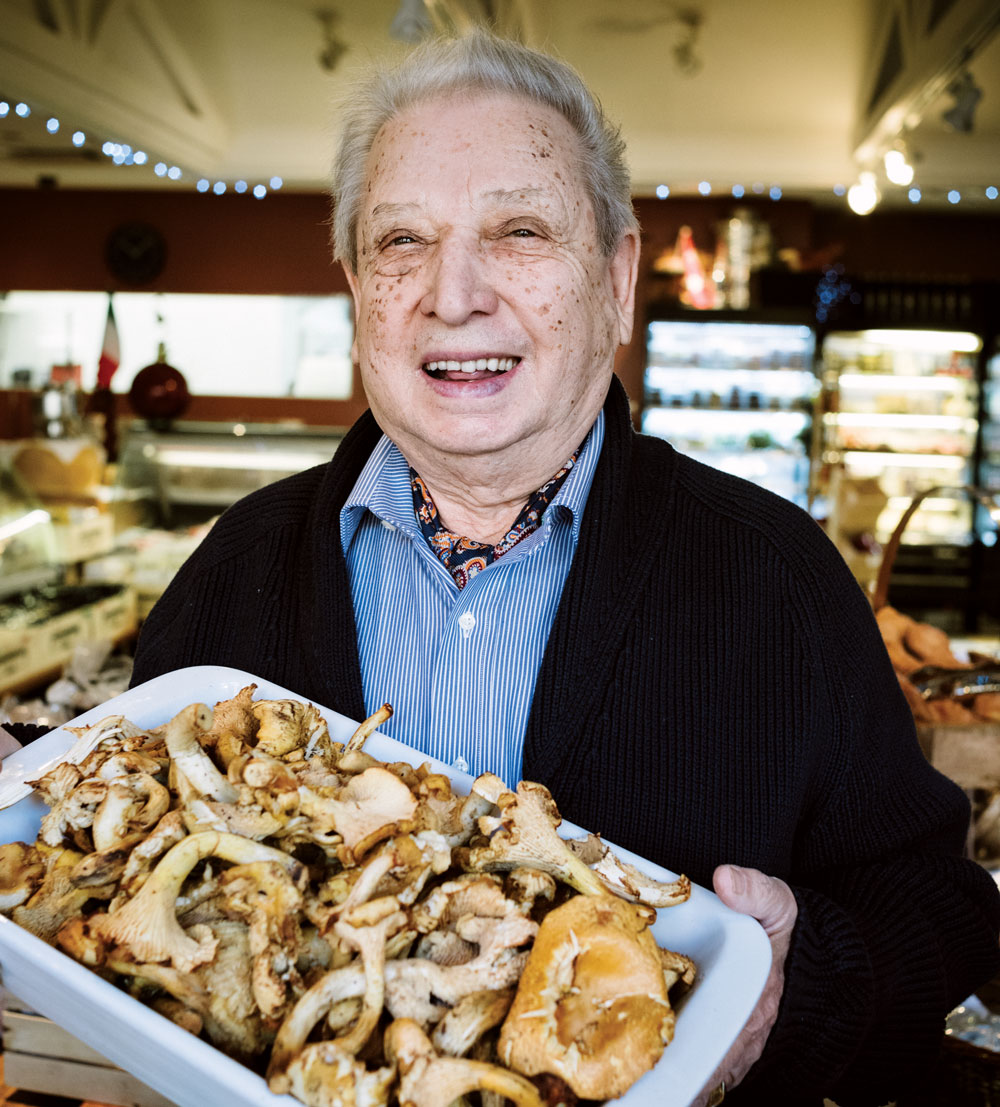 photograph by jared sych
Mercato patriarch Victor Caracciolo.
Anyone can tell you that the first step toward making show-stopping, restaurant-quality food is premium ingredients. A simple but extraordinary pasta dish, for example, has to be built from fresh noodles, perfectly ripe tomatoes, high-quality olive oil and the very best cheese – in short, the kind of stuff that you aren't going to find at a typical supermarket. Since most restaurants acknowledge that their patrons are going to have to eat at home at least some of the time, it makes sense that some are giving customers a head start when it comes to home cooking.
Mercato perfected the concept of a restaurant paired with a market more than a decade ago. While the vibrant open-kitchen restaurant offers the ultimate dining experience, the adjacent market gives shoppers carefully curated, delectable at-home eating options. Mamma Cathy, Mercato's beloved matriarch, sells her own jarred tomatoes alongside fresh pasta made in-house, produce flown in from Europe and exclusive Italian-imported estate olive oil from the operating family's Uncle Luigi. For those who need even more help, the shop's deli offers stuffed olives (also made in-store), sandwiches and house-made desserts, as well as take-home versions of the restaurant's meals.
Not every restaurant has the capacity to stock in-house retail outlets with as many exclusive goods as Mercato does, but the option to buy something to eat at home (or tools to help you cook the food in your own kitchen) is a growing trend. It's never been uncommon to see eat-in options within stores (think places like Lina's, Italian Centre Shop, Unimarket, or Edelweiss Imports), but an increasing number of proper sit-down restaurants with table service are also getting into the business of retail. It makes sense: if a customer is food-savvy enough to spend an evening eating at Una Pizza, they aren't going to be satisfied with subpar food at home.
Which brings us back to Mercato. While few home cooks will be able to perfectly recreate the restaurant's pappardelle with marscapone and funghi di orecchione or balsamic-glazed lamb sirloin, a jar of one of Mercato's 14 sauces and a package of handmade pasta (identical to that used on the restaurant side) is going to beat a box of grocery store mac 'n' cheese any night of the week, guaranteed.
2224 4 St. S.W. and 873 85 St. S.W., 403-263-5535 (Mission) and 403-263-6996 (West), mercatogourmet.com

Catch & The Oyster Bar
(Now closed)
Photograph by Jared Sych
Buy | Janice Beaton Fine Cheeses at the back of the restaurant.
1006 17 Ave. S.W., 403-229-0905, janicebeaton.com
PHOTOGRAPH BY JAREd sych
Buy | Take-home cannoli.
3326 17 Ave. S.W., 403-727-7627, sauceitalianmarket.com
PHOTOGRAPH BY JAREd sych