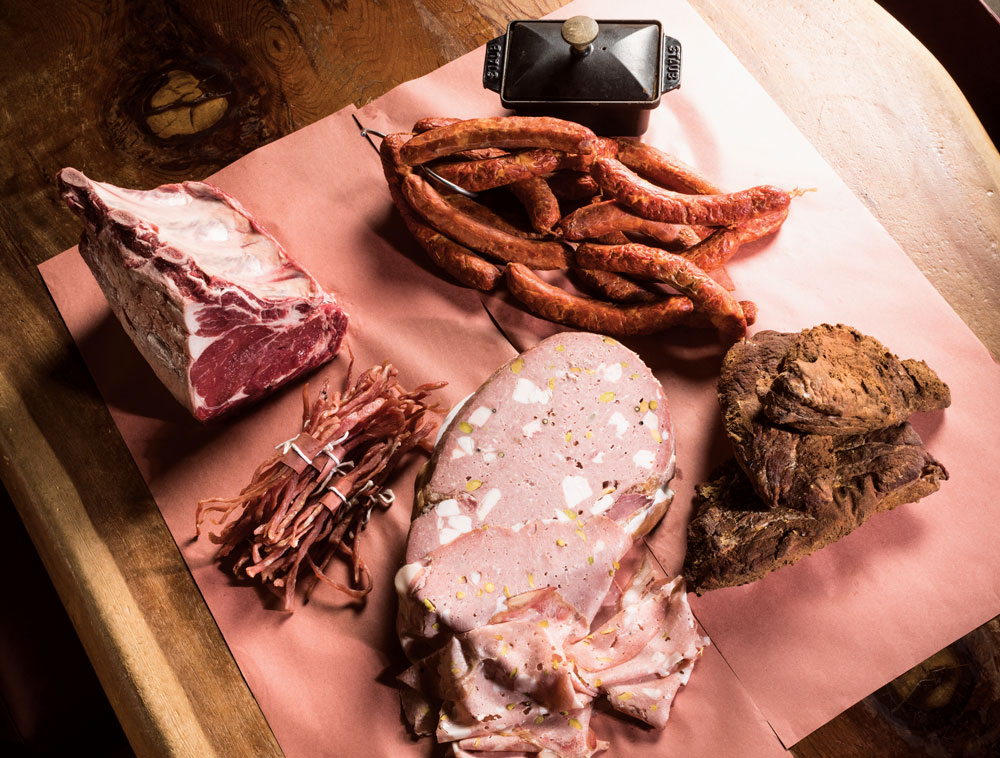 Photograph by jared sych
Clockwise from above: Charbar's short loin of ultra-dry-aged beef and Charcut's pig-head mortadella, tasso ham, lonzino and chorizo sausage.
Traditionally an old-European pursuit, the craze for curing continues to sweep this side of the pond. The processes of curing meats by salting, drying, brining, fermenting and smoking, have made a comeback in culinary schools and restaurants in a big way. Add in pts, rilletes and fresh sausages and you have a carnivore's dream.
Charcut and its younger sister Charbar have been at the front end of using lesser cuts of meat since they opened in 2010 and 2015 respectively. Both restaurants showcase dry-aged meats, whole pig's heads and various cured meats in glass display booths, and house-made meats feature prominently on their menus. There's no mistaking them for vegetarian restaurants. (But a good vegetarian-friendly meal can be had at either, particularly Charbar.)
The settings for the two restaurants couldn't be more dissimilar. Charcut is located in the stylish steel-and-glass Le Germain building across from the Calgary Tower, while Charbar fills a big section of the century-old Simmons building in the East Village. Both act as anchors to their areas, Charcut at the core of the city, Charbar at the nexus of new in the construction-heavy zone east of City Hall.
Owners and co-executive chefs John Jackson and Connie DeSousa and Charbar chef Jessica Pelland do the heavy lifting in the kitchen. DeSousa can skin a pig's head easily in under a minute, allowing the team to fill the cavity with a preparation that becomes mortadella. Pelland takes an Argentinean slant to her Charbar menu, creating beef chorizo and – for hard-core meatheads – traditional morcilla, an Argentinian pork blood and fat sausage.
If innards and skulls aren't your thing, don't worry, both restaurants offer meat in many other forms – ultra-dry-aged porterhouse steak, fresh ground for burgers, rotisserie chicken, wild-boar bacon, bison brisket, lamb loin and on and on.
Staff even wear T-shirts by local company Food on your Shirt with meaty sayings on them, like "Praise the Lard." Charcuterie can be tongue in cheek, so to speak.
Charbar, 618 Confluence Way S.E., 403-452-3115, charbar.ca; Charcut Roast House, 899 Centre St. S.W., 403-984-2180, charcut.com

Eat | Whatever's on the charcuterie menu that day.
618 17 Ave. S.W., 403-453-1183, frenchieyyc.com
Photograph by DESERAE EVENSON
Eat | Slow-roasted pig's head.
200 8 Ave. S.W., 403-770-2313, theguildrestaurant.com
PHOTOGRAPH BY JARED SYCH
Mimo Restaurant and Lounge
Eat | Chourio a bombeiro, pork sausage, served flaming.
4909 17 Ave. S.E., 403-235-3377
PHOTOGRAPH BY JAred sych