Stephen Avenue (aka 8th Avenue) is Calgary's original entertainment and commercial district. Along with a few more modern additions, it has more than 30 buildings that were built after a fire in 1886 destroyed downtown and up until the 1930s. Architectural styles including Edwardian and Beaux Arts were preserved and restored and the names of the buildings are a who's who of Calgary history. Those buildings as backdrop, and the perk of having the avenues between 1 Street S.E. and 3 Street S.W. closed to vehicles during the day, make it prime patio territory. The combination of visitors spilling out from the hotels and workers taking long, lazy lunches and ditching out early for happy hour mean that on a sunny day, the patios on Stephen Avenue are packed.
Here are all the patios along Stephen Avenue between 1st Street S.E. and 3rd Street S.W. Please note that these photos were taken prior to the COVID-19 pandemic and that many patios may have new social distancing and safety measures in effect.
This location of the local coffee roaster is tucked into the Telus Convention Centre. In the summer, tables are also out on Stephen Avenue Walk and it's a good place to rest or meet up with friends and business colleagues.
What to order: Espresso and a breakfast sandwich. The espresso is made using the fancy La Marzocco Linea PB. The breakfast sandwich is on a cheddar and chive biscuit, which is salty and delicious.
140 8 Ave. S.E., 403-264-7900, rossocoffeeroasters.com
Modern Steak has an impressive list of gourmet steak, seafood and vegan options, with all of its steak originating from Alberta. Its menu features local and in-season ingredients so that guests are able to experience new dishes throughout the year. The rooftop patio is decorated with flower boxes and cheerful umbrellas to create a cozy atmosphere.
What to order: Try wagyu dumplings to start followed by the black angus ribeye steak and parmesan truffle fries with garlic aioli.
100 8 Ave. S.E., 403-244-3600, modernsteak.ca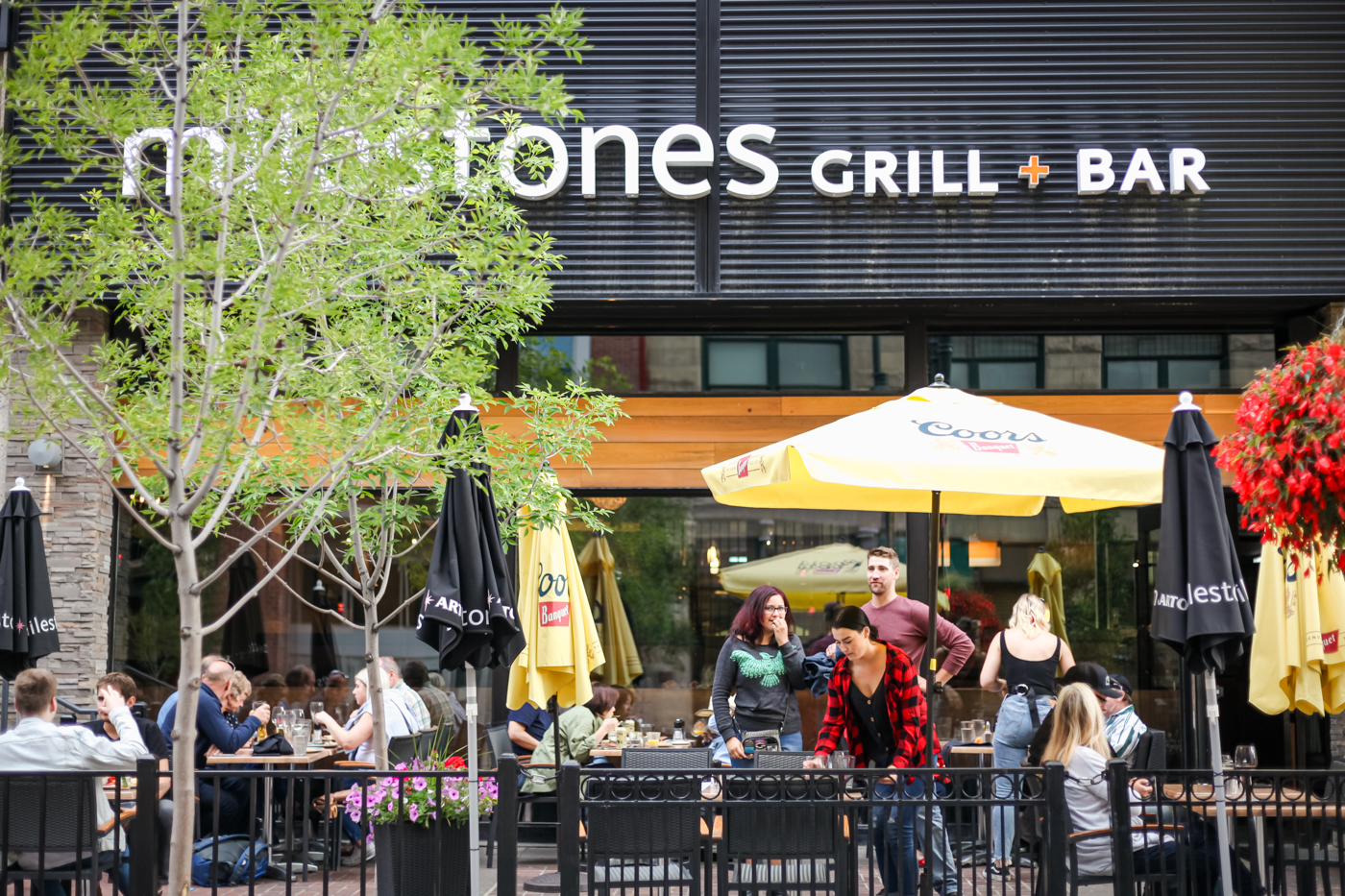 The range of dishes on the menu of this Vancouver-based chain includes plenty of vegetarian and gluten-free options, making it easy to go with groups who have different tastes. Milestone's patio is one of the biggest on Stephen Avenue.
What to order: The original bellinis are on special every day during happy hour, as well as the Belgian Moon and Stella Artois beer and Jackson Triggs Chardonnay.
107 8 Ave. S.E., 403-410-9521, milestonesrestaurants.com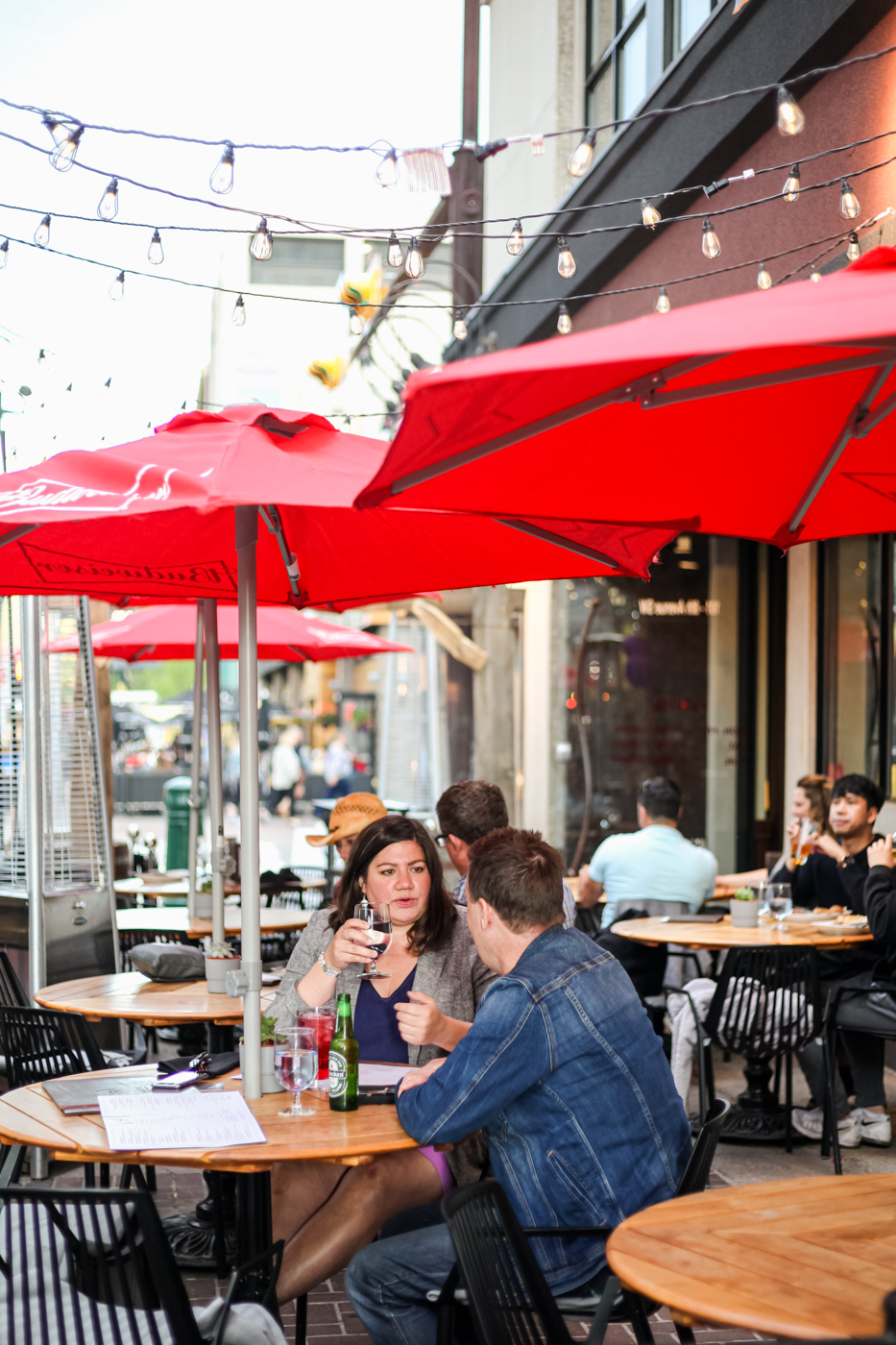 Saltlik has all the steakhouse classics, including French onion soup, wedge salads and apple pie that is baked to order, to go along with its prime sirloin, filet mignon, New York striploin and bone-in ribeye.
What to order: Steak is a solid choice, but so is the hand-pressed burger with aged cheddar and smoked bacon.
101 8 Ave. S.W., 403-537-1160, saltlik.com
Blue Vinny Diner
Blue Vinny is only open for breakfast and lunch so this will have to be your patio of choice for the first half of the day. Order omelettes, breakfast bowls, French toast and macaroni and cheese to enjoy on the small patio.
What to order: Keep it classic with a breakfast bowl of scrambled eggs, bacon, sausage, hash browns and hollandaise.
105 8 Ave. S.W., 403-263-3880
At El Furniture Warehouse, all food items are $5.95 all day every day. This means you can try two or three menu items for under $20 and still have room in your budget for drinks.
What to order: Start with the crispy calamari and progress to the mushroom Swiss burger with yam fries. Finish with the fried apple pie for the pièce de résistance.
107 Stephen Ave. S.W., 403-764-5858, warehousegroup.ca
OJ's is up to 10 locations across Calgary. If you like any of those, you'll like the Stephen Avenue location with all the same salads, bowls and burgers.
What to order: The Original Double Dog made with two wieners that are butterflied and stuffed into a toasted baguette. Bonus: All of OJ's burgers and sandwiches come with your choice of two sides.
109 8 Ave. S.W., 403-262-7248, originaljoes.ca
The menu here is described as "True North" which means it takes its influences from across Canada. You'll find oysters, beef and duck on the menu along with veggie dishes that will remind you how delicious a beet can taste. The cocktail list is a combination of classics and Canadian drinks along with a few new inventions.
What to order: Its One Punch Lunch with a daily feature, choice of side, mini butter tarts and a coffee or mocktail all for $16. That deal is offered Tuesday to Saturday from 11 a.m. to 2 p.m.
110 8 Ave. S.W., 403-262-8100, kleinharris.com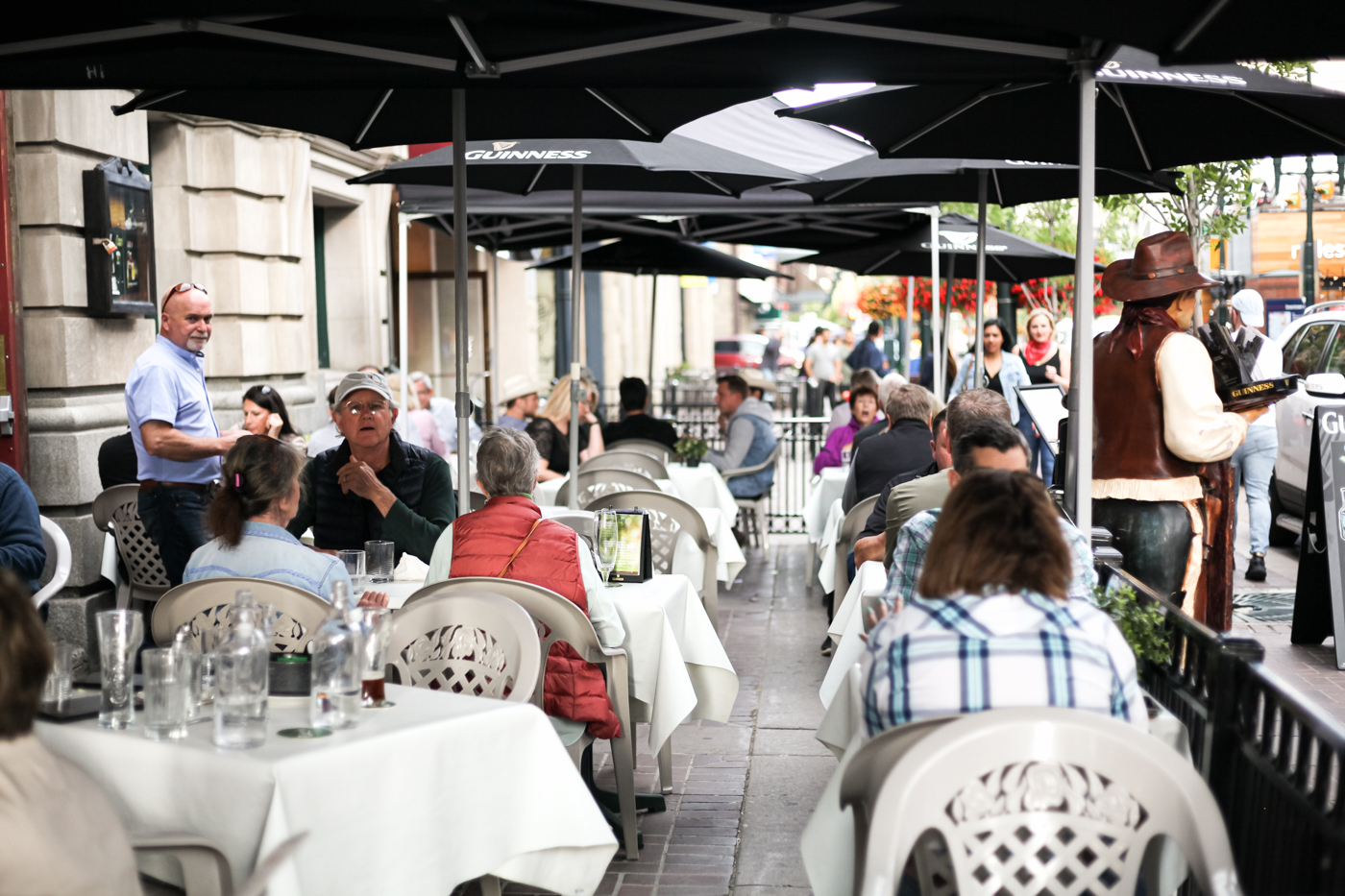 Inside, this pub gets its Irish flavour from the Curran family artifacts on display. Outside on the patio, it's the lively atmosphere and Guinness umbrellas that give it some Irish spirit.
What to order: The Irish potato boxty with your choice of curried chicken, steak and Guinness or vegetarian curry as a filling.
114 8 Ave. S.W., 403-262-0708, jamesjoycepub.com
Inside, it's a retro-style lounge over two levels with the basement level especially darker and moody. But, outside the sun shines on the patio.
What to order: The Vesper Martini with vodka, gin, Lillet Blanc and lemon zest. If you are there with a group, you can dig into several dishes from the shared menu including waygu beef and broccoli, panzanella and elk ribeye carpaccio.
100, 118 8 Ave. S.W., 403-452-5080, wednesdayroom.com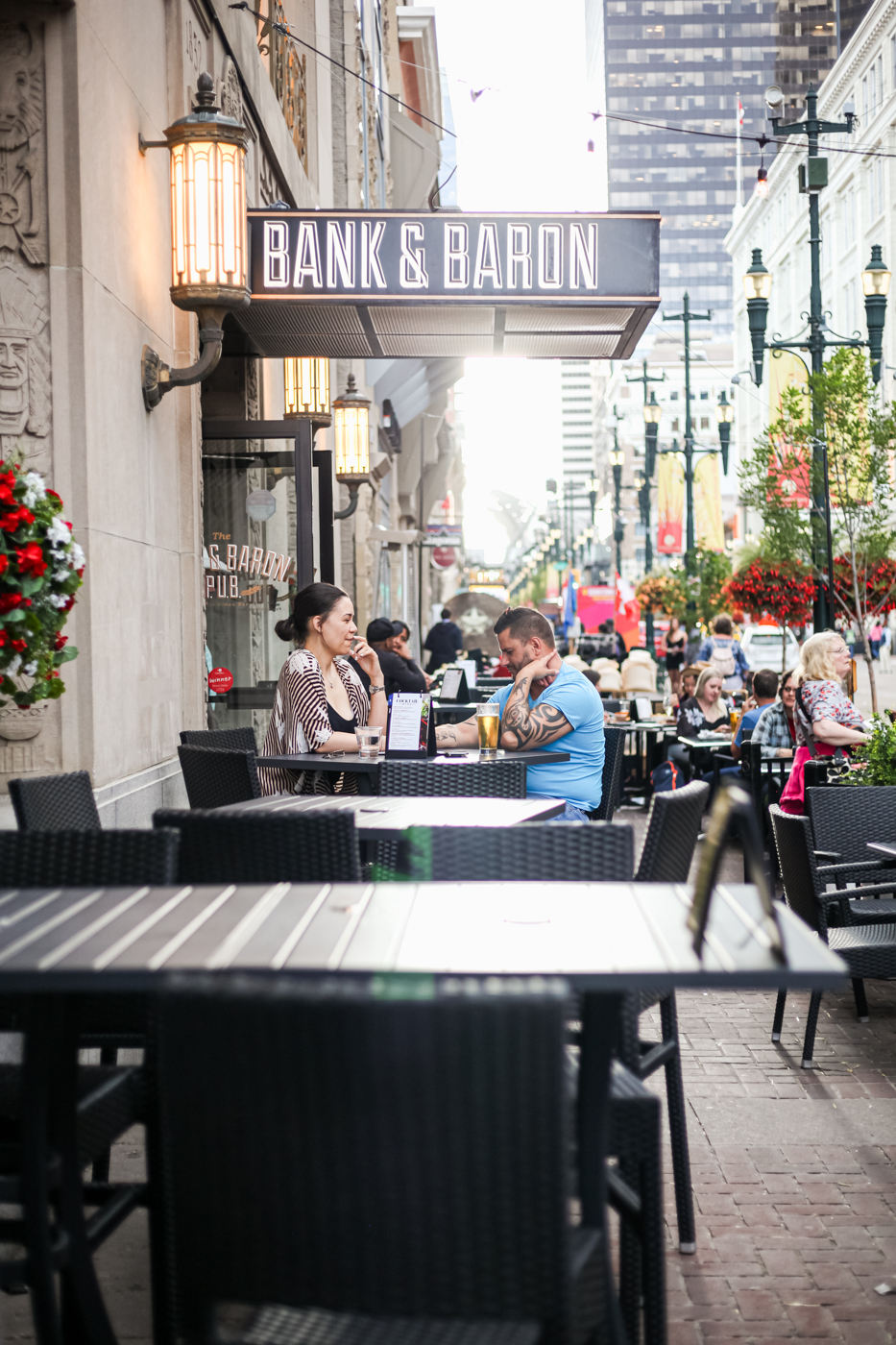 This started as a bank and still has some of the architectural elements (like the safe room). It's currently operating as a pub with appetizers, pizzas, sandwiches and salads on the menu. If you are out on the patio, make sure you admire the building as it's one of the most beautiful and historic buildings on Stephen Avenue.
What to Order: Thin crust pizza. Veggie, wild boar sausage and capicolla are regularly on the menu.
125 8 Ave. S.W., 587-293-9688, bankandbaronpub.com
This patio is actually a balcony on the second level of the Alberta Hotel Building. The seats are lined up side-by-side facing out onto Stephen Avenue, making it the perfect vantage to people watch.
What to order: Scallop fettuccine with chorizo sausage, cherry tomatoes, agile e olio and parmesan cheese.
200, 808 1 St. S.W., 403-269-7707, murrietas.ca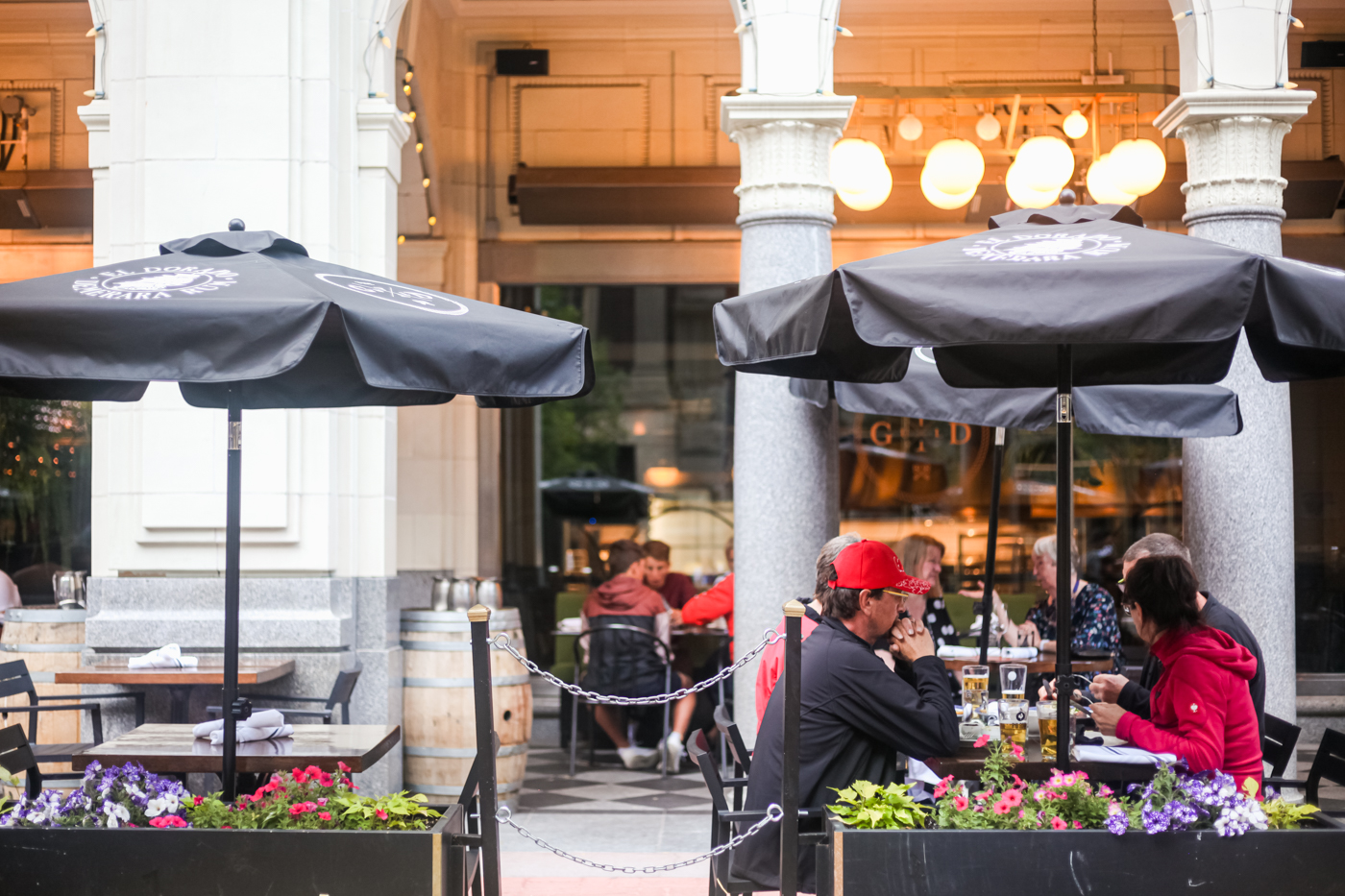 This patio is in one of the most iconic locations on Stephen Avenue. Find it among the pillars of the Hudson's Bay building. The menu here is meaty with bone-in striploin, porterhouse and smoked prime rib as options.
What to order: Go for happy hour every day from 2 to 6 p.m. when there are deals on highballs, beer and bar snacks.
200 8 Ave. S.W., 403-770-2313, theguildrestaurant.com
Social Beer Haus has a massive selection of craft beers to choose from – generally around 60 — and a meaty menu featuring everything from brisket to sliders to smoked chicken.
What to order: Hazard county corn fritters to start followed by the Pit Boss Po Boy.
218 8 Ave. S.W., 403-875-7501, socialbeerhaus.com
This superpub covers multiple levels that combine three bars — Celtic Cellar, Classic Calgary and Sports Cantina – in one building. If you can't get a seat on the street-level patio, try to get one at the window on the second floor. The Unicorn has 20 beers on tap and plenty of patio-friendly cocktails.
What to order: Wings. One pound of chicken wings are typically $15 and flavour options include jerk, habanero mango, salt and pepper and maple bacon.
223 8 Ave. S.W., 403-265-3665, superpub.ca
This patio is basically a beer garden on a rooftop. Come here to be social – there are communal tables and games like ping-pong. And, of course, there's a huge beer selection too.
What to order: Happy hour runs every day here from 3 p.m. to 6 p.m. Or, if you are feeling like something really fun and summery, order one of the four adult slurpees on the patio menu.
360, 225 8 Ave. S.W., 403-237-5556, ntnl.ca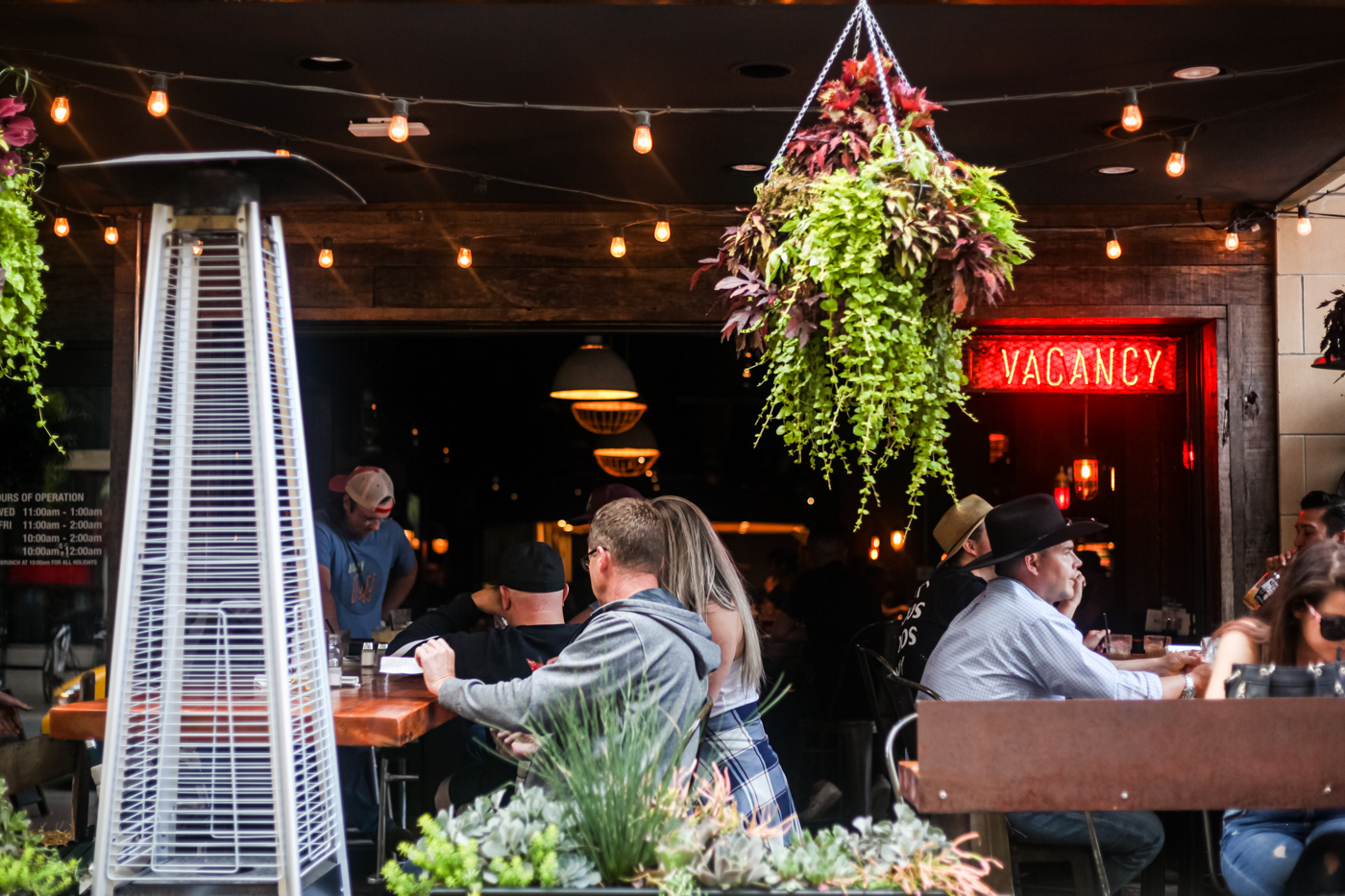 The beer taps at Local rotate often with many of the permanent taps favouring the British Columbia roots of this chain.
What to order: A burger to go with your beer. Local's burgers are made with patties that are pressed by hand and served on buns that are made in-house.
310 8 Ave. S.W., 403-264-7808, localon8thave.com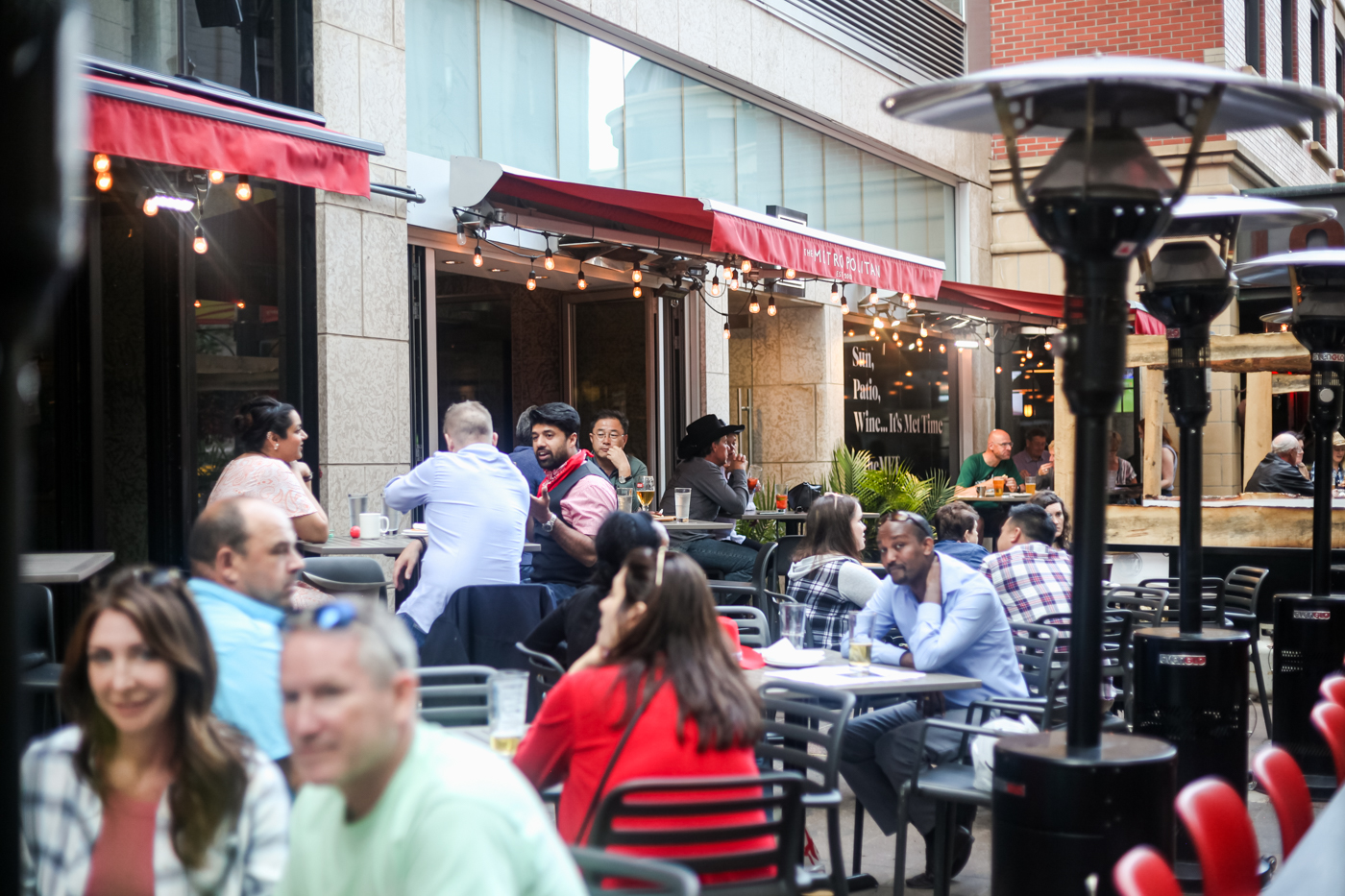 The Met has been in Calgary since 2000 and the upscale casual restaurant and bar's patio is a mainstay of Stephen Avenue.
What to order: A negroni or Moscow mule and maybe the mushroom poutine so you aren't just drinking.
150, 318 8 Ave. S.W., 403-263-5432, themet.ca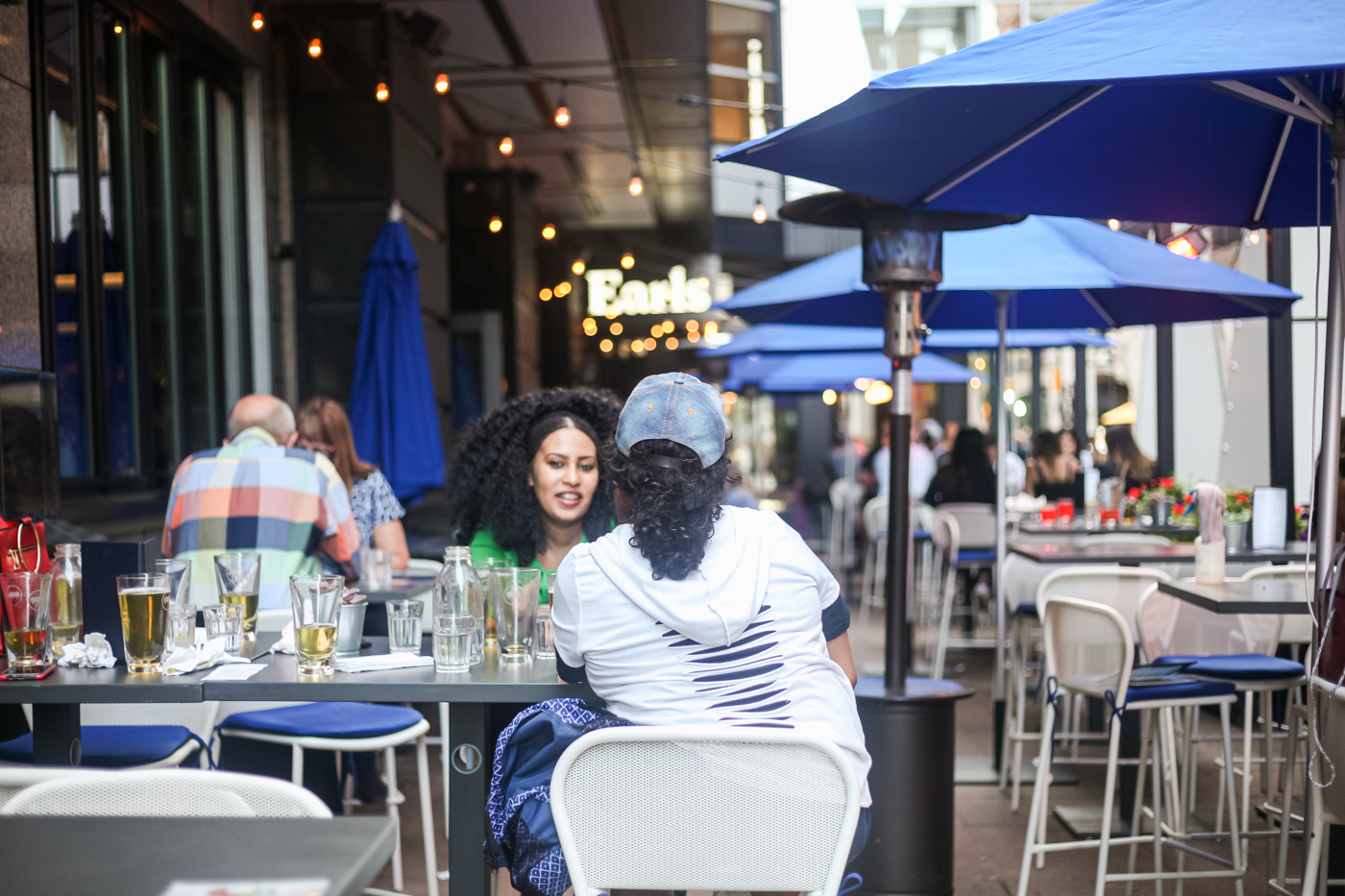 This patio is tucked near the Galleria Trees (those giant white sculptures) right beside the shipping containers that make up the restaurant's enclosed atrium.
What to order: Grilled chicken Caesar salad. Earls switches up its menu every now and then, but the grilled chicken Caesar salad remains a fan favourite. It also has a lineup of non-alcoholic drinks on its menu like the Calamansi Caipirinha made with pomegranate if you want to go for drinks on a patio, but don't want alcohol.
315 8 Ave. S.W., 403-265-3275, earls.ca
The casual counter service restaurant has tables inside as well as outside. It focuses on healthy bowls and flatbreads and caters to the downtown morning and lunch crowd.
What to order: Toast. You think you can make toast at home, but you are never going to put ingredients like cashew herbed cream cheese, antibiotic free turkey bacon, avocado and walnut arugula pesto on your bread so you might at well get it on toast here.
163, 317 7 Ave. S.W., 403-454-2987, wiseandwright.com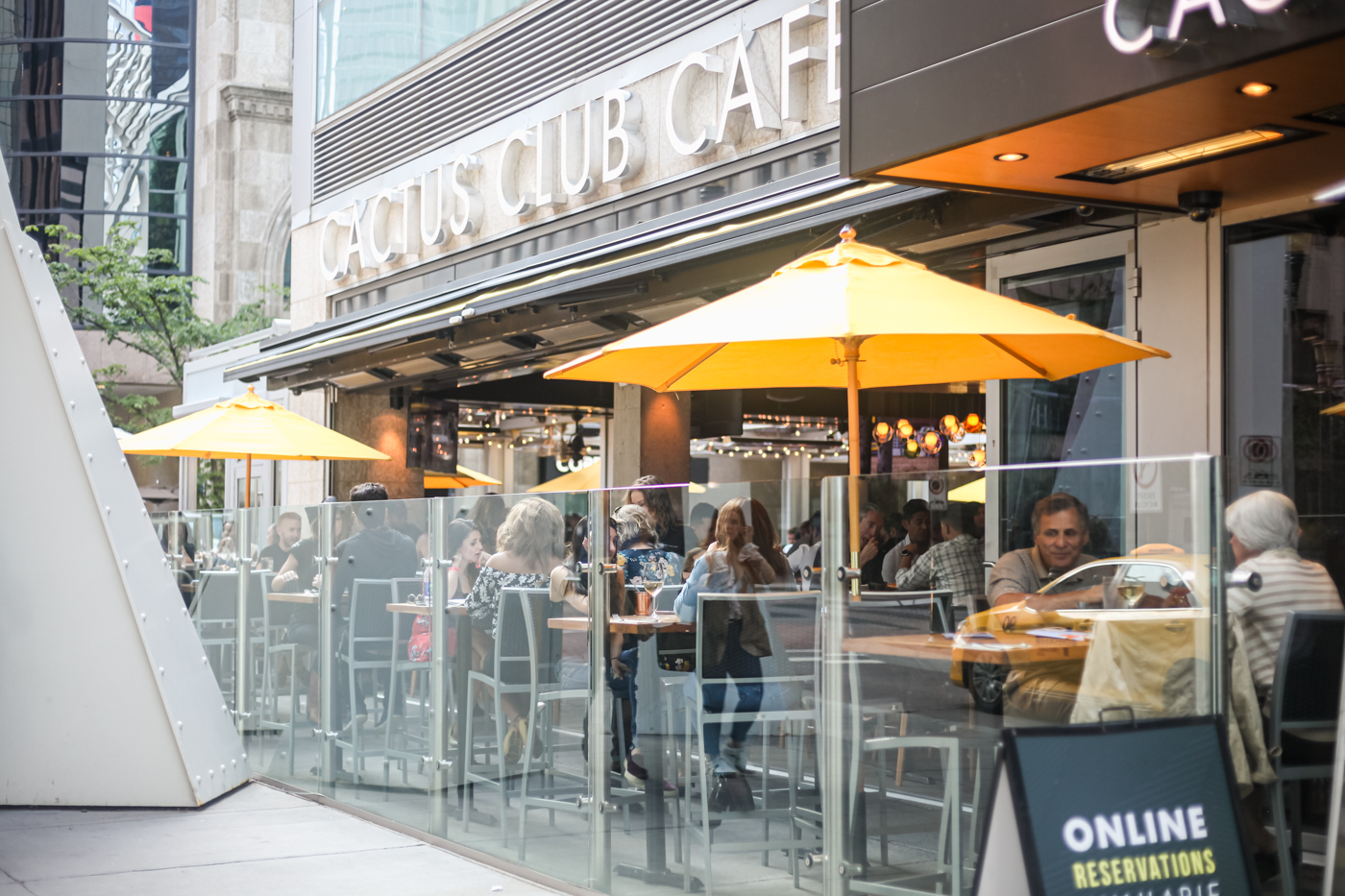 Cactus Club Cafe's patio is an L-shape at the corner of 8th Avenue and 3rd Street S.W., but the best part about this restaurant is that the walls open. You can be sitting indoors at the bar or in a booth and still feel like you are outside.
What to order: The Modern Bowl. It has tabbouleh, pineapple salsa, roasted cauliflower, roasted broccoli and cucumber over fresh greens and jasmine rice with miso carrot ginger sauce.
178, 317 7 Ave. S.W., 403-454-9399, cactusclubcafe.com
Honourable mentions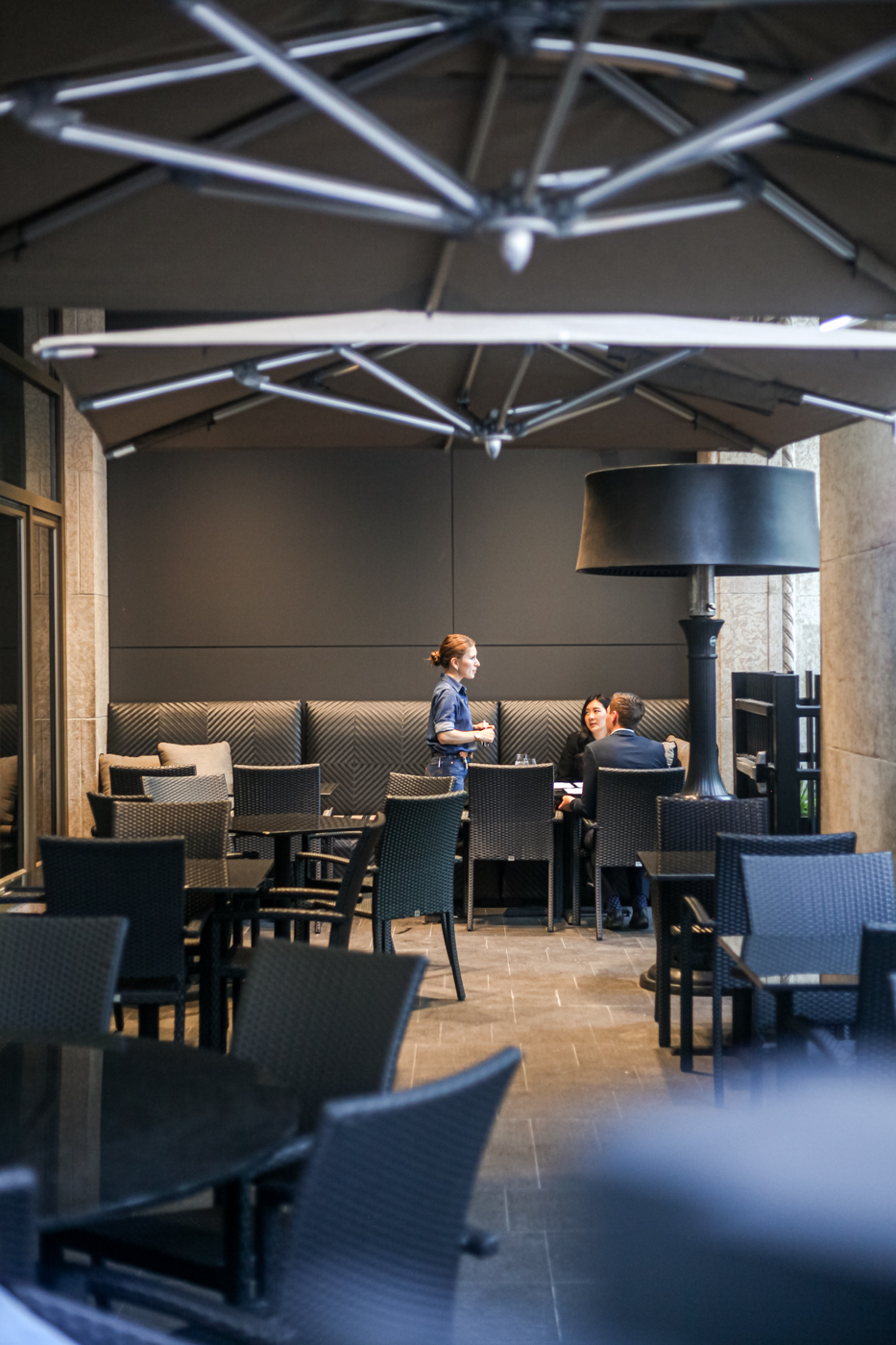 Just past the Galleria Trees, technically beyond the area where Stephen Avenue is wide open to pedestrians, are patios at Hy's Steakhouse & Cocktail Bar (order the steak, any steak), Cucina (get the Caesar salad with romaine hearts and anchovy dressing) and Barcelona Tavern (order from the tapas and gin and tonic menus). On the other side of this stretch beyond 1st Street S.E., you'll also find patios for Teatro and Aggüdo Coffee.