7 Great Private Dining Rooms in Calgary
Book the private dining room at restaurants like Deane House, Teatro or Bonterra for your next dinner party or event.
By Gwendolyn Richards
Hosting a dinner party at home brings with it all the stress of cooking and cleaning. Dining out in a private room, however, eliminates that while still offering the intimate vibe of a dinner party at home. From a semi-secret library to an opulent marble-bedecked space with sky-high ceilings, these private dining rooms in local restaurants can host everything from a small shindig to a big bash.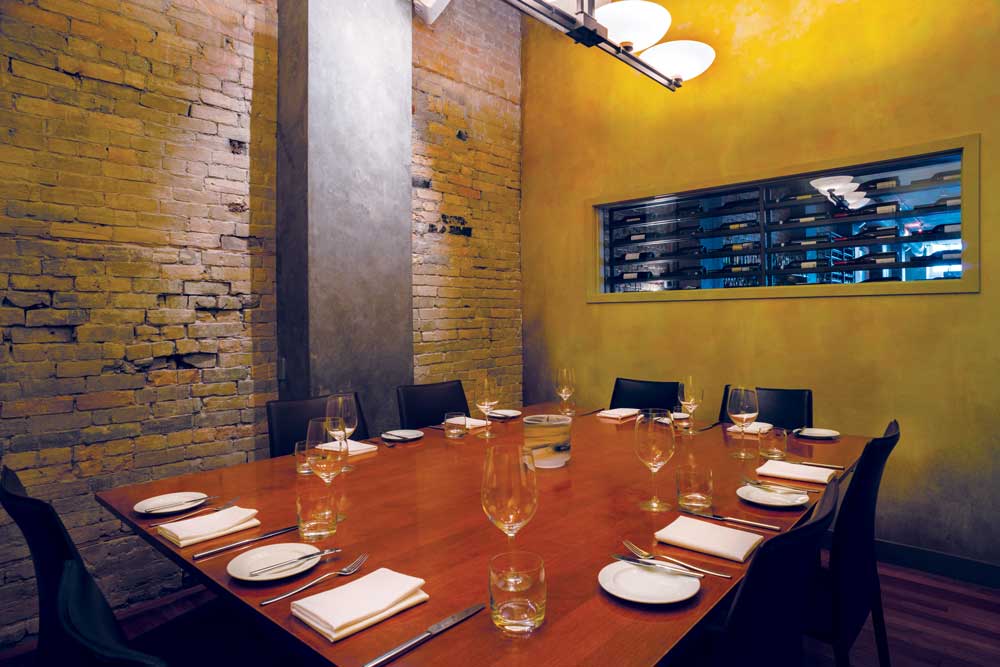 photograph by jared sych
Intimacy is on the menu at this private dining room tucked away next to the kitchen at this downtown restaurant. Seating only 10 around a large table, the room also features glass doors that give you a sense of the energy in the rest of the establishment, while keeping you in a world of your own.
The exposed brick wall reflects the building's history, but the menu focuses on contemporary, fine-dining Canadian dishes that mirror the season. Owner Leslie Echino's knowledge of and passion for wine also means you can order an incredible bottle to celebrate the season.
111 8 Ave. S.W., 403-263-5330, blinkcalgary.ca, @blinkrestaurant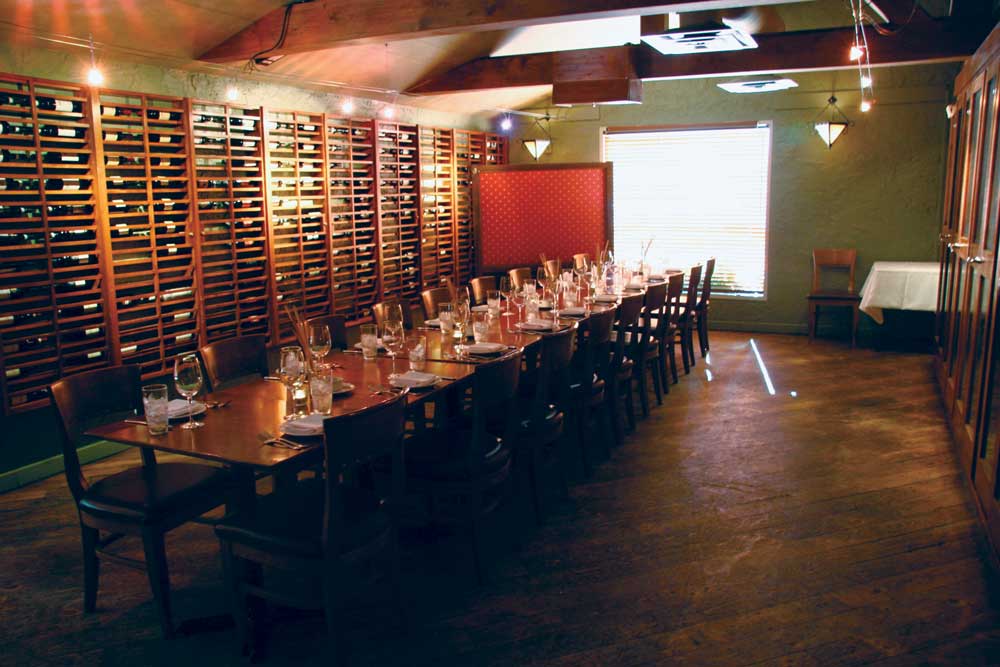 photograph by jared sych
It's truly Italian to gather everyone around a big table for a feast, and what better place to come together than a wine room? Set off from the main Bonterra dining room by a short set of stairs, the Wine Room provides enough space for 30 people to enjoy a hearty meal of everything from pasta to panna cotta.
You can select your dishes from an extensive menu, or leave the decisions in the hands of head chef Benjamin Mills who will create four multi-plate courses and have them served up family-style.
1016 8 St. S.W., 403-262-8480, bonterra.ca, @bonterracalgary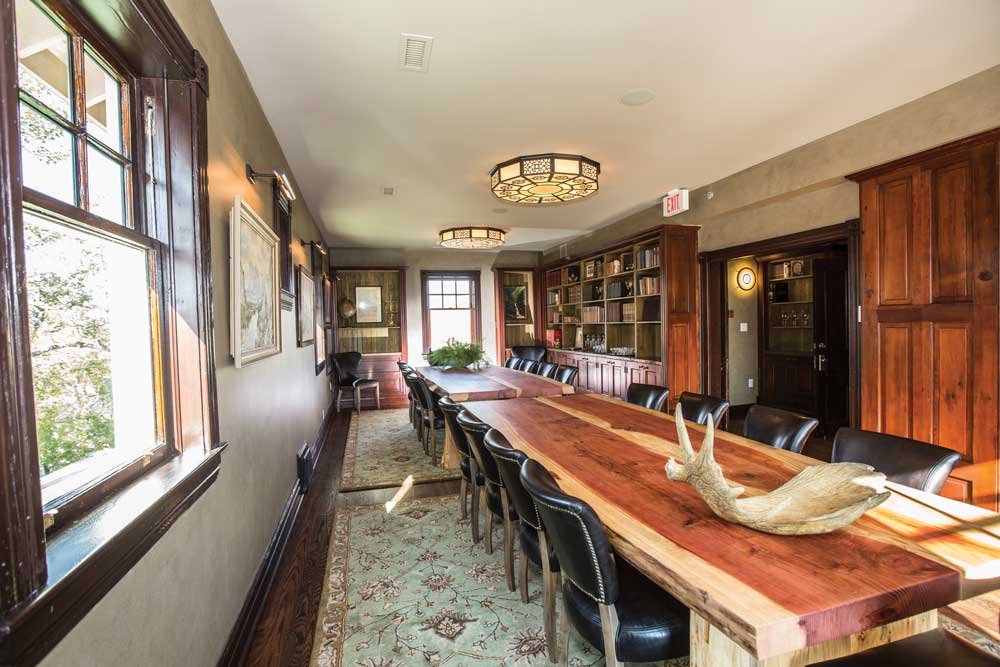 photograph by jared sych
The library at Deane House – named for Fort Calgary's Captain Richard Deane, who had the house built when his wife refused to sleep in the Fort Calgary barracks – is a room that echoes with history. The walls of this private dining room are lined with long bookcases filled with antique books, while maps and other artifacts make you feel as if you're in a room trapped by time (and the small Scotch bar tucked into one corner is really something all good libraries should have).
For private dinners of 12 to 24 people, the refined dishes of executive chef Jamie Harling are laid down on the two slabs of California Redwood that serve as tables, though the room also works as a space for cocktail parties of up to 50 guests.
With views out to the river and the passing trains on the tracks nearby, it's easy for time to fall away.
806 9 Ave. S.E., 403-264-0595, deanehouse.com, @deanehouseyyc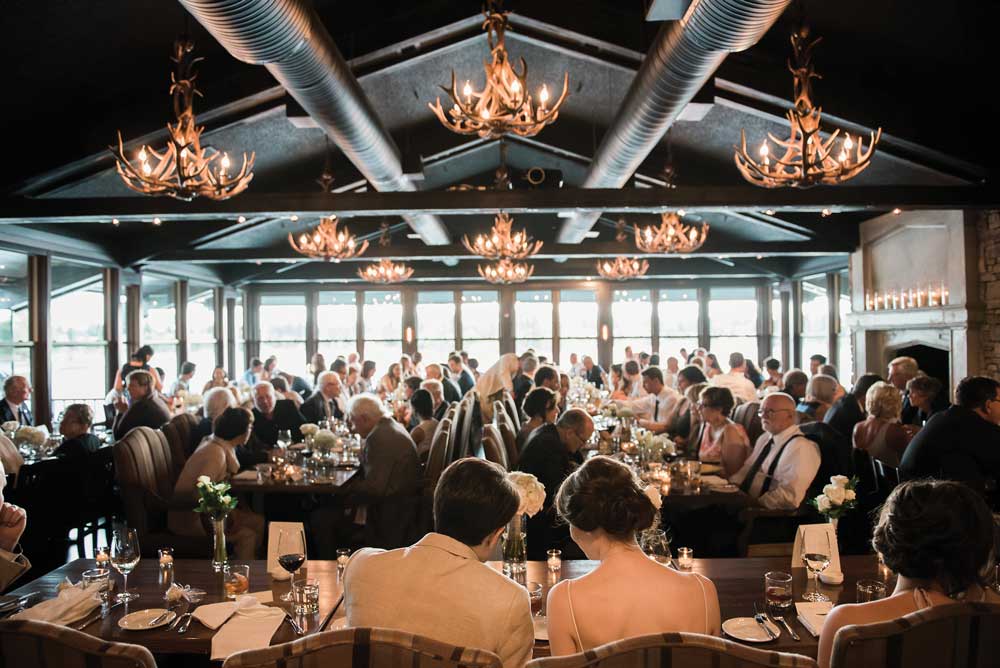 photograph by Abby + Dave Photography
Overlooking Lake Bonavista, the large windows that line the private dining room at The Lake House offer a soothing view of the water. With enough space to seat some 60 people, the room is nicely set off from the rest of the restaurant with a velvet curtain.
Exposed wood beams and antler chandeliers give the room a rustic yet refined feel. That combination is neatly reflected in the menu. As a Canadian Rocky Mountain Resorts property, dishes at the Lake House have the signature Rocky Mountain flair, and chefs Thomas Neukom and Gareth Colville skillfully create house-made charcuterie as well as delicious entrees using game meats and local ingredients.
747 Lake Bonavista Dr. S.E., 403-225-3939, lakehousecalgary.com, @thelakehouseyyc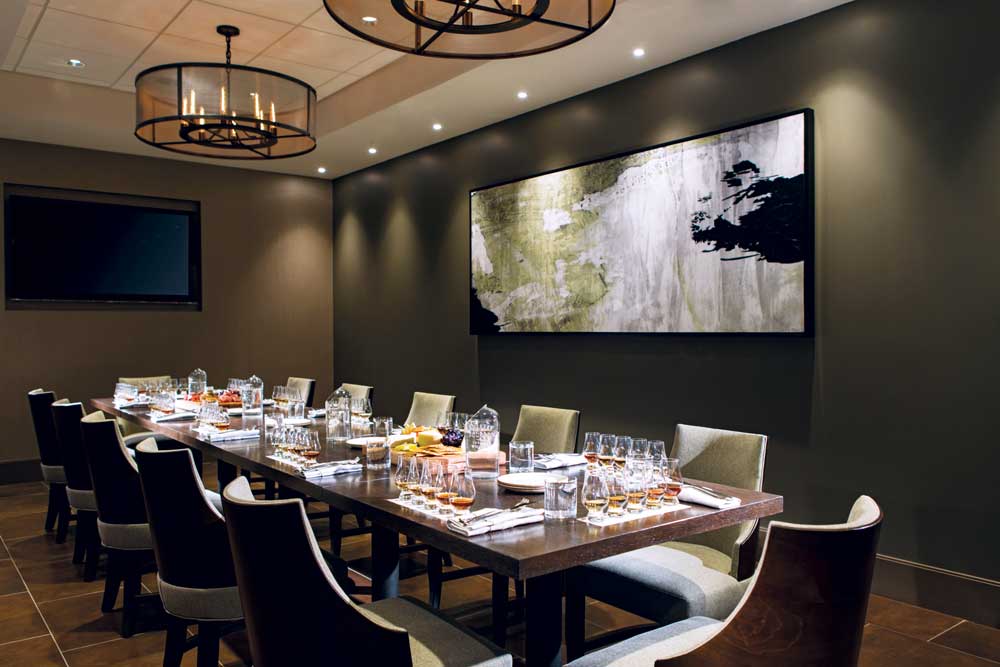 photograph by jared sych
No standard hotel meeting room, the McTavish Room in the Marriot Hotel's One18 Empire restaurant is soothingly refined. The room can host up to 20 guests in a space nestled away from the hubbub of the busy restaurant. (For larger groups, you can reserve the back of the restaurant, which can be separated from the main area.)
Organize a private dinner that starts with shared snack flights of marinated olives and maple bacon-wrapped dates and moves on to mains that cover all major meats from rib eye to halibut. Close things out with a whisky tasting that draws from One18 Empire's impressive list of 275 brown spirits – everything from ryes and bourbons to Scotch.
820 Centre St. S.E., 403-269-0299, one18empire.com, @one18empire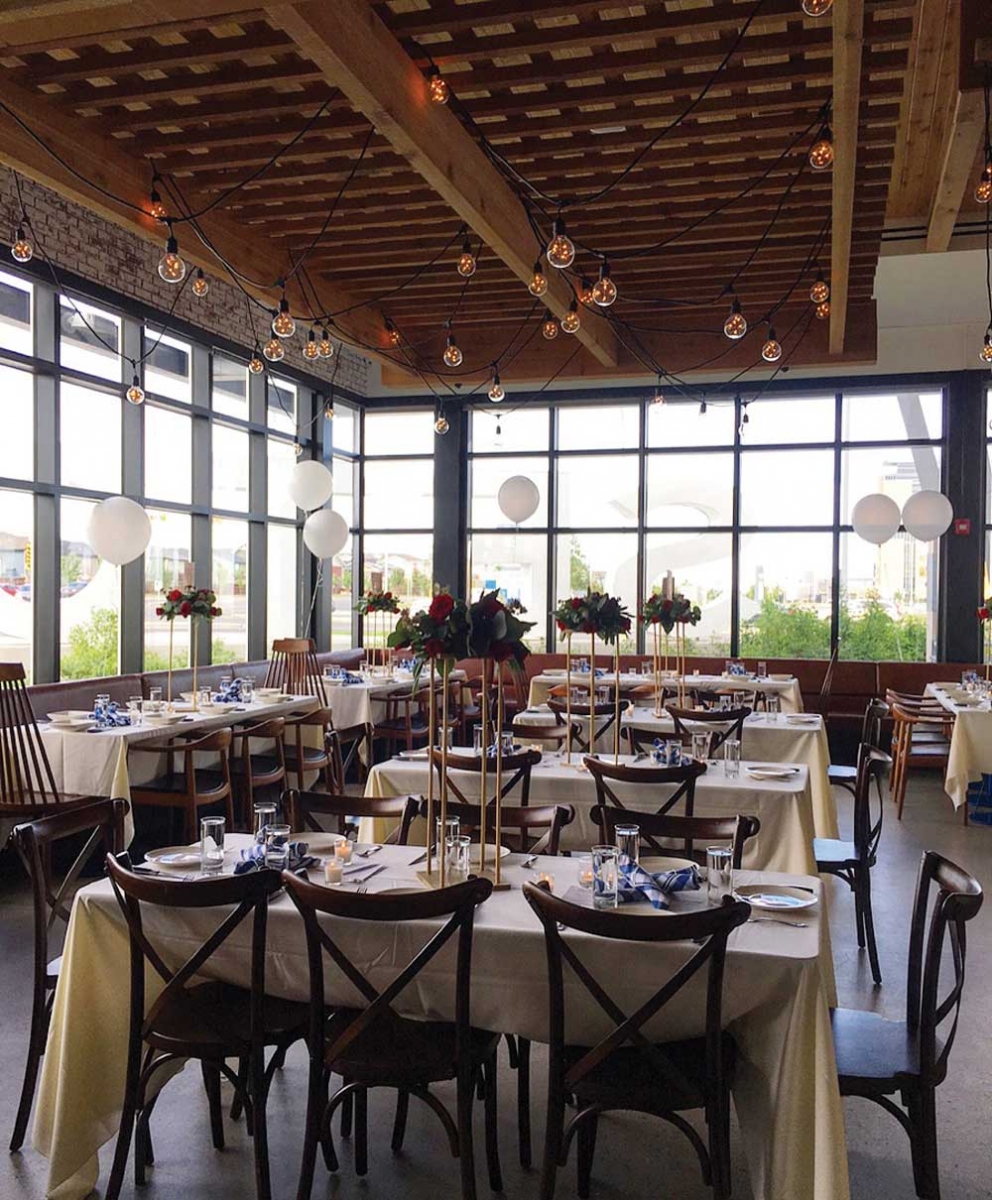 photograph courtesy of Starbelly Open Kitchen + Lounge
The private dining room at this suburban hotspot can seat 50 or host 80 for a cocktail party. The room is separated from the main space by windows hung with curtains that can be drawn for privacy. Leather banquettes, wood and exposed brick give the room rustic charm, while from the open kitchen, chefs prepare comfort-food dishes focused on using locally grown and raised ingredients, reflecting the season in their flavours.
220, 19489 Seton Cres. S.E., 403-570-0133, starbelly.ca, @starbellyyyc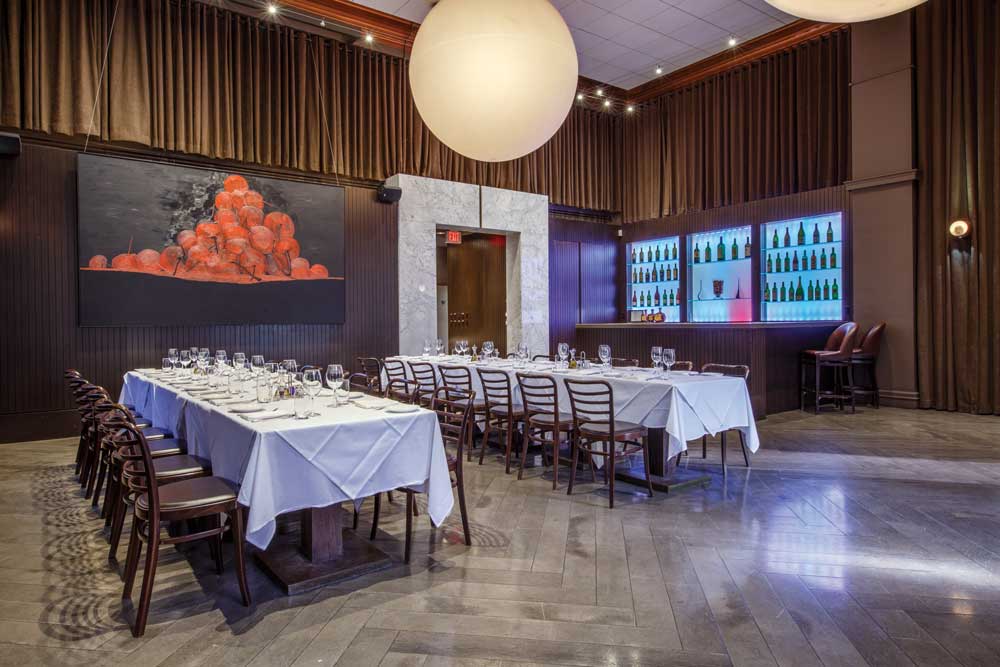 photograph by Liam Glass
Consider this the grande dame of private dining rooms in Calgary. Once a watering hole for artists and actors, the Opera Room now plays host to a range of special events, from cocktail parties to corporate gatherings, dinners and many a wedding. (On one occasion it was even filled with flowers for a romantic dinner for two.)
Just as a grande dame has prestige and earned respect, so, too, does the Opera Room. Its 18-foot ceilings, soaring windows, dark-wood finishings, lush curtains and Italian marble speak to an Old-World refinement. And the elegant food from the kitchen, now led by chef Dave Bohati, does everything to complement the room's beauty.
200 8 Ave. S.E., 403-290-1012, teatro.ca, @teatrocalgary