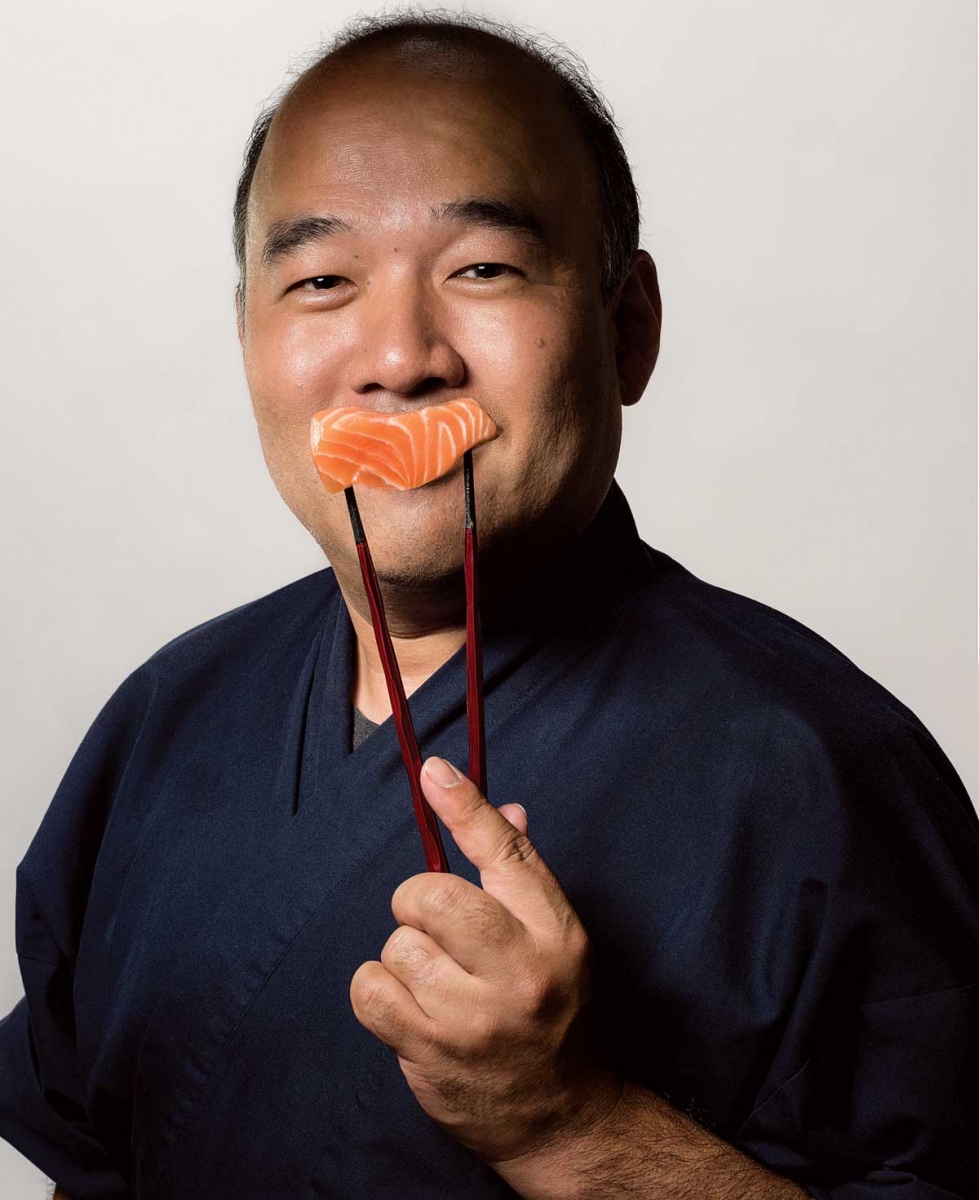 photograph by jared sych
Naoya Umino, Executive Chef and Owner Sushi Bar Zipang.
These days, fusion reigns on restaurant menus. Chefs borrow from innumerable cuisines to make their own creations and are less restricted in what they offer diners. Some chefs, however, continue to follow the rules that strictly define the food they serve. For the chefs who adhere to the precise definitions of the cuisines they love, inspiration comes from that restriction – and the joy of seeing diners enjoy dishes prepared the way they have always been prepared.
Behind the counter at Sushi Bar Zipang in Bridgeland, Naoya Umino prepares sashimi and maki rolls as sushi chefs have for generations. He learned at the side of Hiro Hyakutake, the master behind Sushi Hiro, who taught Umino not only about how to prepare fish with requisite exactness, but also trained him for the role of a counter chef in the time-honoured tradition of interacting with customers.
Working at the counter, he can see directly, immediately, the joy of the first bite. "I can change people in 15 minutes," says Umino. "If they come in hungry and cranky, I can give them a good meal, have some conversation and they leave happy. When I see [that], it's inspiring."
Though sushi does have strict rules of technique and preparation, it nonetheless lends itself to creativity – at least in terms of what goes in a roll. On the other hand, few dishes have stricter preparation rules and regulations than Neapolitan pizza. Training is rigorous and ingredients and method are severely restricted – right down to the type of tomatoes for sauce, the wood-burning oven and the required addition of three specific types of pizza on the menu. Secret shoppers are sent out by a governing body in Italy – the Associazione Verace Pizza Napoletana – to ensure pizzas being served at establishments that have its endorsement meet its demanding standards, and Domenic Tudda wouldn't have it any other way.
The chef-owner of Pulcinella finds he is inspired by the masters who continue to enforce the traditions of Neapolitan pizza. "I love the challenge," he says. "If you make it work and give the people the product that they'd pay $1,500 for a flight, hotel and car rental for, but give them that experience in Calgary, that's the joy of it."