It may call one of Calgary's busiest shopping and dining strips home, but don't be surprised if the newly opened Calcutta Cricket Club makes you feel as if you've been transported more than 10,000 kilometres away to West Bengal, India. The Indian restaurant, which officially opened its doors in early July, even gets its name from the Raj-era Calcutta Cricket & Football Club that dates back to 1792.
Located in Bar C's former space on 17 Avenue S.W., it's safe to say that CCC has carved out an entirely new identity for the building with its mint green facade, flavourful Bengali cuisine and colourful, colonial-inspired design. It's not entirely surprising that this new restaurant has so much promise. A sister restaurant to Native Tongues Taqueria, CCC is a partnership between notable local names like Cody Willis, Shovik Sengupta, Amber Anderson and Maya Gohill.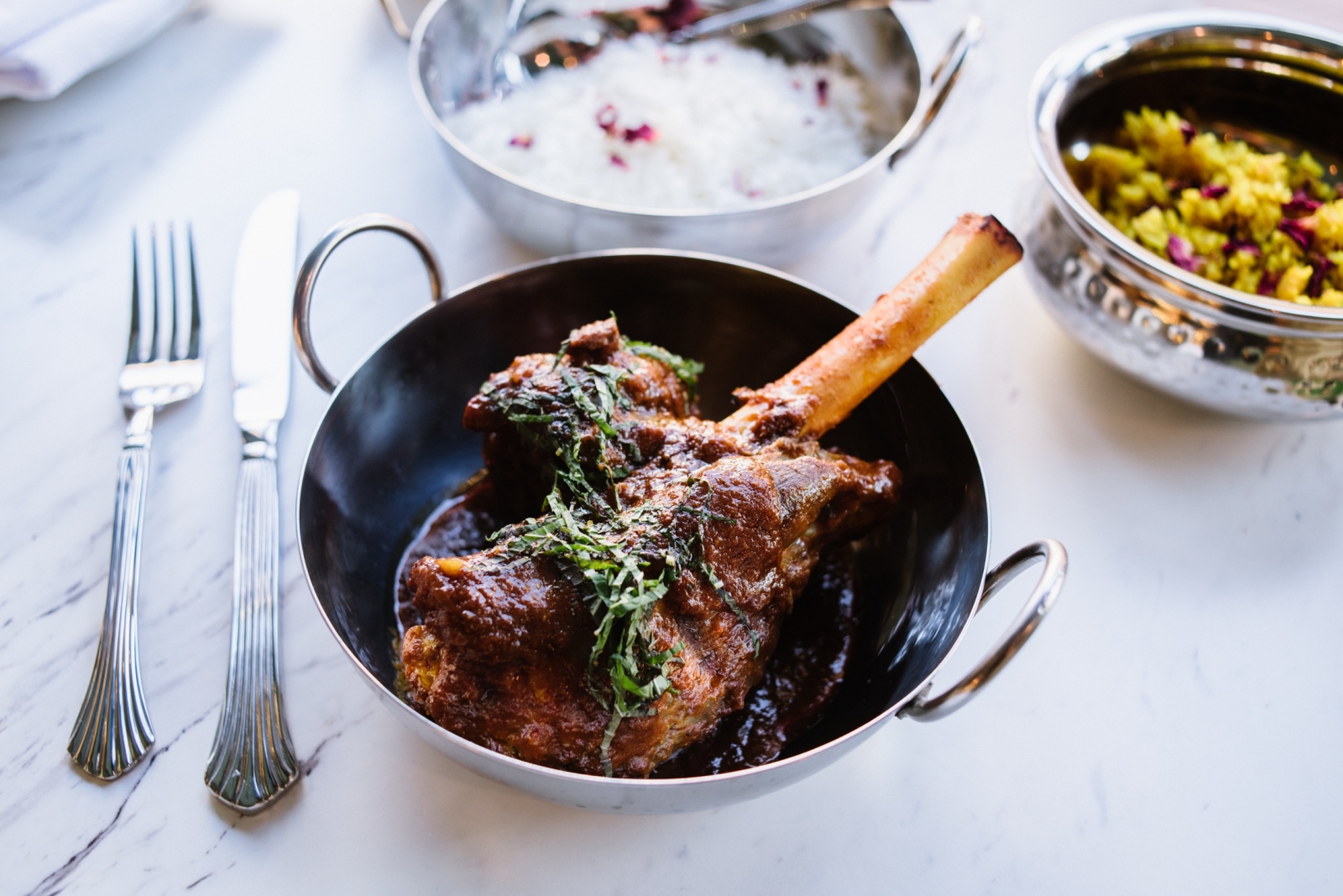 Chef Rene Bhullar heads up the kitchen at CCC, where the menu of Bengali cuisine is divided into bar snacks, kati rolls, tandoor and grilled dishes, curries and a few larger mains. The dishes are a mixture of street foods (such as the kati rolls and phuchkas), dishes that Sengupta has had in Calcutta and several family recipes. The parsi prawns are a recipe from Gohill's mother, for instance, while the chai is Sengupta's family recipe. The paneer, which is drizzled with honey and nuts, is a dish from chef Bhullar's childhood that he would sometimes make for himself.
The dishes are meant to be shared, so order a few from across the menu to satisfy your table. Bar snacks like the keema chop, chili chicken and paneer and honey are particularly delicious, and work well with the kati rolls, which are like wraps filled with tandoor spiced chicken, lamb keema, paneer or egg. And, of course, you'd be remiss if you didn't order some of the boti kebabs, chicken tikka or pork butter masala curry.
The restaurant's drink program doesn't disappoint either. Created by beverage director Stephen Phipps, it's a mix of refreshing cocktails like the Crushable Gin & Tonic (with British gin, mango, chili and lemon), Canadian draft beers, a selection of wines and non-alcoholic drinks such as chai, mango lassis and Indian pops.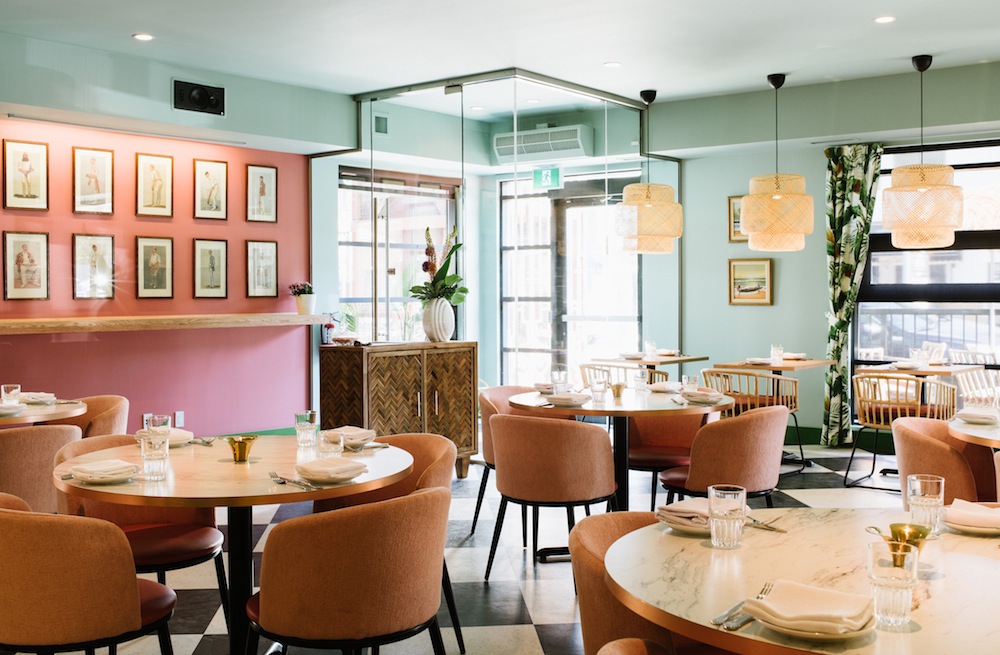 While the food is undoubtedly the main highlight at CCC, the restaurant's interior design is equally impressive (and will likely provoke a few oohs and ahhs when you walk in). Local artist Maya Gohill took on CCC as her first restaurant design project and transformed Bar C's neutral dining room into a colourful space with green and pink walls and a black and white checkered floor. The result is a space that Gohill and the team have dubbed "Indian '60s social club meets The Golden Girls." Eye-catching details abound, from the vintage leopard carousel animal above the bar (sourced from an antique mall in Calgary) to original Vanity Fair illustrations of cricket players from the 1800s on the walls.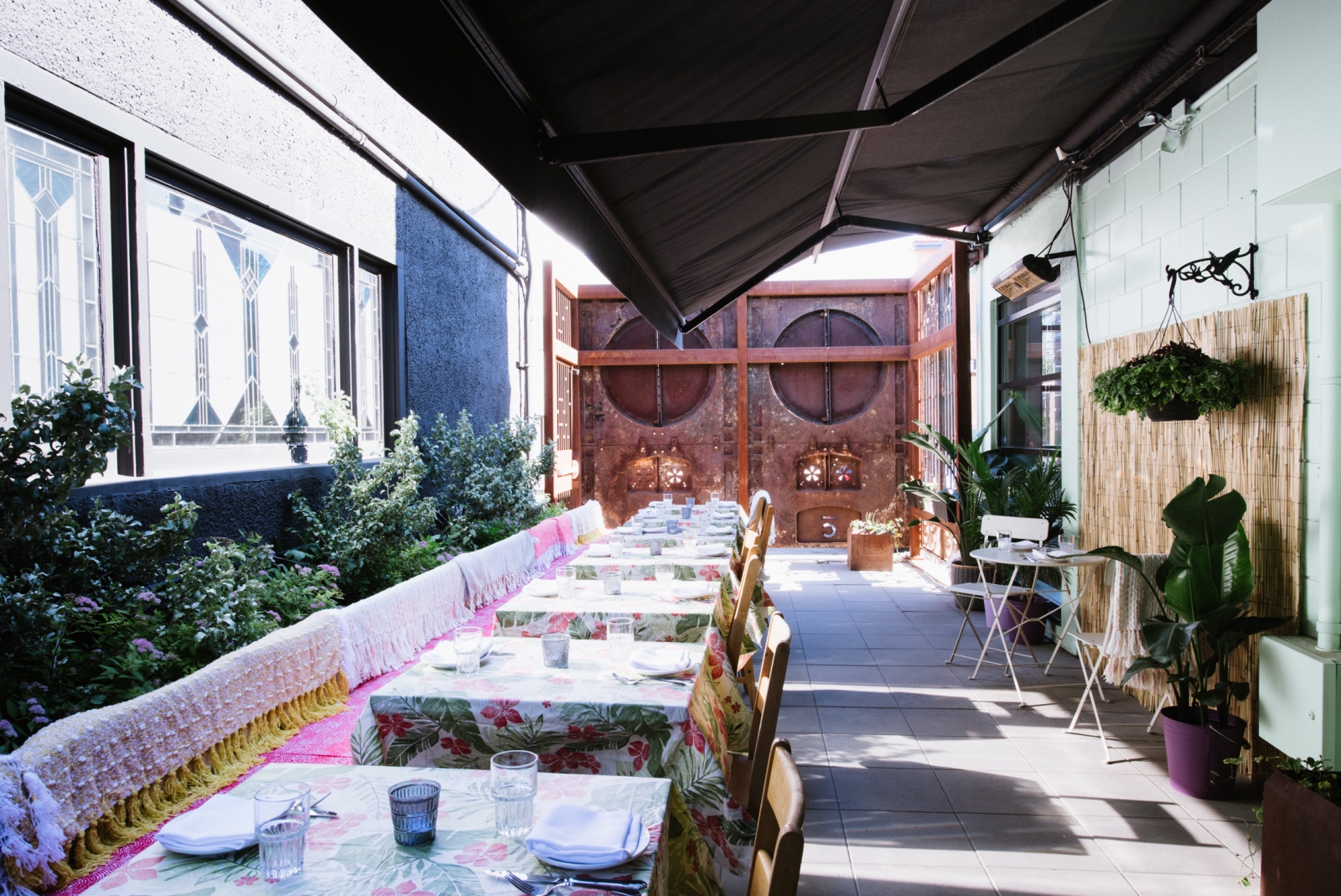 While CCC does have a 10-seat front patio that overlooks 17th Avenue S.W., it's the more secluded 50-seat patio along the east side of the restaurant that is sure to become one of the city's most popular summer hangouts. This space, which used to be an alleyway prior to Bar C's opening, is separated from the sidewalk by large cast iron boiler doors and decorated with floral table cloths, colourful blankets on the bench seating and tons of plants. Sitting out here, tucked away from the hustle and bustle of the street, it's not hard to imagine that you're somewhere far, far away.
340 17 Ave. S.W., 403-719-1555, calcuttacricketclub.com, @calcuttacricket