A corner of The Hudson's Bay downtown has undergone a massive transformation from department store to restaurant destination with the arrival of The Guild, the latest in Toronto-based Oliver Bonacini's group of restaurants. The restaurant, which opened this past summer, has taken over the southeast corner of Hudson's Bay, while work continues on Bonacini's plans to develop other areas of the building.
The Guild is a large space, divided into two seating sections (not including the considerable patio outside), which keeps it from feeling cavernous. The long, curving marble bar serves as a focal point and draws attention to the semi-open kitchen, centred around the wood- and charcoal-burning grill. The kitchen also has a wood-burning oven and a smoker tucked in the back. Framing the kitchen are two windowed meat lockers showcasing massive cuts of beef and the pigs' heads that feature prominently on the menu.
The decor nods to a hunting-cabin with sculptures of geese flying along the ceiling and antlers and a mounted bull's head decorating the walls. It's fitting, considering the meaty focus. Chef Ryan O'Flynn's menu celebrates all sorts of proteins (though it still humours those who would rather have a cheese pizza than steak tartare served on bone marrow). Burgers, brisket, bison, lamb shanks, porterhouses and 40-ounce ribeye steaks to share form the backbone of the menu, while seafood dishes and the odd vegetable round it out. That said, don't overlook some of the non-meaty items; the gin-and-tonic salmon with cucumber and crme frache is light but full of flavour and worth ordering.
Among the more adventurous dishes is the pig's head, several of which were seen being carried out to tables over the course of dinner. Slow-roasting the head makes the meat impossibly soft, while the skin gets almost lacquered. Put politeness aside when trying to share at the table; there's no delicate way to get at the rich pork.
Besides The Guild, an English-style pub has opened in another corner of Hudson's Bay, while a speakeasy, Sub Rosa, will take over the lower-level space that was formerly The Bay's food hall. An event space on the 6th floor is also expected to be ready in early 2017.
200 8 Ave. S.W., 403-770-2313, theguildrestaurant.com
---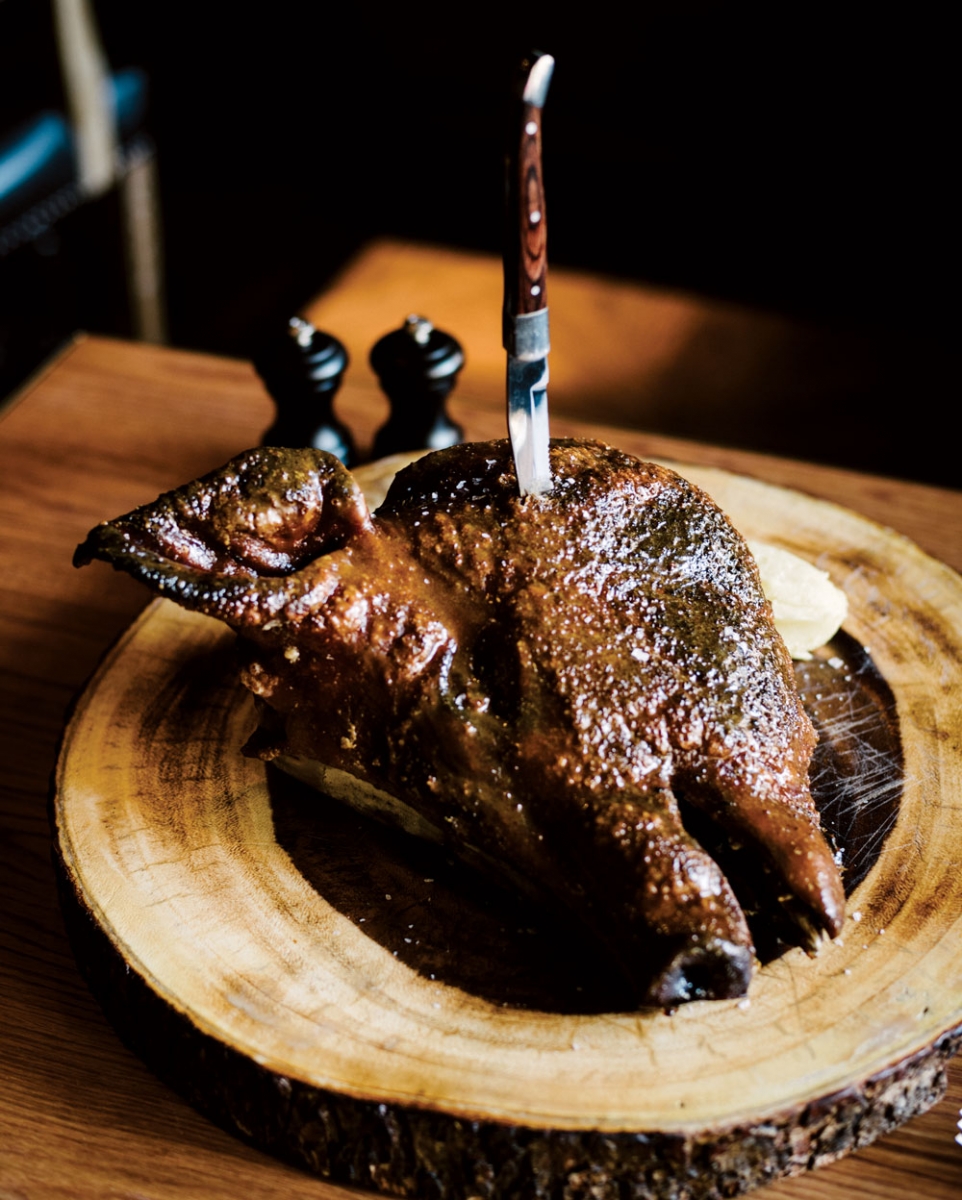 Slow-roasted pig's head at The Guild.