Cold Garden Beverage Company may be one of Calgary's newest microbreweries, but it's a project that's been years in the making.
It was back in university that avid home brewer Blake Belding was first inspired to start a brewery. But it wasn't until around a decade later, in September 2014, that the idea really began to take shape. That's when Belding, who went on to train at Brewlab in the United Kingdom, suggested that he and his friend Dan Allard start one together. Soon after, the pair brought another friend, Kris Fiorentino, into the mix to handle the marketing side of things, and the trio began creating Cold Garden's beer recipes in Belding's garage.
In September 2015, they acquired a building in Inglewood and began churning out beer to serve in local bars and restaurants across the city while waiting on permits and fixing up the space. With the help of their family and friends, the team has spent the last year transforming the former powder coating and welding shop into a 5,000-square-foot brewery and tasting room, the latter of which celebrated its grand opening in late January 2017.
"There's almost become this underlying desire to help push forward tasting room culture in Alberta," Fiorentino says. "When we were doing the research for this, we toured all over the place and saw what tasting room culture can be. It's the coolest thing and it really showcases what craft beer culture is all about,"
The trio definitely had some fun putting their own stamp on the facility, creating an eclectic tasting room experience unlike any other space in the city. Colourful pool noodles act as insulation on the glycol lines, the tap handles are covered in fake grass and several couches offer comfy seating options. A clothing rack features thrift store finds that have been washed and silk screened with the Cold Garden logo. Paying homage to Belding's love for "fake gold things," there's even gold glitter filling in the floor cracks and the whole draft system hangs from the roof by gold chains.
"The mood that we wanted in here was somewhere that we wanted to drink ourselves. And if you come to any of our houses, they're very eclectic [and] cozy," Allard says. "It'll constantly be evolving. There's always projects in our minds. We're going to be consistently improving on this space functionally and aesthetically. And at the same time, the beer line is going to be constantly evolving. So those two things in conjunction kind of represents us and what we're after."
Not to be outdone, Cold Garden's beers are just as unique as the space you drink them in. The seven beers on the permanent menu include more traditional beers like an Irish red ale called Red Smashed in Buffalo Jump and a Vienna lager called East Calgary Lager. But there are also one-of-a-kind beers like The All-Nighter Vanilla Cappucino Porter, which is made with cold pressed coffee from Okotoks-based Rebel Bean Coffee Roasters and almost tastes more like cold brew coffee than beer. There's also Cakeface, a Marzen-style lager, that has a surprising cake flavour thanks to the vanilla beans brewed in it.
"I wanted to hit some classic styles [and] then we kind of wanted to go in the other direction and make a few things that nobody else had ever done before. It's a mix of art and science and the ability to be creative," says Belding, Cold Garden's head brewer. "As we brew some more seasonals and one-offs, things are going to get pretty funky I think."
The tasting room has only been open a few weeks, but Allard says the local community has already embraced them with open arms and some creative welcoming gifts. One woman brought over some blankets for their couches, while another dropped off some old country skis that weren't using anymore so they could be used to carry flights of beer. Others have dropped off everything from taxidermy lamps to chandeliers to add to the space.
It's an encouraging reception for a place that strives to be a cozy neighbourhood gathering spot to drink beer, meet new people and get together with old friends.
"They're making this place their home, which is kind of cool," Fiorentino says.
1100 11 St. S.E., 403-603-8656, coldgarden.ca, @cold_garden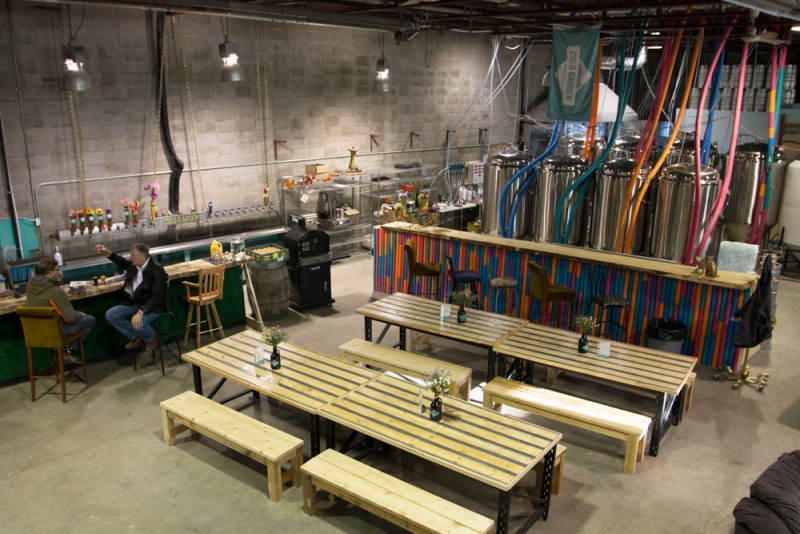 Cold Garden opened its approximately 2,000-square-foot tasting room in January. The space features a mix of bar, table and couch seating and plenty of unique decor elements like AstroTurf along one of the bars, fake flowers everywhere and pool noodles.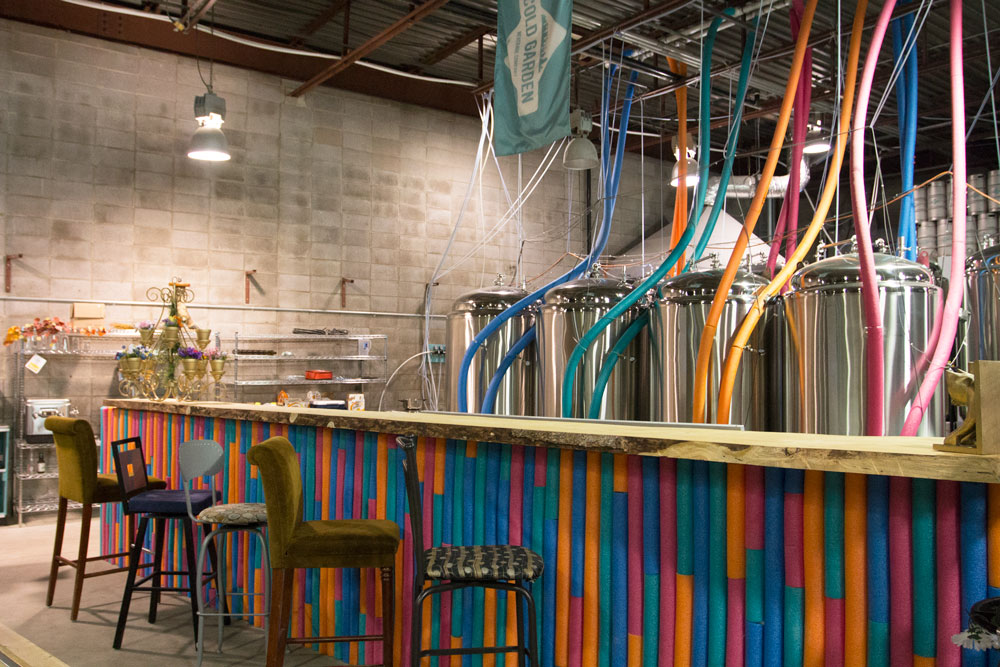 Colourful pool noodles were used to insulate the glycol lines and as decoration along one of the bars.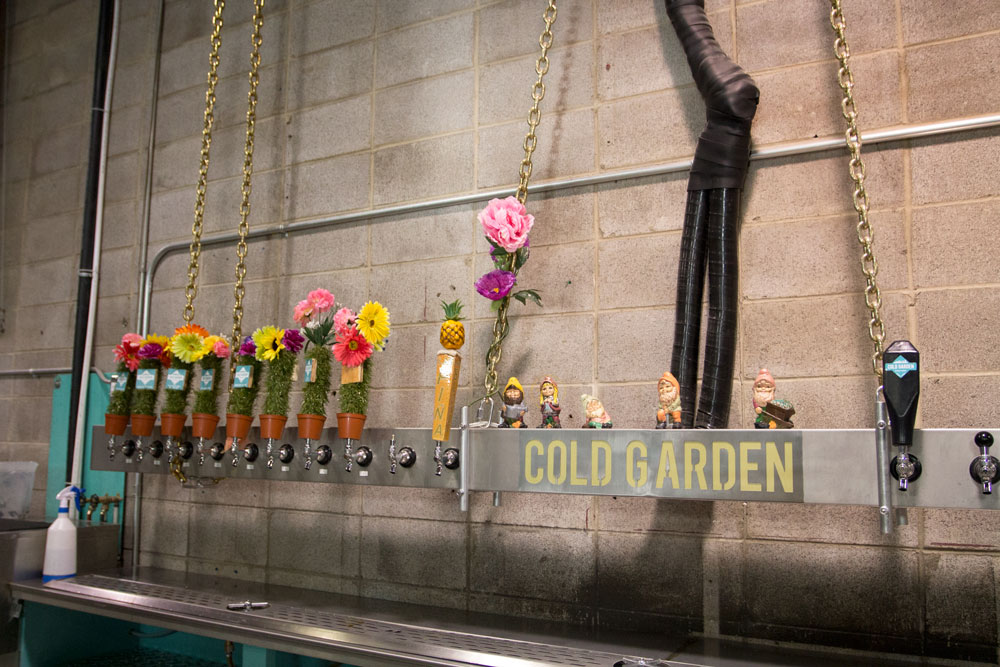 In honour of Belding's love for "fake gold things," the team used fake gold chains to hang the entire draft system from the ceiling. The fake grass and flowers on the beer taps reflect the garden theme in the space.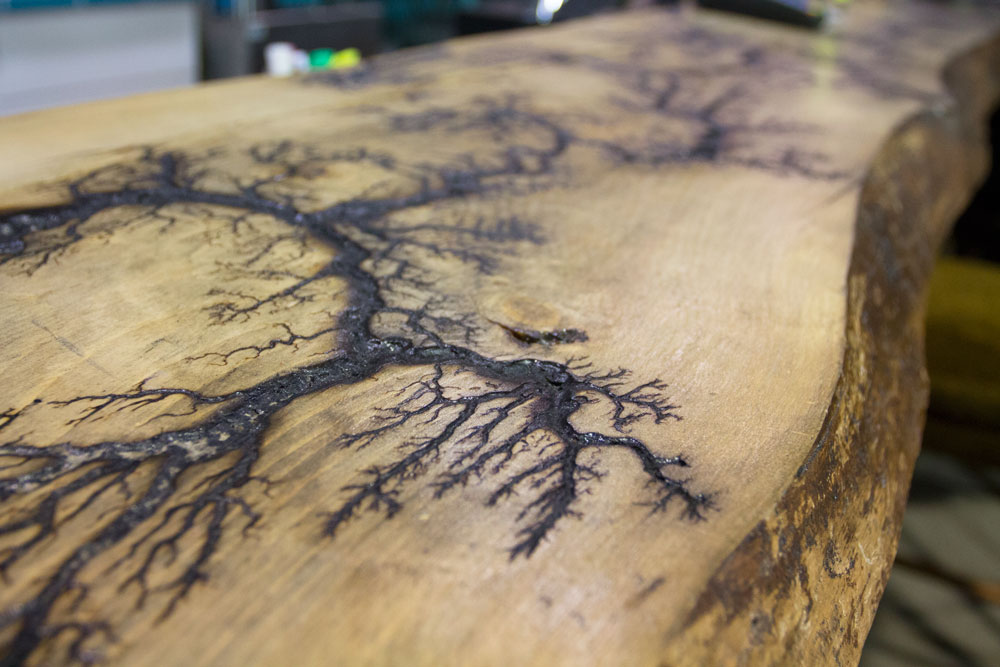 When you visit, be sure to check out this handmade electrified wood bar top made using a microwave transformer.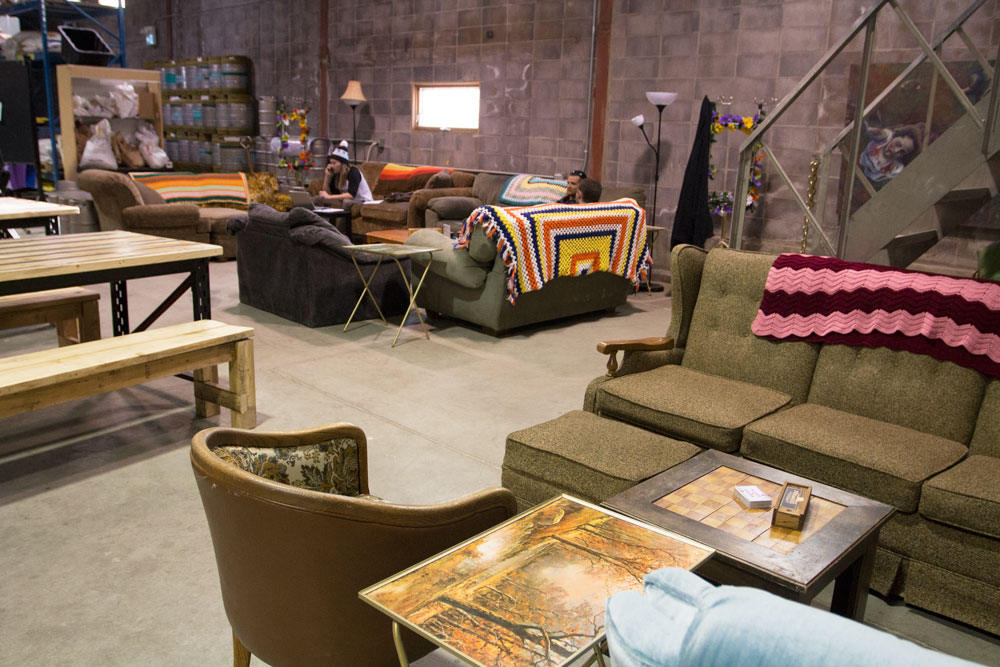 Comfy couches covered in blankets offer a cozy spot to grab a drink and play some board games.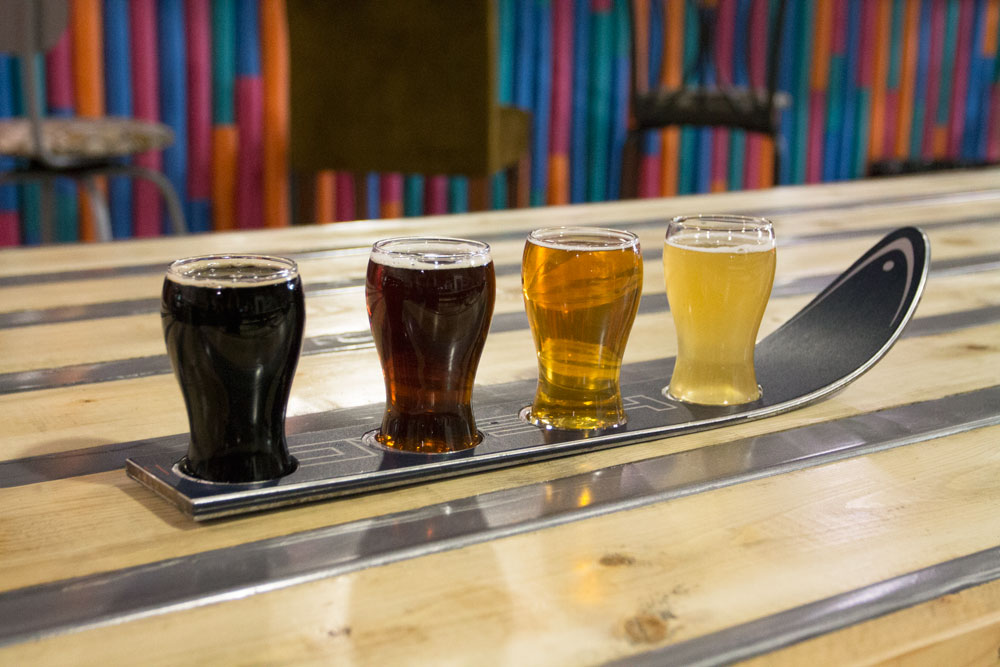 You may have heard of shot-skis before, but at Cold Garden, you can order a flight-ski. It comes with four different beers that are served on part of a ski.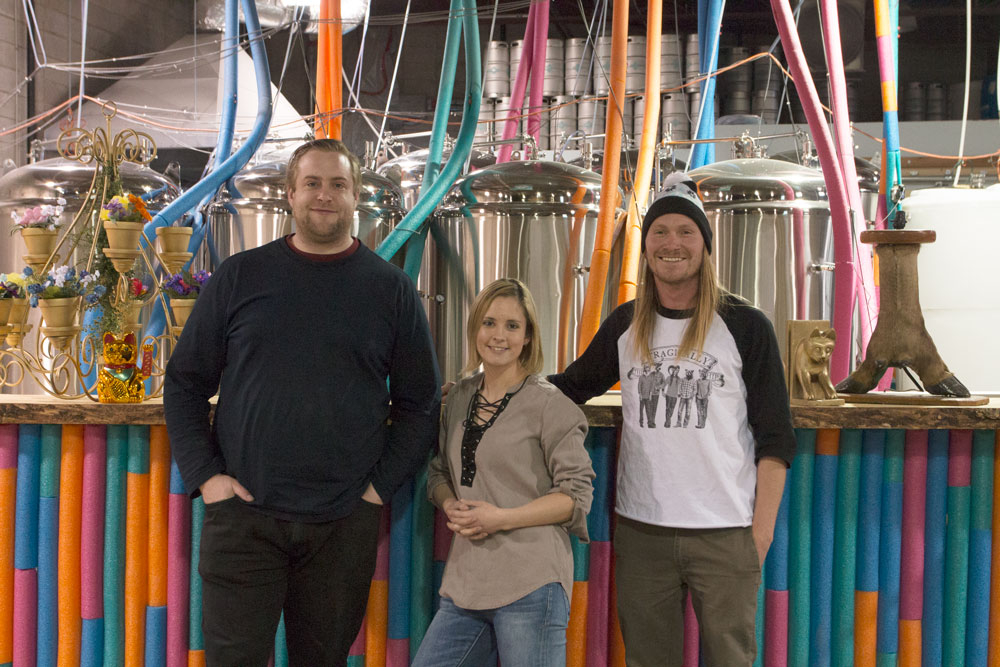 Co-owners Blake Belding, Kris Fiorentino and Dan Allard strove to create a quirky space that reflected their personalities and felt as comfortable as being in your own living room.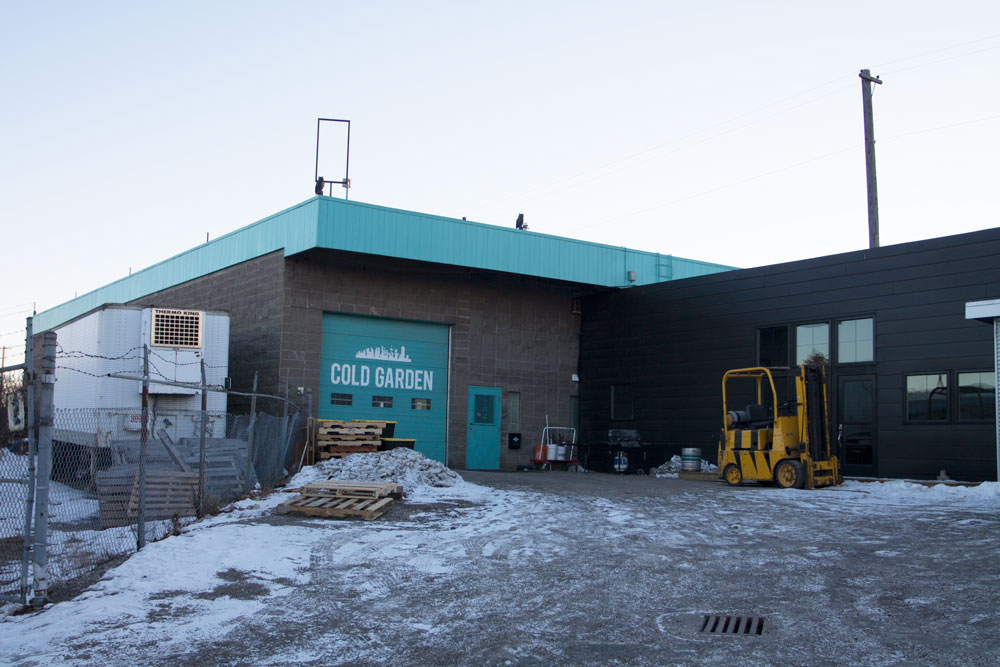 To find Cold Garden, just look for the building with the turquoise roof behind Smithbilt Hats in Inglewood.