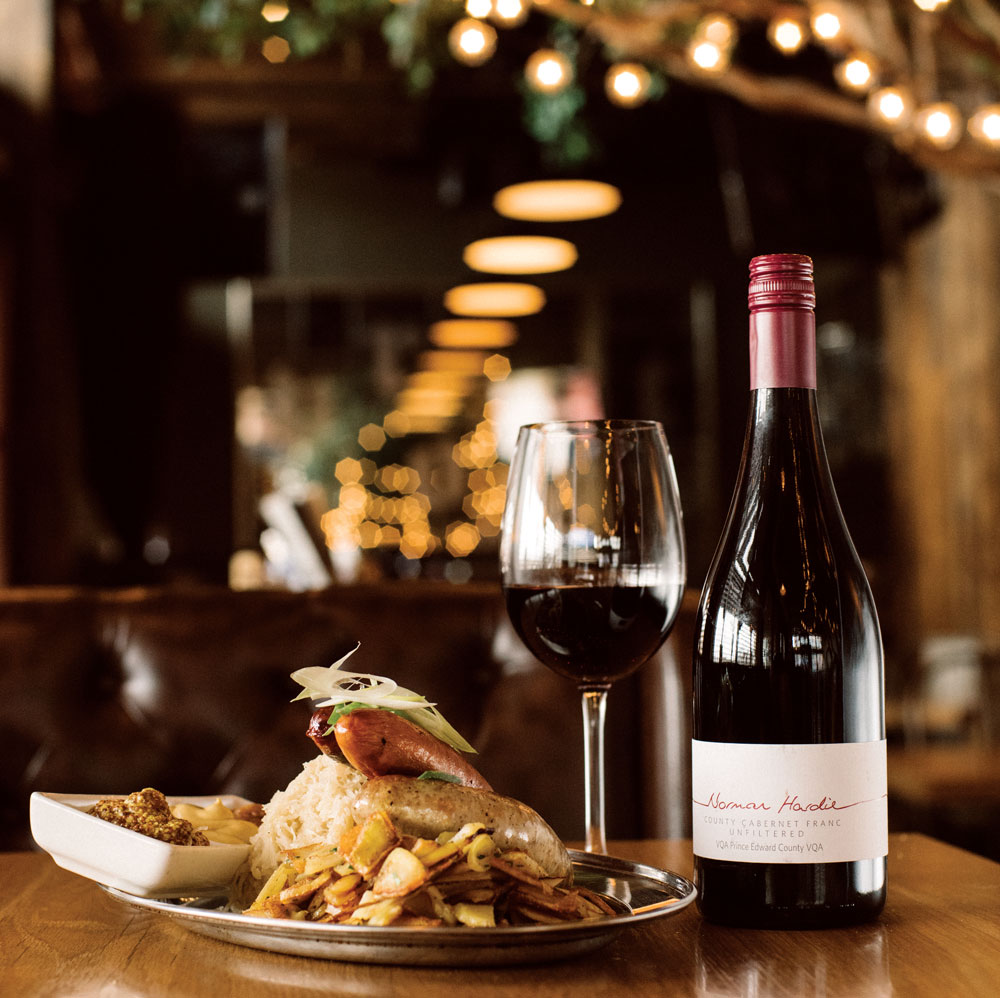 photograph by jared sych
The bratwurst platter is a perfect match with a cabernet franc at Wurst.
Canadian wine drinkers are very lucky to have two premium and very distinct major wine regions here at home. Both British Columbia and Ontario (and, to a lesser extent, Nova Scotia) have been earning accolades within Canada, as well as on the international wine stage. British Columbia and its wines are likely more familiar to Alberta wine drinkers, but Ontario has really taken off, with its offerings coming from top-shelf boutique producers in among of the most exciting appellations such as Prince Edward County. Some of the chardonnays and pinot noirs coming out of Ontario these days are some of the finest out there, as well.
Southern Ontario has several of the largest lakes on the planet framing its wine regions, and winemaking is concentrated around the 43rd parallel, which isn't all that different from wine regions in Northern Italy or France. A well-known feature that makes Ontario's winemaking even better is the Niagara escarpment, a bluff that helps to circulate the air off of Lake Ontario and ripen the grapes.
Ontario's wineries tend to be smaller, boutique wineries that select smaller sites, specifically chosen for planting certain grapes, rather than choosing large areas and trying to force the land to be all things to all grapes. Smaller, terroir-driven vineyards cover about 17,000 acres in Ontario with all but about 2,400 in the Niagara Peninsula. These vineyards produce a whole range of grape varieties in numerous microclimates, the most noteworthy (and search-worthy) of which is chardonnay and pinot noir.
Winemaking in Ontario is pretty much confined to three general areas (though, of course, exceptions exist). Most takes place in and around the Niagara Peninsula, a short distance from Toronto along the shores of Lake Ontario. The peninsula is further split into various sub-appellations and two regional appellations – the Niagara Escarpment and Niagara-on-the-Lake. The Niagara Escarpment includes sub-appellations such as Beamsville Bench. Niagara-on-the-Lake is further east along the lakeshore, right next to the U.S. border and close to Niagara Falls and includes appellations such as Niagara Lakeshore.
Lake Erie North Shore is an appellation that can be found along, not surprisingly, Lake Erie's north shore, from Windsor to around London. About a dozen wineries call this region home, with Pelee Island winery being the one most Alberta wine drinkers are likely familiar. The warm climate in the region permits a longer growing season that's suitable for a variety of grapes and wine styles, from shiraz, cabernet sauvignon and pinot noir to chardonnay, pinot gris and muscat.
Finally, there is Prince Edward County, which started capturing the attention of winemakers and wine drinkers in the last decade or so. It's located toward the north end of Lake Ontario, about two hours from Toronto or about three and a half from Ottawa. P.E.C., as it is sometimes known, is pretty close to extreme viticulture with wintertime lows cold enough to kill grapevines, meaning most wineries still have to prepare for winter by burying vines or taking other steps. Winters aside, the county experiences a similar growing season (temperature-wise) to that of Oregon and Burgundy, France. Coupled with the right sort of soil, the Burgundian grape varieties of chardonnay and pinot noir are making major strides here.
The region is simply gorgeous year-round and dotted with historical sites, activities and excellent restaurants that focus on locally grown and sourced ingredients. With a weak Canadian dollar expected to be around for a while yet, and since you've probably already toured B.C.'s wine country, maybe your next wine vacation should be Ontario's wine country?
---
3 perfect pairings
Wurst: Cabernet Franc and Bratwurst
There's nothing wrong with going out with friends and noshing on some bratwurst. If beer isn't your thing, consider the Norman Hardie cabernet franc ($70 for the bottle), which is less fruit-forward than many New World wines and perfect with Wurst's bratwurst platter.
Wurst, 2437 4 St. S.W., 403-245-2345, wurst.ca
Sky 360: Riesling and Seafood
Join in the riesling love fest with one of the tastiest on the market. Tawse is one of the best wineries in Ontario, and this is one of its tastiest wines ($50 for the bottle, $10 by the glass). Racy, crisp and with a little sweetness for balance, it works very well with the complex flavours of the steelhead trout.
Sky 360, 101 9 Ave. S.W., 403-532-7966, sky360.ca
Vin Room: Pinot Noir and Duck
The incredible selection of wines by the glass and small, tapas-style plates make Vin Room a great place to experiment with flavour and style. Find out for yourself why pinot and duck work so well by pairing the Cave Springs pinot noir's tart cherry fruits ($4.25 for a taste up to $52 for the bottle) with the heavenly pan-roasted duck breast.
Vin Room, 2310 4 St. S.W., 403-457-5522, vinroom.com
---
6 Ontario wines to try
Back 10 Cellars 2013 The Big Leap Cabernet Franc, Lincoln Lakeshore

A relatively new producer here with a riesling on shelves, too. The cabernet franc has great depth of fruit with a tart cherry finish that brackets the high-toned acids, assorted savoury spices and milder tannins. Ready to drink now, it would really rock with some pork chops or a pulled pork sandwich. $37.
Closson Chase Vineyard 2013 Chardonnay, Prince Edward County

A fine bottle worth seeking out and cellaring, though it's excellent now, too. Showcasing layered, complex flavourings without hiding behind oak (which you'll barely notice, by the way), there are still lots of creamy, citrusy flavours to fill your glass. $30.
Coyote's Run 2012 Five Mile White, Niagara Peninsula

An off-dry blend of riesling, pinot gris and gewrztraminer, this wine is a little more about quaffing over discussing, but its easy-going, tasty juice is perfect for casual entertaining or for sipping on the deck while the sun goes down. $17.
Henry of Pelham Cuve Catharine Brut NV, Niagara Peninsula

Henry of Pelham is well known here for several wines such as its baco noir or Sibling Rivalry wines, but the sparkling wines take the cake. Based around chardonnay and pinot noir and made in the traditional method, it sings with toasted brioche and lemon zest notes, and wonderful minerality. $45.
Norman Hardie 2013 Niagara Chardonnay, Niagara Peninsula

Though Hardie is perhaps best known for his Prince Edward County wines, he's making some stunners with Niagara fruit, as well. A very, very enjoyable glass of wine, the chardonnay boasts all the flavours you want if you like very restrained oak and plenty of minerality. $39.
Stratus 2012 Red, Niagara-on-the-Lake

A cabernet-based Bordeaux-style red, the 2012 saw almost two years in oak before release. Flavour-wise, it's big, red, sexy and full of rich cassis and black cherry fruits – not to mention some serious spice and smooth tannins. $43.