Sweet or salty, light or rich, vegetarian or meat-lover – there's an appetizer for everyone at your Christmas get-together. It's a good thing these appetizers are easy to prepare, because your guests will definitely be asking for seconds.
Margherita Skewers
All photos by madison farkas.
The red, white and green of the Italian flag are especially appropriate this time of year, creating a festive trio of bright colours and fresh flavours. The sweet grape tomatoes, peppery basil and mild house-made bocconcini ($3 for 500 grams) from Alberta Cheese stand up beautifully on their own, or with a sprinkle of salt and pepper and a drizzle of olive oil. Try Frantoio Extra Virgin Olive Oil from Oil & Vinegar Bar ($14 for 200 mL).
Alberta Cheese, 2730 84 Ave. S.E., 403-279-4353, albertacheese.com; Oil & Vinegar Bar, Eau Claire Market, 403-668-8568, oilandvinegarbar.ca
Bacon-Wrapped Water Chestnuts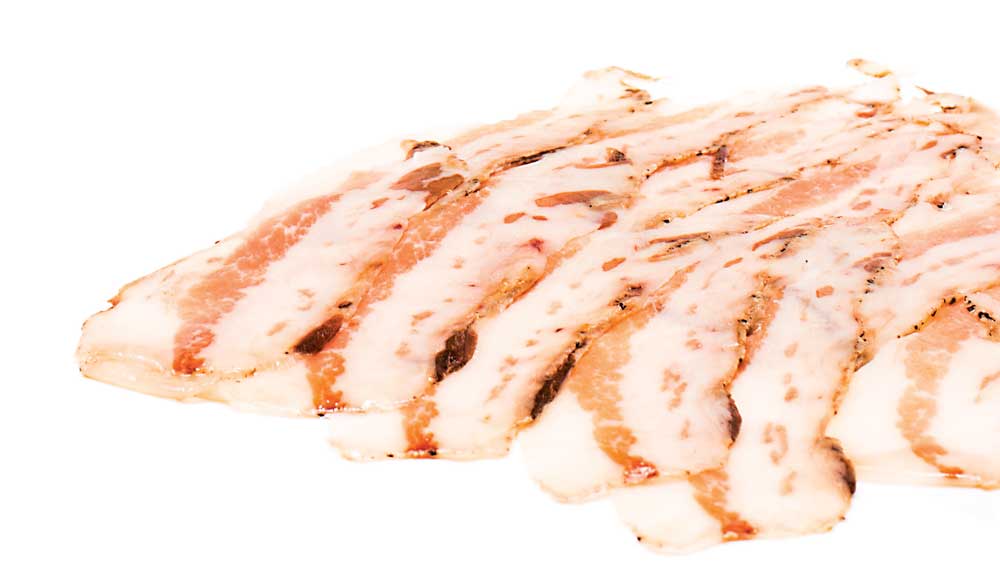 The water chestnuts add a satisfying crunch to these addictive little bacon bites. Wrap uncooked side bacon strips like the ones from Broek Pork Acres ($4.59 for 100 grams) around drained canned chestnuts and secure them with a toothpick. Marinate them in a mix of equal parts soy and teriyaki sauce for a few hours, or overnight if possible, then bake them on a tray at 350oF for about 30 minutes, until the bacon is just starting to crisp. If you like your bacon crispier, leave them in a little longer. Serve them hot.
Find Broek Pork Acres products at various locations, including Sunnyside Natural Market, 338 10 St. N.W., 403-270-7477, sunnysidemarket.ca
Prosciutto Pears
The trick with pears is to get them during the two days or so when they're perfectly ripe. Too early and they're hard as rocks; too late and they're unpleasantly mushy and mealy. You can tell if they're ready to eat by gently pressing the area around the stem – if they give slightly, they're good to go. The sweetness of the pear contrasts well when wrapped in thin slices of salty, smoky house-cured prosciutto from Sunterra Market.
Prosciutto di Parma, $6.99 for 125 g, Sunterra Market, seven Calgary locations, sunterramarket.com, @sunterramarket
Baked Brie with Caramelized Pistachios
It's hard to go wrong with melted Brie, but this sweet combination of toppings shows it off particularly well without overpowering it. In a pan, melt 2 tbsp of butter and 1/4 cup of brown sugar, then add 1/2 cup of shelled and coarsely crushed pistachios (and enjoy the stress relief of giving them a good whack with a meat hammer). Place a wheel of Brie Paysan ($6.93 for 100 grams) from Peasant Cheese in a ceramic baking dish and pour the pistachio mixture over it, then bake it at 350oF for 15 minutes or until the cheese starts to bubble. Spread it over slices of fresh French bread.
Orange Crate ceramic Brie baker, $20, Artesano Kitchen, Eau Claire Market, 587-352-2776, and 1215 9 Ave. S.E., 403-266-8092, artesanogalleria.com. Peasant Cheese Shop, 1249 Kensington Rd. N.W., 587-353-3599, peasantcheese.com
Sweet Chili Meatballs
If you have time, you can make your meatballs from scratch with lean ground beef, but The Better Butcher carries pre-cooked ones  ($6.75 per lb.) that work well too – just make sure you give them about an hour to thaw completely. The sauce can be prepared with any dark berry jam (we like Blue Rodeo from local producer JamGoddess, which is homemade with blueberry, blackberry and and blackcurrant). In a saucepan, mix 1 cup of jam with 1 1/4 cup of your favourite chili sauce and bring it to medium heat, then add the meatballs and cook them until they're heated through.
The Better Butcher, 403-252-7171, 377 Heritage Dr. S.E., thebetterbutcher.ca; JamGoddess, order online at jamgoddess.com