Meals in the Field collects 170 recipes submitted by farmers and producers around the province. In the spirit of United Farmers of Alberta's 1928 cookbook, which gave a glimpse into the lives of Alberta's pioneers, the new book also includes information each contributor: who they are, where they're from, and the personal stories behind their recipes.
"Often when people go to buy their food at the grocery store, they don't think about where it came from or how it was produced," says Nick Harsulla, UFA's manager of corporate communications. "This book is a way of connecting people to food. It's about celebrating agriculture and raising the profile of the people who put food on our plates."
Meals in the Field will be available for $20 at all 135 UFA locations across Alberta on December 2.
---
Old-Fashioned Glazed Beets
From the kitchen of Krystyna Sendziak, Sendziak Seed Farm, Thorsby, Alta.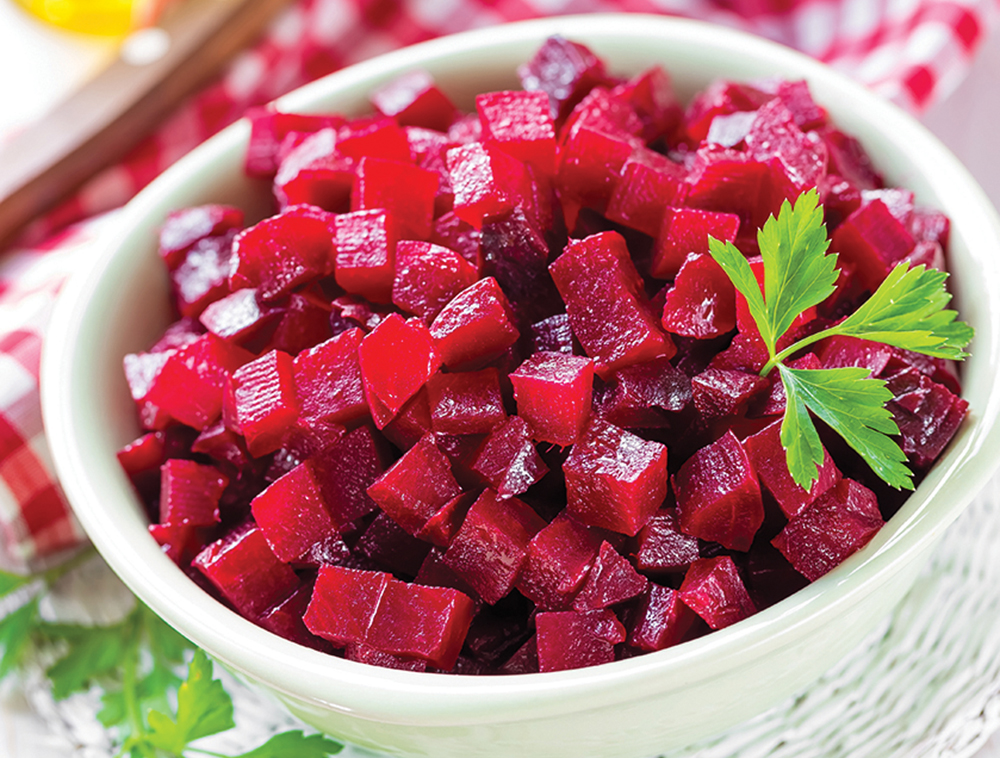 3 tbsp brown sugar
2 tbsp orange juice
1 tbsp butter
1/4 tsp salt
1/4 tsp ground pepper
3 to 4 cups cooked beets, chopped into bite-sized pieces
In a large nonstick saucepan combine sugar, orange juice, butter, salt and pepper. Heat until the sugar and butter melt and start to bubble.
Stir in beets and cook until most of the liquid has evaporated and beets are coated with glaze, about eight minutes. Serve hot or warm.
Tip: You can add leftover glazed beets to salad along with feta cheese and walnuts.
---
Spaghetti Casserole
From the kitchen of Phyllis Peters, Carstairs, Alta.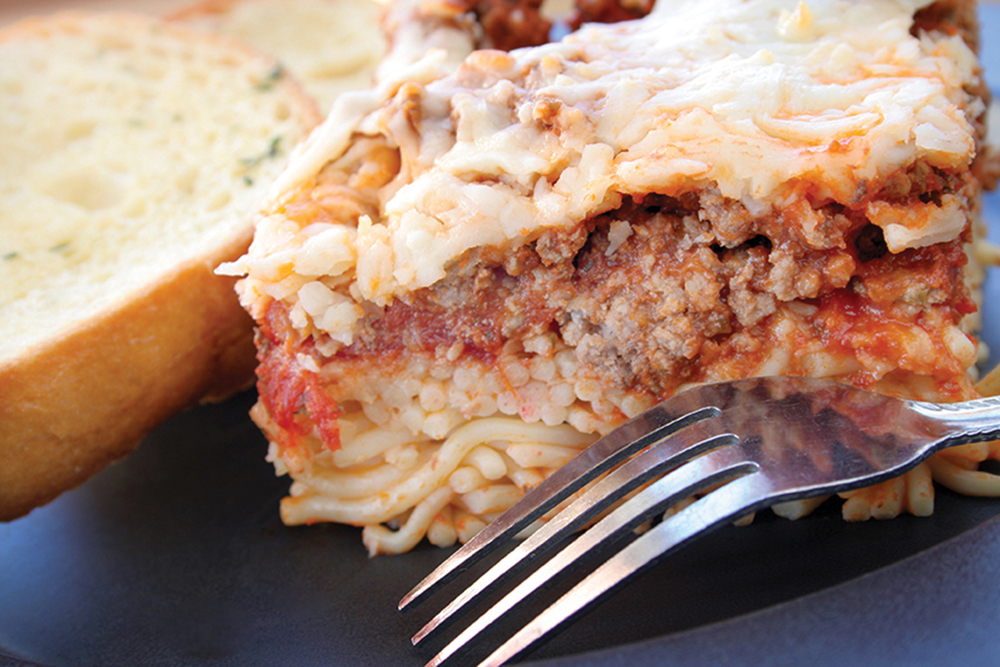 1 to 3 lbs lean ground beef
1 to 3 chopped onions
1 to 3 tsp salt
14 to 12 tsp pepper
12 to 1 12 lbs spaghetti
1 or 2 cans canned tomatoes
1 or 2 cans condensed cream of mushroom soup
1 to 3 cups grated cheddar cheese
Brown beef and onion in fry pan and add salt and pepper. It is super handy if you have one of those casserole dishes that can go on the burner; you can brown the beef and onion in it and just put the other ingredients on top.
Cook spaghetti according to directions on the package and layer over the hamburger. Pour canned tomatoes over top, breaking up the bigger chunks.
Drop spoonfuls of soup over the tomatoes and spread it around with the back of the spoon.
Layer cheese over all.
Bake at 350o F for about 30 minutes, 40 minutes if you used the larger amounts. Put a lid on halfway through the cooking time if it starts to look dry. Serves 6 to 12.
---
Flourless Chocolate Date Cake
From the kitchen of Christine Lentz, C Bar Ranch, Whitelaw, Alta.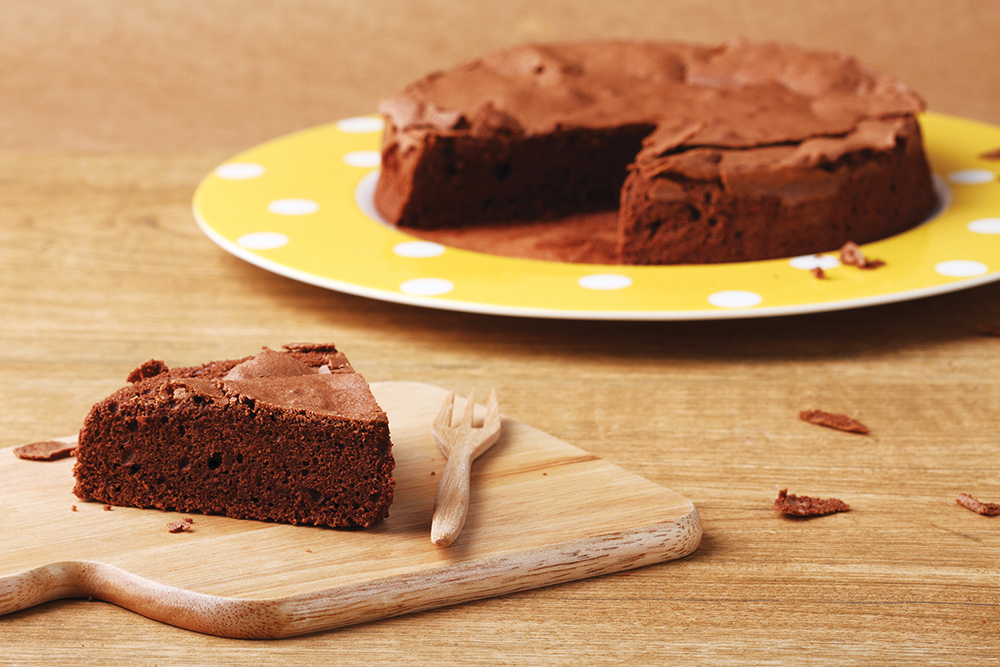 1 cup pitted dates
1 cup boiling water
1/2 cup cocoa powder
1/2 cup hot brewed coffee
1 1/2 cups almond flour
1 tsp cinnamon
pinch salt
2 large eggs, separated
1/3 cup melted coconut oil, or oil of choice
2 tsp vanilla or chocolate extract
Soak pitted dates in boiling water for 15 minutes. Blend dates and soaking water in blender until smooth.
Place cocoa powder and hot coffee in large heatproof bowl, stir to combine, and set aside to cool.
Preheat oven to 350oF. Line bottom of 9-inch springform pan with parchment paper and lightly grease the sides.
In large mixing bowl, stir together almond flour, cinnamon, baking soda and salt.
Stir date paste, egg yolks, oil and extract into cocoa-coffee mixture. Add cocoa mixture to almond flour mixture and stir gently until combined.
Using electric mixer or whisk, whip egg whites until soft peaks form. Stir about a quarter of the egg whites into batter and then gently fold in remaining egg whites.
Pour batter into prepared pan. Bake for 33 minutes, or until sides are set and centre on top looks slightly damp. Let cool for 10 minutes on wire rack before cutting.
Can be topped with berries, berry sauce, ice cream, whipped cream, whipped coconut cream or nothing at all. Can also be made into cupcakes, but shorten the cooking time. A super satisfying dessert for everyone. Celiac friendly.