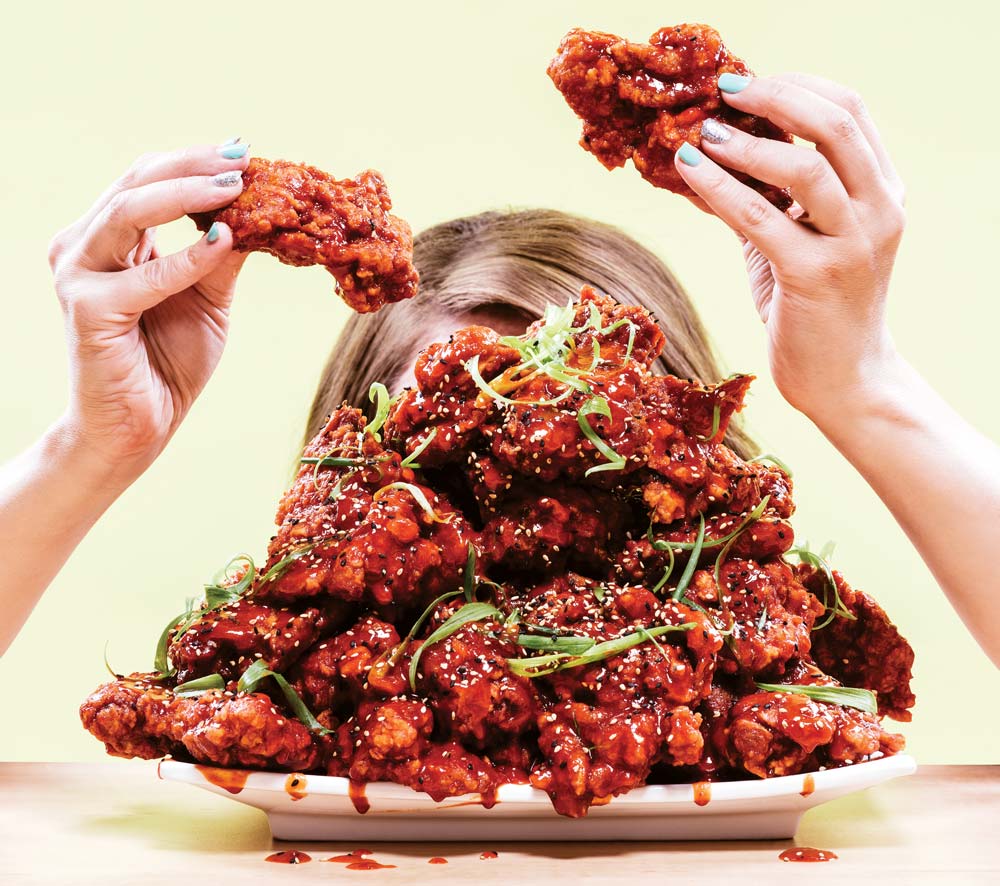 photography by jared sych
Anju KFC Korean Fried Chicken and lots of it.
Restaurant trends used to be about the exotic, about bringing in things from as far away as possible. Back in 1980, when I started writing about restaurants, the restaurants that thrived in Calgary hired chefs from Switzerland and Germany and sourced ingredients from around the world, regardless of season. The few nods to Alberta product were related to beef and pork, and if there was a Canadian in the kitchen, it was probably someone washing dishes.
Nowadays the culinary pendulum has swung a full 180 degrees. "Local, seasonal and sustainable" is the mantra. The closer, the more natural, the more appropriate to the season, the better. For example, the now-departed downtownfood had a garden on the roof and last year harvested more than 800 pounds of eggplants, squash blossoms, tomatoes and so on, produce that went from the roof to the table. There were two beehives up there, too, gathering nectar from around downtown. It even made a honey ale with some of that honey at Big Rock Brewery.
By the same token, Rouge has its own garden in its huge, six-city-lot property, and River Cafe grows an edible garden at its Prince's Island location. And SAIT Polytechnic has developed a garden to help its culinary students more clearly understand where food comes from.
So local is the new exotic. What are the other trends affecting the Calgary restaurant scene? Here are a few.
The Burbs
More good, non-chain restaurants – The Block, Scopa, Notable, Starbelly, Bistro Rouge – are appearing in the suburbs. Rents are cheaper, parking is abundant and the pace is typically more casual. As the city grows, we can expect to see more good restaurants in neighbourhood settings.
Dietary Preferences
The challenge of any large group dinner for the kitchen staff is dealing with numerous dietary variations – gluten-free, vegan, ovo-lacto, caffeine-free and on and on. Culinary schools are teaching young chefs how to handle these concerns and most are up to the task. But it does slow down service.
The Death of Quiet
Ringing ears used to be the result of heavy metal concerts. Now they come from trying to dine out with friends and shout over – and adding to – the din. So you're left with sore ears and a sore throat. Designers love hard surfaces and sharp lines, which add to the cacophony. Old-style sound deadeners – linens, carpets, well-spaced tables – are seen as inefficiencies of the past.
But it's a quandary. Many are turned off by the noise and some staff have left work because of frustrations of working in this environment. Some places (Teatro, Market) have installed sound panels, but noise does not appear to be going away any time soon.
East Meets West
Chefs such as Roy Oh (Anju), Jinhee Lee (Raw Bar), Lam Pham (Watercress Express) and Darren MacLean (Shokunin) straddle Asian and Canadian cultures, melding cuisines in an east-meets-west format. Check out the hot new restaurants in practically any North American city and a disproportionate number follow this style. We can expect to see more as next-generation, Canadian-trained chefs update their parents' food.
Fascas
Growing between fast food and casual dining is a new category called "fascas." It's all about quick service that's more personalized and higher quality than high-processed chain meals. Typically you order at the counter, there's minimal table service and a reasonable price. (Think Watercress Express.) With chains consuming about two-thirds of our dining dollars, look for growth in fascas eateries.
Restaurant Gangs
If one restaurant is good, could half-a-dozen be better? Restaurants are a business and some businesses do a very good job of it without becoming dreary chains. The Concorde Group now has 17 eateries in its stable ranging from four National Beer Halls and two Double Zeros to Anju and Model Milk. Canadian Rocky Mountain Resorts has 13 food service operations in the Bow Valley from Calgary to Emerald Lake. And Creative Restaurants has nine places in its portfolio including Bonterra Trattoria, Parc Caf & Brasserie and Toronto's Richmond Station.
Efficiencies in staffing, purchasing, inventory control and general operations help restaurant groups achieve greater profitability. But aside from the business perspective, groups can take chances. When Roy Oh wanted to move his popular Anju to a larger, brighter location, he needed a partner. The Concorde Group was a natural fit. The partnership helped him build an attractive space and allowed him to focus on the creativity of his food.
Watch for the arrival of Toronto's Oliver & Bonacini – which has eight restaurants including Canoe and Auberge du Pommier – in Calgary with a major development at the downtown Bay.
Restaurant Zones
Fourth Street S.W. started out with Franzl's Gasthaus and the original Silver Inn many years ago. Since then it has grown to be Calgary's densest, most popular restaurant strip with everything from Lebanese and sushi to French bakeries and tapas. With all the restaurants flooded in 2013 now back online and many new ones opened since, the strip looks great. Now if there were only more parking in the area.
Seventeenth Avenue S.W. has seen a resurgence of restaurants, too. But with rising rents, profitability can be a challenge. (Brava Bistro recently packed it in due to rising costs.)
Reservations or Not
Some of us want to free-style our dining activities, leaving it to the whim of the moment. For those, a wait in a lineup is a small, social price to pay. Others want more structure, a table when they want it, without the line. A number of restaurants – Notable, Model Milk, The Nash – have split the difference by taking reservations for a portion of the restaurant and leaving space for walk-ins. Restaurateurs note that, generally, corporate diners and older clientele who don't mind spending a few bucks prefer reservations.
Saturation
While some areas seem saturated with restaurants and the continued outward sprawl of Calgary pulls more good restaurants to the burbs, the question needs to be asked, "When is enough, enough?" No one knows the answer, there are no clear formulas, but as long as restaurant openings exceed closures, the industry will continue to grow.
Technology Infusions
From tweeting about your latest food find to ordering from iPads and even your own phone, technology is at the forefront of the dining scene. We've added a whole new layer to dining – the act of taking pictures of your meal. Food-nerdy? Oh, yeah.
---
The Five Trendiest Ingredients of This Year
(At least at the time of writing)
Remember when Sriracha chili sauce was the ultimate hipster condiment? When every food truck and skinny-jeaned caf – even third wave coffee shops – show-cased those green-nozzled, clear plastic bottles of the hot sauce? That was 2013. Then Subway came out with a sandwich that was topped with a squirt of Sriracha. And pfft!, the cool went off. Sriracha had gone mainstream and had lost its cachet. It still tastes the same, but from a trend perspective Sriracha is over.
Such is the lifespan of trends in the food world. So, what is cool this year?
Celery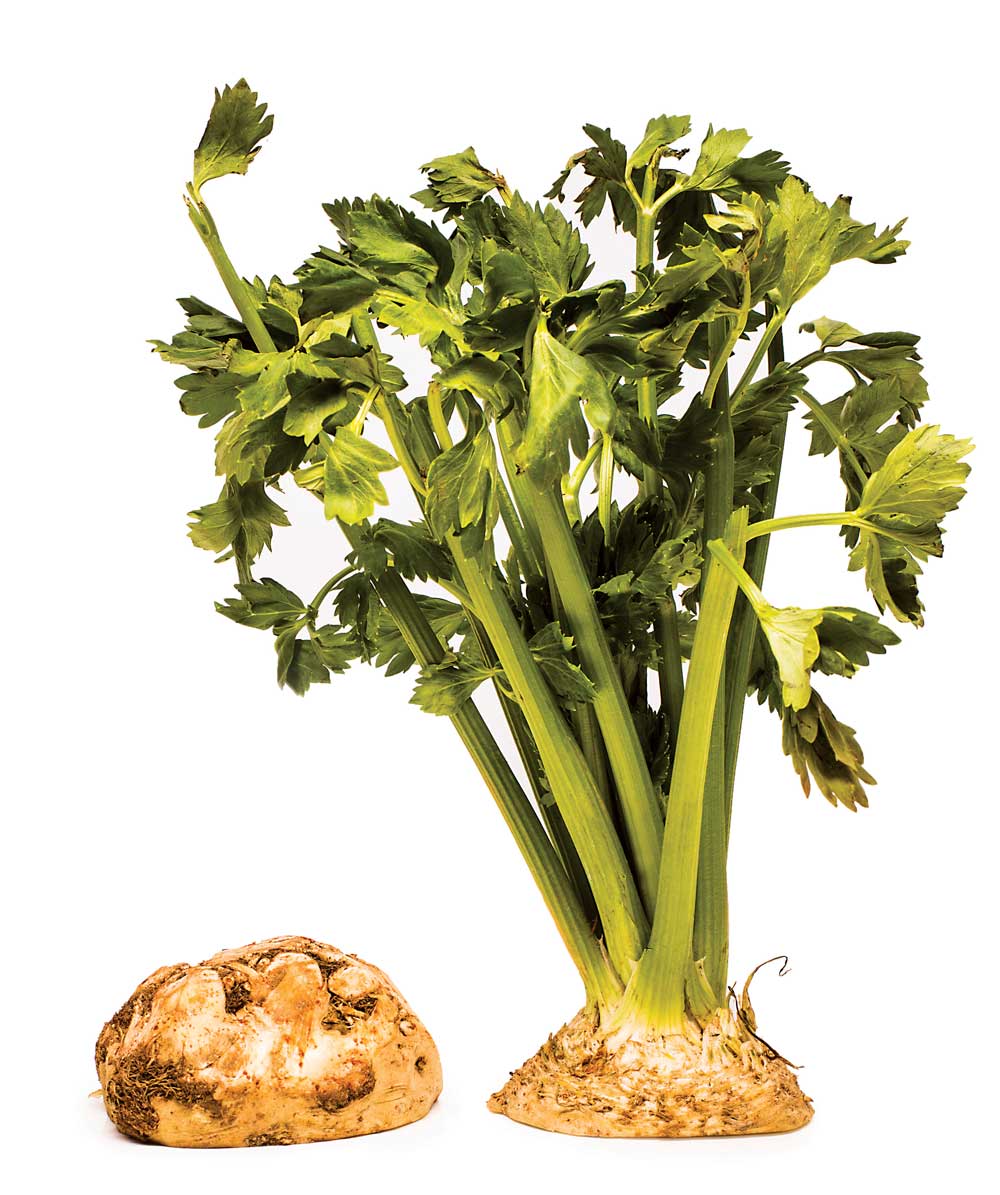 From the leaves and the roots (celeriac) to the stalks themselves. The leaves impart a bright freshness, the stalks a crunchy backdrop to everything from foie gras to Cheez Whiz, the root a potatoey richness without the starch. Celery is also cheap and looks good. Celery replaced cauliflower as the go-to vegetable this year.
Guanciale
Can bacon get any better? How about cured, smoked Italian pork jowl? Guanciale takes bacon to a new level.
Kimchee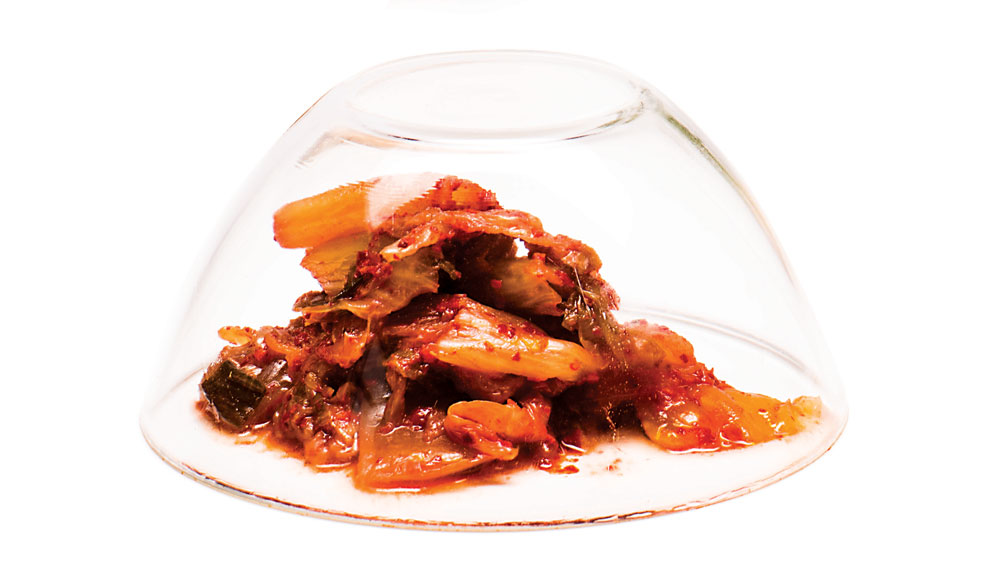 The Korean condiment of fermented cabbage, onions, garlic and chilis kills two trendy birds with one stone. It takes over where Sriracha leaves off flavour-wise and adds the hyper-trendy process of fermenting. (It's the latest "good for us" preparation style.) And chefs are adding other ingredients to their kimchee – kohlrabi, black radishes, even cauliflower and celery.
Octopus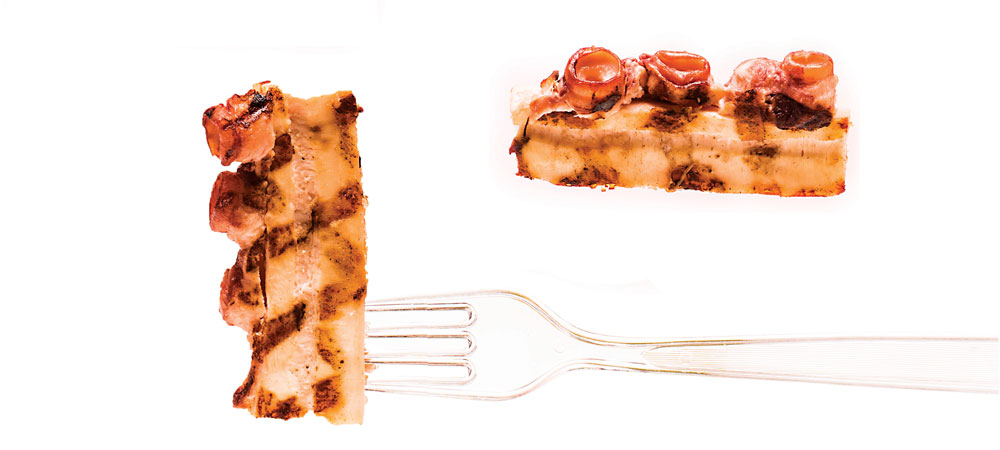 Often considered a by-catch in the fishing community, octopus has risen to the top of the protein ladder – kicking pork off the top – with its purple presence and neutral flavour. Yes, it can be rubbery, but when treated well, as are the sous vide and grilled tentacles at Catch, it's a textural treat.
Brioche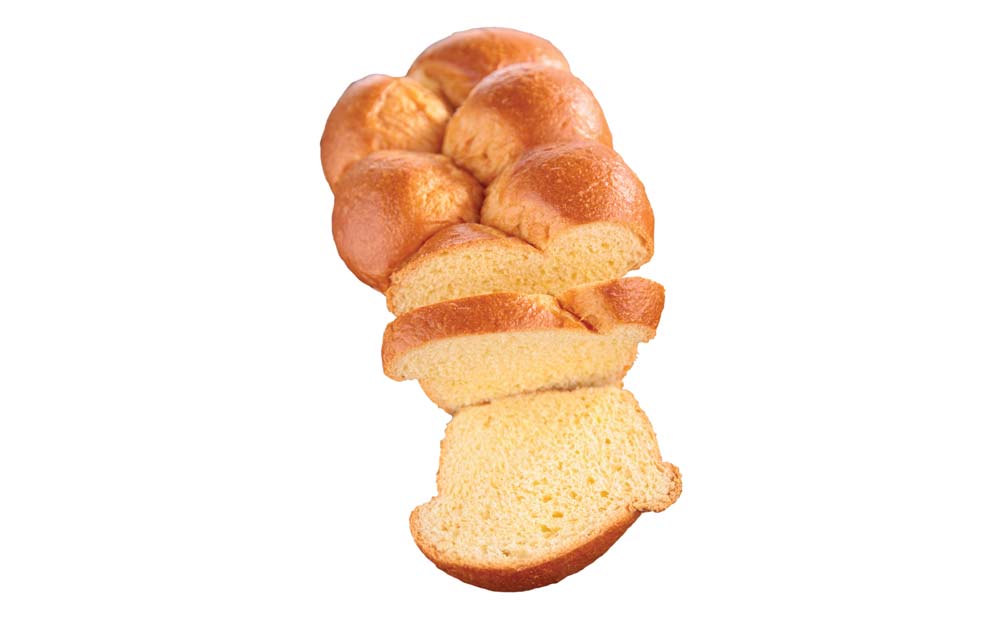 Add yeast to bread dough, then copious amounts of butter and egg and you have brioche. Serve it as crusts, slice it for sandwiches or toast it for quick consumption and you have this year's favourite baked good. Add a little sliced octopus and celery kim-chee and your hip quotient goes way up.