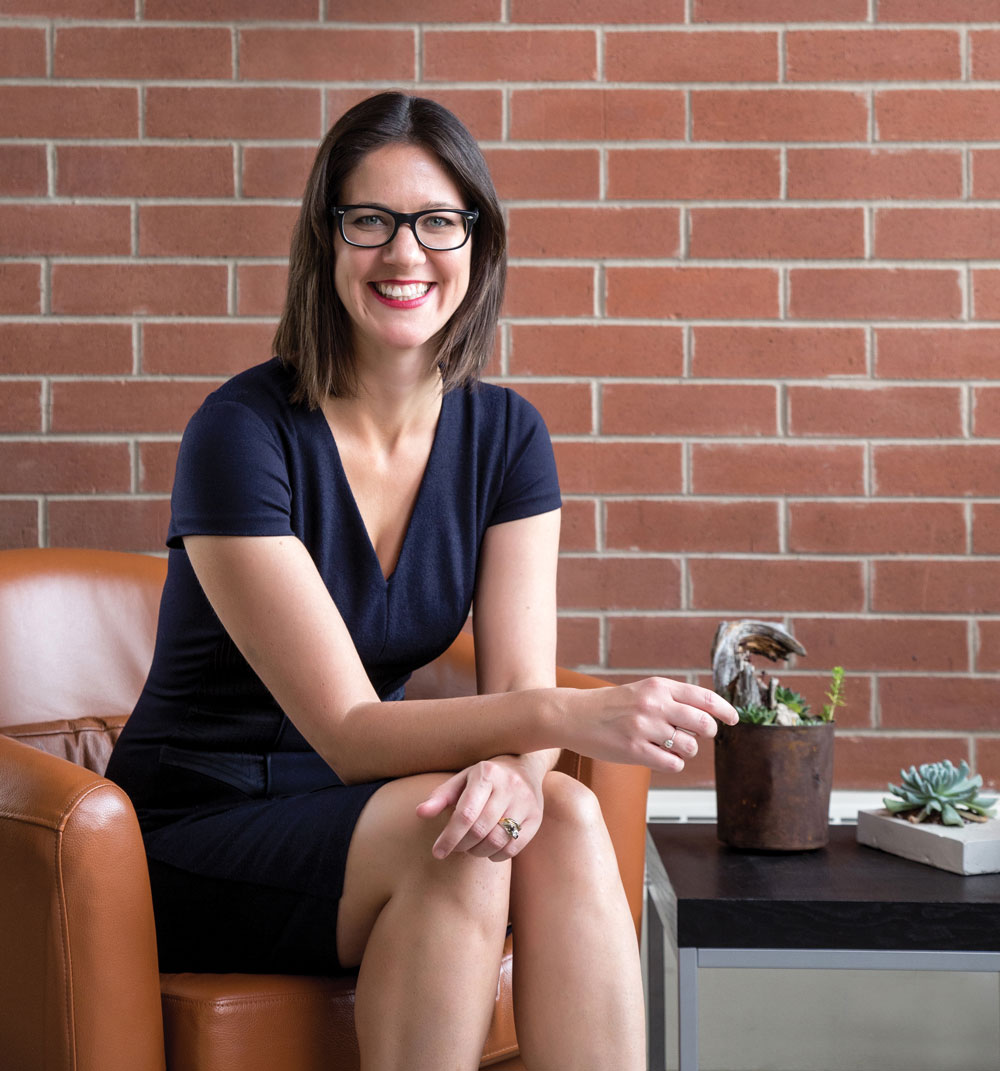 photograph by chris wedman
Apples or bananas, Orsha?
Thirty years later, Orsha Magyar still remembers her mom asking that question as they waited in line for their food rations in then-communist Hungary.
"Some of my first memories of food are my mom asking me to make a choice," says Magyar, founder and CEO of Calgary's NeuroTrition Inc. In her Kensington office, Magyar, a trained neuroscientist and holistic nutritionist, is explaining her lifelong fascination with food. Magyar remembers her mom struggling to ensure there was enough food for Orsha and her sister as they grew up. When they moved to Canada when Magyar was five, the family relied on food banks for the first years.
"I remember from a young age being very grateful for food and open to eating anything and everything – but also making a promise to myself that, when I grew up, I would make my own decisions about food and would help make healthy foods that tasted good more accessible and available for people," she says.
Today, that's what she does. Magyar attained her master's degree in neuroscience at the University of British Columbia while taking night courses in holistic nutrition at the Canadian School of Natural Nutrition. After graduating, she founded NeuroTrition, a consulting company that combines her love of food with neuroscience.
"We take the latest brain science, specifically the science of how food affects the brain, and we create programs based on that," she says.
Magyar – together with her team of five chefs and her council of neuroscientists – works with individuals, families, post-secondary institutions and businesses to develop meal plans that promote good mental health. Her projects range from the very serious (she put together a nutrition program for an addiction recovery centre outside Calgary) to lighthearted fun (she hosted a Valentine's Day workshop on foods to eat for better sex). She has also teamed up with the ATCO Blue Flame Kitchen on a "brainy" version of a classic steak dinner (Caesar salad with kale and cauliflower croutons and quinoa gnocchi) and created a healthy peppermint mocha for The Tea Factory.
What we eat, Magyar says, influences our mental health. "We see it especially with stress – we can eat in certain ways that prevent stress from hitting us as much as it would otherwise," she says.
With her chefs and husband, fellow neuroscientist Matt Hill, Magyar likes to play in her home kitchen, making things like bone-broth gummies and chocolate avocado mousse.
Her favourite food tip for stress-reduction? Eat regularly to keep blood sugar in check and consume a combination of complex carbohydrates, good-quality proteins and healthy fats at every meal.
Magyar, an admitted wine devotee, also has words of wisdom for hangover avoidance: "Eat something, please." The more you eat, the less severe the hangover, she says. Go for a healthy fat like oily fish, raw nuts or avocado. In a pinch, swallow a tablespoon of extra virgin olive oil before libations begin. Drink lots of water and finish off with a sleep-in.
---
Orsha Magyar's favourites
Calgary restaurant: River Caf.
Guilty pleasure: Frites.
Kitchen tool: My husband. He does the cooking; I do the planning.