The Fallwells Have Been Calgary's Go-To Fish Family For Over 100 Years
Calgary's first family of fishmongering keeps it fresh.
By Andrew Guilbert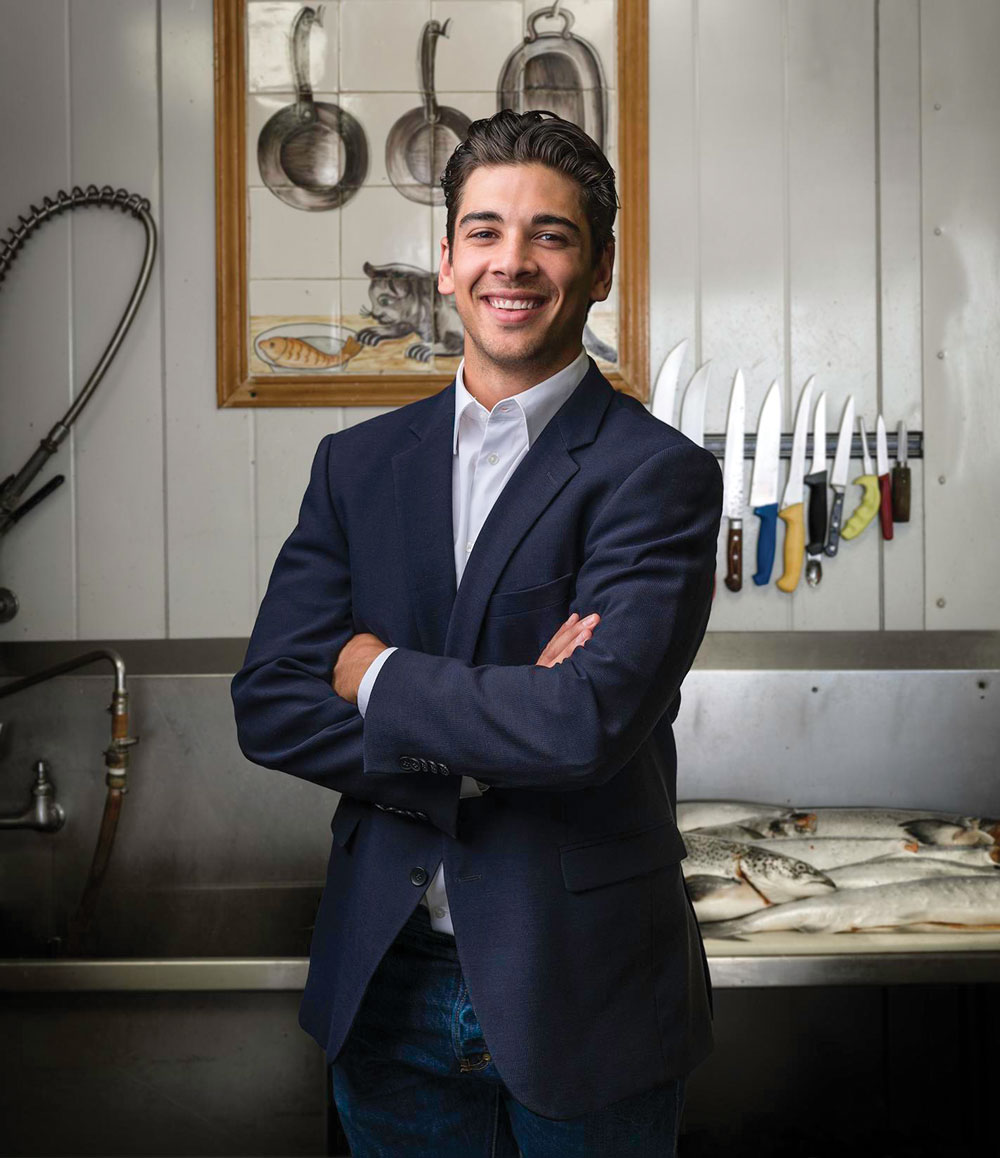 photograph by Jeremy Fokkens
Luke Fallwell, vice-president of Billingsgate MKT and fifth-generation fishmonger, recently developed Billingsgate's social media presence.
Give a man a fish and he eats for a day. Teach a man to sell fish and his family eats for five generations. At least, that's the case for Luke Fallwell, vice-president of Billingsgate MKT, one of the oldest continuously family-owned and operated businesses in the province.
Founded in 1907 by Fallwell's great-great-grandfather, Bert Malthouse, Billingsgate has been a constant in Calgary's seafood scene for more than 100 years. Luke's father is owner Bryan Fallwell, whose first memory of working for Billingsgate was the summer between grades one and two, when his grandfather would pick him up and take him down to the old downtown store on Sunday morning, where Bryan was paid 25 cents for every 500 fish trays he lined with soaker pads.
"I was eight years old and I loved it. I loved to work, I loved learning the business," says Bryan. "By the time I was in grade eight, I had decided that this is what I was going to be doing; I was going to go into the family business."
Both Luke, 27, and his sister Melanie, 23, followed in their father's footsteps early on, working with him when they were as young as 12. Now, both are bringing their own flair to their family business, which relocated to East Village in 1980, and then to Stadium Shopping Centre in the northwest in 2006.
Though Luke earned a business degree at Acadia University in 2011, he believes growing up with Billingsgate has been its own form of education. "It instills a work ethic in you. You get that workers' sense ingrained into you from an early age and you look at business different when you come up from scrubbing floors, through food all the way to [the business] side now, where you're able to look at the books and the finance stuff," he says. "It gives you a greater scope because you've seen all aspects of it."
Thanks to Luke's efforts, Billingsgate now enjoys an active social media presence – an initiative to attract a younger clientele – and has collaborated with, for example, Village Brewery and Phil & Sebastian to align with and support other excellent local businesses.
For the latest generation, working with the family business has proven to be a fulfilling experience. "There's highs and lows, but you really develop a bond [with each other]," says Luke. "I think [being part of] the resurgence of Billingsgate over the last year and being a part of the Calgary business community, that's awesome; you can't ask for anything better than that."
---
Luke

F

allwell's

Favourites

Fish: Black Cod (Sable Fish)

Restaurant: Vintage Steakhouse

Wine or drink: Scotch

Thing about Calgary: The community

Guilty pleasure: Big Brother

Stampede food: Mini-Donuts

TV show: The Sopranos

Thing a customer has said: "When I was a kid my parents used to take me to Billingsgate every weekend. Now I do the same with my children, and I hope in the future they do the same with theirs."