The 6 Best Wines for the Holidays
Wines to pair – or to give – for all your holiday occasions.
By Tom Firth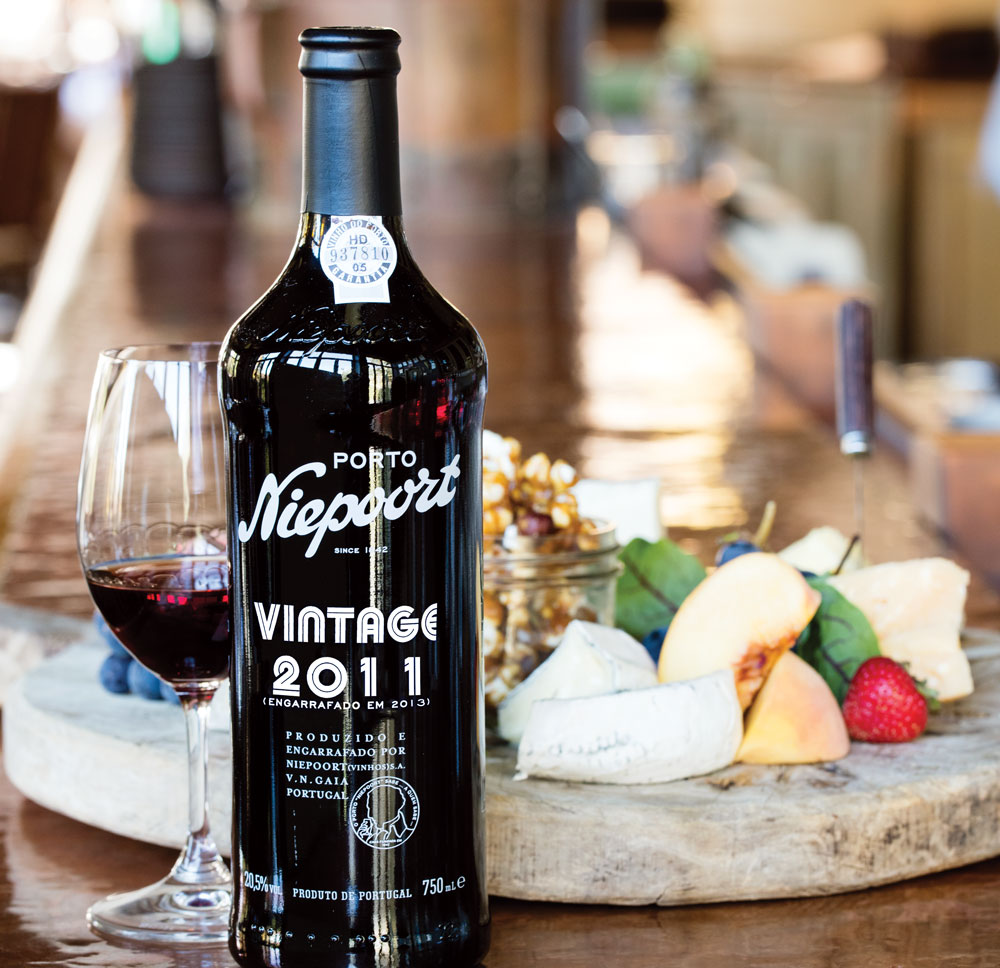 Photograph by Erin Brooke Burns
Tawny port and cheese at River Caf.
The holidays. There really is no escaping them, no matter what your faith, religion or creed, if you adhere to one at all. No matter how you celebrate, you'll most likely be inundated with family meals, workplace events and get-togethers with friends. Life is too short to drink lousy wine, and you'll want to impress those you care about this holiday season.
Wines for a turkey dinner
When it comes to pairing wine with turkey dinner, it really isn't about the turkey – it's about pairing the wine with the fixings that go with the dinner. The stuffing, the potatoes, the cranberry jelly and so on call for a wine with plenty of acid. Acidity in wine complements richer or even fattier foods by helping to cleanse the palate between bites.
For white wines, the best pairing is riesling (the pinch of sweetness that most have is perfect for casual or occasional wine drinkers), though unoaked chardonnays like Chablis and even Vinho Verde from northern Portugal are stunning, as well. For reds, it's a combination of higher acidity and lower tannins that go with the turkey medley. The Burgundian varieties of pinot noir and gamay are top-shelf matches that complement the food without overwhelming it like a cabernet or shiraz might.
Wines that pair with red meats
Not all festive meals involve turkey, and, in fact, many go for something beefy for a big-occasion dinner. Whites can still work, but the bigger or more-robust proteins on the table require bigger whites, like oaked chardonnays, white Rhnes or robust Spanish or New World whites. For reds, look for something fun and less obvious than a California cab, like wines from Priorat in Spain, red blends from Argentina or even wines from Portugal's Douro Valley. These also work great with lamb.
Wines to give to the hostess or to take to a cocktail party
One thing to keep in mind when bringing a bottle for the host or hostess is that they are under no obligation to serve it unless it was clearly decided in advance that you are bringing the wine. Try not to bring a rare or unusual treasure from the cellar if you aren't sure it will be the right occasion for it to be enjoyed or discussed at length. A perfect bottle to bring as a gift can be something for after dinner such as a port or sherry, or, if you aren't running with the dessert-eating crowd, a bottle of bubbly.
For a grazing evening with mini-quiches, meatballs and fancy Triscuits, the best wines to serve are higher-acid wines, since they pair well with a variety of foods. Generally from cooler climates, these wines include Chablis, Sancerre and riesling for the whites and red Burgundy, Rioja, Barolo, syrah and sangiovese for the reds.
If in doubt, try to match the style of cuisine with the wines of the same country; Spanish tapas or cured meats with Spanish reds, and so on.
Bubbly is also for the holidays
Many people still view sparkling wine as only for capital "S" special occasions, to their detriment. Really, the occasions that call for bubbly should be such things as "I had an okay day," "Soon my houseguests will leave" and "It's Tuesday." It doesn't have to be Champagne, either. While Champagne has been the gold standard for many years for bubbly libations, it is perfectly acceptable to bring a good-quality prosecco, unusual cava or traditional method bottle from the New World or elsewhere.
---
3 perfect pairings
River Caf: Tawny Port and cheese
River Caf is perfect for sharing a meal with loved ones, and sometimes you just don't want the meal to end. Sommelier Bruce Soley is a fan of the Niepoort Colheita 2011 tawny port ($13 by the glass) with the cheese plate or some decadent dessert such as the sticky toffee pudding.
25 Prince's Island Park, 403-261-7670, river-cafe.com
Blink: Syrah and goose
Blink's restaurant director, Leslie Echino, seems to be driven by a mission to find delicious and uncommon bottles for her wine list. She is in love with the Anne Gros wines from the Minervois. The L'o de la Vie 2013 Syrah ($60) is perfect with the roast goose breast from Sylvan Lake.
111 8 Ave. S.W., 403-263-5330, blinkcalgary.com
Wine director Brad Royale is always finding great and somewhat unusual wines. His pick? The Wittmann 2013 Silvaner from the Rheinhessen ($38). He describes crushed sunflower seeds with lemon and kale matched with the flavours of the fish plank at The Lake House with its selection of cured and smoked seafood.
747 Lake Bonavista Dr. S.E., 403-225-3939, lakehousecalgary.com
---
6 wines to enjoy this holiday season
Chateau Bois de la Salle 2013 Julienas, Beaujolais, France

A new go-to bottle around my place. This "cru" Beaujolais is packed with raspberry fruits, a little spice and not too much tannin, for a heck of a price. An easy, versatile wine for any day of the week, excellent with pork or braised meats. $22.
M. Lapierre 2013 Morgon, Beaujolais, France

Another one of the crus of Beaujolais, and generally bigger and better suited to cellaring than the others, Mathieu Lapierre is turning heads with exciting, modern bottles. The 2013 is full of softer spices with tight cherry fruits, a bit of red apple skin and a complex palate. Versatile and well-suited to anything from beef to bird. $38.
CedarCreek 2012 Platinum "Block 4" Pinot Noir, Okanagan Valley, B.C.
Good pinot noir goes with almost anything. Plum and cherry fruits with a dusty herb aroma over light spice notes on the nose. Palate-wise, sleek, complex fruits with very understated tannins and food-friendly acidity. Yeah, this will go with the bird. $50.
Monmousseau 2011 Cuve JM Brut, Loire, France

Great sparkling wine is made around the world. This bottle is made in the traditional method, but from chenin blanc. Look for honey, lemon drop and pear fruits, with a mild toasty quality to the finish. A great buy for around $23, and very tasty with scallops or poultry.
Gran Clos 2006 Priorat, Peneds, Spain

Based around grenache and carignan with a bit of cabernet, this is big, terroir-driven red at its finest. Black fruits and earthiness are barely restrained by chewy tannins, but it's all in balance and should mature very well over 10-plus years in the cellar. Serve with protein – ideally one that says "moo." $69.
Gerard Tremblay 2013 Petit Chablis, Chablis, France

Unoaked chardonnay is the way to go for poultry or a finger food sort of event. The wines of Chablis are well known for crisp, almost steely acidity with mineral and lemon and apple fruits. Petit Chablis such as this one is a little riper and juicier – a good match for a little nibble or the big turkey dinner. $23.