Alberta doesn't grow grapes: that's just a fact of geography. The lack of a local wine industry, however, hasn't stopped a group of intrepid oenophiles from partaking in their passion.
About 40 Canadians, mostly from Calgary, have invested a total of $7 million into a calcareous piece of land that sits in the shadow of Argentina's soaring Andes. These doctors and realtors, oil patch execs and tourism operators have trusted their hard-earned dollars to Zorzal Wines, an exciting young winery named after a famed Argentinian tango singer, Carlos Gardel, who was known as El Zorzal.
Progress for Zorzal was slow until wine experts began taking note. Now, some seven years after the first investment, Dan Huras, the Canadian investor group's chief financial officer, says success is on the horizon.
While the Okanagan is obviously much closer, winemaking in this South American country has a lot in common with the heyday of Calgary's oil patch. Matas, Gerardo and Juan Pablo Michelini are the sparks behind Zorzal Wines and they have the kind of cowboy bravado that once defined Alberta's oil business. The Michelinis aren't hemmed in by conventions handed down by the Argentinian, Californian or even French wine legends.
In a country where malbec rules supreme, the Canadian investors backed a winery that is not afraid to ferment finicky pinot noir grapes, experiment with imaginative varietal blends and even hatch unfiltered wine from a concrete egg. So perhaps it was only a matter of time before international wine experts began rewarding the Michelinis' combination of instinct, pluck and, ultimately, the location of their winery and vineyard high above the Uco Valley in Mendoza province.
Before the Michelinis' avant garde approach caught the critics' attention, however, Huras's group of intrepid Calgarian investors – attuned to what makes a winning "play" great – had sunk more than $50,000 each into red Argentinian gold.
The story of Zorzal's Porfiado Pinot Noir has all the intrigue and luck Albertans associate with the historic Leduc No. 1 oil discovery. In 2008, when the Michelini brothers harvested their pinot noir grapes, all was going according to plan. They fermented them as usual and, as usual, Juan Pablo tested the wine from time to time to see how it was coming along. Normally, all the barrels from a single harvest mature uniformly. But this time, three vats were different. Juan Pablo didn't know if they were different-good or different-bad, but his instinct suggested good. With all the wisdom worthy of a cagey oil-patch geologist, Juan Pablo kept his hunch to himself. When it came time to bottle the wine, he decided to leave the three "different" barrels to age a bit longer, making up a story about the missing bottles so his brothers wouldn't suspect anything. Months later, Juan Pablo realized he had Zorzal's first "gusher" – a wine that would impress the world, thereby giving the brothers' young boutique winery the reputation it was after.
According to American wine expert Robert Parker's scoring system, a wine that garners between 90 and 95 points is "an outstanding wine of exceptional complexity and character. In short, these are terrific wines." In 2012, the Michelini brothers' Porfiado Pinot Noir received 94 points, vaulting Zorzal onto the world wine map.
Investing in junior oil startups is risky business. For every millionaire, there is a handful of house foreclosures. The wine business is similarly fraught with obstacles. Rachel Saxberg, a Calgarian who put some money into Liquidity, a B.C. winery and bistro, cautions people thinking of investing in wineries to remember that grapes are an agricultural crop, subject to whatever Mother Nature decides to throw at them. "There are birds, drought, frost," she says.
There can also be other factors to consider with a winery investment. In Argentina's case, add inflation upward of 40 per cent and a chronically unstable government. The downside of a wine investment gone bad might not be as costly as that for a failed oil-patch play, but the highs are not as lofty, either.
"We expect we will be paying dividends to our investors by 2020," says Huras. That's a bit of a wait for Zorzal's earliest investors, but fairly typical for the wine business. "Seven to 10 years is about the average time it takes to become profitable."
Not that his investors are complaining – they've enjoyed a lot of excellent wine over the years and a couple of epic visits to Mendoza and the Uco Valley. Before 2020, Zorzal expects to have doubled its current sales of 30,000 cases, making it a respectably sized boutique winery. Recently, the shareholders sold 50 per cent of Zorzal to Grupo Beln, a Chilean conglomerate involved with banking and other investments, in hopes of helping the winery reach that sales goal.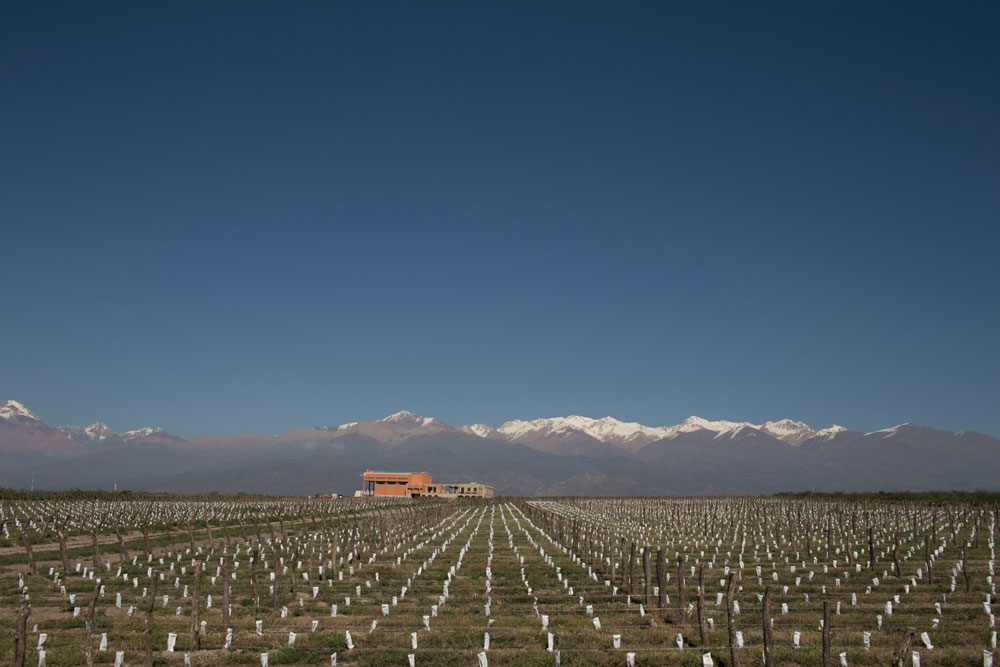 Zorzal winery.
The winery's growing reputation is also contributing to sales growth. In an article on the Wine-Searcher website, British wine expert Tim Atkin includes the Michelini brothers among his short list of "a golden generation of new talent" in Argentina. And, in his own Argentina 2015 Special Report, he writes: "The influence of the Michelini brothers, especially Matas Michelini, once derided as the 'green Michelini' by his detractors for his tendency to pick early, has been crucial in this respect."
Despite making sizeable investments, most of Zorzal's backers are captured by their love of wine, not dollar signs. "Porfiado [Pinot Noir] is the best wine I've tasted in my life," notes Anne Stone Johnson, one of the earliest investors. "The purpose is the friends we've met and having our eyes opened to Argentina." And, on that level, the investment has been more than worth it, she says, noting that she couldn't believe that at the end of the first of her two trips to the Uco Valley, Zorzal's owners and their families came to the airport to say goodbye.
Good as Zorzal's pinot noirs may be, it's the malbecs that are the first off the shelves in Canadian liquor stores, and it's the Field Blend that Juan Pablo and Huras believe will be the next big Canadian seller.
Faced with having to come up with a unique wine as part of her studies, Andrea Mufatto, Zorzal's co-winemaker, convinced the Michelinis to conduct an experiment. Following her instructions, they picked the malbec and cabernet sauvignon grapes at the same time. In one fermentation tank they put only malbec, in the second only cabernet sauvignon, and, in a third, they added 75 per cent cabernet sauvignon to 25 per cent malbec, in a process known as a field blend. They fermented the wine in oak barrels for 22 months before blending the malbec and cabernet sauvignon grapes that had been fermented separately.
Then the fun began. They blind-tasted the two blended wines (one mixed before fermentation and the other mixed afterwards, as is the norm) and were stunned by the outcome. Though lab results showed no difference between the two, their palates certainly did. "The field blend was a completely different wine," Mufatto says.
Different-good, as it turned out. Zorzal's Field Blend was voted the best blended wine from Argentina (between $30 and $50 per bottle) at the 2014 Argentina Wine Awards – not bad for a school project.
Another of Zorzal's successful experiments is Eggo Tinto de Tiza (literally "red chalk wine"). Wine & Spirits Magazine awarded the mostly malbec blend 95 points, naming the 2012 vintage one of the best 100 wines of 2014. Meanwhile, Atkin rated Zorzal's Eggo Sauvignon Blanc as one of the top 10 Argentinian wines in its class.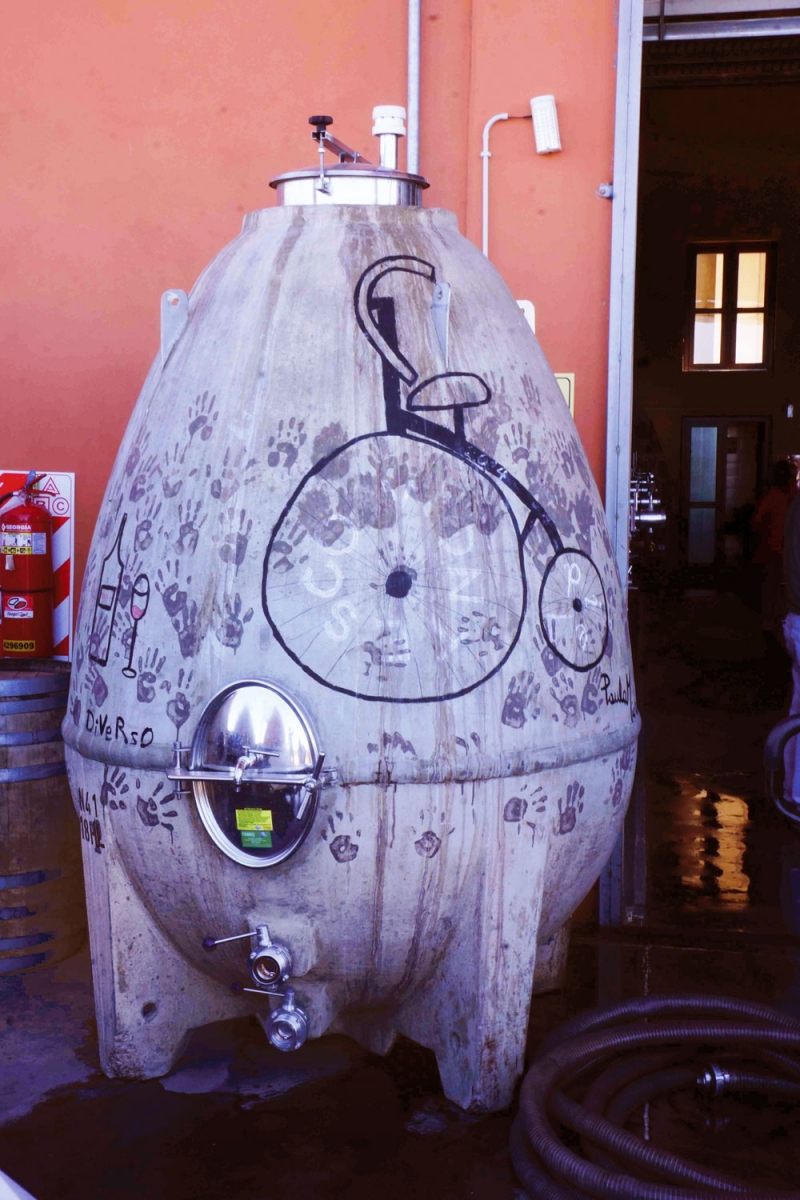 photograph by nicola ross
Custom-made concrete "egg" for producing Zorzal's unique wine.
The Eggo line gets its name from the Humpty Dumpty-like concrete "egg" vats used during the fermentation process. The egg has "rustic" interior walls that Juan Pablo says makes the tannins more "round." In his opinion, the concrete eggs "are something like oak barrels, without the oak."
The problem was, when the Michelinis decided to try out this process used in France, they discovered importing the eggs from France was prohibitively expensive.
Unwilling to give up their latest winemaking hunch, Matas called an Argentinian concrete manufacturer. "We want you to build concrete eggs," he told the person who answered the phone. "The man laughed," says Matas, "and hung up on me."
Fifteen days later, the laughing man called back asking for more information. Fermenting in the eggs has since become one of the Michelinis' signature techniques, and, Matas adds, the manufacturer is now exporting eggs to Chile and Uruguay. Corinne Thomson runs a company called VM Travel Adventures that tours guests through seven different winemaking regions – France, Italy, Spain, Portugal, Chile, South Africa and Argentina. And it was Zorzal that Thomson decided to put her own money into. She sees it as getting in on the next big thing.
"The Uco Valley is being likened by experts to California's Napa," says Thomson. "It benefits from being in a horseshoe in the Andes with sunshine, wind and water – essentials to growing grapes."
Thomson, whose fascination with Argentina stems from her skill as a tango dancer, says, "I love being a wine lord." She believes in the Michelini family and says she will enjoy seeing Zorzal grow up. Like a proud mother, Thomson explains, "When we were at a wine shop in Buenos Aires, the owners knew of the Michelini brothers and said they were the most avant garde winemakers in Argentina."
And getting in on the ground floor of something that cutting-edge is return enough for most of the Calgarians involved.
---
Where to buy Zorzal wines
You don't need to buy the winery to enjoy the wines – you can get them here in the city.
Calgary Restaurants
Cattle Baron, 3340 26 St. N.E. and one other location, 403-250-2595, cattlebaroncalgary.com
Chop Steakhouse, Chinook Centre and one other location, 403-250-2043, chop.ca
Moxie's Grill & Bar, multiple locations, moxies.ca
Canmore Restaurants
Sage Bistro, 1712 Bow Valley Tr., 403-678-4878, sagebistro.ca
The Drake Pub, 909 Railway Ave., 403-678-5131, thedrakepub.com
Banff Restaurants
Juniper Hotel & Bistro, 1 Juniper Way, 403-762-2281, thejuniper.com
Melissa's Missteak, 218 Lynx St., 403-762-5511, melissasmissteak.com
The Rimrock Resort, 300 Mountain Ave., 403-762-3356, rimrockresort.com
Retail Outlets
Crowfoot Liquor Stores, various locations, crowfootliquor.com
Vines Riverbend Wine Merchants, 2331 Rabbit Hill Rd. N.W., Edmonton, 780-434-9444, vineswinemerchants.com
Wine and Beyond, 300, 700 Emerald Dr., Sherwood Park, and one other location, 780-417-2821, wineandbeyond.ca