Dress from Oak + Fort; necklace purchased on Ebay; rings are vintage; Prada eyewear.
Aeryn Twidle's passion for film, acting, creative writing and art has carried her across the country – from Vancouver to Toronto – as well as around the world, spending summers in cities like New York, Zurich and Vienna, to name a few.
A self-defined "rolling stone," Twidle didn't hesitate to make the move from Toronto to Calgary in August 2014 to accept a position at the Esker Foundation, where she works in operations and marketing.
"I had my eye on Esker for some time," says Twidle, adding she was inspired to apply for the position at the foundation because of the fantastic space, amazing curatorial team and innovative projects in which the gallery is involved. "It's a real privilege to work here," she says.
Working within the art world certainly suits Twidle's eclectic sense of fashion. She can often be spotted mixing vintage pieces with contemporary styles, wearing quirky prints, bold shoes and, of course, glasses – a key aspect of Twidle's geek-chic aesthetic.
When she's not scouring vintage shops for a distinctive envelope purse or planning her next trip, Twidle fills her time volunteering, attending independent film screenings, keeping up with her acting career when the occasion arises and working with the foundation to continue to make the gallery the go-to place for contemporary art.
How has working in the art world influenced your style?
It has influenced my style immeasurably. People in the art world are very much invested in using style as a means of creative self-expression and there is always somebody neat to look at.
What are some other influences on your style?
Style blogs. I really like The Sartorialist. Music is also definitely an influence.
Who are your style icons?
Audrey Hepburn, for sure. Grace Kelly, Sophia Loren and James Dean are also very classic. And women on the street – inspiration is everywhere.
Do you have any specific fashion dilemmas?
Which shoe should I wear? It's the beginning and end of every outfit.
What's your favourite pair of shoes?
Currently, a pair of Fluevogs.
What would be your dream pair of shoes?
I actually did have a dream about a pair of shoes I saw in a Vogue video on Instagram. They are from Dior's spring/summer 2016 collection.
What's your wardrobe's MVP?
I would say my 1980s vintage motorcycle jacket. It's quilted, hip-length and I've worn it for years in many different looks.
Did you have a favourite outfit when you were growing up?
A pair of olive-green knickerbockers with a striped, olive, gold sparkle  and cream sweater.
What would you say is your go-to outfit?
Black pants and a button-up shirt with a little sweater over top, or a jacket. That's definitely a day-to-day thing for work.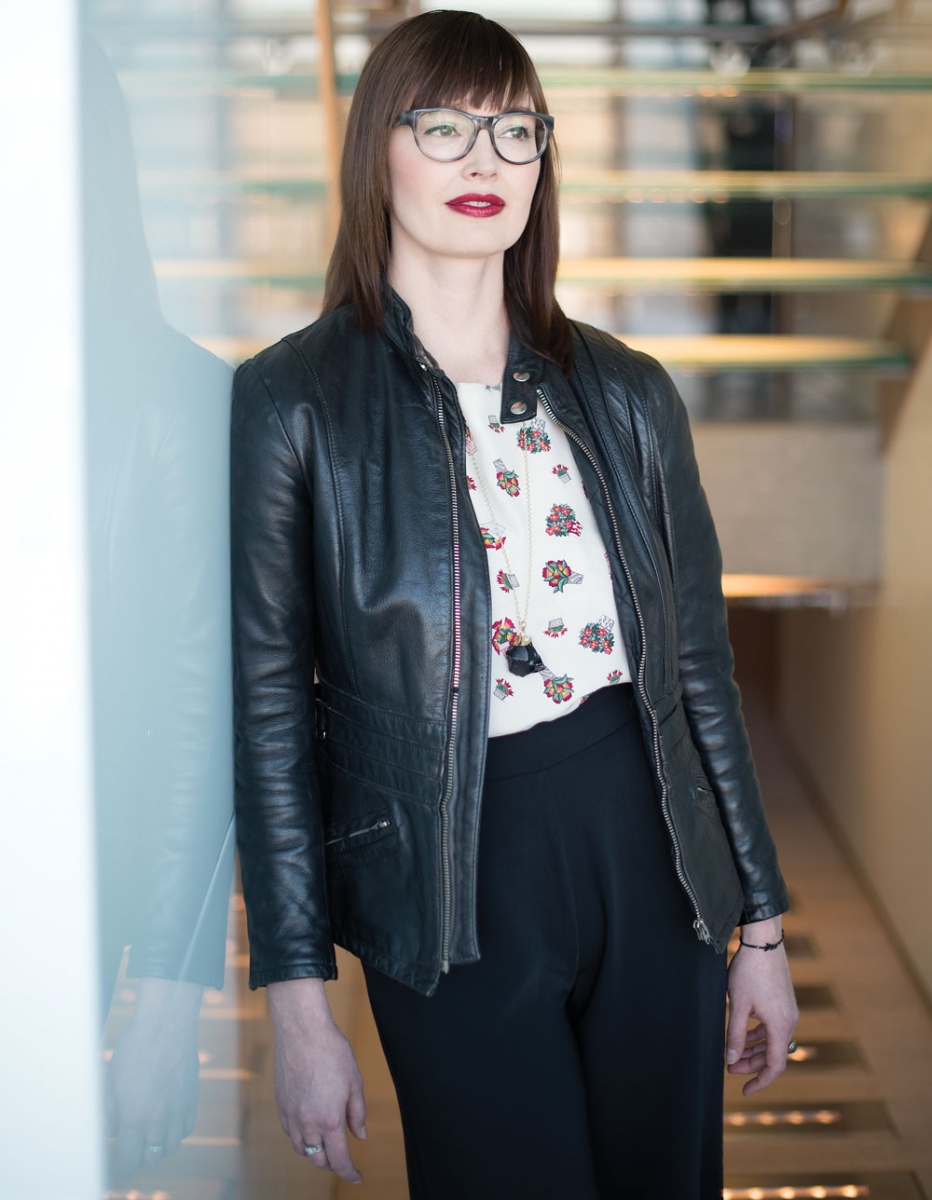 Vintage leather jacket and top from Kensington Market in Toronto; Gentle Fawn pants from Bamboo Ballroom; necklace from Southern Alberta Art Gallery Gift Shop; Anglo American eyewear.
What do you wear on the weekends?
Black jeans with comfy running shoes – I'm an Adidas girl – or boots and usually a sweatshirt of some kind with a leather jacket.
What was the last thing you purchased?
A Mackage biker jacket, and it was a pretty major purchase – a lifetime investment.
Do you have a piece that you pine for?
Yes, a gorgeous, herringbone Max Mara full-length coat. I probably won't buy it, but something I am really looking to develop is purchasing investment pieces for my wardrobe.
Where in Calgary do you like to shop?
I have been spending a lot of time at Bamboo Ballroom in Inglewood. A Vintage Affair has been really fun, too, and Vespucci. I've been thrifting and, of course, I've been at the mall.
What Calgary events are you looking forward to attending?
The Calgary Cinematheque has a fantastic season of films lined up and then I'll be looking forward to the Calgary Underground Film Festival in April.
What will you wear to these events?
To films, I definitely go with my weekend wear: leather jacket, often wearing a hat or a toque, fun shoes and a great bag. And lipstick.
What is your version of a great bag?
I'm a big-bag girl. It has to have room for lunch, computer, an extra pair of shoes, hair stuff, my wallet and purchases, too. Right now, I'm liking a large bucket bag.
What are your favourite hot spots in Calgary?
RiverWalk and the galleries down along 11th Avenue S.W. In terms of restaurants or bars, I'm super-glad that The Nash opened up.
What would you wear if you were going out, say to The Nash, for dinner?
A dress or a skirt, patterned tights or hose, something clean and simple on top and a great accessory and possibly a leather jacket.
Are you a jewellery person?
Yes, I usually like to wear one statement piece and I always wear rings – specifically, my grandmother's gold and turquoise ring that she got when my grandfather proposed in Montreal. I've been wearing that constantly for about 12 years now.
What is next for you?
Fulfilling one of my dream trips – probably a UK walking tour – and reviving my acting career with my next movie role. A French film crew came and filmed here in the gallery and I ended up getting two scenes with lines and everything. It's called Last Chance Road and is in post-production right now.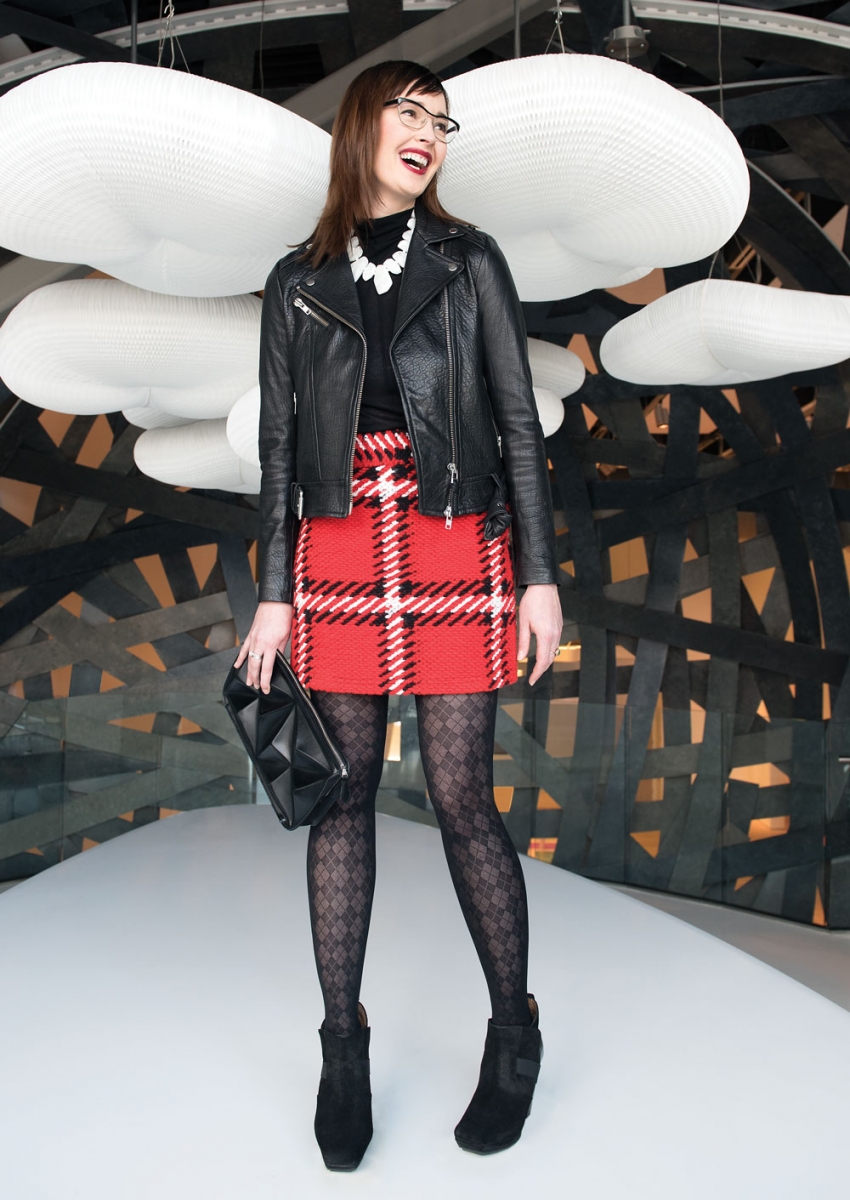 Mackage leather jacket from Aritzia; turtleneck sweater from Zara; skirt from Topshop; shoes from Fluevog; purse from Mexx; necklace and rings are vintage; Prada eyewear.
---
Lightning round with Aeryn Twidle
Where have you travelled to?
I've been to Costa Rica, Panama, Nicaragua, Peru, Mexico, the Caribbean and all over Europe. My favourite road trip was in my '63 Comet down the Oregon Coast to San Francisco where I stayed at a vineyard, and then drove back.
Your dream vacation?
I would love to go to South Korea to visit my best friend.
What did you think you would do when you were growing up?
I always thought I was going to do something with art, or be a marine biologist. I also really loved movies and was involved with acting and performance at a young age, too.
What would you do if you didn't have to make a living at it?
Travel and see art.
What station is your car radio set to?
CJSW – long live college radio! [laughs]
What would you currently be playing if we were to turn on your iPod/phone?
I'm really into the new Kurt Vile album and also [singer] Chinawoman.
What book are you reading?
All the Light We Cannot See by Anthony Doerr.
What is your favourite childhood book?
A Wrinkle in Time by Madeleine L'Engle.
What was the last movie you saw in theatres?
A documentary at CIFF by Alan Zweig called Hurt, which is about Steve Fonyo.
What is your biggest pet peeve?
The "spinning wheel of death" on a Mac.
Favourite cocktail?
I'm a pretty classic vodka-soda kind of person.
What is your guilty pleasure?
Popcorn. Really buttery, really salty popcorn.
What is your greatest extravagance?
Shoes, but most recently a leather jacket.
If you could have been born in any era, which would you choose?
The '20s. The style was amazing. I think society changed in the years between the wars – women really started to get a sense of their rights and play with fashion.